Welcome to our William Hill Plus Card review. This guide covers the ins and outs of the William Hill Plus Card and explores its relationship to the William Hill Plus application. We shine a light on the advantages of the Plus Card, show you how to apply for it, and how to use it. At the end of the article, we include a helpful FAQ containing answers to frequent questions about the Plus program and its components. Let's dive in!
Bet £10 Get £30 In Free Bets
Bet £10 Get £30 In Free Bets
Enhanced ACCAs & Wincasts
Daily Free Bet Offers
Safe & Secure UK betting site
9.8
Use bonus code
Copy
Visit Site
18+. Play Safe. 3x £10 free bets. Free bets expire after 30 days. New customers signing up through mobile or tablet device only. Minimum £10 stake on odds of 1/2 (1.5) or greater on sportsbook (excluding Virtual markets). Further terms apply. #ad
What is the William Hill Plus Card?
William Hill is one of the UK's best betting sites and the William Hill Plus Card is a free physical card for withdrawing online winnings at betting shops and placing in-store wagers using your online bankroll. Linked to your William Hill Plus app, the Plus Card removes some of the nagging challenges associated with managing your betting funds along the online-offline spectrum.
It's important to differentiate between two key components of the Plus system:
The William Hill Plus Card app: a mobile application that turns your smartphone into a control room for tracking and managing bets placed in William Hill's betting shops. Additionally, the app makes it possible to cash out in-store wagers before a match concludes.
The William Hill Plus Card: a physical card for placing in-shop bets using your online William Hill balance and for withdrawing winnings at the shop counter.
The app and the card complement each other and, combined, help bridge the gap between digital and traditional sports betting.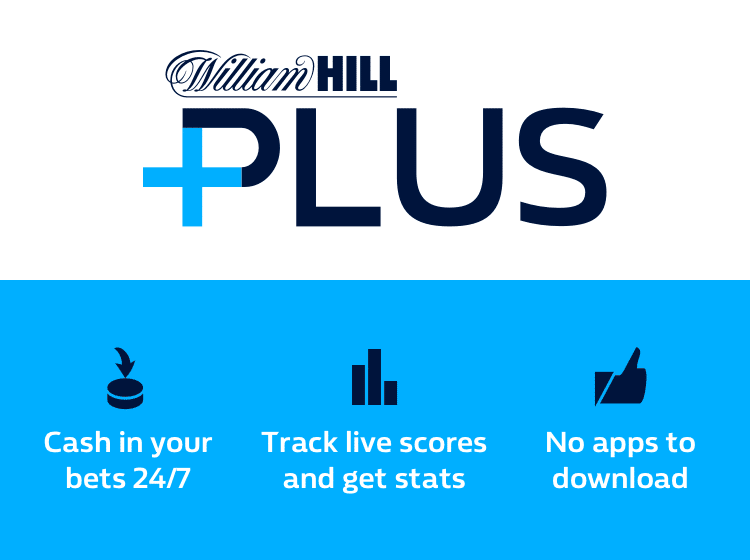 Benefits of Using a William Hill Plus Card UK
We'll start our William Hill Plus Card review with an overview of the Plus account's main advantages:
Simplified fund transfer: the Plus Card integrates your online and offline transactions. You can use the Card to transfer winnings from an in-store bet to your online William Hill account, or you can use profits from last night's successful online wager to put money down in a physical shop.
Cash out in-store bets: cash outs are typically considered the luxurious domain of online sports betting. The William Hill Plus application levels the playing field by enabling you to claim early profits on open bets placed at any of William Hill's land-based venues.
Immediate withdrawals: withdrawing money from any online bookmaker, including William Hill, usually involves enduring a 3-to-5-day wait period. Thanks to the William Hill Plus Card, you can avoid this delay and immediately cash out your online and offline winnings at any WH betting shop.
Unlock exclusive offers: in a bid to attract new customers, William Hill offers several exclusive promotions for Plus Card holders. We cover promotions in more detail further below.
How to Place Bets with a William Hill Plus Card UK
Placing a wager at a William Hill shop using a Plus Card is straightforward. Simply waltz into a WH corner shop, punch in your selection through an available betting terminal, and tap your Plus Card against the reader.
The betting terminal will utilize funds from your online sportsbook account to place your wager. What's more, all confirmed selections on your bet slip are automatically added to your Plus app, allowing you to track the progress of each match from the palm of your hand.
The advantages don't end here, however. Once your bet is settled, William Hill will transfer winnings to your Plus account, from where you can use them to wager both online and offline.
Overall, placing bets with William Hill Plus is a breeze and a truly satisfying process; a process with the potential to transform the way you think about traditional betting.
William Hill Plus Card Withdrawals
If you're tired of waiting 3 to 5 business days for William Hill to approve withdrawal request, you'll love the Plus Card. Now, redeeming your digital winnings is as easy as visiting the nearest shop, presenting your ID and Plus Card at the counter, and requesting your cash.
Any withdrawal limits applicable to your online account also apply to in-shop Card payouts. Furthermore, if you plan to withdraw more than a few thousand quid, we recommend calling your betting shop beforehand to verify that they have enough cash available.
Another thing to remember is that the Plus account terms and conditions expressly prohibit lending Plus Cards; only the primary owner of the attached William Hill account can use the Card. Because this requirement is legally binding, failing to follow it could result in WH blocking your Card and imposing restrictions on your account.
William Hill Plus Cash Out
One of the Plus app's key features is the ability to cash out early on wagers placed in William Hill's physical betting shops.
For example, say you use your Plus Card at a terminal to put down £10 on 6.0 odds for a chance to win £60. The Plus application will display your selection, along with a "cash in" button that lets you cash out lower profits before the match is over. Tapping this button will immediately settle your bet and release the funds into your account.
Note that, strictly speaking, the cash-out option is a feature of the Plus application, not of the Plus Card.
Overall, the cash out option is one of the Plus system's main attractions. It liberates you from the burden of making tough decisions about where and how to place your bets.
How to Join William Hill & Get a William Hill Plus Card UK
The Plus app and the Plus Card are only available to punters with a valid William Hill Online account. Therefore, your first step to claiming a brand new shiny card is to open an online account with the bookmaker.
Step 1: Open a Free Account
Head over to William Hill's website from your mobile device or desktop computer by clicking the button below and follow the "Join" link. The link will lead you through a series of short forms where you'll be prompted to input your name, physical address, email address, phone number, username, and password. You can also set daily and monthly account deposit limits at this stage.
Remember to enter our betting promo code while filling out the registration form to qualify for a generous free bet – see our William Hill review for details.
The William Hill system then performs an automated security and identity check. If successful, you'll immediately gain access to your account; however, if the process fails, you'll need to complete a manual identity check by supplying pictures of a government-issued ID and proof of address.
Step 2: Head to The Nearest WH Betting Shop
If you'd rather avoid waiting five days to receive your card through regular mail, make your way to any of WH's high-street shops to immediately claim your Card. You can use the Shop Locator on William Hill's website to find the nearest location.
Once there, request your Card at the counter. You'll have to enter your William Hill account credentials and present an ID to verify your identity. The clerk will encode and hand over your Plus Card in matter of minutes.
Step 3: Activate Your Card at a Terminal
Next, walk up to the nearest William Hill betting terminal (which, considering you're in one of WH's shops already, shouldn't be more than a few steps away). Press your Card against the terminal's reader and follow the on-screen instructions to activate it. You'll be prompted to enter your phone number and consent to the conditions stipulated in the Plus Card's terms of service.
Step 4: Access the Plus Application
To experience the full range of benefits offered by the Plus system, head over to the William Hill Plus website and input your phone number into the activation field. This action will trigger an SMS message with a security code which you must submit through the website.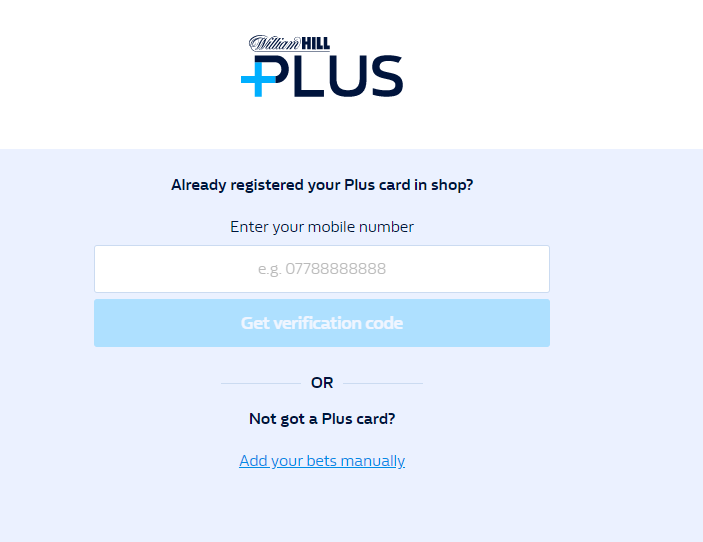 William Hill Plus Offers
Occasionally, William Hill provides incentives for players who sign up for a William Hill Plus account. Currently, new users can redeem a £10 free bet – subject to the promotion's terms and conditions, of course. The stipulations of the T&C are in constant flux, so we encourage you to read the latest version of the terms before you deposit any money with William Hill.
Please be aware that, unless noted otherwise in the promotion's description, bonuses and awards are void if your Plus app and Plus Card remain inactive for 30 days. To prevent losing out on free money, keep using the Plus program at least until you satisfy the rollover requirements imposed on your bonus funds.
Alternatively, you can claim a £40 risk free bet when you sign up and deposit £10 at a bookmaker.
UK's Top 10 Betting Promotions for November 2023
UK's Top 10 Betting Promotions This Month
All
Cash Out
Derby betting
Enhanced Odds
Live Streaming
patent bet
Paypal
Placepot bet
Trixie
£30 Free Bet
£5 Deposit
Free Spins
£20 Free Bet
£50 Free Bet
Each Way Bet
Yankee bet
£10 Free Bet
More Filters
Conclusion
If you hate waiting several days for withdrawals, or if you've ever wished it was possible to place in-store wagers without using cash or prepaid cards, the Plus Card is perfect for your needs, and we strongly recommend it. Otherwise, you may find that it's just another piece of plastic clogging up your wallet, so think twice before committing precious pocket real estate.
Ultimately, we believe the Plus system is a major step in the right direction for William Hill, and we're excited about future developments to the program.
Bet £10 Get £30 In Free Bets
Bet £10 Get £30 In Free Bets
Enhanced ACCAs & Wincasts
Daily Free Bet Offers
Safe & Secure UK betting site
9.8
Use bonus code
Copy
Visit Site
18+. Play Safe. 3x £10 free bets. Free bets expire after 30 days. New customers signing up through mobile or tablet device only. Minimum £10 stake on odds of 1/2 (1.5) or greater on sportsbook (excluding Virtual markets). Further terms apply. #ad
Frequently Asked Questions (FAQ)
What's the difference between the Plus Card and William Hill Cash Direct?
The main difference is that William Hill Cash Direct enables you to print out vouchers for cashing out winning bets, while the Plus Card is a physical card that provides far more convenience. Additionally, Cash Direct lacks the benefits of integration with the William Hill Plus application.
What's the advantage of using the William Hill Plus application?
Using the William Hill Plus app, you can cash in your in-store bets from your smartphone or tablet, use online funds to make transactions at the shop, and stay on top of the action with in-depth stats and live score updates on your smartphone. You can also redeem regular and special promotions through the app.
How long will I have to wait to receive my Card?
If you submit a card request via your online betting account, you'll have to wait up to five business days for the Card to reach you through snail mail. To speed things up, head to the nearest betting shop and claim your Card right there on the spot.
Are Plus Cards compatible with WH betting terminals?
Yes, absolutely; the design philosophy behind the Plus Card revolves around compatibility with betting terminals. When placing an in-house bet, hold up your Card against the terminal's contactless reader to wager using your online funds.
I've claimed my Plus Card. How do I activate it?
Simply hold the Card against the reader on any William Hill SSBT machine and proceed according to the on-screen instructions.
What if I lose my Card?
Your first step should be to deactivate your lost Card through the Plus app to ensure no one can use it. After that, you can head to a WH shop and grab a new card.
Was this article helpful?