Switch is the current generation console from the Japanese gaming giants Nintendo. Since its launch in 2017, Switch has sold more than 114 million units. When it comes to gaming software, according to the numbers presented by SafeBettingSites, Mario Kart Deluxe is the best-selling first-party game on Switch, with 48.1 million units sold as of Q3 2022.
Sword and Shield best selling Pokemon game on Switch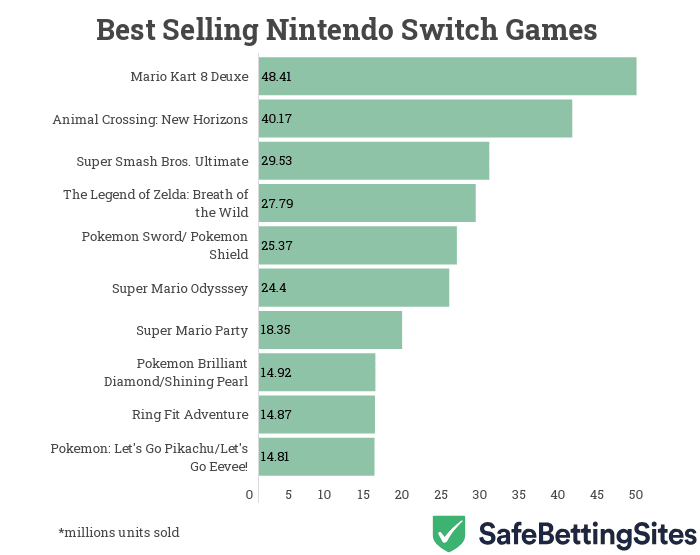 As expected, the list of first-party best-selling games on a Nintendo console, Switch in this case, is dominated by Mario and Pokemon games. As per the numbers released by Nintendo, Mario Kart 8 Deluxe, released shortly after the console's launch in 2017, is the best-selling game on Switch. The game has sold 48.41 million units by the end of September. It's interesting to note that with these numbers, Mario Kart 8 Deluxe is also the best-selling Mario game ever.
Social simulation game Animal Crossing: New Horizons occupies the second spot with 40.17 million units sold so far. These are impressive numbers, considering the game launched in 2020. At this rate, Animal Crossing: New Horizons could soon become the best-selling game on Switch.
The crossover fighting game Super Smash Bros. Ultimate, launched in 2018, is the third-best-selling Nintendo game on Switch, with 29.53 million units sold. It is closely followed by another popular Nintendo title in the Legend of Zelda: Breath of the Wild. The 2017 game has sold 27.79 million units. 
Sword and Shield is the most popular Pokemon game on Switch but only the fifth-most popular overall. The 2019 role-playing game has sold 25.37 million units, and one can expect it to climb further up the list.
The following two spots are taken by two more Mario games, Super Mario Odyssey and Super Mario Party. Super Mario Odyssey is a platform game, released in 2017, and it has sold 24.4 million units. Super Mario Party, released in 2018, has sold 18.35 million units.
The top ten is completed by two more Pokemon games and exercising RPG Ring Fit Adventure. Pokemon: Brilliant Diamond and Shining Pearl, eighth in the list with 14.92 million units sold, was released in 2021. This makes it the most recent game to appear on the list. Hence, it will likely climb the charts in the coming months.
Was this article helpful?