Audio streaming giants Spotify has been one of the biggest success stories of the past decade. The company has cemented its position as the leader in its segment, and its growth ceases to halt. According to the numbers presented by SafeBettingSites.com, Spotify witnessed a 16% YOY increase in the numbers of its premium subscribers during the last quarter of 2021.
Spotify reached 180m premium subscribers in Q4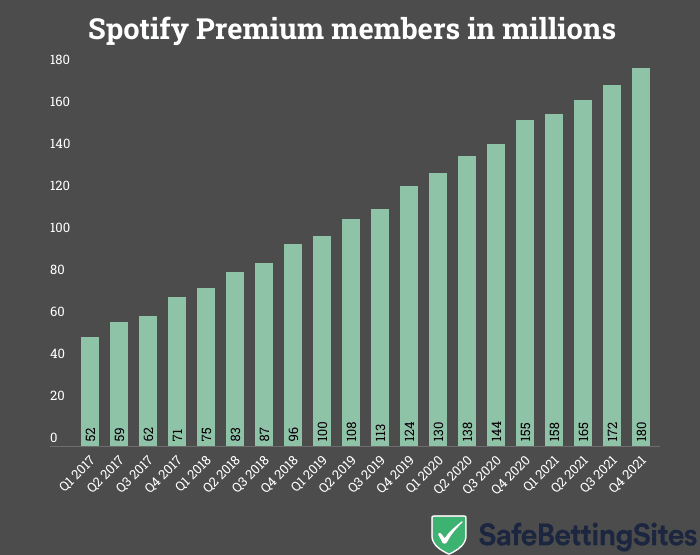 Spotify was launched in 2006 by Swedish duo Daniel Ek and Martin Lorentzon. It wasn't until 2011 that the music app was launched in the United States. In a short period, Spotify has reshaped the landscape of the music industry. In February 2021, the company's market cap reached $69.35 billion. Since then, Spotify's share price has taken a hit in the last one year, but the company doesn't show any signs of slowing down in terms of its subscribers base.
According to the figures released by the company, it had a premium user base of 180m during Q4. In other words, 180m users paid to use Spotify during the last quarter of 2021. In the previous quarter, the figure stood at 172m. The increase of 8m users within a quarter meant that the Spotify premium user base increased by around 5% in this period. Another interesting fact to note is that the Spotify premium user base has never reduced or stagnated for two consecutive quarters.
Furthermore, the size of the premium user base was 87 million during Q3 of 2018. Thus, it took 13 quarters, or three years and three months, for the user base to double in size.
During the final quarter of 2020, the premium user base was 155m. The number of paying Spotify customers increased by 25m in the space of a year. These figures imply that the Spotify premium base increased by 16.1% in 2021.
Vyom Chaudhary, an editor at SafeBettingSites.com, commented: "It has been often said that Spotify is a tech company and not a streaming service. And like any other tech company, Spotify has had its fair share of criticisms, most notably unfair revenue sharing with artists. Regardless, Spotify has built a fantastic product, and its ever-increasing premium user base is proof of that."
Was this article helpful?