As the video gaming industry continues to grow, game subscription services are becoming increasingly popular among gamers. According to the figures presented by SafeBettingSites.com, 62% of avid US gamers currently use one or more gaming subscription services.
52% of all US gamers and 62% of avid gamers use game subscription services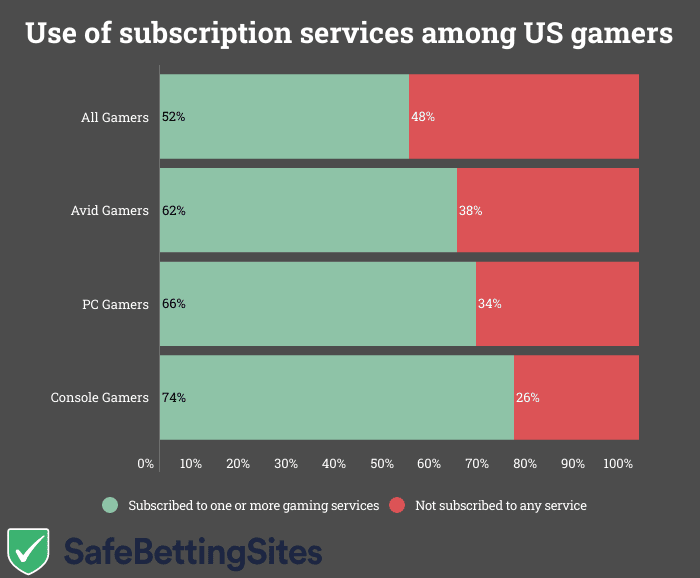 The subscription-based model has become the new normal in the entertainment industry, and the gaming sector hasn't remained untouched. These gaming services offer a variety of games to end-users at a fixed monthly fee. Gaming subscription services such as Xbox Game Pass, PlayStation Now, Apple Arcade, EA Play, etc., have become an integral part of the industry. According to Juniper Research, revenues from such services stood at $6.6 billion in 2020, and they are expected to reach $11 billion in 2025.
Data Intelligence company Morning Consult recently asked US gamers about using these subscription services. According to the numbers, these services have found a wide acceptance among US gamers. 52% of all US gamers and 62% of all avid US gamers say that they use one or more of such services. The acceptance rate is even higher among console and PC users. 74% of console users in the US currently have access to such services. This figure means that three out of every four console video gamers shell out money for these monthly services. The acceptance rate among PC users is slightly lower at 66%, i.e., two out of every three PC gamers use these services.
The survey considered gamers who play at least seven hours of video games every week as avid gamers. 
75% of Millennial gamers use subscription services in the US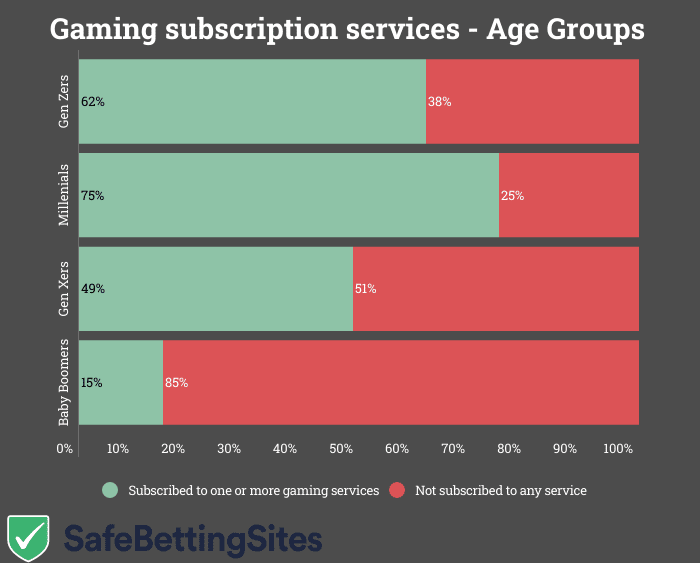 Gaming subscription services have the most considerable acceptance among millennial gamers in the United States. According to the survey, 75% of millennial gamers, including casual and avid, use one or more of such services in the country.
The acceptance rate among Gen Z gamers is lower than that among Millennials. Only 62% of Gen Z gamers said they pay for subscription services like Game Pass, PS Now, and more.
Slightly less than half of Gen X gamers pay for gaming subscription models. 49% of this age group admits to using these services.
Expectedly, Baby Boomers are the least interested in such subscription models, with only 15% of gamers in that age group currently using them.   
Vyom Chaudhary, an editor at SafeBettingSites, commented: "With the launch of the new generation of consoles, video games have become ever so expensive. It's no surprise that gaming subscription services have become so popular among avid gamers. These services provide an economical route to these gamers to enjoy video games en masse."
Was this article helpful?