iOS has a 24.99% share of the mobile operating system market, against Android's 74.43%. According to the research data analyzed and published by Safe Betting Sites, during the first three quarters of 2020, iOS users' spending on the Apple App Store doubled that of Google Play Store users.
Based on a report from Sensor Tower, consumers spent a cumulative $50.1 billion on Google Play and the App Store during the first half of 2020. From this amount, the App Store generated around $32.8 billion. On the other hand, total spending on Google Play was around $17.3 billion during the same period.
A similar trend was noted during Q3 2020 when global consumer spending on the two app stores amounted to $29.3 billion according to Statista. Apple App Store's share from this total was $19 billion, while on Google Play, total consumer spending was $10.3 billion.
Overall, the entire nine-month period saw revenue from the App Store totaling $51.8 billion against Google Play's $27.6 billion.
It is noteworthy too that the growth rate in consumer spending on the App Store during the first half of 2020 surpassed overall spending on mobile. According to Sensor Tower, there was a 23.4% increase during the six-month period, compared to a similar period in 2019.
App Store revenue grew at a slightly higher rate, at 24.7% year-over-year (YoY), while the Google Play growth rate was slightly lower at 21% YoY.
However, there was a trend reversal in Q3 2020 when App Store spending climbed by 31% YoY against Google Play's 33.8%. All in all, mobile consumer spending grew by 32% YoY during the quarter.
Another interesting trend during the first three quarters of 2020 has to do with global downloads on the two app stores. There was a total of 108 billion first time mobile app installs in that period. Of these, only 26.5 billion came from the App Store while 81.5 billion were from the Google Play Store. As such, the number of downloads on the Play Store was more than three times higher than on the App Store.
iOS Holds 60% Market Share in the US vs. 40% for Android
The US recorded the highest amount of consumer spending as well as downloads on iOS. This comes as no surprise given that iOS has a 59.71% market share of mobile operating systems in the country.
Comparatively, Android holds a 40.09% market share according to Stat Counter. For North America as a whole, iOS holds a 53.55% market share against Android's 46.24%.
The top three categories by consumer spend on iOS during Q3 2020 were games, entertainment and photo & video. And with the return of sports to television screens, the US saw a 55% increase in sports-related apps.
The growth in entertainment was attributed to streaming services such as Disney+ and Netflix. According to Apptopia, Netflix was the most downloaded streaming app worldwide in Q1 2020, with 59.1 million downloads.
YouTube came in second with 39.4 million downloads in the same period, while Disney+ was third with 17.5 million. In the US, Disney+ took the lead with 14.1 million downloads against Netflix's 11.9 million.
According to Disney's Q3 2020 results, Disney+ had 60.5 million subscribers as of August 3, 2020. The figure went from 33.5 million in fiscal Q2 2020 to 57.5 million in fiscal Q3 2020, adding 3 million subscribers in July alone according to Statista's data.
Mobile App Usage Grew by 40% YoY in Q2 2020
According to App Annie, the level of growth seen on both app stores is the kind that would have been experienced in two to three years. This applies both to the level of consumer spending and the total number of downloads.
Courtesy of lockdowns and remote work, consumers spent plenty of time on their devices in 2020. The average mobile user spent 27% more of their waking hours on mobile in April 2020, amounting to 4.3 hours daily.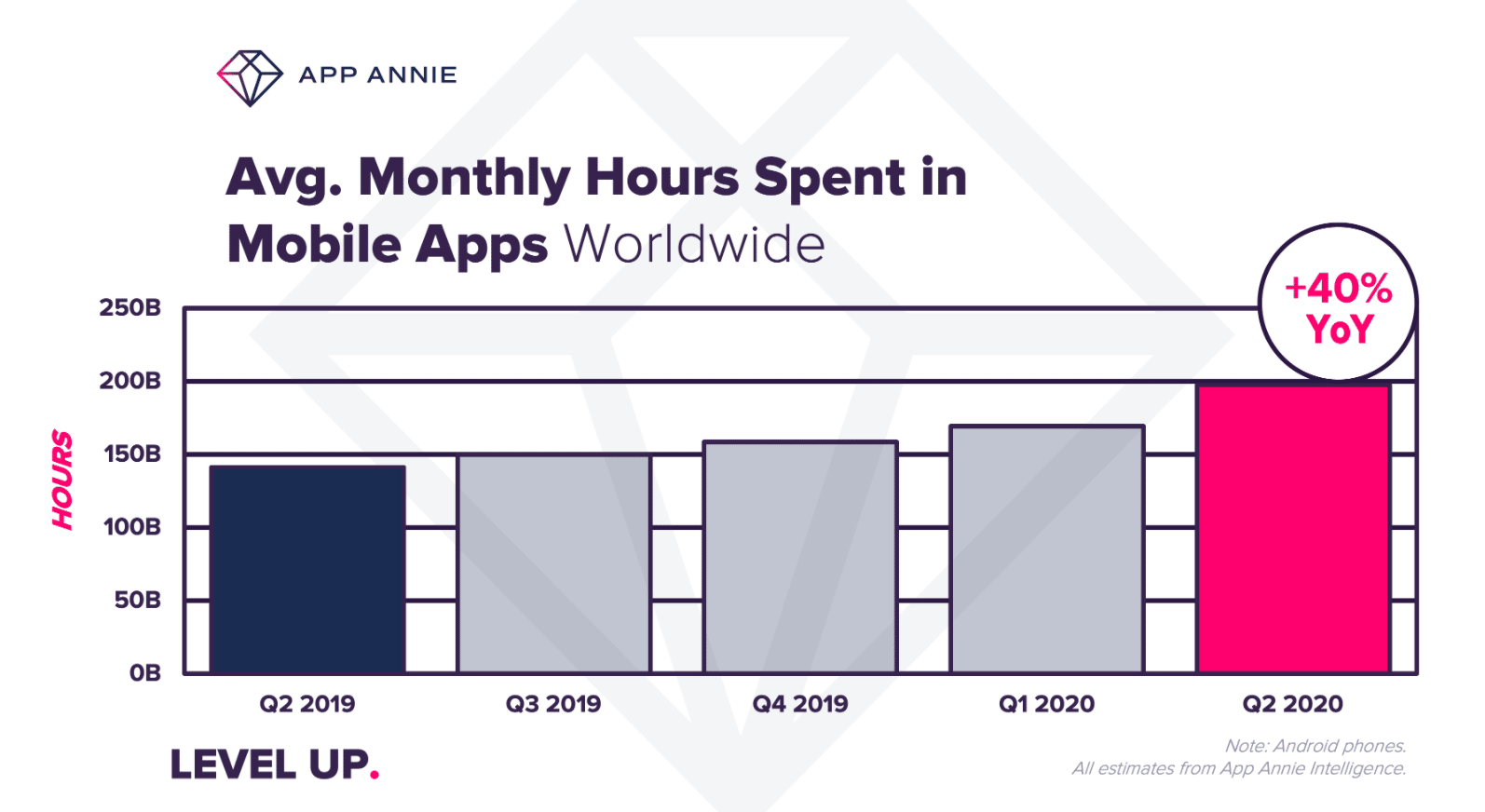 In total, Q2 2020 saw mobile app usage increase by 40% YoY, with April hitting an all-time high of 200 billion hours. Similarly, during Q3, users spent a total of 180 billion hours on their mobile devices every month, an increase of 25% YoY.
According to an eMarketer forecast, the average adult in the US will spend an additional 23 minutes on their mobile device in 2020. Social networking will get the highest number of extra time, which is around 11 minutes more.
Mobile video will come in second with 10 extra minutes while messaging will gain an additional 4 minutes. The forecast predicts that the average time spent on smartphones in the US will reach 3 hours and 6 minutes. That will be a 13.9% increase from the 2019 average of two hours, 43 minutes.
Was this article helpful?