CopyBet Review 2023 | Bet £10 Earn £40 Free Bets
Overview
Many sites claim to be unique, and CopyBet does just does that, but this time it's a valid claim as CopyBet does offer something that no other sports betting site does – the ability to follow tipsters at the site and automatically place the same bets that they do. You can even set yourself up as a tipster, or just use CopyBet as you would any other sports betting site in the UK. Read on in our CopyBet review to learn how this site ticks, and whether it will be the best and safest sports betting site in the UK for you to use.
Bet £10 Get £40 Free Bet
Copy the Best Tipsters or be a Tipster.
Official Betting Partner of QPR (Free bets on QPR games)
Attractive Odds & Price Boosts
9.7
Visit Site
18+ only. New customers only. For verified UK clients only. The qualifying bet should start at £10 and have 1.5 or greater odds. Following the qualifying bet, you will receive 4 free bets that can be used one after another. Each free bet lasts for 7 days. Single bet only. Pre-Match or Live. No Cash-Out. Max payout – £500.
What is CopyBet?
Copybet is a unique UK sports betting platform that claims it 'has it all' for successful sports betting. The site has been around since 2019, and is run in the UK by CopyBet UK. This company is based in London.
This site appears to be a combined tipsters and bettors site, which is what makes it unique. You can follow tipsters so that the bets they place are automatically placed for you, but this is optional. Unusually, you can also link your CopyBet account to your betting account at Betfair.
Date founded: 2017
Ownership: CopyBet UK
Headquarters: London, UK
Address: 3rd Floor, 120 Baker Street, London, England, W1U 6TU.
Licence No.: 53774
CopyBet Sponsorship
CopyBet is the current betting partner of EFL Championship and ex-EPL side Queen's Park Rangers. Users of the CopyBet site can get a one-time free bet on a QPR match, even if they don't support QPR!
CopyBet also has Shay Given as their brand ambassador. Former goalkeeper Given made well over 700 appearances during his lengthly football career, including 134 for the Ireland national side.
Is CopyBet Safe?
CopyBet is fully and properly licensed in the UK. Trading company CopyBet UK has licences for gambling software both remote and non-remote, and those licenses have been active since 2019. The company's remote real event general betting standard licence has been active since 2021. The company's licence number is 53774. The company so far has been in receipt of no regulatory actions, such as fines. CopyBet UK does not run any other gambling websites.
CopyBet UK was incorporated in 2017. In 2021 (the most recent year of available accounts) CopyBet UK made a profit in excess of £1.2 million.
Full details of CopyBet's privacy policy are available via the site. The site though does not provide details of the levels or methods of encryption it uses. It does though adequately promote responsible gambling, with links available to helpful organisations such as Gordon Moody, GAMSTOP and GamCare.
CopyBet Sign Up Offer
If you sign up with CopyBet using any of the links that we provide here during our CopyBet review, you will receive £40 in free bets as long as you make an initial deposit of £10 and place a bet that meets this offer's terms and conditions. The bonus is only applicable if you place your qualifying bet via the downloadable Copybet app.
Once you have completed your sign up, you need to make a minimum £10 deposit (any payment method) and place a minimum £10 bet on any event of odds of 1.5 (1/2) or greater. Once that qualifying bet has been settled, you will receive four £10 free bets within 24 hours as your CopyBet welcome offer.
You cannot withdraw your free bets, and they can only be used to place wagers at the site. No matter if your free bet wins, your free bet stake will not be returned in any winnings.
CopyBet free bets can only be used on single events, not multis, accas or systems bets such as Yankees or Heinz. They can be used on any event (no minimum odds) but they must be used within seven days else they expire. You cannot cash out a free bet.
Your total winnings from your CopyBet free bets cannot exceed £500. If your four free bets generate more than £500 in winnings then the excess is not paid to you.
CopyBet Free Bets
| | | | | | |
| --- | --- | --- | --- | --- | --- |
| CopyBet offer | Offer description | Wager requirement | Minimum Odds | Offer expiry | Min deposit |
| Free Bet | Bet £10, get £40 | Not required | 1.50 | 7 days | £10 |
CopyBet also runs other promos for regular site users. For example, as the site is an official betting partner of EFL Championship side Queen's Park Rangers, you will receive a free, no-deposit bet that you can use on the next QPR game. Just select QPR's match and the bet you want to place and your no-deposit free bet becomes available. Note that this is a one-time only offer.
Watch out every Thursday at CopyBet for enhanced odds deals. You will receive boosts on a selection of EPL and EFL Championship matches. These change weekly and can be used time and time again.
CopyBet Review: Top features, Markets & Odds
That's the stuff about the safety of the CopyBet sports betting site out of the way, and details about the enticing bonus you are entitled to if you sign up here. Now let's get into the important details – how the CopyBet UK site works, what it can offer you, and simply just how decent it is.
CopyBet Sports Betting
The emphasis on CopyBet is on football, with football a close second and in third place, football. Did we mention that the focus at CopyBet seems to be on football?
There are other sports, namely horse racing, tennis, basketball, cricket, volleyball, table tennis, ice hockey, baseball, rugby (both codes), MMA, darts, snooker and handball, but the emphasis is very, very, very much on football. Indeed, if you click the 'more sports' tab you get taken through to … guess what … the football page.
We can thoroughly understand why CopyBet UK concentrates on football but more emphasis on other sports would not go amiss, and there are no eSports covered at all. Other CopyBet reviews have stated the site covers more then we found, but … we couldn't find them!
CopyBet Odds
We checked the odds available at CopyBet and we found them to be okay. We looked at a few football matches – the best odds for one game outcome was 4/9 (1.44) and CopyBet had it at 42/100 (1.42), and another at 11/1 (12.0) and the odds available at CopyBet were 9.1 (10.0) so it seems CopyBet is among the best at short odds, but that their longer odds are a little lacking.
CopyBet Limits
We could not find any details about bet limits at CopyBet, so this information may have to remain a mystery. Our reviewer tried placing a bet for a penny at the site and the software did seem happy to accept it. We could not find information about maximum payouts in the 'sportsbook rules' that are available. We assume maximum payouts do apply, but we couldn't find them out and support was not supportive on this issue.
In-Play Betting
As CopyBet is so hot on football you can bet it is hot on live betting too. In-play betting is available for other sports though, including basketball, tennis, volleyball, ice hockey and table tennis. Both cash-out and partial cash-out are available. We've seen better in-play coverage elsewhere, though.
Live Streaming
Nothing to see here, as there's no live streaming at CopyBet.
Other Features
Let's now getting into the real meat of CopyBet – the option of following a tipster or becoming a tipster yourself.
Following a Tipster
You can see the best tipsters at CopyBet at any time. They can be listed in many ways, but probably the best is in terms of percentage profit. At the end of each row you'll see the minimum subscription price, which generally is free for four weeks. This means you can automatically follow this tipster for a month, after which you will then need to pay for the tips.
Once you follow a tipster, any bets they make will be automatically copied via your account as long as you have sufficient funds.
Becoming a Tipster
You can become a tipster yourself at CopyBet and charge people for following  your tips. Obviously, the chances of getting people to follow you depends upon how successful you are as a tipster.
Note that CopyBet will not charge a commission on what other site users pay you.
Links to Betfair
If you prefer exchange betting to fixed odds betting but still want to use the CopyBet service then that is not a problem. You can automatically link your Betfair betting account to CopyBet.
Customer Service
There is a support app available at CopyBet but it is one of those annoying ZenDesk ones which point you to the FAQs or just allow you to leave a message, so it's not genuine CopyBet live chat support. The best alternative is an email to info@copybet.com.
CopyBet review – How to Get Started And Claim Your CopyBet Free Bet
Here now is how you can open an account at CopyBet and claim your CopyBet welcome offer. Click on the button below to get started.
Step 1: Visit CopyBet
Here is what you should see what you click on our handy button.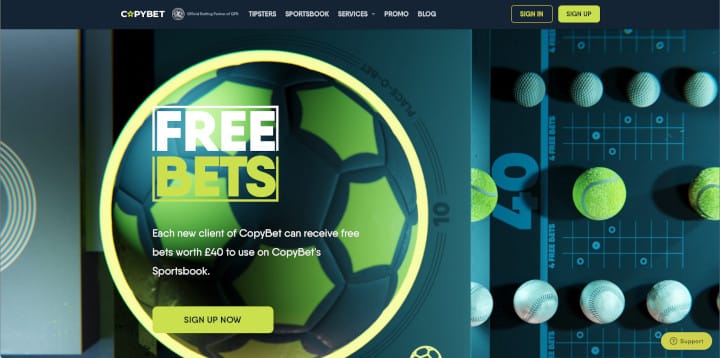 Click on 'Sign Up' or 'Sign Up Now'.
Step 2: Sign Up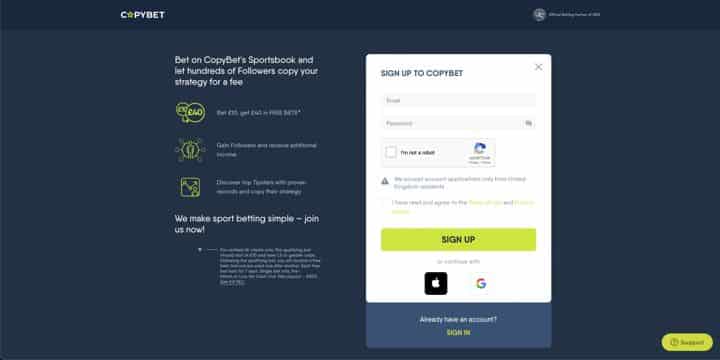 Enter your email address and choose a password. Click the check box to prove you're not a robot and then click 'Sign Up'. This will get your account up and running, but you will need to verify your account before you can use it. This you can do with a driving licence or some other kinds of recognised ID.
Step 3: Deposit Funds
The CopyBet free bets can only be claimed via the CopyBet app, so make sure you download the app to your device(s). You can find links to the app at the CopyBet site, or you can search for them at Google Play or the Apple App Store. Once downloaded and installed, log in using the account you created earlier and head to the cashier section.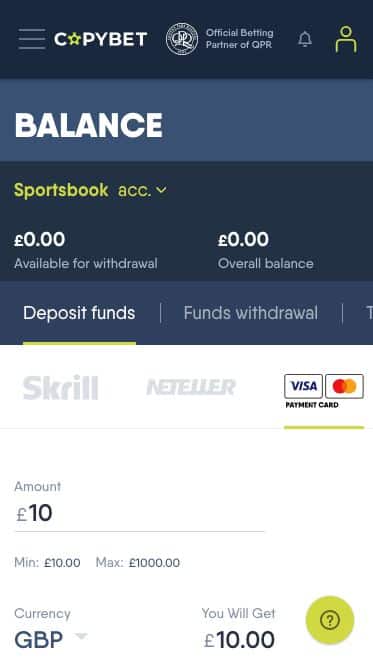 Here we are depositing £10 using a debit card. You need deposit at least £10 via the app in order to claim your bonus.
Step 4: Place First Bet
All you need now is to place a bet of minimum value £10 via the app in order to gain your free bets.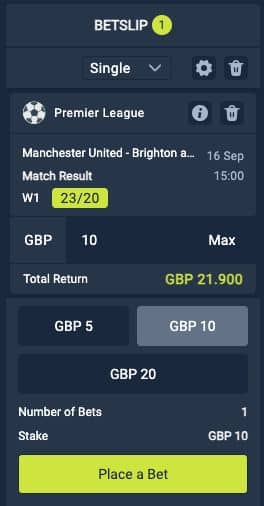 We are betting on Manchester United to beat Brighton in the EPL. We have set our stake at £10, and all we need to do to place our bet is hit the 'Place a Bet' button.
CopyBet Betting App
While the CopyBet UK site can easily be used in full on your mobile device(s) via a web browser, the site also provides apps you can download from the Apple App Store or Google Play. Just head to those app libraries and perform a search, or use the links provided by the CopyBet site. We really highly rate the CopyBet app – it has the full functionality of the desktop site, and has been very nicely designed with no obtrusive images all over the place as with lesser apps. We would recommend you using the app as it works brilliantly and is just simply more convenient.
CopyBet Promo Code
The welcome offer at CopyBet does not require a promo code. You only need to follow the T&Cs exactly in order to obtain your free bets. Indeed, none of the offers available at this sports betting site require a CopyBet promo code, but if any do crop up we will add them to this review.
Below you will be able to see the best offers currently available at safe betting sites in the UK, some of which require a bonus code or promo code, but the majority do not.
Betting Promo Code & Free Bet Codes
All
£30 Free Bet
New!
Paypal
£5 Deposit
Derby betting
Each Way Bet
Enhanced Odds
Free Spins
Live Streaming
patent bet
Placepot bet
Trixie
Yankee bet
Cash Out
£25 Free Bet
£50 Free Bet
New Free Bets
£10 Free Bet
£20 Free Bet
£40 Free Bet
More Filters
CopyBet Casino
CopyBet does not provide a casino. This site is purely sports betting based.
CopyBet review – Payment Methods
CopyBet will accept deposits into your sports betting account via a Visa or MasterCard debit card, Skrill, Neteller, Apple Pay and Google Wallet. The first three names on that list can also be used for withdrawals. There are no fees involved in either deposits or withdrawals.
The minimum accepted deposit is £10, with the minimum withdrawal only being a pound. CopyBet says it will process withdrawals within two days, but independent CopyBet reviews on the internet from irritated customers claim it can take up to a week for CopyBet to pay out, which is poor.
| | | | | |
| --- | --- | --- | --- | --- |
| Banking Method | Fees | Min Deposit | Min Withdraw | Withdraw times |
| Debit Cards | None | £10 | £1 | 3 – 5 days |
| Skrill | None | £10 | £1 | 3 – 5 days |
| Neteller | None | £10 | £1 | 3 – 5 days |
| Apple Pay | None | £10 | Not available | Not available |
| Google Pay | None | £10 | Not available | Not available |
CopyBet review – Pros & Cons
Like any other sports betting site, CopyBet has areas where it excels, and areas that are in need of improvement. We have summarised our findings on these two matters below.
What We Like:
Follow a Tipster. We like the idea that you can follow a tipster, and that you can follow even the best tipsters for free, even if it is just for a four week period.
Become a Tipster. We also like the idea that you can become a tipster yourself, and (eventually) charge people for following your (hopefully) successful tips.
Link your Betfair account. Not everyone likes fixed odds betting sites. It's a great idea that you can follow a tipster or become a tipster at CopyBet but use Betfair to place your actual bets.
Great Apps. The apps supplied by CopyBet are really good, among the best we have ever seen. You can use the site via a mobile browser too, if you so wish.
What We Don't Like:
Withdrawal times. Lots of site users have complained about the slow withdrawals at CopyBet so this is something the site will have to address.
Lack of information. Even once we had an account at CopyBet there were still bits of information that we found difficult to come by, such as the maximum payouts. This is something CopyBet needs to improve on.
Customer Support. Our biggest customer support bugbear is when what looks like a chat applet turns out to be FAQs and messaging. CopyBet live chat needs to be added, and fast.
Final thoughts on CopyBet
There is no doubt that CopyBet is unique. First up, you can follow successful tipsters automatically and for free at this sports betting site. Secondly, you can set yourself up as a tipster and receive subscriptions from other site users. Thirdly, if you don't like fixed odds betting then you can switch to an exchange by linking your Betfair account. There alone are three reasons why you may want to switch to CopyBet.
Not all is rosy, though, with poor customer support and slow withdrawals taking the shine off of our findings. All in all, though, CopyBet is a winner with us.
Bet £10 Get £40 Free Bet
Copy the Best Tipsters or be a Tipster.
Official Betting Partner of QPR (Free bets on QPR games)
Attractive Odds & Price Boosts
9.7
Visit Site
18+ only. New customers only. For verified UK clients only. The qualifying bet should start at £10 and have 1.5 or greater odds. Following the qualifying bet, you will receive 4 free bets that can be used one after another. Each free bet lasts for 7 days. Single bet only. Pre-Match or Live. No Cash-Out. Max payout – £500.
FAQs
What is the CopyBet welcome offer?
What do I need to know about the CopyBet sign up offer?
What is the CopyBet withdrawal time?
Can I download a CopyBet app?
Does the CopyBet sportsbook accept UK players?