You may have come across the gambling term Acca before and wondered what it is. If you don't know, then our experts will tell you exactly what is Acca betting on this page dedicated to furthering your understanding of it. Rest assured, the Acca bet meaning is explained in full with examples and advice.
What is Acca Betting?
So, just what is an Acca bet? Short for accumulator, it's a type of wager where you put two or more selections on different sporting outcomes on through online bookmakers or in a betting shop as one bet. While the Acca betting meaning seems clear enough to experienced punters, some further explanation may be needed for newbies.
How Does an Acca Bet Work?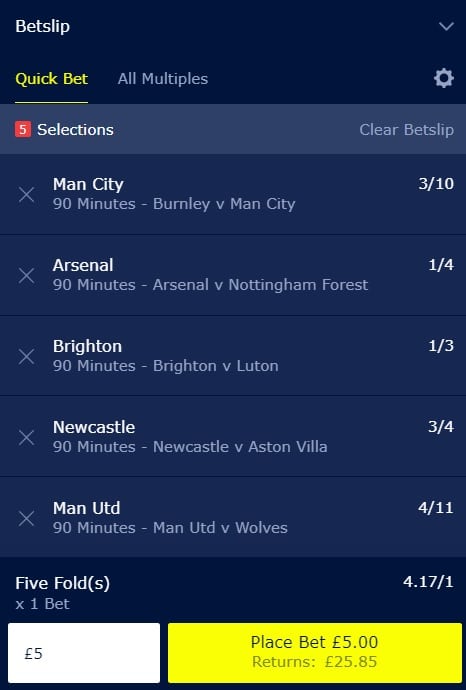 An accumulator with two legs to it is called a Double, three a Treble, and those bets with four selections and upwards in them are suffixed with -fold. Think Five-fold, Six-fold, and so on. The name comes from the fact that the odds for the wager accumulate.
In other words, when working out what an Acca bet pays, you must multiply the prices from one leg to another and then that cumulative total to the next and so on. All selections included in the bet must win in order for the bookies to issue returns.
That means the more legs included in your wager, then the more winners you need to receive a payout. Just so you fully comprehend what is Acca betting, there's an example in the section below. This should help spell everything out.
An Example of Acca Betting
Here's an example of football Acca betting so you can see how it works in practice. Let's say that you fancy five teams to win their respective matches from across the weekend. Given that each selected club is odds-on favourites in the Premier League betting on the results, it makes sense to combine them in an accumulator:
Leg 1 –  Manchester City to beat Burnley (A) @ 1/3
Leg 2 – Arsenal to beat Nottingham Forest (H) @ 30/100
Leg 3 –  Brighton & Hove Albion to beat Luton Town (H) @ 4/11
Leg 4 –  Newcastle United to beat Aston Villa (H) @ 4/5
Leg 5 – Manchester United to beat Wolves (H) @ 2/5
If we multiply these odds together, the Acca bet works out at almost 11/2 (5.38/1 to be precise). A £10 wager on this accumulator at the above prices yields total returns of £63.82, with £53.82 of that being profit.
How to Place an Acca Bet
Now that you can see what is Acca betting through our above example, there are just these simple steps to follow:
Log in or Sign Up to the Bookies

If you want get an accumulator on online, then you'll need a betting account. We have lots of recommended bookmakers and mobile

sports betting apps

you can download for your smartphone and join Confirm your identity and verify your account. Log in using the username or email address and password or passcode you created when signing up.

Make a Deposit

You'll need money in your betting account in order to place an Acca. There are different

payment methods

available to choose from you can use to fund your gambling.

Find Sports Betting Events

Next, you must find the sport(s) and different events you want to bet on that will form the legs of the accumulator. Most bookmakers today allow multiple bets across different sports. Don't feel restricted just to

betting on football

or the horses.

Add Selections to Betslip

Now, start adding the legs of your accumulator to the betslip. Click the odds from a particular market and they should then appear. Keep doing this as many times as you want, but remember the more selections you make, the tougher the bet will be to pull off.

Enter Stake & Confirm

All that's left is to enter your desired stake, that's the amount of money you want on the Acca bet, and view what you could win. Once you're happy with the wager, confirm it and wait for it to settle. If all legs included are successful, congratulations. Your accumulator is a winner.
Why Football Acca Betting is So Popular
The explosion in popularity and rapid growth of the football accumulator has coincided with the rise of online betting in the UK. Once upon a time, casual punters would head to Littlewoods and pick up their pools coupons for the weekend's matches. Serious bettors, meanwhile, were in their local betting shop putting on an Acca or two.
That was then. According to UK Gambling Commission statistics published in November 2022, almost half (46%) of the Gross Gambling Yield for remote betting between April 2021 and March 2022 (£2.4 billion) was wagered on football alone (£1.1 billion). The accumulator has played a role in those staggering industry numbers.
Football has also become much more commercialised during the same period of time in which online betting has grown and developed. Although sports authorities like the FA have taken action to stop this happening in future, plenty of clubs both in the Premier League, English Football League and their Scottish counterparts have been sponsored by bookmakers.
From the 2026-27 season onwards, gambling companies will no longer be allowed as shirt sponsors in the Premier League, but the link between the product and betting has already been made. Accumulators are here to stay, no matter what changes to advertising are made by football's governing bodies.
Acca Bet Calculator
The maths behind working out what your next accumulator is worth may not be easy. Multiplying fractions is something everyone in the UK learns at school, but not always to the extent that many multiples with several legs have. Luckily, we can save you the headache of any mental arithmetic thanks to our bet accumulator calculator that does all the number crunching automatically.
This takes all the hassle out of figuring out your what next Acca bet returns. Our easy to use tool relies on you entering the right information, such as the number of legs in the accumulator, the stake gambled and the prices taken, i.e. the odds, on each individual leg. Once you've tried it out for yourself, you'll see that our free bet calculator is really convenient.
Pros & Cons of Acca Betting
The accumulator has its benefits, but also its drawbacks. Unfortunately, there's no such thing as the ideal bet for every scenario. Accas are no different. Recognising their upside whilst also being wary of their negatives lies at the heart of smarter, more responsible gambling. We therefore asked our aspects to talk about the positives and limitations:
Pros:
Acca Insurance deals exist to protect bets
Each way an option for some sports
More value betting than you get on singles
Small stakes can convert into big wins
Cons:
High level of difficulty to pull off
If one leg loses, an Acca bet is over
Need multiple winners for a payout
Potential loss higher than other bets
Variations of the Acca Bet
Straight accumulators are only the beginning of the options in terms of multiple bets punters can place. From the possibility of each way betting on certain sports, notably horse racing, to combination and system wagers, many variants of Accas exist today.
The guiding principle with alternatives is to mitigate the potential loss involved. A straight accumulator is everything must win or the wager is bust. By looking at full cover bets like the following instead, you can still receive returns even when all legs aren't successful. The trade-off for that, however, is a unit stake multiple times that of an ordinary Acca. These 10 combination and system bets are credible alternatives:
Trixie – 3 selections in 4 bets: 3 Doubles and a Treble.
Patent – 3 selections in 7 bets: 3 Singles, 3 Doubles and a Treble.
Yankee – 4 selections in 11 bets: 6 Doubles, 4 Trebles and a Four-fold accumulator.
Lucky 15 – 4 selections in 15 bets: 4 Singles, 6 Doubles, 4 Trebles and a Four-fold accumulator.
Canadian – 5 selections in 26 bets – 10 Doubles, 10 Trebles, 5 Four-folds and a Five-fold accumulator.
Lucky 31 – 5 selections in 31 bets: 5 Singles, 10 Doubles, 10 Trebles, 5 Four-folds and a Five-fold accumulator.
Heinz – 6 selections in 57 bets: 15 Doubles, 20 Trebles, 15 Four-folds, 6 Five-folds and a Sixfold accumulator.
Lucky 63 – 6 selections in 63 bets: 6 Singles, 15 Doubles, 20 Trebles, 15 Four-folds, 6 Five-folds and a Six-fold accumulator.
Super Heinz – 7 selections in 120 bets: 21 Doubles, 35 Trebles, 35 Four-folds, 21 Five-folds, 7 Six-folds and a Seven-fold accumulator.
Goliath – 8 selections in 247 bets: 28 Doubles, 56 Trebles, 70 Four-folds, 56 Five-folds, 28 Six-folds, 8 Seven-folds and an Eight-fold accumulator.
Top Acca Betting Tips
Accumulators are a useful tool for punters in the right circumstances. Knowing when they're most effective and how to get the maximum use from them is essential. We've got some helpful hints from our experts in that direction. This Acca betting strategy isn't fool-proof by any means, but should help you to reach better decisions the next time you fancy taking a punt.
Take Out Acca Insurance Wherever Possible
A popular promotion relating to accumulators that a number of leading bookies provide is Acca Insurance, which refunds your losing stake as cash or bonus funds in the event that one leg of a qualifying multiple lets you down. There are always terms and conditions, notably minimum odds threshold per selection, you must abide by when betting to get this protection.
Whether you get your money back or some free bets, this softens the blow of your accumulator losing. Acca Insurance deals can actually give you a free hit at pulling some tough wagers off where the odds aren't in your favour. If you win your lost stake back off bound funds from your next bet, then that makes it all worthwhile.
Put Odds-On Favourites Together Creating Better Value
There are some win Singles that just aren't value. While that is a relative concept to each sports event and the opinion of punters, few smart gamblers enjoy backing at odds-on. One of our best Acca bet tips, then, is to combine short-price favourites together as that boosts the overall price.
While not all market leaders oblige, and you should expect the unexpected when gambling, this is the only real way to get value out of odds-on fancies. If you can't double your money backing them on their own, then this approach comes highly recommended. The implied probability of all aspects winning carries through.
Check Place Terms on an Each Way Acca Bet
The thing about an each way bet is there are different place terms offered, depending on what the sports event is and the number of potential outcomes. While you'll only get this wager on some outright markets in football, tennis, cricket and so on, horse racing offers multiple chances every single day.
An accumulator on the horses can thus be placed each way. There are strict rules governing whether a quarter or a fifth of outright odds, or indeed any fraction at all, is paid for a place. The race in question has minimum odds thresholds for two, three and four places. Even the type of event shapes what's available, so always check the terms before putting on an each way Acca bet.
Best Acca Betting Sites
All online bookies have to include accumulators in their offering as it's standard practice. Part of understanding what is Acca betting surrounds the ready availability of the wager on a universal basis. Called a Parlay bet in the USA, it's common on both sides of the Atlantic and in other gambling hotbeds around the world. All of the best Acca betting sites know this only too well and embrace multiples of every kind. After all, the odds are in their favour.
FAQs
What are the disadvantages of Acca betting?
Can my Acca contain selections from different sports?
How to calculate winnings from an Acca?
Does Acca betting include extra time?
What is an each way Acca bet?
Was this article helpful?