"1.5 goals" in betting almost exclusively applies to football and refers to a bet on whether the total number of goals scored in a match by both teams will be less than or equal to 1 (under) or more than 2 (over).
This page will fully explain what does 1.5 goals mean in betting. It will also explain how it can be used in over/under market, give you some 1.5 goals tips and even a over 1.5 goals strategy you can use. Read on and be educated.
The 1.5 Goals Betting Market Explained
There term '1.5 goals' is most often used in conjunction with over/under betting in the UK. This is a bet where you predict the number of goals that will be scored in a game (by both sides), although you don't have to predict the correct number.
Say you are betting on Arsenal v Tottenham. You think it will be a tight football match with very few goals. If you so choose you can bet on 'under 1.5 goals'. This means your bet will win if any of the final scores are the outcome:
Arsenal 0 Tottenham 0
Arsenal 1 Tottenham 0
Arsenal 0 Tottenham 1
As long as the game finishes without a goal or the final score is 1-0 no matter who wins, then you are fine.
Alternatively you may think that there will be more than one goal in the game. In this case you can bet on 'over 1.5 goals'. This means that if the game ends with any scoreline other than the three scorelines mentioned above, then your bet wins.
Betting on Over 1.5 Goals
Different sites have different ways of placing bets, but they are basically the same. Here we are going to look at betting over 1.5 goals at BetUK on the thrilling EPL game, Fulham v Luton.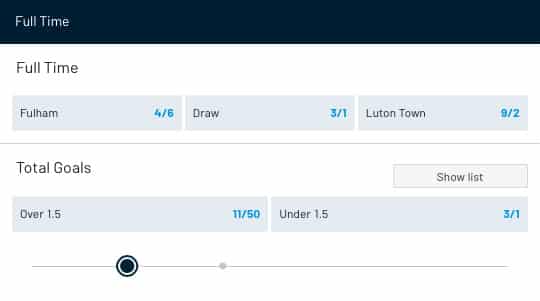 Here you can see the odds for the game. BetUK has an innovative slider for over/under – you just slide it until the relevant totals appear. Here you can see the betting odds for over 1.5 goals is 11/50. Click on the odds to add the bet to your betslip, setting your stake and then confirming your bet.
Betting on Under 1.5 Goals
As you can see from the graphic above, the odds for under 1.5 goals is 3/1. To bet on this, just click on the odds to add them to your slip.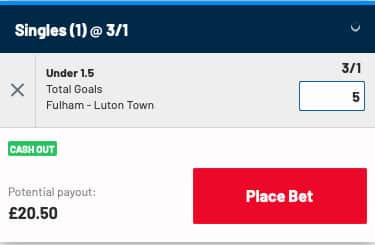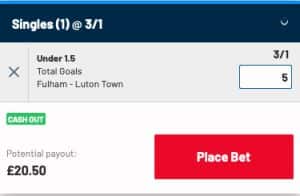 Here we have set our stake to £5, giving us potential returns of £20.50. To place the bet, all we need to do is hit 'place bet'.
Deciphering Over/Under 1.5 Odds. Why Have .5 Though?
In our introduction we asked the question why 1.5? How can a team score half a goal? Well, of course in reality, they can't.
The '.5' is just there to make the wording of the over/under bet a little shorter and a little easier to understand. If explained in full, it would be as follows:
Under 1.5 – One goal or less than one goal scored in total
Over 1.5 – Two goals or more than two goals scored in total
The second part of each of these is a little too wordy, so bookies have decided to go with 'under/over 1.5' instead.
To clear up any lingering confusion, forget the concept of goals and think of them as numbers. If the number of goals scored is less than 1.5, then 'under 1.5' bets win. If the number of goals scored is more than 1.5, then 'over 1.5' bets win.
Why Bet on 1.5 Goals Betting?
The favourite in football wins around 60 to 70 percent of the time. Although this may sound high, when you are trying to return a consistent profit on your football betting, then really, it's not. Favourites in football usually have tight prices, so even if you bet on the winners of ten football matches and get eight right, you still might not return enough profit to cover the losses from the two matches you didn't get right.
While teams in football can be inconsistent, they are usually inconsistent for a number of reasons. However, in terms of scoring and conceding, teams are just more consistent. Teams that find it hard to score seldom go on scoring sprees, whereas teams that are tough to score against suddenly do not let in dozens of goals. This means it can be easier to predict the number of goals in the game if you know low scoring sides with tight defences are involved, and vice versa.
Betting on over/under 1.5 may give better returns than '1X2'
But why 1.5 goals? You are basically betting on a game having only one goal, or ending 0-0. Why not 2.5 goals? Or even 3.5 goals? The answer to that is reasonably simple – you just get better odds. Let's look at a real world example: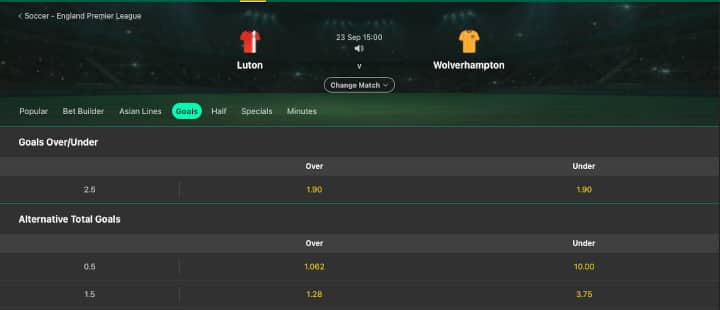 Here are the odds for a match involving Luton and Wolves in the EPL. These are two teams who found scoring at the start of the 2023-24 season a difficult thing to achieve (Luton 2 goals in 3 games, Wolves 4 goals in 4 games). You might think a game involving such goal-shy sides may not involve many goals, so you look at the 'under' odds. The standard for over/under is actually 2.5, but if you look at the 1.5 alternative you can see the odds are much better (3.75 as opposed to 1.90). It may then be better to go for under 1.5 than under 2.5.
It's also worth noting that bookies count over/under 2.5 as the standard as the most common scorelines throughout history in football are 1-0, 1-1, 2-1 and 2-0. Over/under 2.5 therefore has the tightest odds and bookies like to push punters towards tight odds as the tighter the odds, the smaller the payouts.
Is There a Strategy?
The best strategy for over/under 1.5 goals is to analyse dozens of matches and identify ones involving the following:
Look for teams that both score few goals and concede few. If two such teams meet up, then that's potentially a good under 1.5 goals bet.
Look for teams that score plenty of goals but concede plenty too. If two such teams meet up, then that's potentially a good over 1.5 goals bet, although the odds are not going to be brilliant.
For this example, let's look at Serie A as Italian football is famed for low-scoring games. In 2022-23, Lecce were the 'score few/concede few' kings, as their 38 games generated 79 goals (compared to Inter at 113). Spezia were a team who found it hard to score (31 in 38) but weren't too bad at keeping them out too against low-scoring teams. So, let's look at the results between these two sides:
Lecce 0 Spezia 0
Specia 0 Lecce 0
Hardly a goal-fest! In both cases, and under 1.5 goals bet would have been a winner.
Now that's look at the flip side of the euro. The 38 games involving Inter contained 113 goals, and involving Atalanta 114, so what happened with their matchups?
Inter 3 Atalanta 2
Atalanta 2 Inter 3
So, winning bets again, this time for over 1.5 goals meaning decent returns.
The key is to look at as many football matches as you can, keeping tabs on high scoring/high conceding teams and vice versa, and checking when they match up.
1.5 Goals Market in Different Sports
Over/Under 1.5 goals is associated with football, but are there over/under 1.5 goals markets in other sports? The short answer is, no. The reasoning behind this is very easy to understand – football is a very low scoring game compared to most other sports. The average number of goals per game in a game of football is usually between 2.5 and 3.
Other sports do have over/under, but the totals offered seldom drop below 1.5. Remember the 'standard' over/under mark in football is 2.5. Let's look at the 'standard' over/under mark in some other sports.
| | |
| --- | --- |
| Sport | 'Standard' Over/Under Mark |
| American Football | 45 to 55 |
| Aussie Rules | 150 to 180 |
| Baseball | 7.5 to 10.5 |
| Basketball | 225 to 235 |
| Futsal | 5.5 |
| Ice Hockey | 6.5 |
| Volleyball | 170 to 190 |
As you can see, the standard over/under totals are far in excess of the 2.5 standard for football, therefore it is extremely unlikely that a bookmaker would offer odds on over/under 1.5 goals for any sport other than football.
Common Mistakes to Avoid
There's such thing as a perfect punter, but you can work your way to becoming as decent as possible when betting on over/under 1.5 goals by avoiding these mistakes.
Rigidly sticking to 1.5 over/under
All successful bettors are flexible. You may feel a game may be low scoring, but sometimes over/under 2.5 goals is the better bet for a specific game. Check your stats and come up with a realistic bet.
Not following the numbers
Football is full of numbers, but at the end of the day it's the goals scored that matter. In terms of the over/under 1.5 bet, it's better to follow the stats than your head. Bet using statistics, not gut feelings.
Not checking the odds
In truth, odds do not fluctuate across different betting sites, but it will always pay you to check the sites you use to see if you can get better odds elsewhere. You might even consider a betting exchange such as Betfair, or a spread betting site like Spreadex.
Where in the UK Can You Bet on Over/Under 1.5 Goals?
You will be able to bet on over/under 1.5 goals at any bookie in the UK. It's a very common market in football in the UK and all bookmakers with football markets (which is all of them) will accept over/under 1.5 goals wagers. We particularly like BetUK and All British Sports for sports betting, and Spreadex for spread betting.
Wrapping Up
If you really know your football and you don't mind crunching numbers, you could return decent profits by perfecting an over 1.5 goals strategy, or a similar system for predicting under 1.5 goals in games. All you need to do is identify games where less than two goals will be score (under 1.5) or more than one (over 1.5).
As ever, make sure betting on your over 1.5 goals predictions (or under) remains entertaining, and always gamble responsibly.
FAQs
What does under 1.5 goals mean in betting?
What does over 1.5 goals mean in betting?
What is a lay under 1.5 goals strategy?
What are the best over 1.5 goals tips?
Is it easy to perfect an over 1.5 goals strategy?
Was this article helpful?