Sporting Index Sports Review September 2023 – Pros & Cons Revealed
Overview
Spread betting has been a unique addition to the British betting landscape and only one company can claim to have started it all, and in this Sporting Index review, we will talk about how they have been at the heart of the spread betting scene for over 30 years and now combine fixed odds and spreads to great effect.
In this Sporting Index review, we will also tell you a little bit about the history of Sporting Index, before going on a deep dive into their desktop and mobile offerings, focusing on the Sporting Index sign up offer, existing customer deals, usability, sports and markets offered, Sporting Index odds, payment options and much more!
Register to Claim Your Sporting Index Welcome Offer
50% cashback on net losses up to £500
50% cashback on net losses up to £500
A risk-free demo account is available
Spread betting and fixed-odds betting both available
A great mobile App
9.4
Claim offer
New UK & Eire clients only. 50% cashback on cumulative net losses on qualifying spread bets placed and settled within 7 days of account opening. Fully, partially or reverse closed bets do not qualify. Max cashback £500. Full terms apply. Spread betting involves risk. Losses can exceed deposits. Always bet responsibly. 18+
What is Sporting Index?
Sporting Index are the trailblazers of the UK spread betting scene, having launched before any other firm of that nature in 1992. They featured a buying and selling betting model before anyone else and also introduced cashing out to the world at a time when no other bookmaker was doing it.
They launched the very first fully online, interactive spread betting site in 2001, following it up in 2003 with the first Sporting Index mobile betting service, which was also the first mobile betting app full stop! And they weren't finished there as they added a fixed-odds site in 2019 which now sits side by side with spread betting on the Sporting Index website and mobile app.
Regulated by both the Financial Services Authority and the Gambling Commission in the UK, Sporting Index has impeccable credentials when it comes to site safety. They are open about the increased financial risks of spread betting compared to fixed-odds wagering and it's also pleasing to see an extensive Safer Gambling section on the Sporting Index site.
Punters can find advice on how to spot if your gambling is becoming a problem, tips for others to spot if their friend or family member is experiencing difficulties, and links and numbers to call if you want to seek help. There's also a section on how to prevent minors from being exposed to gambling content online. And of course, there are all the usual tools for punters to regulate their own gambling.
What is Sporting Index Spread Betting?
An important part of this Sporting Index review is to explain exactly what spread betting is, and the main point to note is that it differs from fixed-odds wagering in that you aren't betting on the result but whether a specified outcome such as the number of goals scored in a football match, the total runs a cricket team scores or the total games in a tennis match will be higher or lower than the "spread" offered by the bookmaker.
The spread itself is the range within which a bookie believes the result of a given market will fall. It is always comprised of two numbers, which are a "Sell" price and a "Buy" price. If you think the final result of the market will be greater than the Buy price then you would "Buy", but if you think it will be less than the Sell price then you would "Sell".
One of the main attractions of spread betting is that, particularly in football, you can bet on markets that don't really exist on fixed-odds sites, such as total shirt numbers of goalscorers in a football match, total goal minutes and even special bets such as the total card minutes, which is perfect if you think a player will be prone to a late booking!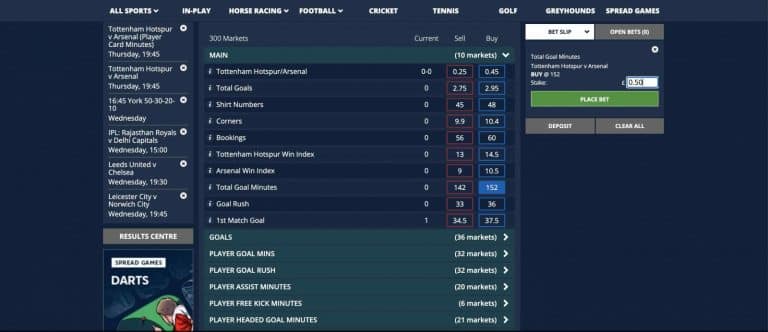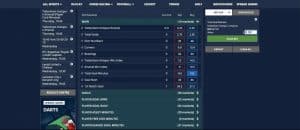 Let's take an example of a clash between Tottenham and Arsenal, where the goal minutes spread is 142-152. You could either buy at 152 if you think it will be higher or sell at 142 if you reckon it will be lower. So let's say you bought at 152 for a 50p unit stake and goals were scored in the 40th, 70th and 80th minutes. The market would settle at 190, which is 38 higher than the buy element of the spread, so you would win £19, which is your 50p unit stake multiplied by 38.
However, if you would have sold at 142, that would have ended up being 48 less than the total goal minutes of 190, so the amount you would lose, also known as your liability, would be £24, which is your 50p unit stake multiplied by 48.
When buying, the beauty of spread betting is that the higher the total goes the more you will win, but conversely, if you buy high and the total is low, your liability will be pretty hefty! However this risk/reward element is actually a large part of the reason why spread betting has grown so much in popularity over the years.
Is Sporting Index Safe?
The legitimacy and safety of an online sportsbook is our number one priority when we put together articles such as this Sporting Index review, so we're happy to report that you can bet at Sporting Index with confidence, as they are regulated by both the Financial Services Authority and the Gambling Commission in the UK, two of the most highly-respected regulators in the country. They also have an extensive privacy policy when it comes to customer data and the protection of sensitive information, with all personal details being fully encrypted.
We were also pleased to see that Sporting Index also has a very extensive Safer Gambling section, with advice on how to spot if your gambling is becoming a problem, tips for others to spot if their friend or family member is experiencing difficulties, and links and numbers to call if you want to seek help. There's also a section on how to prevent minors from being exposed to gambling content online.
And of course, there are all the usual tools for punters to regulate their own gambling to ensure it remains a fun pastime rather than anything more, such as the ability to set daily, weekly and monthly deposit limits, the option to take a time out for a specific length of time or to self exclude altogether. You can also set a "reality check" which will pop up after a certain amount of time to let you know how long you've been on the site.
Sporting Index Sign Up Offer
There's a lucrative 'new for 2023' offer at Sporting Index for anyone signing up for a new account. It's a very simple and straightforward one to understand. Sign up for a new account at Sporting Index and you'll get 50 percent cashback on your net spend over the first seven days of your membership, up to a maximum of £500.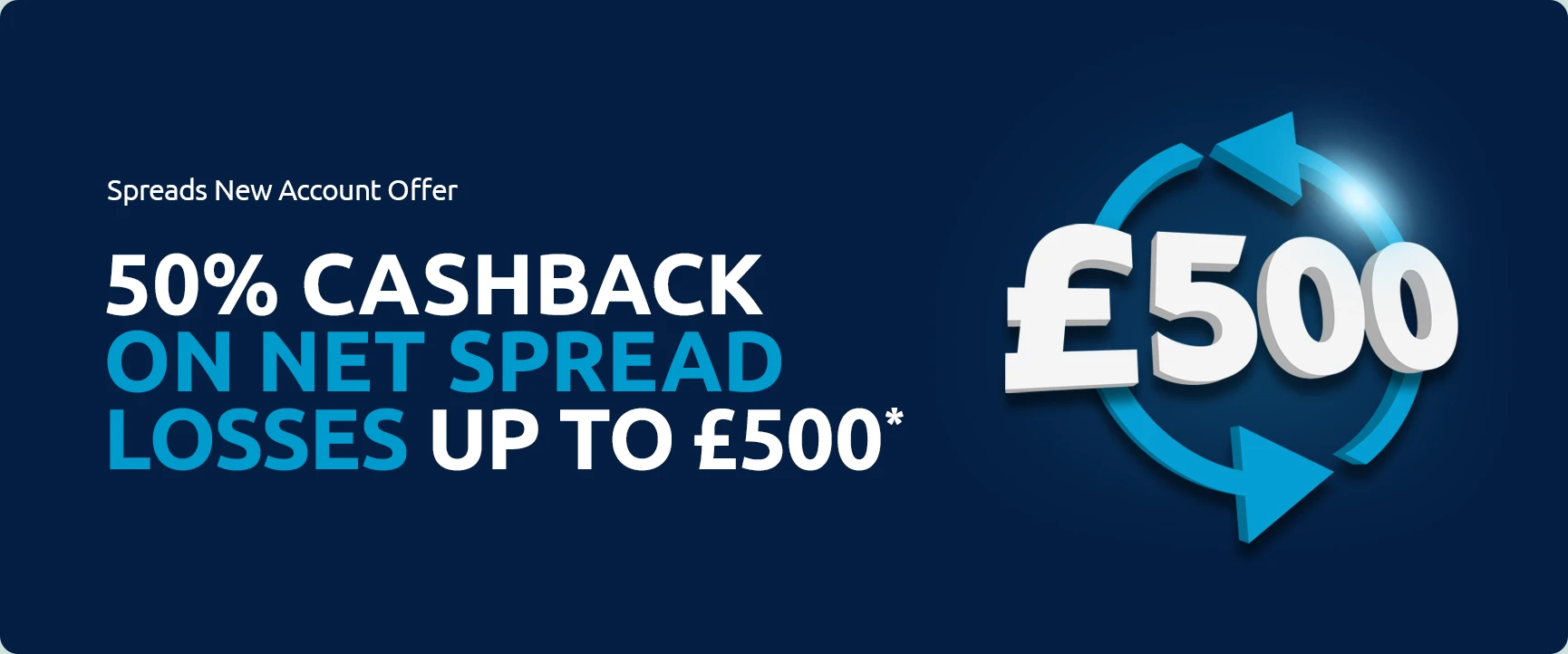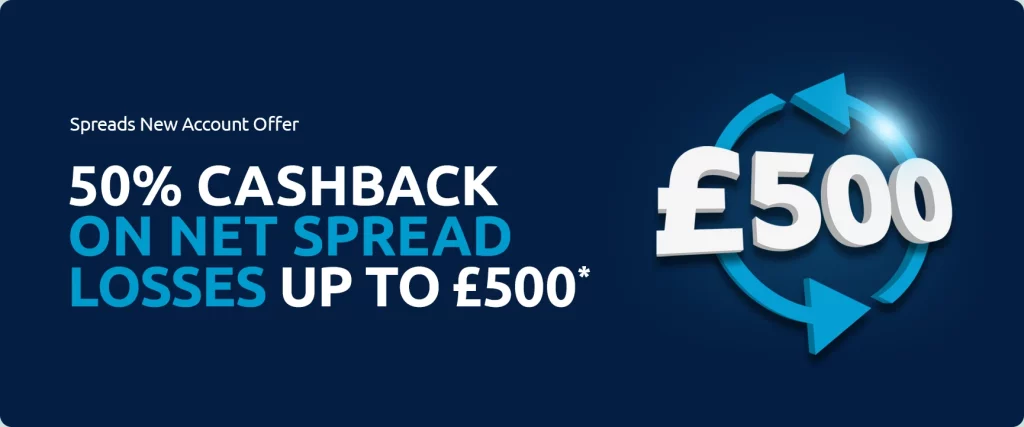 This net spend is the difference between what you win and what you lose during those first seven days. So, if you spend £100 and lose £200, that's a £100 net loss, or spend. You would therefore receive back £50 because of this deal. Note that only spread bets qualify for this deal, not any fixed odds bets. Virtual spread bets do not count either, neither do reverse closed bets. All cashback is paid back as withdrawable cash, and not bonus cash as it is with similar deals of this nature at less generous sites.
| | | | | | |
| --- | --- | --- | --- | --- | --- |
| Sporting Index offer | Offer description | Wager requirement | Min qualify odds | Offer expiry | Min bet |
| Sporting Index Spread Betting Offer | 100% Cashback on Net Losses Up To £500 | None | N/A | Must complete in 7 days | No minimum |
Ongoing Sporting Index Promotions
No Sporting Index review would be complete without featuring existing customer deals too. And while there are some great ongoing fixed odds betting promotions available at Sporting Index, it's slim pickings when it comes to spread betting offers! We've summarised the offers below but you should always check the full T's & C's before placing any wagers.
Refer and Earn – If you've got a friend who hasn't got an account at Sporting Index, then you can both get a bonus if they join up and place a series of fixed odds or spread bets. When it comes to the fixed odds offer, they must place £50 in bets at odds of at least evs (2.00) and once settled you will each get a £25 Sporting Index free bet. Or alternatively, they can place three or more spread bets that can win or lose £20 and when they're settled you will both get £50 cash in your betting accounts.
Sporting Index Bad Beat Special – With "Expected Goals" swiftly becoming everyone's favourite new football statistic, we have to hand it to Sporting Index for introducing a unique Sporting Index Bad Special, which is the first betting offer that we have seen to feature xG. If you place a fixed-odds wager on a football team to win in the "Match Winner – Sporting Index Bad Beat Special" market and they lose the match but "win" according to the Expected Goals measure, your stake will be refunded as a Sporting Index free bet up to £50.
2Up Early Payout – Football can be completely unpredictable, which is part of the reason why we all love it so much! However, what we definitely don't love is backing a team, seeing them go two goals ahead and then watching helplessly as they fail to win the game! Not at Sporting Index though, where your football bet will be paid out if your team takes a two-goal lead. Qualifying Bets must be placed pre-match on the "2Up Early Payout market" in Premier League and Champions League matches only.
Double Result – Sporting Index will pay out on both the official result and the first past the post in any UK and Irish horse race, which basically means that if your horse wins but is subsequently disqualified, your bet will still be counted as a winner.
Unlucky Bonus – Lucky 15, Lucky 31 and Lucky 63 wagers are popular multiple bets, mainly because you can secure a return if just one of your selections wins. That would be the worst-case scenario though and will often mean you will still make an overall loss on the bet, which is why Sporting Index will double the odds of your winning selection if it is the only one you've got! This bonus applies to Sporting Index horse racing, greyhound racing and correct score football bets only.
Sporting Index Review
Now it's time for an in-depth look at the Sporting Index site, with a particular focus in this Sporting Index review on the elements of a betting site that really matter to punters. We'll be featuring both the fixed odds and spread betting sides of the site, as well as the site features that are the same for both forms of betting.
Which Sports Can I Bet On At Sporting Index?
The default Sporting Index homepage is the spread betting one, but you can easily navigate between fixed odds and spread betting sections by clicking "Spreads" or "Odds" at the top of the page. Over at the fixed odds site we found a whopping 30 sports to wager on at the time of writing along with Politics, TV and novelty markets.
When it came to spread betting we found 17 sports to bet on, with Sporting Index football being by far the largest in terms of the number of matches and markets offered, which was not a surprise as the Beautiful Game is comfortably the most popular sport when it comes to spread betting.
However, there are plenty of other sports on offer including Sporting Index horse racing markets, golf, tennis, cricket, basketball, American football, motor racing, rugby, as well as TV and novelty specials that lend themselves to the spread betting format, such as the Eurovision Song Contest! And if all that isn't enough there are spread betting spins on virtual horse racing, golf, darts and football.
Sporting Index Odds & Value
While odds are an important part of this Sporting Index review, no bookmaker could ever claim to have the best prices across the board but when it comes to the UK betting market in particular, odds comparison sites have allowed punters to compare prices across a large range of bookies and sportsbooks can't afford to rest on their laurels when it comes to pricing up markets.
Our analysis of the Sporting Index odds across a number of sports told us that their prices are rarely industry-leading but certainly competitive. Interestingly though, more often than not Sporting Index lagged behind their primary spread betting rival Spreadex when it came to the competitiveness of their odds.
When it comes to spread betting, Sporting Index is more about spreads than odds, so we can't judge them by the usual standards. What we did do though is head to Spreadex and compare their spreads with those at Sporting Index, and we found them to be pretty much the same across a number of sporting markets, so if you've chosen Sporting Index you can bet with confidence that by and large you are getting the best spreads possible!
Bet & Loss Limits
The minimum stake for the vast majority of fixed-odds markets is £0.50 and the maximum stake varies by market but should be more than enough to satisfy all but the highest rollers! And the good news for small stakes spread bettors is that you can place wagers at Sporting Index for a minimum of £0.01. And at the other end of the scale, each market will have a different maximum stake but again they should be generous enough to satisfy most punters.
It's also worth talking a little bit here about loss limits when it comes to spread betting. Firstly, if you're buying an outcome you will know your liability (aka the maximum amount you could theoretically lose) in advance because the worst-case scenario with any buy bet is always the market settling at zero.
For instance, if you bought the total goal minutes in a certain Sporting Index football match at 156 for a £1 unit stake, if the match finished 0-0 and the market settled at zero, you would lose £156, which is the "buy" part of the spread multiplied by your unit stake. So it follows that if you're placing a buy bet you can use this information as part of your betting strategy, to limit your bet stake and make sure that you won't lose more than a certain amount.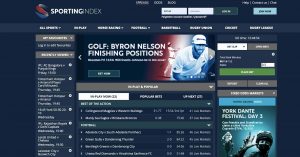 However, Sporting Index has further limitations in place in that you can choose for your account to be a "Stop Loss" account. And what this means in practice is that your exposure to losses will be limited because all the markets you bet in will have a maximum bet that is much lower than usual. The flipside is that your winnings will also be limited, but many punters will be happy with that regardless.
For example, You may wish to sell a batsman's runs in a Test match at a price of 50 for £1. If the batsman goes on to score 200 runs, this would normally result in a loss of £150. However the stop-loss limit for this market is set at 100, so the most you would lose would be £100, which is 100 times the £1 stake. Of course, this works both ways, so if you had bought the runs, the maximum profit you could make would be 100 times the £1 stake, or £100.
In-Play Betting
One of the most exciting aspects of sports betting is in-play wagering, with more and more punters discovering the benefits of betting when an event has already started and more information is available to positively influence your wagering decisions.
In-play betting is offered for fixed odds and spread betting markets throughout the Sporting Index site and on the app. The vast majority of the most popular sports will feature live betting markets and while there won't be as many as before a particular match or event, we still found a good number of  Sporting Index live betting markets throughout a wide range of sports.
Most Sporting Index live matches will also feature a nifty little graphic keeping you bang up to date with what's happened so far and what's taking place currently.
Sporting Index Live Streaming
If you like betting on the Sport of Kings we have good news for you as there's a Sporting Index horse racing live stream available for most races worldwide with extra features such as pre-race video analysis and stats galore. And if you're a fan of a canine flutter, you will also be able to watch some greyhound racing meetings live as well.
Additional Features
As we mentioned earlier, Sporting Index are the pioneers of cashing out in-play and when it comes to fixed odds or spread betting, punters have full control at any time by checking out the value of their open position in play in "My Bets".
Spread betting-wise, if there's a minus in front of it then things aren't going so well but if not, well done because you're in the black! Either way, you can choose to press the cash out button and accept your win or loss at that point. It's not without its risks though as last-minute goals can turn any bet on its head in a matter of seconds, but the important thing is that the option is there!
Elsewhere on the site you will find a betting blog which is packed with betting guides and insight, the jewel of the crown being a partnership between racing royalty Frankie Dettori and Sporting Index, where Dettori writes regular articles previewing the big meetings of the week.
Customer Service
Sporting Index has an excellent array of customer service options, all of which are available 24 hours a day, even days a week. There's a dedicated phone number to place bets if you're a bit old school, and a customer service number if you'd prefer to speak to someone in person rather than use the chat feature. You can also tweet them at @AskSpin.
Speaking of the chat feature, we found it to be very effective as a Customer Service Agent always appeared mere seconds after we clicked on the chat button and answered our queries swiftly and effectively.
How to Get Started at Sporting Index
Signing up to Sporting Index and placing your first wager is an easy process which shouldn't take up too much of your day, leaving more time for the fun part!
Step 1 – Visit Sporting Index
The first step is to visit the Sporting Index website and click on "Join Now" to start the registration process. Most people prefer to do this on a desktop computer or laptop, but you won't have any issues if you're using a mobile browser.
Step 2: Input Your Details
Next up it's the first sign of the Frankie Dettori and Sporting Index partnership, as he takes pride of place on the screen where you have to input your name, date of birth, address, phone number, create a password and specify your communication preferences. You may also receive a call to verify a few things but more than likely everything will be confirmed electronically and you'll be ready to go straight away!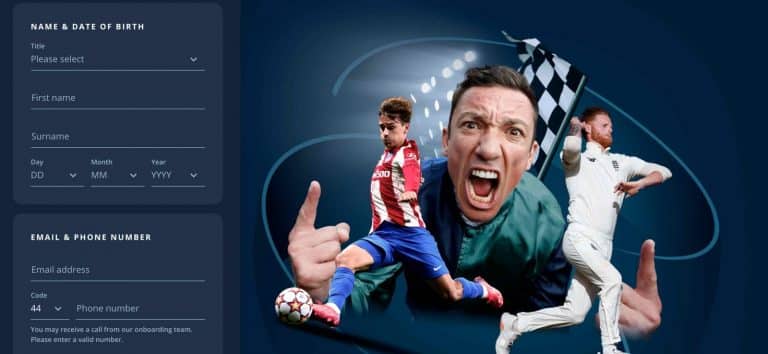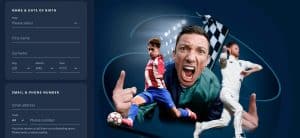 Step 3 – Deposit Funds
Now it's time to fund your account, starting with a click on "Deposit" at the top right-hand side of the screen which will bring up the Cashier page. From there you can select the amount you wish to deposit and then input your debit card details, which will be remembered for future deposits.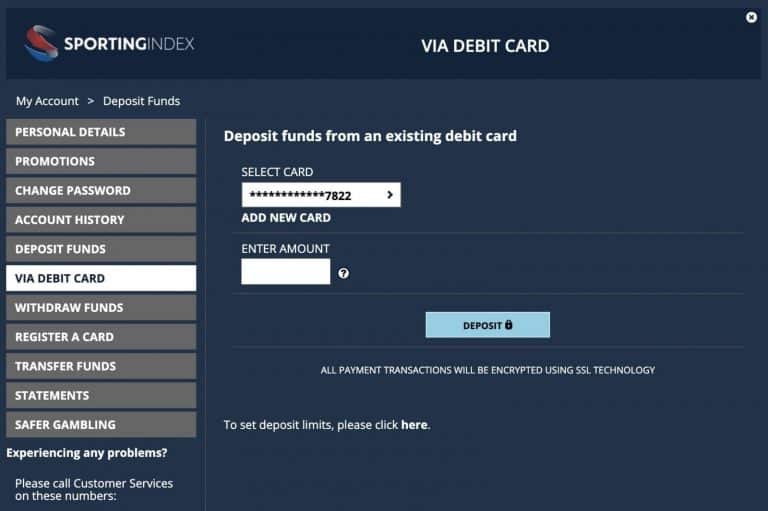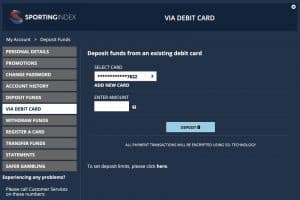 Step 4 – Place A Bet
Now that you're ready to place a bet you need to click on "Odds" or "Spreads" at the top of the screen and from there you will be able to click on the sport you are after at the top, or "All Sports" to find an event if it's not featured on the home page. And if you're placing an in-play bet you can click "In-Play at the top of the screen and select your market from there.
Once you're on the home page for the particular sport you want to wager on, Sporting Index has made it very easy to navigate to the exact match you're after. And from there it's a simple case of finding the exact market and clicking on it to add your selection to a betslip which will appear on the right-hand side of the screen, adding more selections if needed, setting your stake and pressing "Place Bet".
Step 5 – Withdraw Winnings
If you're in a position to withdraw any winnings and want to get your hands on your cash then just click on your name at the top of the screen, followed by "Withdraw", on the left-hand side. Input the amount, click withdraw and then you will be given the option to select the same payment method you used when you made your deposit.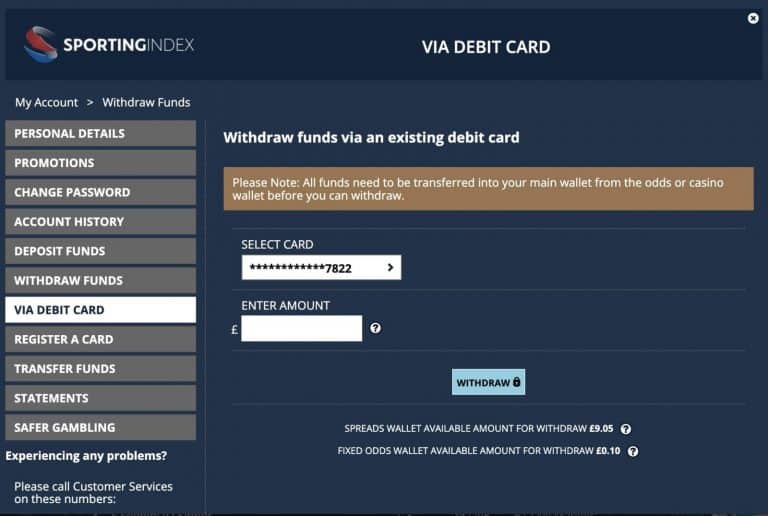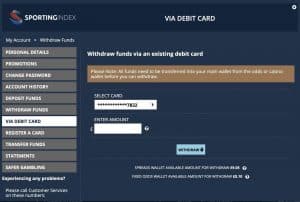 Sporting Index App
If nothing else the Sporting Index mobile app is one of the most hard-working in the betting business, handling both the fixed odds and spread betting sites with ease! The unique colour schemes of each section of the desktop site are accurately translated to the app and it all looks pretty good.
The Sporting Index app deals with the complex amount of information on offer exceptionally well and is very easy to navigate, with sports and markets and the cashier available at the top of the homepage and Sporting Index promotions, existing bets and In-Play featured at the bottom. With a good internet connection, the loading times are quick and we found no evidence of lagging or crashing during our extensive testing. All of which adds up to a very satisfying Sporting Index mobile betting experience.
Sporting Index Bonus Code
There is no specific bonus code needed to qualify for the Sporting Index welcome offer, but here are the latest codes found at some of the leading UK betting sites at present:
Betting Promo Code & Free Bet Codes
All
£30 Free Bet
New!
Paypal
£5 Deposit
Derby betting
Each Way Bet
Enhanced Odds
Free Spins
Live Streaming
patent bet
Placepot bet
Trixie
Yankee bet
Cash Out
£25 Free Bet
£50 Free Bet
New Free Bets
£10 Free Bet
£20 Free Bet
£40 Free Bet
More Filters
Payment Methods & Sporting Index Withdrawal Time
After Sporting Index stopped accepting Neteller and Skrill as payment methods in 2020, the only way to deposit into your account is by Visa & Mastercard debit cards or bank transfer. And while the official line is that the Sporting Index withdrawal time is 3-5 working days, we found the money reached our account the next working day.
| | | | | |
| --- | --- | --- | --- | --- |
| Banking Method | Fees | Min Deposit | Min Withdraw | Sporting Index Withdrawal Time |
| Debit Cards | Free | £10 | £5 | 3-5 working days |
| Bank transfer | Free | £10 | £5 | 3-5 working days |
Sporting Index Pros & Cons
After a thorough look at the Sporting Index online sportsbook app it's time to summarise our findings, but, SPOILER ALERT, we're pretty impressed overall!

What We Like:
Very Generous Spread Betting Welcome Offer – A welcome deal that basically allows you to spend £250 risk-free is a great way to familiarise yourself with spread betting, potentially make a nice profit, and more importantly, not break the bank!
Refer & Earn Offer – Your bankroll could be boosted significantly thanks to Sporting Index's version of the refer a friend offer.
Fixed Odds Deals – Sporting Index offer a nice selection of fixed-odds deals for existing customers, including an "expected goals" Sporting Index football offer that we haven't seen anywhere else!
Betting App – The mobile Sporting Index app takes on a heavy load as it features both fixed odds and spread betting, but it does it in style!
Betting Blog – Racing fans, in particular, will love the Frankie Dettori and Sporting Index partnership, which sees one of the best of all time provide his unique racing insights.
Excellent Customer Service – From the options available when it comes to contacting Sporting Index to the speed and efficiency with which they answered our queries, it's 10 out to 10 for customer service .

What We Don't Like:
No Best Odds Guaranteed Feature – It's surprising to see that BOG is absent, given its prevalence at other sportsbooks available to UK punters.
No Football Bet Builder – The option to combine multiple outcomes in a football match into one multiple bet is proving to be increasingly popular, so it's a shame to not see it featured here

.

Limited Payment Options – Depositing by debit card will be fine for many, but it's always nice to give people other options such as e-wallets and Paypal.
Bottom Line on Sporting Index
We've shown in this Sporting Index review that whether you're a spread betting novice or a more experienced punter, Sporting Index provides an excellent spread betting service, with an eye-catching welcome deal, a desktop site and mobile Sporting Index app that are both well laid out and easy to navigate, as well as a huge range of matches, markets and special bets.
However, with a host of existing customer offers on show, we'd also recommend that fixed-odds betting aficionados check out Sporting Index. Whatever your preference is though, we wish you the very best of luck on your Sporting Index betting journey!
Sporting Index FAQs
What is spread betting?
Spread betting is different from fixed odds wagering in that you aren't betting on a specific result, but whether a particular outcome such as the number of goals scored in a football match will be higher or lower than the total offered by the bookmaker.
What are the most popular sports for spread betting?
Football is far and away the most popular sport when it comes to spread betting, but horse racing, golf, cricket, American football and basketball also lend themselves very well to this type of wagering.
What is a stop-loss limit?
The very nature of spread betting means that you always have the potential to lose more than your initial stake, but you can reduce your potential losses by applying a stop-loss to your account, which will always limit your maximum losses to a specific amount.
Is there a Sporting Index sign up offer?
There is a Sporting Index welcome offer for both the fixed odds and spread betting sites.
Can I bet on credit at Sporting Index?
Yes, you can apply for a credit account at Sporting Index to use for spread betting only. Note that the approval of a credit account is at the discretion of Sporting Index and you must always make sure to clear your debts regularly!