Hopefully you've come here to learn what is a parlay bet. Although not a common bet in the UK, it is still a bet that you should consider. There is plenty to learn about the parlay bet – what it is and how you can place one.
Indeed, you may not even know can you do parlays in the UK, especially as it is more considered a term in US betting. This page will explain what is a parlay sports bet and many other things that you need to know, such as what is a same game parlay bet, and what happens if a bet is void in a parlay.
How Does a Parlay Bet Work?
There really is no mystery to what is a parlay bet meaning in the UK and even can you do parlays in the UK – yes you can, because a parlay bet is just any kind of multiple betting (but not a system bet). The term comes from US betting, where singles were banned for a long time as it was thought illegal bettors could place singles and then influence the competitors to fix the results. In some states parlay betting was accepted, as it was thought more difficult to fix two events than just the single one.
The term 'parlay' is based on the French 'paroli' or the Italian 'parole' and comes from the card game faro. In the game it was possible for a player to use the winnings from one hand as the stake for the next. This practice soon extended to betting, and so the same term, although it eventually became 'parlay', was applied.
Therefore doubles, trebles, four-folds, five-fold or indeed any form of accumulator or acca are all parlay bets.
Parlay Bet Example
As we have already explained, a parlay bet is 'just' any kind of bet that is not (a) a single bet or (b) a system bet such as a Yankee, Canadian or Heinz to list three examples. You can place a parlay bet on any sport, and you can even place one on multiple sports.
As a quick example, say we had three horses in a parlay:
Appleseed 4.00 (3/1)
Blossom 3.50 (5/2)
Copperhead 2.00 (Evens)
We will say that Appleseed runs first, although the order in which the selections are settled does not matter. If we placed £1 on Appleseed and Appleseed won the race, then our returns would be £4. This would become our stake for Blossom. If Blossom then wins our returns would be £14, which would be our stake for Copperhead. If Copperhead wins, our parlay returns would be £28.
Unfortunately, at any stage of our parlay should any of our selected horses not win, then our parlay returns would be zero. All selections have to win in order for a parlay bet to return any winnings.
How to Place a Parlay Bet
Let's go through actually placing a parlay bet. For our example, we are go to work through a parlay bet at one of our favourite sites, BetUK.
We're going to place a four-leg horse racing parlay bet, which is also known as a four-fold, accumulator or acca. We have gone through all the racecards for today's meetings and selected four horses, clicking on the odds of each to add them to our betslip, as you can see below. It is important that you do not enter your stake or hit 'place bet' until all your parlay selections are on your betslip.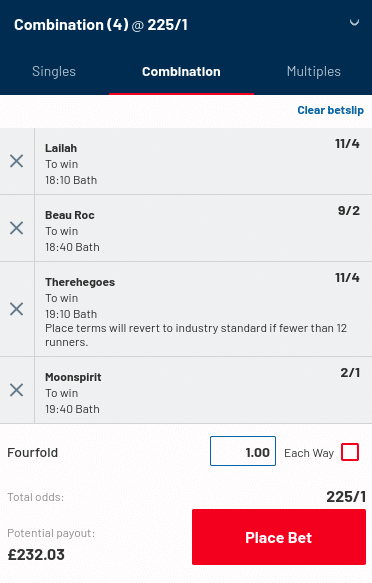 Because we have added four selections to our betslip without setting an individual stake for each one, BetUK has automatically assumed we are placing a parlay, or 'fourfold' as they have deemed it. This means we don't have to worry about searching through menus for a parlay bet, and this is a standard at most UK betting sites.
We have set out stake at £1 and our cumulative odds are 225/1, or 226.00. To place our bet we'd need to hit the 'Place Bet' button.
Pedantic punters will be pointing out that our potential payout should be £226, and not £232.03 as indicated. The extra £6.03 is due to BetUK's acca bonus policy which again, is common practice across UK betting sites and a neat little bonus when it comes to parlay betting. The more selections you add to a parlay, the bigger the bonus you receive up to a maximum limit.
Parlay Bets in Different Sports
You may think that because 'parlay' is predominantly a US term, that you can only place a parlay bet on US sports such as baseball, American football and basketball. If fact, you can place a parlay bet on any sport, and even combine different sports and events into the same parlay bet. Remember, a parlay or accumulator bet is just a string of single bets, strung together.
What is a Parlay Bet in Football?
There are plenty of people who place parlay bets in football week-in, week-out, although such people are more likely to call them accas. A typical parlay bet in football will combine several win singles. If all the teams in the parlay win, then the overall parlay wins too. Don't forget, it only take a single leg to fail and the parlay will return nothing.
You can be inventive with a parlay bet in football, adding BTTS yes/no or over/under selections too. Indeed, any single bet in football can be combined with others to create a football parlay bet.
What is a Parlay Bet in Horse Racing?
Parlay bets are common in horse racing in the UK too. The usual parlay or acca bet in horse racing will be to combine the prices of several selections and hope that all the selections win. You can also use place bets for a parlay, or combine the two.
In horse racing (and greyhounds) you have the option of place and each-way parlays. This is where you place two parlays as one bet – a win parlay and a place parlay. If one or more of your horses in the overall parlay don't win but all place, then your place parlay will generate a return. If one or more horses in your overall parlay fail to place, then your overall parlay bet will return nothing.
How to Calculate Parlay Bet Payouts
Calculating parlay bet payouts is extremely easy, if you use decimals odds. if the selections in a five-fold have decimal odds of 2.0, 3.5, 4.0, 1.5 and 2.5, then your overall odds are 105.0, as that is 2 x 3.5 x 4 x 1.5 x 2.5. Using fractional odds is more complicated, as you will need to add your stake back on when you calculate each leg of your parlay. The fractional odds for the decimal odds above would be Evens, 5/2, 3/1, 1/2 and 3/2, so for a £1 parlay the maths is as follows:
£1 at Evens = £1 + £1 stake = £2
£2 at 5/2 = £5 + £2 stake = £7
£7 at 3/1 = £21 + £7 stake = £28
£28 at 1/2 = £14 + £28 stake = £42
£42 at 3/2 = £63 + £42 stake = £105
We think it's better to us decimal odds for your calculations, but to make things even easier why not use our range of bet calculators? Our accumulator bet calculator doubles as a parlay bet calculator, and can be found here. Add your selections, odds and stake, and away you go!
Single Bet vs Parlay
The benefits of a parlay bets over single bets in clear – if all your selections win you win a lot more. The disadvantage is that if just one of your parlay selections lose, then your entire parlay loses, and it really is as simple as that.
Take the five-fold parlay we mentioned above – if we had placed five £1 singles instead of a £1 acca, our stake would have been five times larger, and our winnings if all five selections come in a lot smaller at £13.50 as opposed to £105. However, if some of our single bets don't win, we still get a return. With the parlay, we don't, so with the parlay it's a case of working out the risk and comparing it against the reward.
Advantages of Parlay Bets
The main advantage of a parlay bet is a large rewards for a relatively small stake, comparatively. In our last parlay bet example, we combined five mundane odds to create much more interesting odds of 105.0, or 104/1. That means we can multiply any stake one hundred times over if all our selections win.
However, parlay bets should not be looked at as a 'serious' way of betting – they are more like buying a lottery ticket and hoping for 'the big one'. There is nothing wrong with placing parlay bets or accas, but we suggest you keep stakes small. They certainly make betting more entertaining as long as responsible gambling practices are adhered to.
Common Mistakes in Parlay Betting
It's very hard to go wrong with parlay betting, as long as they are recognised as long-shots. Think about it – if you placed a bet on a horse at 100/1, would you expect it to win? Parlays should be looked at in the same light – they are not likely to win (especially once you get above three legs), but if they do win, the returns will be exceptional. In 2021, a London-based punter created parlay odds of 90,336/1 and placed £11.50 on it. To his delight, all six selections in his parlay won, winning him over one million pounds. The final leg must have been agony for him though, as it took eight playoff holes for his chosen golfer to secure victory for himself, and the lucky punter!
Another common mistake with parlay betting is adding too many legs. We think that three, four, five or six legs is fine for a parlay bet. Once you get to seven legs, the chances of a leg failure becomes almost inevitable. People have won multi-leg parlays above six, but we feel it's quite the rare occurrence.
Parlay Bet Strategies
Now you know what is a parlay bet, it's time to consider a couple of parlay betting strategies that you might like to consider.
Correlated Parlay Strategy
A correlated parlay is one where if one thing happens, then the other things are likely to happen. Let's say that Manchester City are playing Luton Town in the EPL. You will get awful odds on City winning, but you can create a multi-leg parlay based on the game. Your legs could include:
Manchester City win
Erling Haaland anytime goalscorer
BTTS no
Over/Under 2.5 yes
Manchester City HT/FT
Manchester City double chance
The odds for each event are likely to be tight, but by combining then you will be getting decent odds overall, and they are all very likely to win. It is better betting on a this six-leg parlay than betting on six singles.
The Tiny Stake Strategy
The best thing about a parlay is the returns in relation to the stake. This means even though your parlay has a minimal chance of winning, you don't mind losing the stake as there's always the chance that you'll strike it lucky.
You don't have to go completely mad – just picking three 20/1 shots will do. Even for a 10p stake, a 10p three-leg acca with 20/1 odds for each leg will return over £900. That means you only need to hit twice in every 1,000 times to return a very good profit.
Where Can I Place a Parlay Bet?
We've mentioned BetUK before as one of our favourites, but literally anywhere. All UK sports betting sites will accept parlay bets, or accas. Our tip here is head to sites that offer a bonus for multiple selections, or acca insurance. Don't allow this to become an excuse for poor parlay practice though, so don't go adding on leg after leg to grab the high bonus percentage. Anything between two and six legs is fine.
Check out our rundown of the best online bookmakers in the UK, to chose the one that suits you.
Wrapping Up
Parlay bets or accas are all designed for one thing – to win big amounts for small stake with the flip side being that parlay bet wins are rare. The understanding with parlay bets is that although they don't often win, when they do win, they will win big. Just keep your stakes small when placing parlays, and don't add on legs for the sake of it.
Now you know what is a parlay bet, and you understand that the answer to 'can you do parlays in the UK?' is a firm yes, why not log onto your favourite safe betting site today, and get parlaying?
FAQs
What is a parlay sports bet?
A parlay sports bet is a bet on multiple single events. The returns from the first bet to settle become the stake for the second, and so on. A parlay sports bet is more commonly known as an accumulator or acca in the UK.
What is a key parlay bet?
This is a multi-parlay bet where one selection is the 'key'. For example, if you had four selections, ABCD, then you would place three three-team parlays: ABC, ABD and ACD. A is the key as it features in each parlay. The parlay BCD would not be placed as it does not feature A.
What is a same game parlay bet?
It's a multiple bet or acca on the same event, usually a football match. UK betting sites make it easy to place same game parlay bets via bet builder functionality. You add multiple single bets on the same game using the bet builder to form your same game parlay bet.
What is a push in a parlay bet?
A push in a parlay bet is a leg where your stake is returned for some reason. This could happen if a football match within your parlay bet is postponed for example. In addition, you may include a 'draw no bet' leg within your parlay. If the game for this leg does end in a draw, then that leg of the parlay is just removed from your overall parlay and doesn't make your parlay a losing one.
What happens if a bet is void in a parlay?
What happens if a bet is void in a parlay depends upon the bookie where you placed your bet. Each bookie will have its own rules, but usually it just means the leg is removed from your acca. If you had placed a 7-leg parlay and a bet is voided, then it just becomes a 6-leg parlay.
Was this article helpful?