BK8 Review Asia 2023 | Odds, Offers, Pros & Cons Revealed
Overview
As online betting technology has developed, it has made it progressively easier for new sportsbooks to launch. This has been true not just in the UK, but further afield too. In particular, we've seen a number of brands spring up across Asia in recent years, and quickly enjoy considerable success. In this BK8 review, we encounter one of the latest examples. 
This bookmaker was only launched in 2015, but has already become a big name across Asia. After reading our comprehensive BK8 review, you'll know everything you need to about this up-and-coming brand. We'll cover its special offers, betting markets, mobile features, and plenty more besides. 
What is BK8?
Up front in our BK8 review, let's make something very clear. This brand is not – at this moment – trying to target the British market, or even the European one. Instead, it is aimed squarely at customers situated across east Asia. 
Its main focus seems to be on Malaysia, but customers in nearby countries like Indonesia, Singapore, Taiwan, and elsewhere can also use BK8. This bookie has admittedly used high-profile sponsorships with the likes of Norwich City and a handful of La Liga clubs, but – again – this has actually been done to boost brand awareness to Asian football fans. 
Aside from that, there's not a huge amount of detail available on BK8. It launched in 2015, and – over the next few years – won several noteworthy awards. We also know that a series of well-known operators have worked on both the sportsbook and casino platforms, including Betradar and PlayTech, which is certainly a promising sign. 
Is BK8 Safe?
As our name implies, safety and security are two of our biggest concerns here at Safe Betting Sites. As such, we always research the measures every brand has in place to help out in this area. 
This is clearly a key area for BK8, with security being one of the five stated priorities (along with speed, innovation, rewards, and transparency). We found few actual details during our research for this BK8 review, but the bookie does assure users that its servers are located in highly-secured facilities, with only vetted staff members allowed inside. All communications between your device and the website are encrypted via 128-bit SSL, and there are also powerful firewalls in place.
BK8 does not currently hold a license with the United Kingdom Gambling Commission. Like many international brands, however, it is licensed by the Government of Curacao, which still holds it to high standards for both security and fairness.
BK8 Sign Up Bonus
For brands that most punters won't previously have heard of – like BK8 – big-time sign up offers are extremely important. These alone can persuade hesitant bettors into signing up, if the rewards are attractive enough. 
BK8 actually has a couple of these deals in place. You can check out a quick overview of each below, before we dive into the details of both these and the ongoing betting promotions. 
We have used the Malaysian version of the site here in our BK8 review. For reference, 100 MYR equals roughly 17 GBP, 20 EUR, or 24 USD at the time of writing.
| | | | | | |
| --- | --- | --- | --- | --- | --- |
| BK8 Offer | Offer Description | Wagering Requirements | Minimum Qualifying Odds | Offer Expiry | Minimum Deposit |
| 150% Welcome Bonus | Deposit Match, up to 800 MYR | 12x Rollover Requirement | N/A | Bonuses valid for 30 days | 50 MYR |
| First Bet Risk-Free | Risk-Free Bet, up to 200 MYR | 5x Rollover Requirement | N/A | Bonuses valid for 7 days | 100 MYR |
BK8 Welcome Offer
The main welcome offer here is a fairly standard 'Deposit Match' deal. Simply make a deposit of between 50-800 MYR, and BK8 will match it as a bonus. Be aware though, that – before actually withdrawing any winnings from your bonus – you will need to wager through this amount 12x. That's a pretty tough rollover requirement, but the rewards on offer here are certainly lucrative. 
Alternatively, you can take advantage of the 'Risk-Free Bet' deal. Like most such offers, this insures your first wager on BK8. If it wins, you collect your winnings as normal. If it loses, your stake will be rewarded – as cash – up to a respectable 200 MYR. Again though, while we like the scale of this offer, the 5x rollover requirement on your refund is definitely a drawback.
Ongoing Promotions
In addition to the pair of eye-catching welcome offers, BK8 also has a whole range of deals in place for existing customers. Let's take a quick look at a few of the best ones. 
Crypto Weekly Deposit Bonus


Support for cryptocurrency deposits is one of the things which distinguishes BK8, as we'll explain later. For now though, simply know that – if you do deposit in cryptos – you can get a bonus on your payments.
This bonus equals an extra 5% on your deposits, up to 388 MYR. You must deposit the equivalent of 100 MYR or more to qualify, using bitcoin, ether, or USDT. Once again though, this bonus will be subject to a 3x rollover requirement.

Referral Bonus


We're big fans of referral bonuses, which typically serve as a 'win/win' for both the bookie and the punter. In this case, you can refer up to 30 friends to BK8, and they must deposit at least 500 MYR within their first 60 days on the platform.
You'll be given 50 MYR for each successful referral, plus bonuses of 400 and 800 MYR for hitting 15 and 30 referrals respectively. You have seven days to use your bonuses in each case, which – unsurprisingly – are subject to a 3x rollover requirement.

Daily Cash Rebate


Ongoing cash back deals are pretty rare, so we generally recommend taking advantage whenever you come across one. BK8's version isn't the biggest we've seen, but is still a great proposition.
Regular bettors get a refund of 0.4% of their losses on sports bets, with this amount increasing as you move up BK8's VIP program, up to a maximum of 0.9%. Pleasingly, there is no rollover requirement for these refunds, and – better still – they are dished out every single day.
BK8 Review 
So far we've tackled BK8's special offers, which are likely the first thing many punters will be interested in. Now though, it's high time to get stuck into the details of this ambitious sportsbook. Read on in our BK8 review to learn about some of this brand's most important aspects, including its betting markets, special features, and customer service. 
What Sports Can I Bet on with BK8?
By sky-high modern standards, the market selection on BK8 is pretty mediocre. It's not bad, by any means, with a little over 20 different sports to wager on. When competitors are providing 30-40 different options though, this is a little underwhelming. 
Football is the clear priority here. This is shown by the aforementioned sponsorships of club sides, signing Robin van Persie and John Terry as brand ambassadors, and the sheer number of individual betting opportunities (a ridiculous 800+, at the time of writing). Domestic, continental, and international matchups at all serious levels are available to wager on here, across pre-match, outright, and in-play markets. 
Elsewhere, the likes of tennis, basketball, boxing, motorsports, mixed martial arts, and golf are covered, and there is an entire section of the website devoted to eSports. While horse racing is missing from the main sportsbook area, there is a smaller, separate part of the site which will let you bet on the 'sport of kings'.
BK8 Odds and Value
As you may expect considering BK8's target market, the prices here are displayed as Asian odds by default. If you're not used to this format, you can change to European odds easily enough instead, but fractional odds do not seem to be supported. 
More importantly though, the actual quality of these odds is solid. We compared the prices on a whole series of the most popular markets, and found generally in-line with those on other major international bookies targeting Asian punters. The odds when taking an in-play bet were particularly good, providing a fair reflection on the current state of that market. 
Bet Limits
This is another area in which BK8 should appeal to a wide cross-section of players. While the maximum payout amount does vary from market-to-market, even relatively high rollers should be satisfied here. You can win the currency equivalent of $80,000 on soccer multiples, for example, $53,000 on NBA basketball, and so on. 
Unfortunately, it's equally difficult to give a clear answer on minimum bet amounts. BK8 states that the "minimum and maximum bet also varies according to the event/match involved." In short, it's best to check this yourself – depending on not only the market you're interested in, but in your country of residence – before attempting to actually place a wager.
In-Play Betting
For many punters, in-play has actually become the primary way to wager, surpassing more traditional pre-match betting. If you fall into this category too, you'll be pretty well-served by BK8. 
The in-play section is extremely easy to access, and tends to have dozens of betting opportunities available at any one time. Football has the vast majority of these, but the likes of basketball, cricket, and tennis are also covered well. The odds on live updates update almost constantly, but a responsive in-play tool still lets you lock in the price you want. While there's naturally some drop-off in the variety of in-play bet types, compared to pre-match, the likes of Match Result, Over/Unders, and Handicaps are all present and correct.  
Live Streaming
Live streaming is normally only available on the very biggest sportsbooks, but – to its credit – BK8 has managed to put it in place. Better yet, it is available for both of the dominant markets in online sports betting – football and horse racing. Football streaming can be accessed directly via the main sportsbook, while – to watch the ponies – you'll need to use the separate section for racing. 
The majority of punters will be primarily interested in football streaming, and we're pleased to say that the selection of matches on offer is excellent. While bookies in Europe are highly limited in the games they can show, for licensing reasons, most of the biggest leagues and cups can be streamed on BK8. You will need a positive account balance to do so, however.
Other Features
As you've already seen in this BK8 review, most of the major boxes for special features are ticked here, including live streaming and in-play betting. This ambitious bookie has a couple more tricks up its sleeve, though.
Firstly, alongside the sportsbook section, there's a fully-featured casino and live casino, plus a lottery. There's also a VIP program, which offers you progressively larger rewards in return for your loyalty, and a competitive 'Leaderboard' feature. Finally, BK8 also makes it exceptionally easy to craft multiples, thanks to a bet builder tool (called 'Mix Parlay' here).
Customer Service
Considering the number of countries it serves, spread all across east and southeast Asia, BK8's customer service offering is certainly impressive. Whichever country you're based in, you will find live chat available, and this can be easily accessed via an ever-present button in the bottom-left. Following that, there are then country-specific ways to get in touch. If you're based in Thailand, for example, you can use the popular LINE messaging app. 
Things aren't quite so impressive when it comes to indirect support. There is an 'Info Centre' in place here, but – quite frankly – it's a complete mess. The layout is awful, we found the quality of the articles inconsistent during our research for this BK8 review, and there's no search function to help you find what you're looking for quickly. 
How to Get Started on BK8
As with most modern betting sites, getting started on BK8 is extremely straightforward. There are only three main steps in the sign up process, and depositing, placing bets, and making withdrawals are easy thereafter. Here's a quick step-by-step guide to help you get rolling on BK8.
Step 1: Visit BK8
There are a couple of different versions of the BK8 sportsbook, but the Malaysian version – BK8MY – is the main one. Head over there by entering BK8MY.asia in the top of your browser, or simply download one of the mobile apps instead.
Step 2: Create an Account
To get started, hit the 'Join Now' button towards the top-right of the homepage. You will now see the first of two phases, in which you must create your username and set a password. You can also enter a referral code here, if you have one. Next, provide a few personal details, including a contact number, your home address, and your date of birth. Once that's done, click 'Register' to create your account.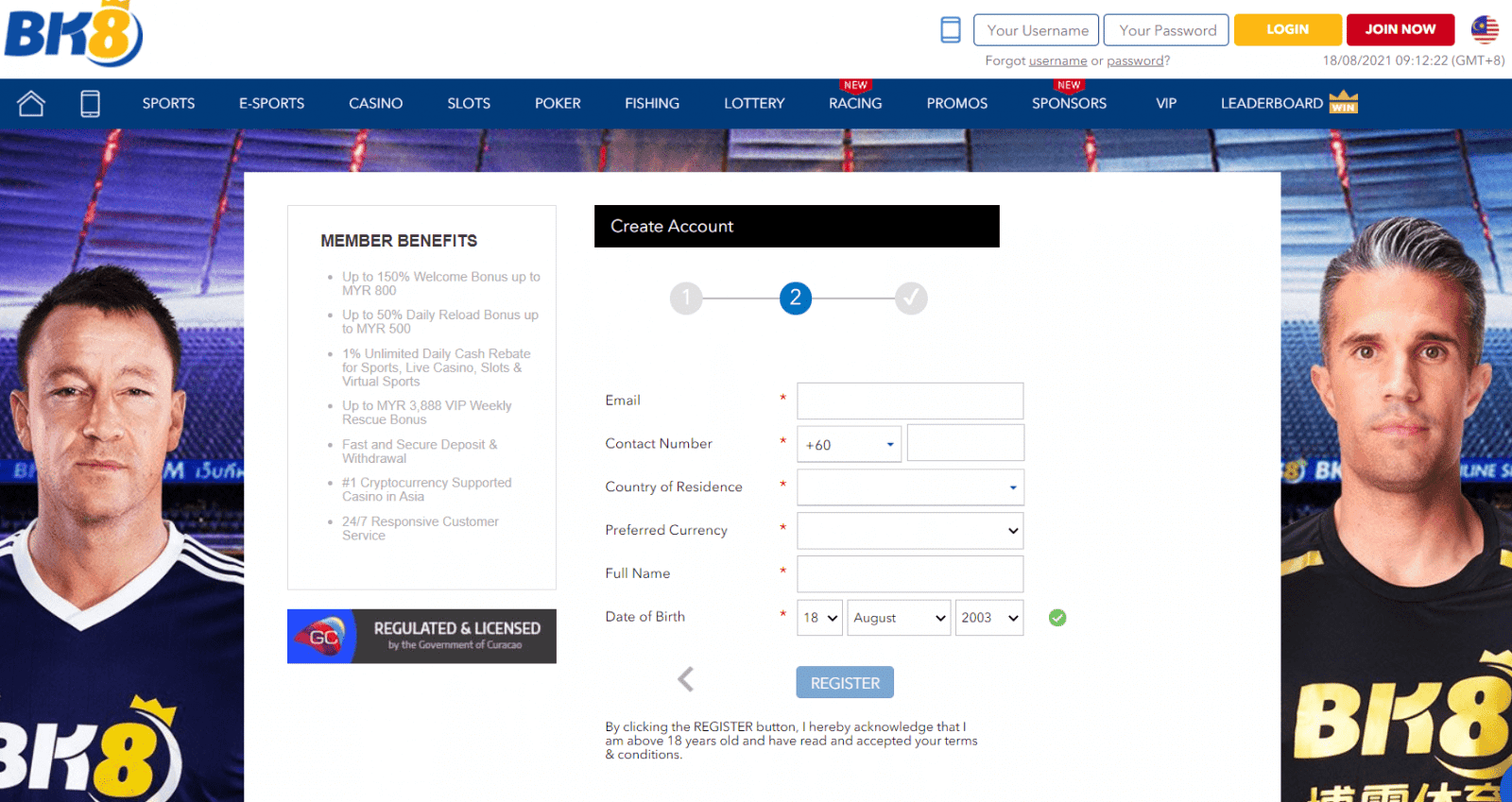 Step 3: Make a Deposit
After creating your account, you must naturally fund it before you can start placing wagers. To do so, just log in and hit the 'Deposit' button in the top-right. You will now see a list of all the payment options available to you, depending on where you're located. Pick one, provide the required payment details, and enter the amount you want to deposit. Once that's done, click 'Submit' to confirm the payment.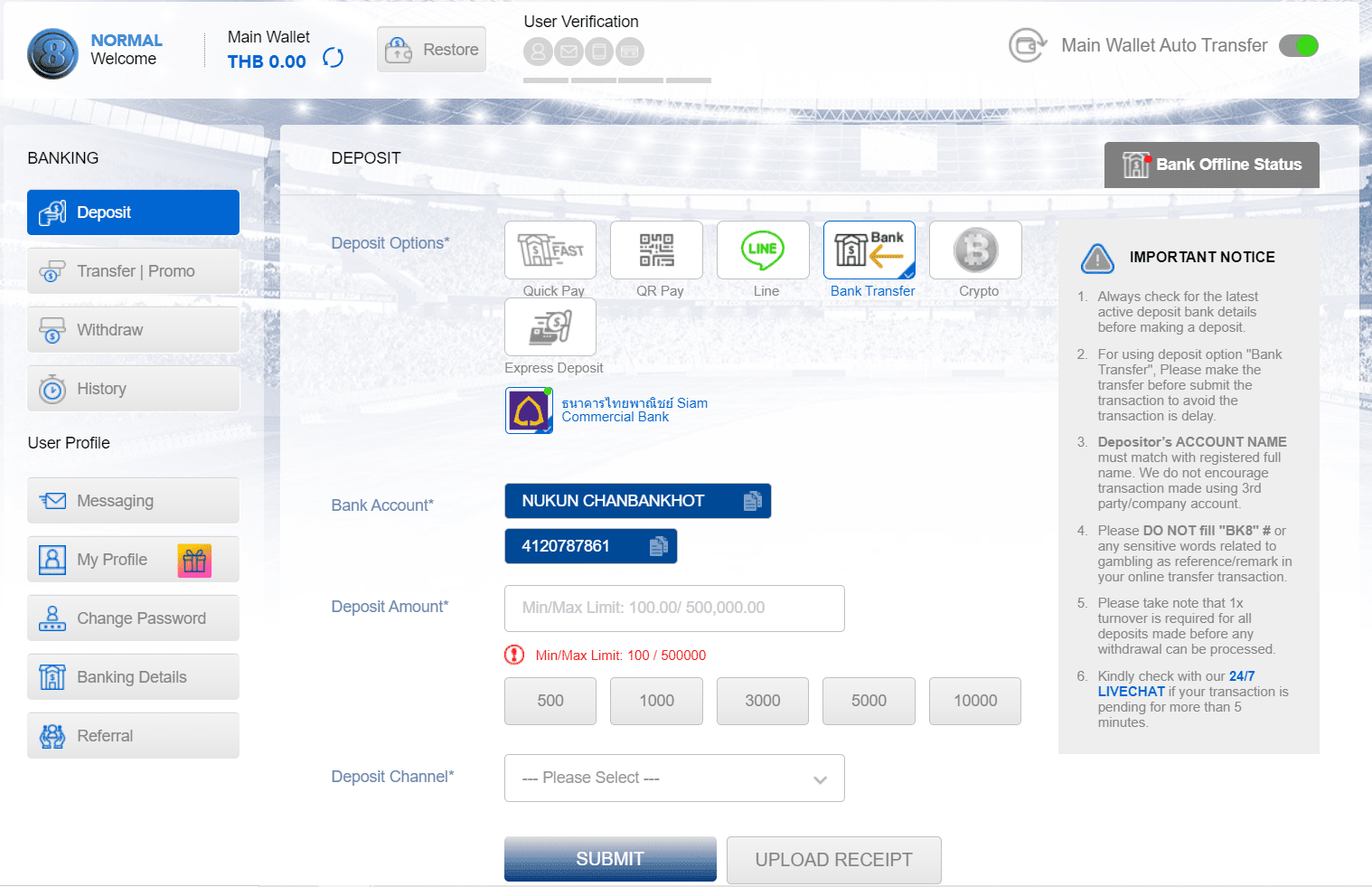 Step 4: Place a Wager
With your account funded, it's high time to start placing wagers. Head back to the homepage of the website, then click 'Sports' and 'Saba Sports' to access the main betting section. You should now see the full list of sports markets. Select one on the left-hand side, then find the specific matchup you're interested in, and open up its individual betting markets. Click on the odds you're interested in to add a selection to your betslip, set your stake, then place the wager.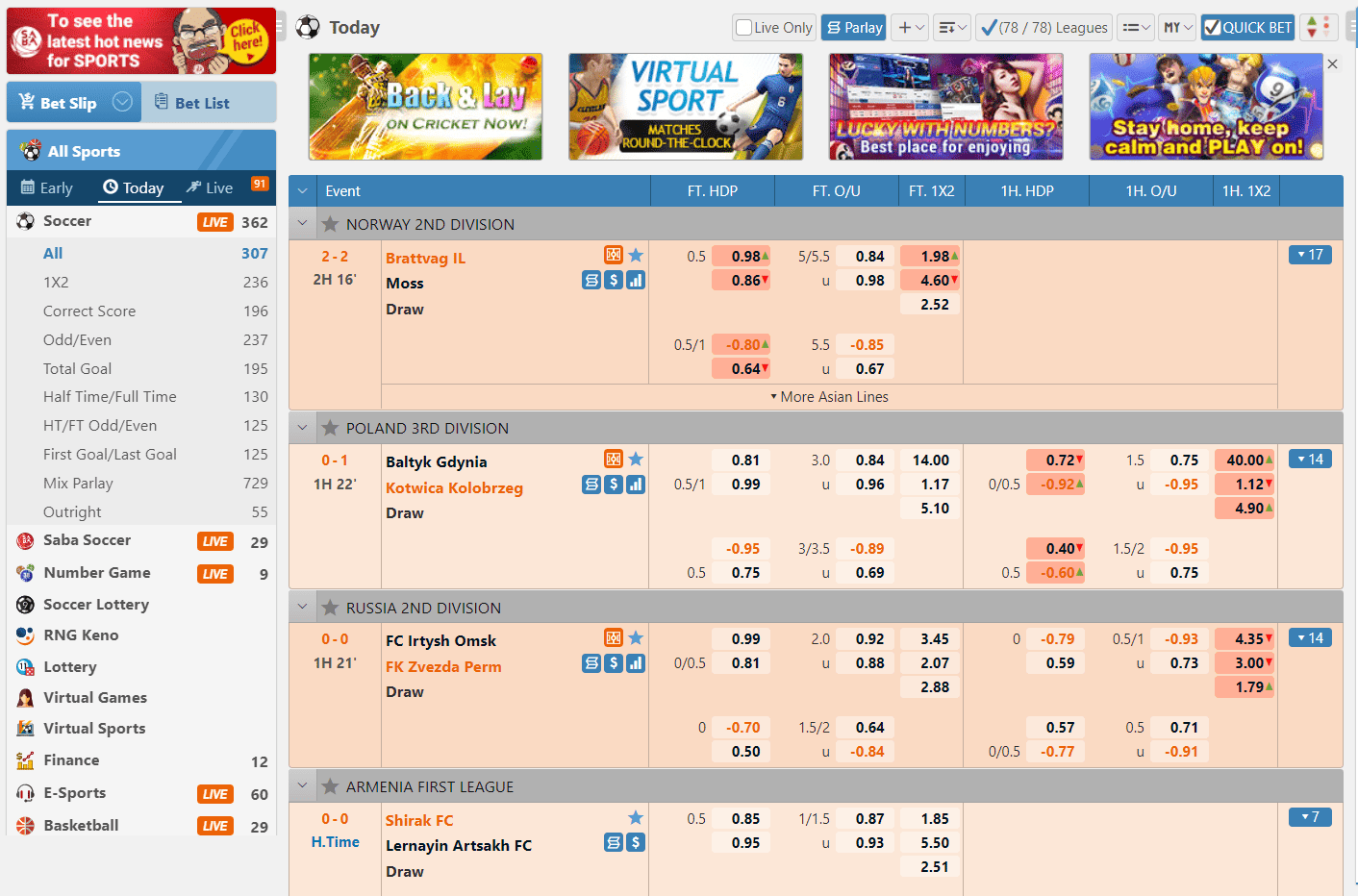 Step 5: Verify Your Account
As with all respectable sportsbooks, you must verify your account before you can successfully make any withdrawals. To do this on BK8, hover over your account name in the top-right, then click 'My Profile'. Towards the top of the account management section, you will see 'User Verification' with four symbols below. Each symbol represents information you must verify: your date of birth, email address, phone number, and banking details. Click each in turn, and follow the instructions to complete that part of the verification process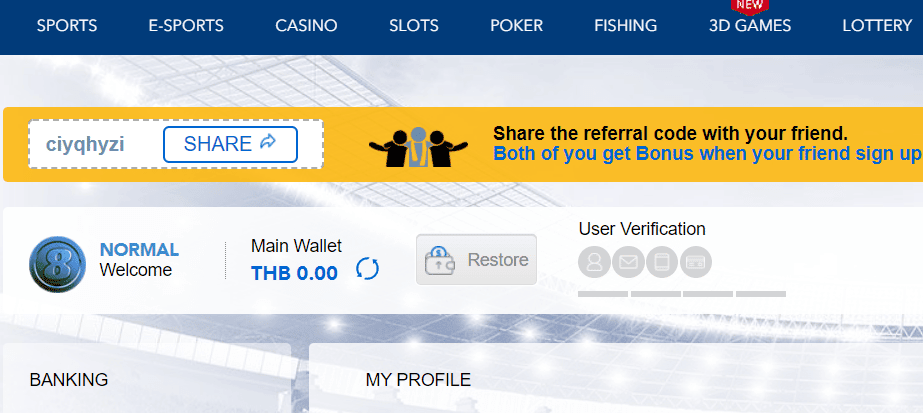 Step 6: Make a Withdrawal
Once your account has been fully verified, you will be free to start withdrawing funds. Head back to the account management section, then click 'Withdraw' on the left-hand side. Now pick one of the available options, provide the required information, enter the amount you want to withdraw, and hit 'Submit' to confirm the transaction.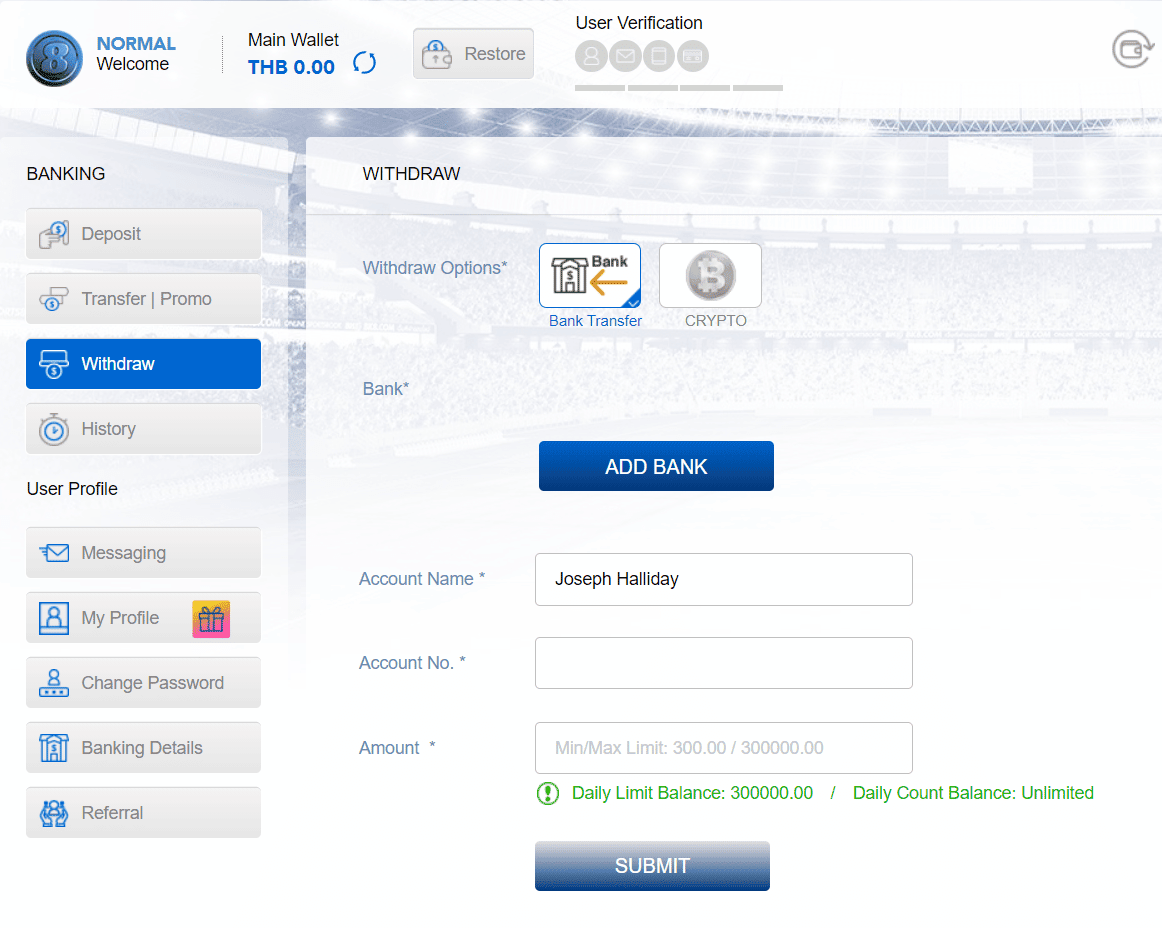 BK8 App
If on-the-go betting is a priority for you, you'll certainly be pleased with what you find at BK8. For starters, there are dedicated, standalone apps for both Android and iOS. In both cases, these are available directly from the website, and BK8 provides handy instructions on how to both download and install them. 
The BK8 app is packed with features and functionality. The entire sportsbook has been ported over (along with the casino sections), with the same markets as the desktop version available to bet on. You can also use all the same special offers, including the excellent referral deal. 
On top of all that though, there are specific benefits to using the app over the main site. You can use the facial recognition or fingerprint scanning feature on your phone, as both an additional security layer, and to log in faster. There are also plenty of options to customise the display to your specific tastes. Finally, unlike some betting apps, you can also choose to remain logged in here, allowing you to browse and bet the instant you open the app. 
BK8 Bonus Code
As covered early in our BK8 review, there are plenty of special offers available here, but none of them actually need a bonus code. Instead they require you to opt-in manually, or are simply triggered automatically. 
There are plenty of other excellent promo code offers out there though, available on sportsbooks which also serve Asian customers. Combing through all these can be time-consuming, which is why we've done the hard work for you. Below, you can immediately see all the best bonus code promotions which are available right now.
Betting Promo Code & Free Bet Codes
All
£30 Free Bet
New!
Paypal
£5 Deposit
Derby betting
Each Way Bet
Enhanced Odds
Free Spins
Live Streaming
patent bet
Placepot bet
Trixie
Yankee bet
Cash Out
£25 Free Bet
£50 Free Bet
New Free Bets
£10 Free Bet
£20 Free Bet
£40 Free Bet
More Filters
BK8 Payment Methods
This bookie distinguishes itself in a number of different ways, as we've already seen throughout our BK8 review. Its payment methods are definitely another example. 
Even nowadays, it's rare to see a sportsbook accepting cryptocurrency payments. On BK8 though, you can use a few different types – including bitcoin and ethereum – each of which will provide the security and anonymity benefits which are typical of cryptos. 
Aside from that, there aren't a huge number of options. Bank transfer is available from every country in which BK8 operates, and Help2Pay – a popular choice across southeast Asia – is also supported. eWallets are mentioned on the site, but we couldn't actually find evidence of any being supported. You are given excellent flexibility in the currencies you can use though, with BK8 accepting payments in Malaysian ringgit, Thai bhat, Indonesian rupiah, and Vietnamese dong. 
Below, you can get a quick overview on how the most popular payment methods stack up on BK8, along with their minimum and maximum amounts, and processing times. The payment information in this part of our BK8 review is provided in Thai baht, with 100 THB equalling roughly 3 USD, 2.60 EUR, and 2.20 GBP. 
| | | | | |
| --- | --- | --- | --- | --- |
| Banking Method | Fees | Minimum Deposit | Minimum Withdrawal | Withdrawal Times |
| Bank Transfer | 0% | 100 THB | 300 THB | 25 minutes (+bank processing time) |
| USDT | 0% | 200 ($200) | 300 ($300) | 25 minutes (+ processing time) |
| Ethereum | 0% | 0.01 ($30) | N/A | N/A |
| Help2Pay | 0% | 500 THB | N/A | N/A |
BK8 Pros and Cons
We've attempted to provide balanced opinions in this BK8 review, and you will have noticed a number of positives and negatives throughout. To clarify matters though, here's a quick collection of both the pros and cons of this sportsbook. 
What We Like:
Considering it's relatively little-known, BK8 has a selection of features to rival many of the bigger brands out there. Between live streaming, helpful statistics, live betting tools, a bet builder, and more, there's plenty here to help both inform your betting, and improve your experience. 
In terms of sheer volume, the number of betting markets here might not seem exceptional. The reality, however, is that the majority of the most popular markets are in place. The football section is outstanding, horse racing is also supported, and a wide range of other sports backs up this powerful duo. 
The BK8 app is easy to both download and use. It achieves the main aim of any betting app, which is to replicate the desktop platform as closely as possible, while also making thoughtful changes to make it more suitable for mobile devices. 
The range of special offers here is very impressive indeed. There are two welcome offers available, rather than the usual one, and your loyalty is rewarded via ongoing promotions in a variety of ways thereafter.
What We Don't Like:
BK8's selection of payment methods isn't bad, by any means, but it's pretty slim by modern standards. The support for cryptocurrencies is a bonus, but there's a lack of big-time alternatives, such as PayPal, Apple/Google Pay, or Skrill. 
The Info Centre here is underwhelming to say the least. There's a lack of topic coverage and detail, and it's poorly-arranged too. If you require any assistance, simply contacting BK8 directly is the much better option. 
While we were impressed by both the variety and scale of the offers for this BK8 review, most of them do come with strings attached. These usually take the form of rollover requirements, which do detract from the overall appeal of the promotions.
BK8 Review – Final Thoughts
BK8 generally ticks the most important boxes, from a wide range of betting markets, to high quality betting apps, through to helpful customer service. There's also a whole selection of eye-catching special offers to choose between, and the inclusion of live streaming is a big bonus. 
There are a couple of drawbacks, as noted earlier in our BK8 review. We'd prefer to see more payment methods supported, for starters. The layout of the desktop platform is unusual too, and definitely takes some getting used to. 
Overall though, we were impressed with what we found during this BK8 review. This is a competent, professional modern sportsbook, which does an excellent job of specifically catering to customers situated across east Asia. 
FAQ
What is BK8?
BK8 is a sportsbook launched in 2015, which concentrates squarely on customers in east and southeast Asia. It has grown rapidly in popularity, sponsors a number of high profile football teams, and has received multiple awards.
Which payment methods are supported?
You can make payments via bank transfer and cryptocurrencies on all versions of BK8, wherever you're based. There are also a few other options, which vary depending on which country you're from.
What sports can I bet on?
Football is the clear priority here, and horse racing is included too. Elsewhere, the likes of golf, cricket, tennis, motorsports, and more are also available to wager on.
Can I get a BK8 free bet?
Yes. BK8 provides a whole range of sign up and ongoing promotions, several of which provide you with free bet tokens. Do be aware, however, that these often come with a rollover requirement.
Is there a mobile app available?
Yes. There are BK8 apps available for both Android and iOS devices, which can be downloaded directly from the website.