Want all of today's racecards for UK and Irish horse racing meetings in one place? You can see everything happening anywhere in the British Isles in this sport under Rules right here:
‹
Dundalk
Haydock
Kempton
Lingfield
Ludlow
›
Odds will appear here once racing gets under way
Results will appear here once racing gets under way
What are Today's Racecards?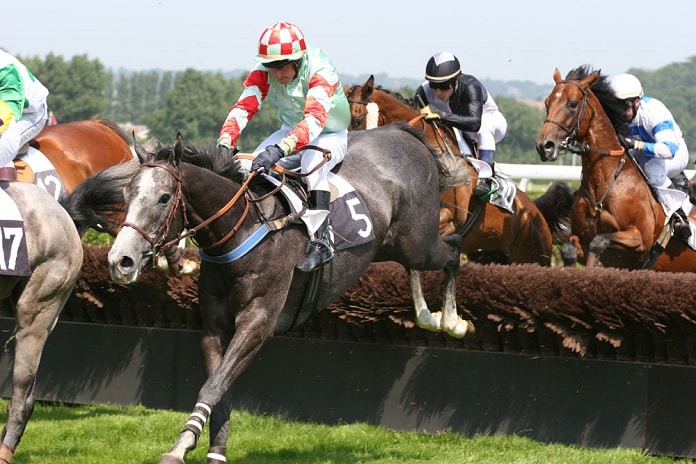 For newcomers and and the benefit of anyone else who wants to know, a racecard is horse racing's version of a football matchday programme. Packed full of useful information, it gives you details of every single horse taking part in the races from the meeting in question.
Today's horse racing cards lay all the details out in a digestible format, so you can clearly see which racehorses are running when. Everything proceeds in race order based on the scheduled off times. Depending on the type of event, today's racecards and runners either list horses in alphabetical order based on any penalties carried in a conditions race with colts and geldings first and then fillies and mares at the bottom, or in weight order for handicaps.
That means the topweights come first on the racecard with the horse at the bottom carrying the least. How much weight allotted should be made clear to you. A horse's official rating from the handicapper, plus other biographical details such as recent form figures, days since last run, official rating, age, gender, jockey, owner, trainer, sire and dam are also included alongside the silks (colours worn by their ridden). Today's racecards UK punters use help you to clearly identify any horse running at the track.
Online versions like the ones on this page and online bookmakers have advantages over on-course physical paper copies in a big way. This is because we hook them up to the latest betting odds, rather than putting forecast prices in. It's much easier to track any market movers on our horse racing racecards today as a result. We can help you decide on your next bet here.
How Today's Horse Racing Racecards Work
You can track all the steamers and drifters in the market in real time as our racecards constantly update as horses get backed. If you want to filter by meeting and only see events from one racetrack, then you can do that across the top. Any non-runners feature too. Clicking on any horse from today's racecards expands to provide more detail.
This include form and age, and whether they've won over this course and/or distance before. Basic information like the number on their saddlecloth, trainer, jockey and the silks that you should watch out for during the race appear as standard. We made sure that all of our UK horse racing cards today are user-friendly and simple to understand.
Hit the odds next to any runners and get access to the best prices from top horse racing betting sites, which you can easily compare. If you're thinking of taking a punt, then you want the best possible return possible. Our racecards let you track this down with just a look.
What's on UK Horse Racing Cards Today
Almost every single day of the year, there's a horse racing meeting on in the British Isles. The concept of an off-season like you have in other popular sports like football, cricket and rugby simply doesn't exist. Different horse racing codes are prominent at certain times of the year, however, and it's worth knowing about that.
If there's one time when today's racecards in the UK are left blank, then it's the days right before Christmas. The sport of horse racing then returns from its mini-break in style on Boxing Day with meetings right across the British Isles. A packed festive programme includes action from all four corners of the realm, plus four-day festivals in Ireland at Leopardstown and Limerick.
While the King George VI Chase at Kempton Park is the main event come Boxing Day, look out for action at Aintree, Huntingdon, Market Rasen, Wetherby and Wincanton, among others. Most of the midwinter meetings are in the National Hunt code with races over jumps to the fore. These build to some big festivals in the spring.
The traditional core National Hunt season starts in October at Chepstow in South Wales. It culminates in the Jumps Finale card at Sandown Park in Greater London towards the end of April. Most of the big hurdle races and steeplechases take place during this time, but there are meetings for summer jumpers too.
Today's Racecards at Cheltenham
If Cheltenham Racecourse has a meeting on, then it'll have a lot of attention and betting interest in it. Racecards here don't come any bigger than four days in the middle of March. That's when the Cheltenham Festival takes place with some of the National Hunt code's biggest races on. These include the Champion Hurdle, Queen Mother Champion Chase and Cheltenham Gold Cup.
Don't get it twisted, though. Cheltenham isn't all about the Festival with plenty of other meetings held at the Gloucestershire track in the Cotswolds. Today's racecards horse racing fans should pay attention to taking place there include the three-day November Meeting. This features valuable and competitive Premier Handicaps in the Paddy Power Gold Cup and Greatwood Hurdle.
Festival Trials Day towards the end of January is a last-chance for Cheltenham Festival hopefuls to prove themselves at the track. There are also two-day meetings in October, December and April, plus standalone racecards on New Year's Day and early May for the Hunter Chase evening. With so much attention and focus on Cheltenham, be sure to check out the latest runners there.
Today's Racecards at Aintree
As the home of the world's most famous steeplechase and almost 200 years of history, the Grand National at Aintree Racecourse just outside Liverpool is one race that still captures wider public attention. A three-day meeting in April along the lines of the Cheltenham Festival has built up around this ultimate test of equine stamina. A maximum field of 40 horses tackle the extended four-and-a-quarter-mile marathon on Merseyside and its famous fences.
Much like Cheltenham, though, there are other meetings from Aintree that feature among today's horse racing racecards in May, October, November and December. The Jockey Club have also announced an additional fixture here on Boxing Day starting in 2023 with the Grade 1 Tolworth Hurdle moving to Merseyside from Sandown.
Flat Horse Racing Racecards Today
Once the core National Hunt season finishes, the Flat turf campaign that begins in late March or early April really goes up a notch. Topped and tailed by big betting handicaps at Doncaster, the focus in springtime is on three-year-olds and their preparation for the Classics. The first of those are the 2000 Guineas and 1000 Guineas at Newmarket on the first weekend of May.
A slew of Derby Trials follow including those during the May Festival at Chester, at Lingfield and the Dante Festival at York. Once The Oaks and premier Classic take place on Epsom Downs at the start of June, today's racecards at Ascot for the Royal meeting are must-see for any fan of thoroughbred racehorses. This is the premier gala on the Flat, taking place over five days in mid-June. Eight Group 1 races have a spot at Royal Ascot.
The British Isles horse racing summer continues with more big Flat events like the Irish Derby, Coral-Eclipse, July Festival, Galway Races and Glorious Goodwood. The Ebor Festival at York is the last of those major meetings held before thoughts turn to autumn and the Haydock Sprint Cup, St Leger at Doncaster and Irish Champions Weekend. QIPCO British Champions Day at Ascot in October is the last of the big days for Flat turf action. Keep up to date with all this and more through our racecards.
Today's Horse Racing Cards And Results
Once a horse racing event is over and the result becomes official, we've created racecards that show you just who won the latest action on the track. There's no need to go elsewhere. After the jockeys have weighed in, view today's racecards results in the same place. Everything updates automatically, providing you with the finishing order so you can see if you got the winner with your bets.
In a broader context, you can learn plenty more than just the bear result. These tell you which trainers and jockeys are in form, which could sway your decision when you come to have your next wager. On top of day-to-day meetings, some of the main events in the sport feature here, so you can check out Cheltenham Festival results and the finishing order for the Grand National. See who made it round the course at Aintree, plus all the big races on the Flat.
Today's Racecards Tips – Best Bets on Horse Racing
While you have all the details and data required to aid you in your search for winners through our racecards, it's good to get a second opinion sometimes. Our horse racing experts and tipsters can help you there. With advice on better betting strategy and tips from all the big meetings, there's a lot more support and suggestions available here at SafeBettingSites.
Pay close attention to what our experts have to say and they won't steer you wrong. Although today's racecards tips accompanying race information are carefully considered, they come with no guarantees. We can't promise you winners, only well-reasoned and researched selections based on the same information that's available to everyone else.
Making logical cases is what our tipsters do day in day out and they put plenty of thought and effort into them. All betting odds reflect the implied probability of their picks delivering, so you can see if the market agrees with our experts. They use today's racecards results to help create future tips, which sees our service come full circle.
Horse Racing Racecards Today & Tomorrow
If today's meetings have ended or there just isn't anything you fancy backing right now, then there's always tomorrow. You can get a sneak peek early at the next day's races through our racecards. Just use the date menu on them, select tomorrow and check out the overnight betting odds available for the best of the action.
This complete coverage of past, present and future meetings mean you have the full picture. After looking over previous and today's winners, you can see which stables have hit form and thus their runners might be worth backing tomorrow. It's all possible courtesy of our raecards that provide results as well as the option to view the next day.
FAQs
Where can I find today's non-runners?
How do I read a racecard?
What should I look for in today's racecards?
What horse racing is on today?
What information is included on a racecard?
Do horse racing cards today show the latest odds? 
Was this article helpful?