It's no exaggeration to say that Bet365 is one of the biggest names on the sports betting scene. Since launching in the early 2000's, it has taken the industry by storm. In part, this is because it was quick not only to launch a regular online betting site, but a Bet365 app too.
In our comprehensive review, you'll learn everything you need to know about this titan's flagship app. We'll cover its betting promotions, special features, available markets, and plenty more. Overall, we'll see if it matches the lofty standards of Bet365's other offerings.
Up to ₹4,000 in Bet Credits
Up to ₹4,000 in Bet Credits
Match, half and live Kabaddi markets
Ongoing promotions available
Cash out feature
9.6
Collect Bonus
Open an account with bet365 today and bet on a huge range of markets with the world's favourite online sports betting company. T&Cs apply. 18+, begambleaware.org.
Bet365 App Welcome Offer
The welcome offer on the Bet365 app advertises 'Up to £100 in Bet Credits'. If you're paying in euros or dollars instead, it's a straight 1:1 conversion. As for rupees, you're looking at a roughly 100:1 INR:GBP conversion rate.
This is a classic Deposit Match offer, in which Bet365 will match your first payment in the form of free bets.These are the main terms and conditions which come attached:
Min £5 first deposit
Maximum deposit match = £100
Must place qualifying bets equalling your deposit amount
Receive matched bet credits after qualifying wagers settle
Bets must settle within 30 days of registration
Qualifying bets must be at odds of 1/5 or greater
90 day expiry date for bet credits
The flexibility of this deal is its main calling card. You can deposit anything from £5 all the way up to £100, and still get it matched, making it a suitable deal for lower and higher rollers.
The downside is obviously the need to bet through an amount matching your deposit. If you're only depositing £10, for example, you're probably better simply using a 'Bet and Get' welcome offer instead (e.g. Bet £10, Get £30). Still, the T&Cs for this rollover are exceptionally fair compared to those on other brands, with 1/5 minimum odds being almost ridiculously low.
Overall, we like both the scale and – as mentioned – flexibility of this deal. It's straightforward, potentially lucrative, and gives you a great chance to kick start your new account with the Bet365 app.
Bet365 App Download
Download Bet365 App For Android
Download Bet365 App For iOS
Bet365 App User Experience
From the moment you log on to the Bet365 app, you'll be treated to a top-notch and user-friendly experience. Visually, the interface is extremely clean, cool, and modern. The colour scheme is fairly colourful without being distracting, and good use is made of simple graphics. The writing is also very clear, making it effortless to read both betting odds and text.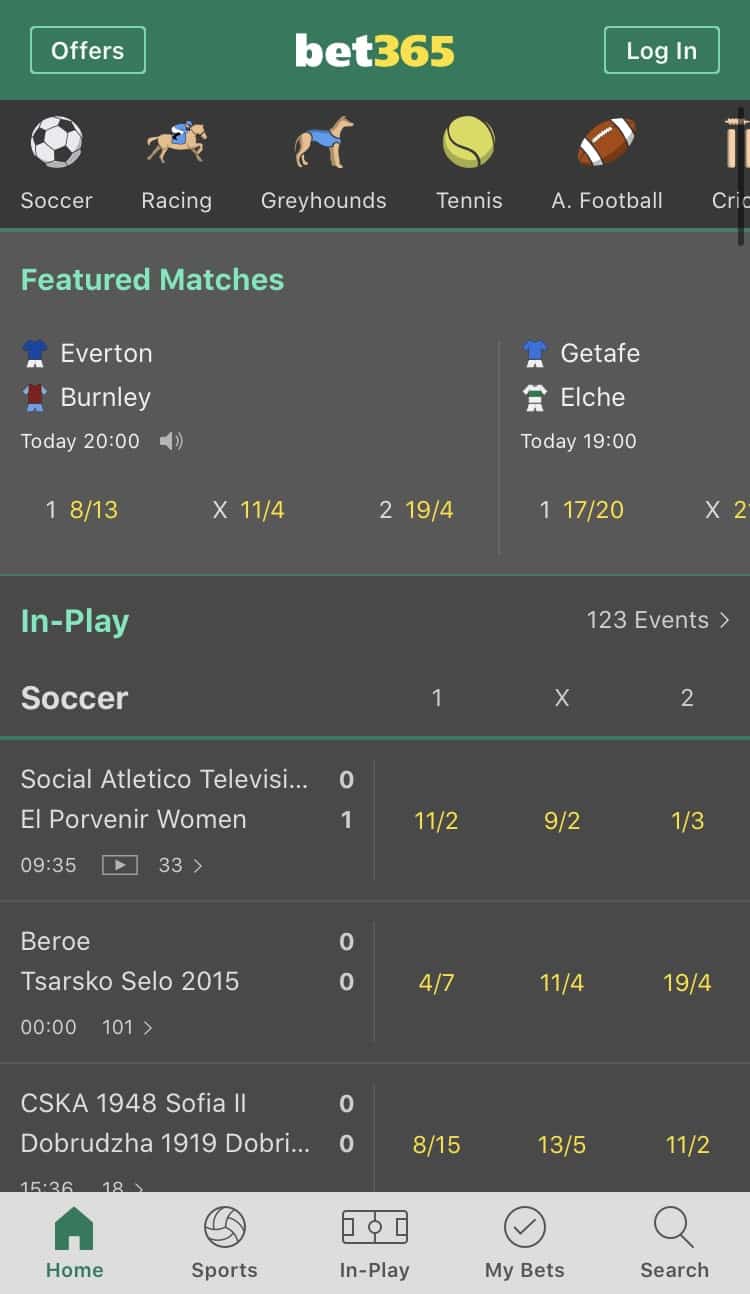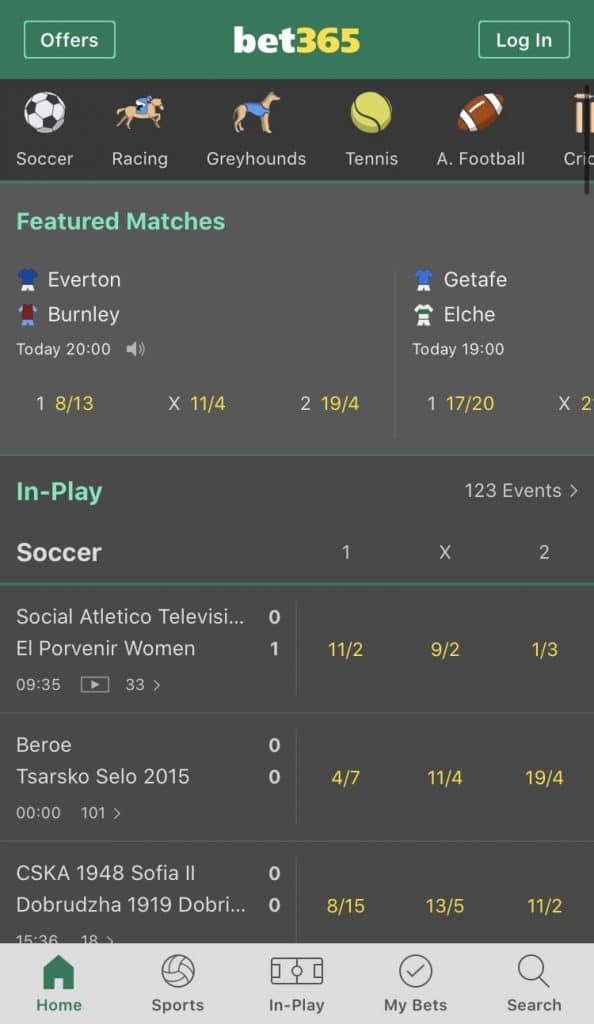 The interface itself is also faultlessly intuitive. You can instantly navigate to five of the most important sections and tools using the ever-present bottom menu. The bonus offers can also be accessed via a handy button in the top-left, and all the sports markets are neatly housed in a long list.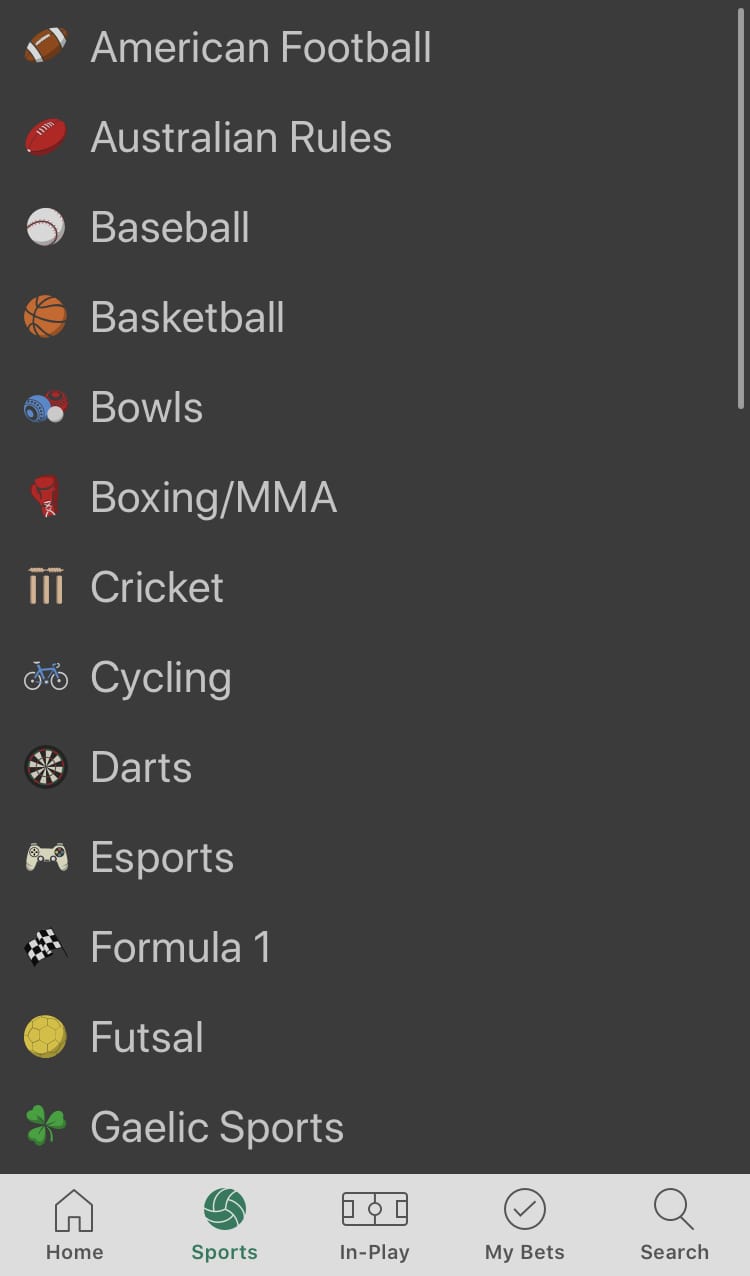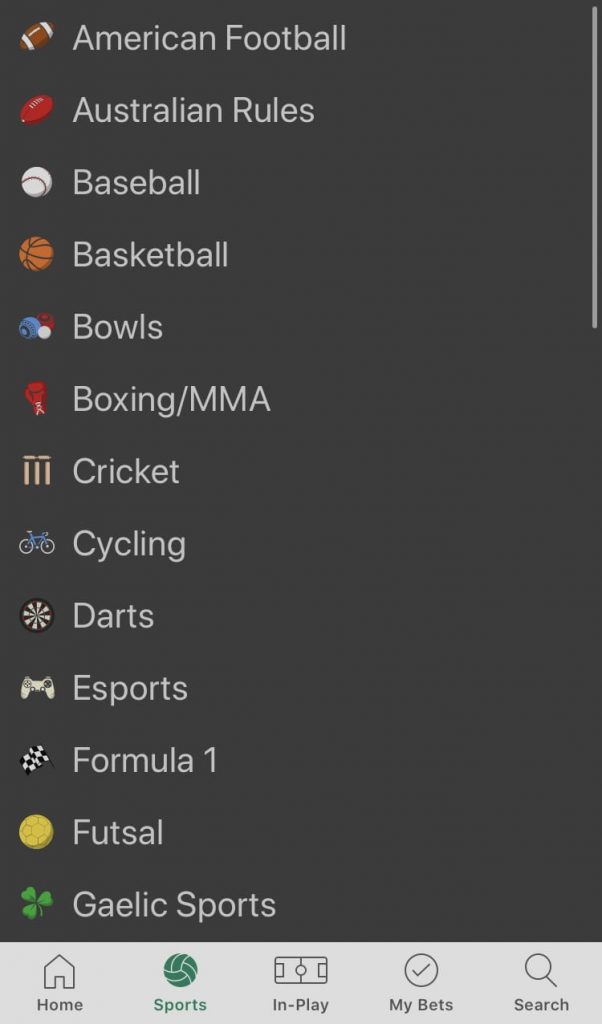 Finally, the subsections for individual matchups are also brilliantly designed. The most popular markets are listed in the main area, but you can use a side-scrolling menu to access other bet types, or the bet builder. In a neat touch, Bet365 even tells you exactly what special offers are available on eligible bet types (Bore Draw on Correct Score football bets, for example).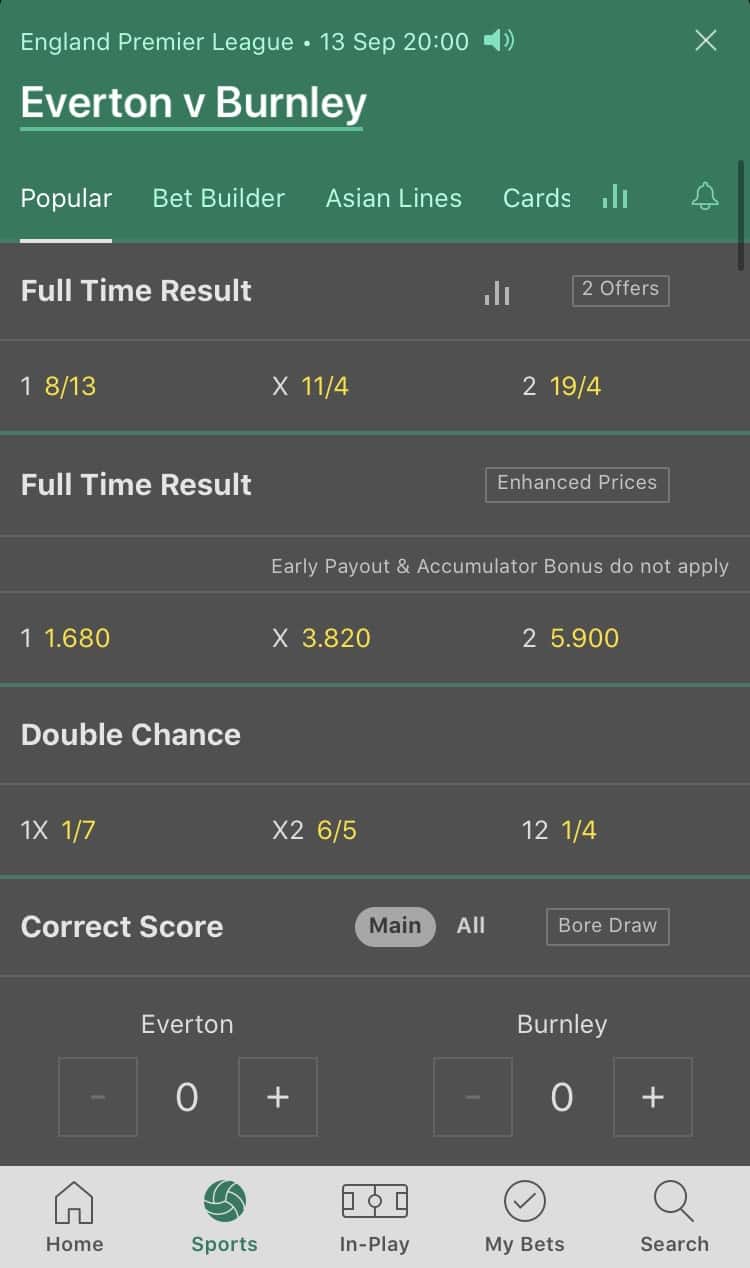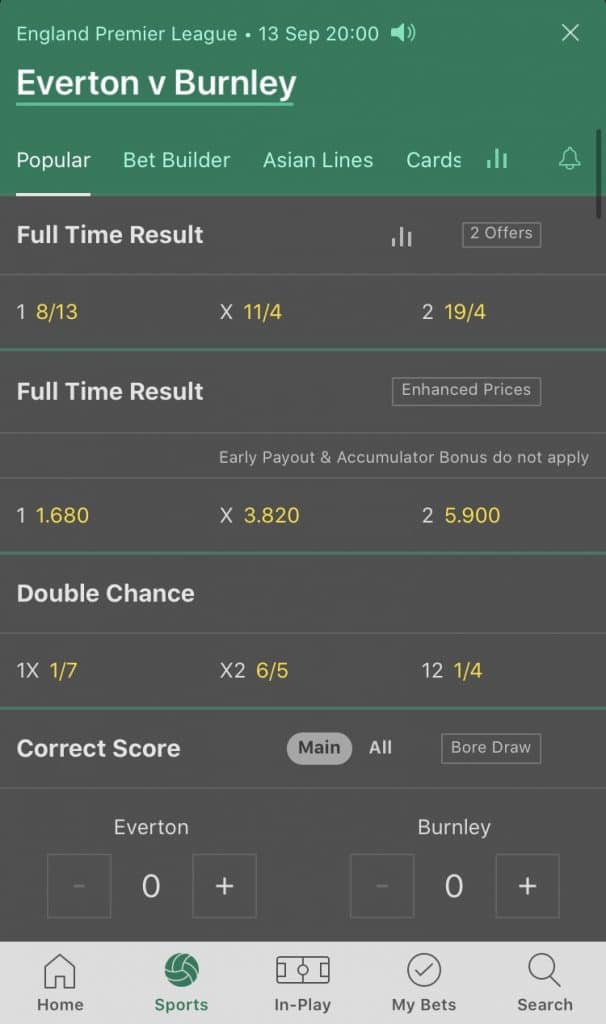 What Makes the Bet365 Mobile App Really Stand Out?
This is not your average betting app. Rather, it's competitive with basically any other premium mobile platform you'd care to pitch it against. Here are just a few of the key areas in which the Bet365 app excels.
1. Useful Tools
Even in addition to the intuitive interface, Bet365 really goes out of its way to help you with your betting. A massive range of live statistics are available to help inform your picks. This includes plenty of football facts, and a complete form guide on horse racing. There's also an extremely user-friendly bet builder, which helps you to craft same-game multiples with ease.
2. Live Streaming
There are plenty of features in place here, but the live streaming is undoubtedly the most impressive of the bunch. In fact, this is one of the best streaming sections you'll find on any betting app right now.
A whopping 200,000+ live streams are shown per year, all of which can be viewed on your mobile device. This includes major competitions and events across football, tennis, horse racing, and more. The streams are also of an extremely high quality (assuming you've got a decent connection). Better yet, you only need either a positive account balance, or to have placed a bet in the last 24 hours, to watch the action.
3. Betting Promotions
In addition to the intriguing welcome offer, Bet365 have a whole range of other ongoing promotions. Its most famous deals are arguably the Early Payout offers, which are currently available on football and baseball. Backing these up, however, are accumulator bonuses for both football and tennis, a Price Promise on horse racing betting, and more.
4. Live Betting Features
Over 1,000 in-play events are covered each day on the Bet365 app. Football sees the most action here, as you'd expect, but the sections for tennis and eSports betting are also impressive.
Both the placement and cashing out of live wagers are speedy here. Most notably though, Bet365 actually lets you execute a partial cash out instead of a full one. Open the Cash Out tool, and you'll be shown a slider which gives you complete control over how much of your bet you want to bail on.
5. User Customisation
As covered, the Bet365 is very user-friendly by default. You're also given the chance, however, to further customise things to your preference. You can easily create a 'Favourites' selection of sports, for example, by going to the main menu of markets, and holding down on a particular option to add it to the 'Frequently Visited' list. You can also decide exactly what notifications you want to receive, to alert you to the latest goings-on or betting opportunities.
How to Bet on the Bet365 App
The user-friendliness we've already noted for the Bet365 app applies to its earliest stages too. Regardless of your betting experience you shouldn't have any trouble at all getting started, but here's a quick-and-easy guide to getting started anyway.
Step 1: Get the App
Whether you're using an Android or iOS device, it's easy to locate the Bet365 app. Simply head to either Google Play, or the App Store, and search for 'Bet365'. Be sure to pick the sports app, instead of one of the many, many other options (Casino, Poker, Slots, and so on). Once you've found the right choice, simply tap it and hit the download button.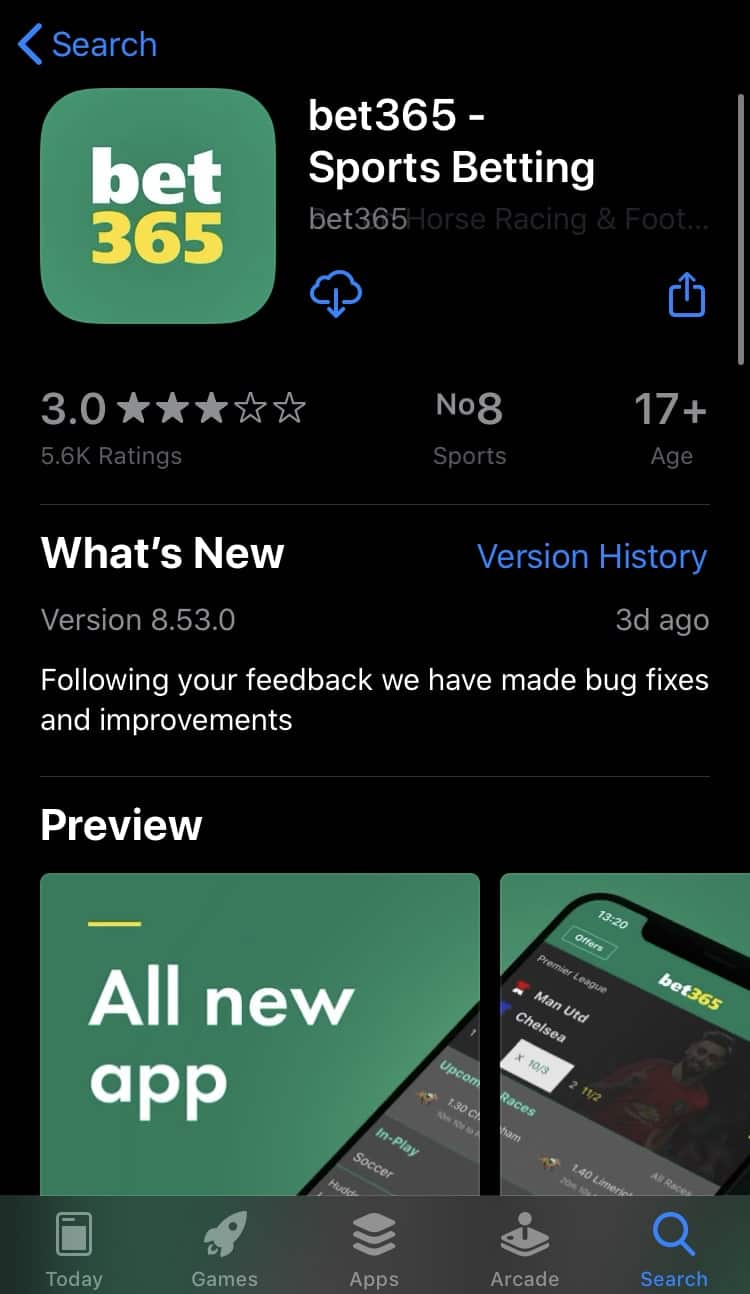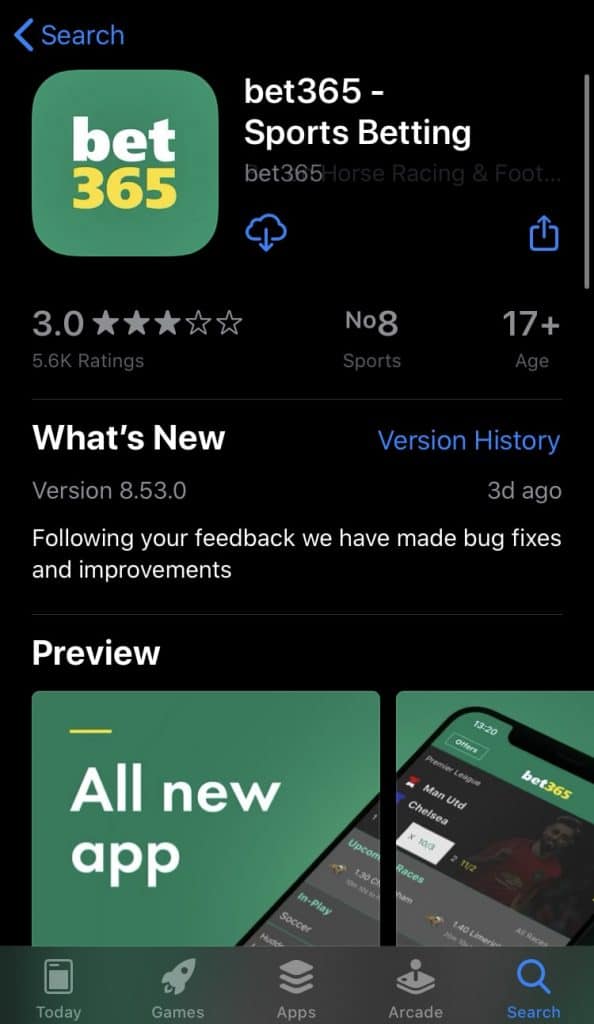 Step 2: Register for an Account
Tap the new icon on your interface to open the app for the first time. After being asked to enable location services and alerts, the app's main interface will load. Hit the 'Log In' button in the top-right, then 'Join' to open the registration process. Complete each part in turn, alternatively providing your personal information or setting your account details.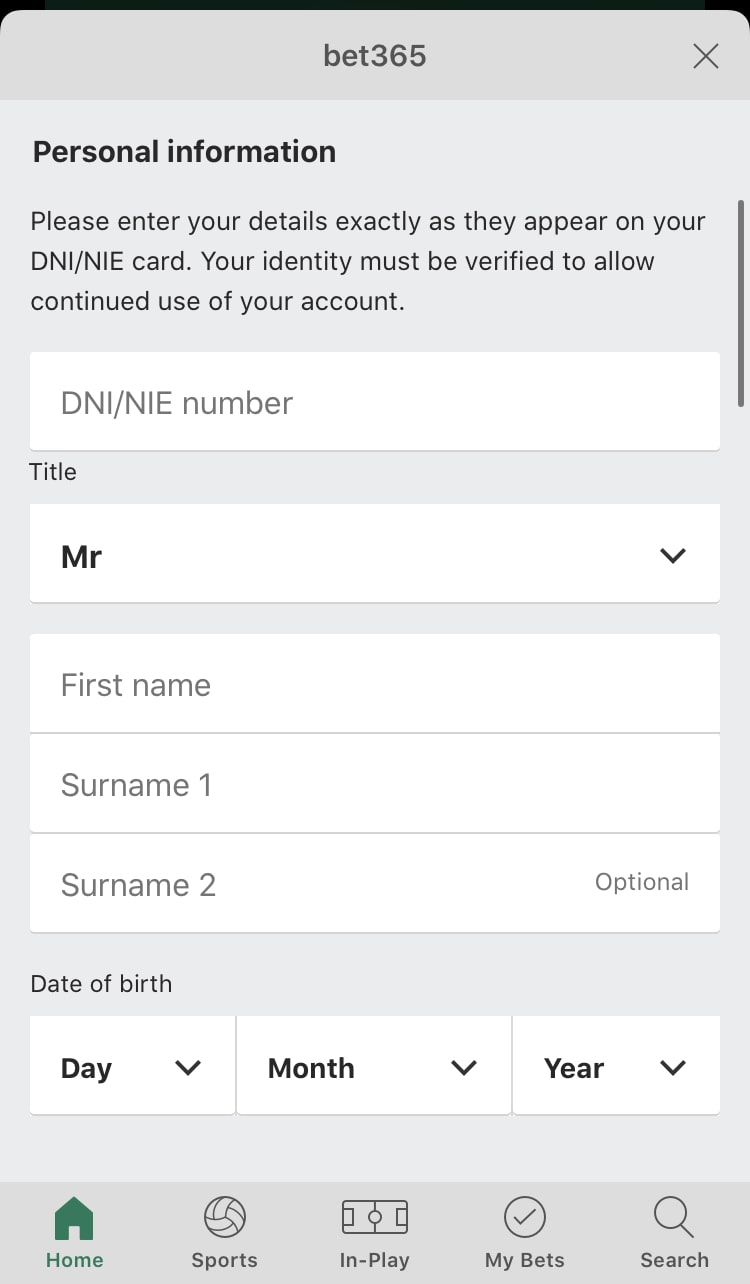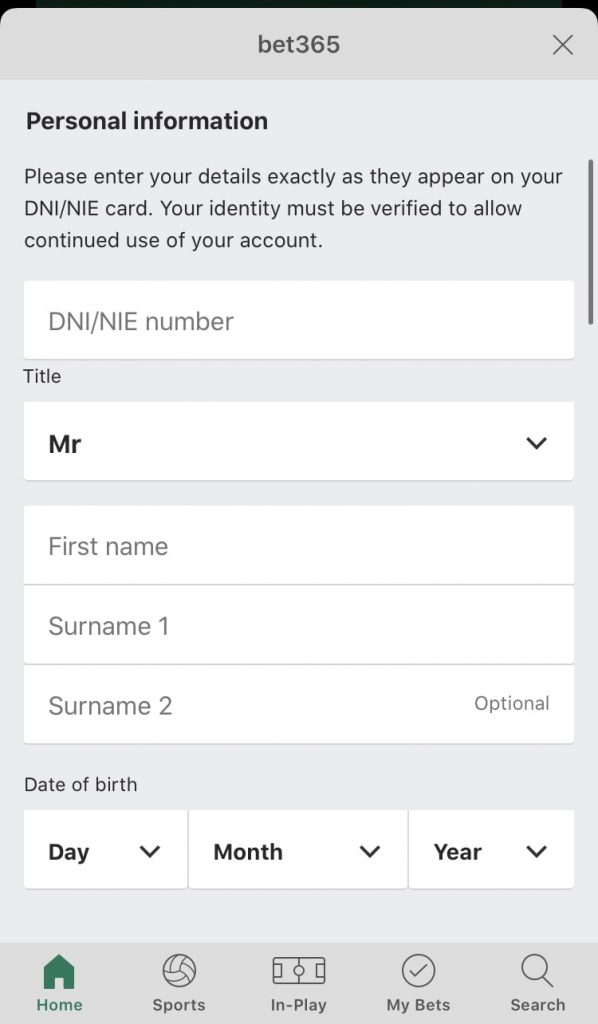 Step 3: Make a Payment
Once your account has been created, your first order of business is to fund it. Log in, then head to the Payments section. Pick your preferred payment method, provide the requisite details, and enter the amount you wish to deposit. Check everything is correct, then confirm the payment.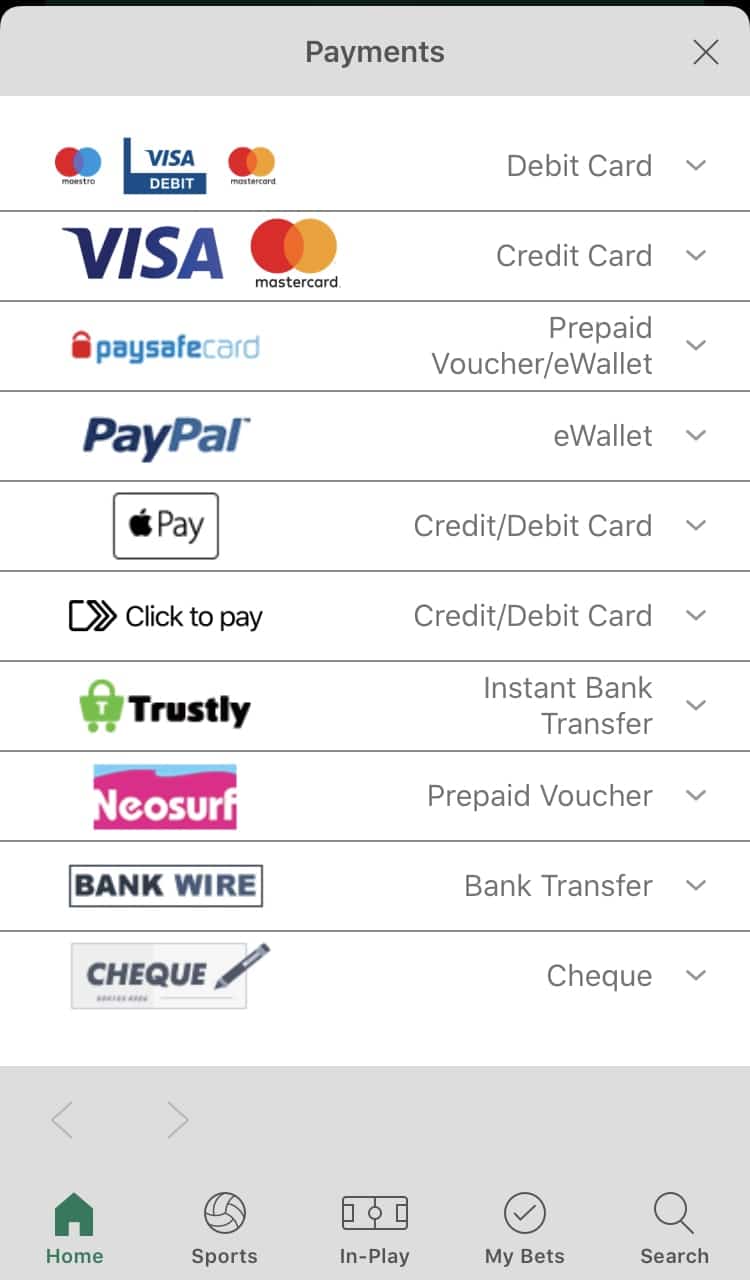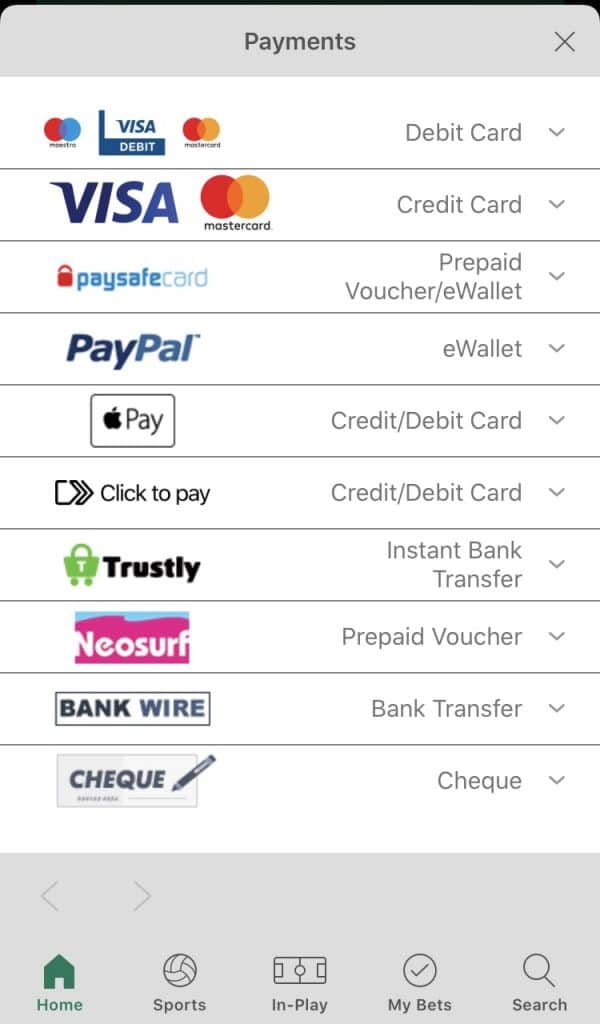 Step 4: Find Your Bet
With your account funded, it's time for the fun to begin. Tap the 'Sports' button on the bottom menu. Pick your preferred sport using the scrolling menu at the top of your screen, then browse the list of upcoming matchups and find the one you're interested in. Alternatively, simply use the search function instead, which is also available on the bottom menu.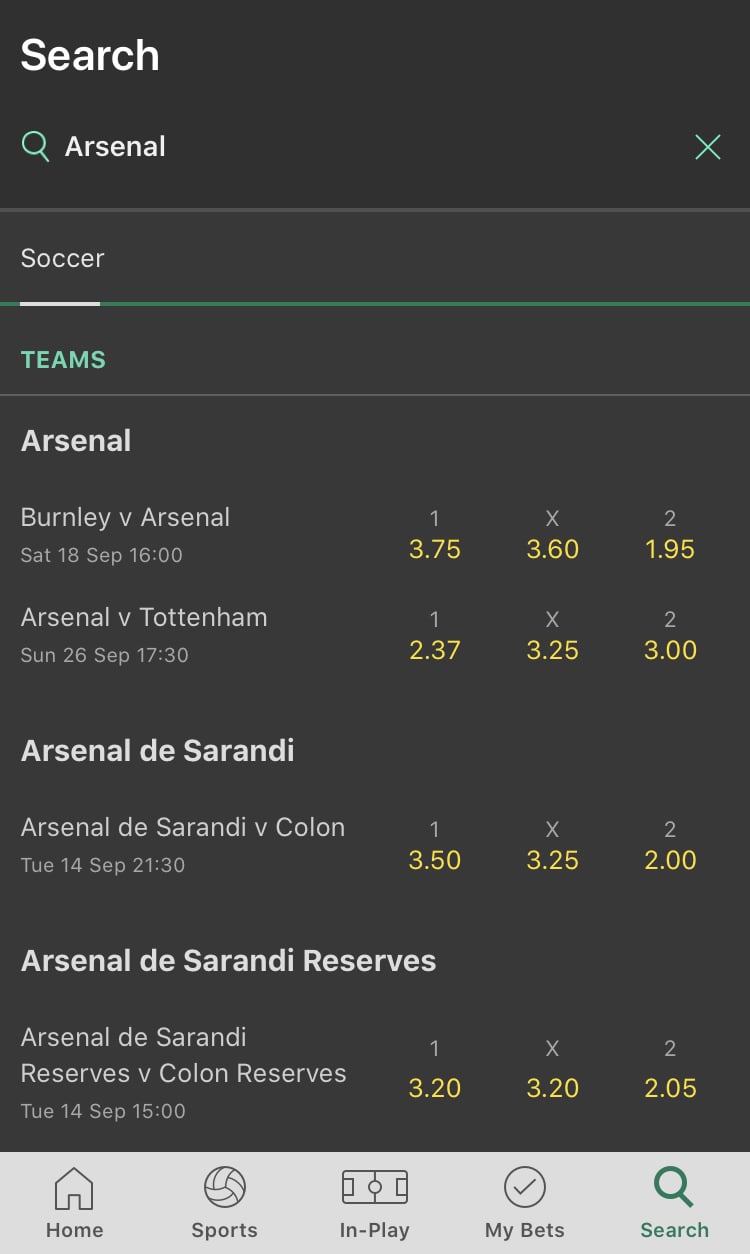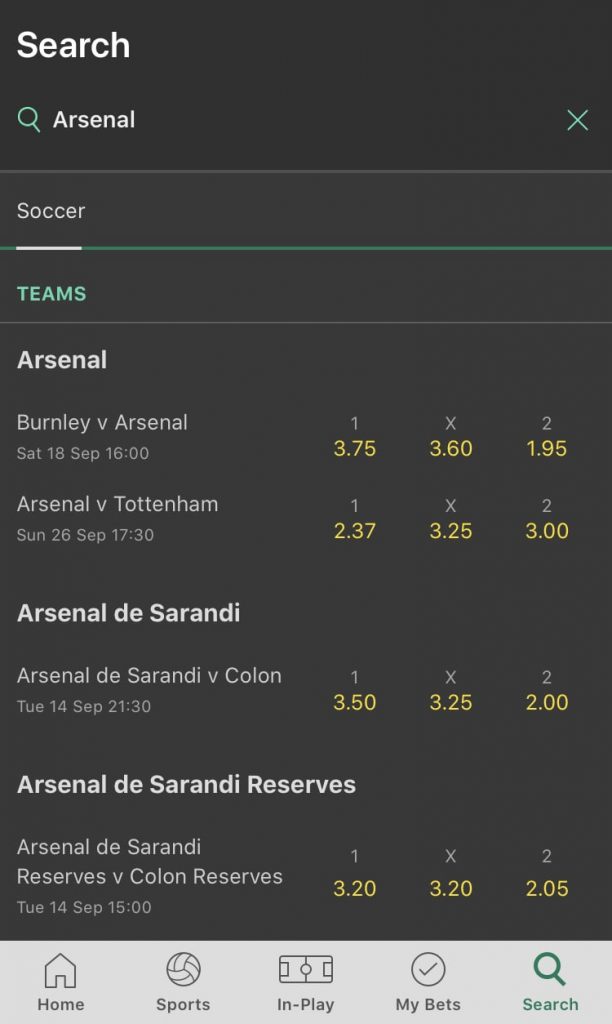 Step 5: Place the Wager
Once you've found your favoured matchup, you must pick the bet type you want to wager on. Tap the odds next to it to add it to your betslip, which will open automatically. Enter a value in the 'Set Stake' box, check everything over, then hit 'Place Bet' to confirm the wager.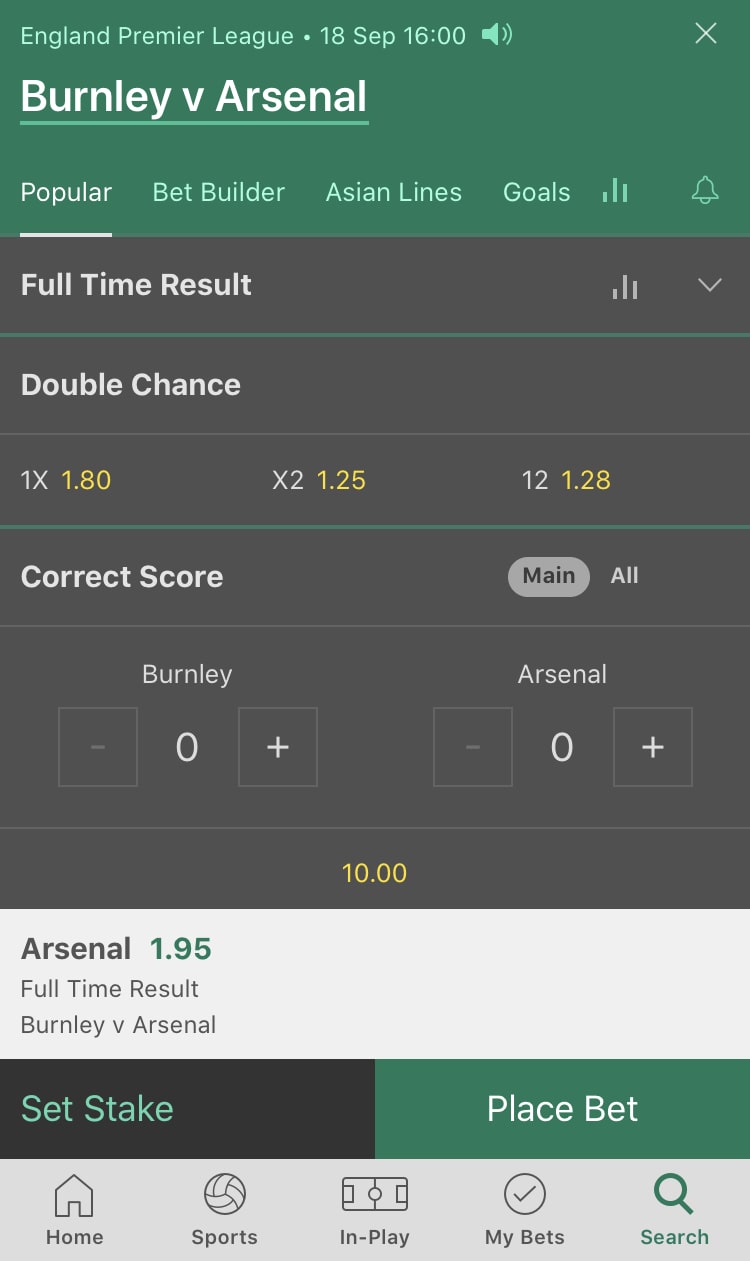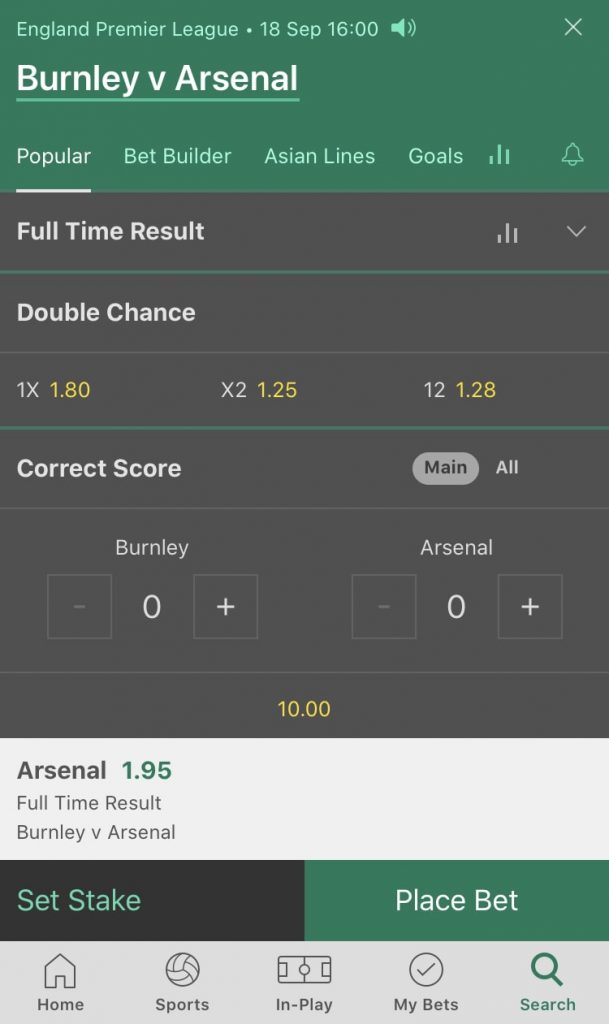 Bet365 App Download Requirements
As you'd expect from any premium brand, there is a Bet365 app in place for both iOS and Android devices. Mechanically, there are few differences at all between them. All of the main features are included in both cases, such as live streaming, a cash out tool, and a bet builder. They also have the same mobile-only features, like the ability to set up push notifications.
Below, you can check out a quick overview of how each Bet365 app stacks up in a couple of key ways.
| | | |
| --- | --- | --- |
| Platform | Software Requirement | App Size |
| Android | Android 4.1 or Later | 19 MB |
| iOS | iOS 12.0 or Later | 42.1 MB |
As usual, the iOS app is bigger than the Android counterpart, but the gap isn't as great here as with other bookies. Also, while you'll need a pretty recent iOS version to use the app, it will run much more easily on Android devices which haven't been updated in a while.
Bet365 App Performance
Of course, all of the positives we've discussed so far would mean nothing if the Bet365 was slow or unreliable to use. Unsurprisingly, this is not the case. Bet365's sports betting app – which, unlike some of its other apps, was developed in-house – performs very well indeed.
The initial loading speed isn't the fastest we've seen, but it still only takes a few seconds to boot up. After that the speeds with which you can load individual matchups and switch between sections are flawless. The most important tools, such as in-play and cash out, are highly-responsive, and the live streaming is very smooth indeed.
As for reliability, we encountered no issues at all. We've used various versions of the Bet365 app for years, evaluating the latest version extensively for this review, and have never experienced a crash on it.
Bet365 App Payment Methods
We've been almost completely positive about the Bet365 app so far. While things are genuinely good regarding payment methods too, we did actually encounter a couple of issues here.
The range of options is solid, if not outstanding. All your old favourites are present, including debit card, bank transfer, and even cheque. You can also use either Google Pay or Apple Pay on the app, and a smattering of other choices are available. Your options for withdrawals are similarly varied.
One of our issues here is the massive 10,000 INR minimum deposits for bank transfer and cheque. Given that this is a regular 350 – 500 or so INR for most other methods, it seems to punish users who prefer these methods unfairly. The lack of a PayPal option is also a little surprising.
| | | | | |
| --- | --- | --- | --- | --- |
| Banking Method | Fees | Minimum Deposit | Minimum Withdrawal | Withdrawal Times |
| Debit Card | Free | 400 INR | 400 INR | 1-5 Banking Days |
| Google Pay | Free | 400 INR | N/A | N/A |
| Apple Pay | Free | 400 INR | 400 INR | Instant |
| Skrill | Free | 350 INR | 350 INR | Within 24 Hours |
| Neteller | Free | 1,000 INR | 1000 INR | Within 12 Hours |
| UPI | Free | 500 INR | N/A | N/A |
| Bank Transfer | Free | 10,000 INR | 4,000 INR | 2-10 Banking Days |
| AstroPay | Free | 600 INR | N/A | N/A |
Bet365 App Customer Reviews
As noted previously, we've spent a whole lot of time with the Bet365 app over the years. Our opinions for this review, therefore, have been based almost entirely on these experiences and our most recent ones with the current version.
We do believe, however, that it's important to look at the opinions of the betting public. This can help us catch any issues, and get a sense of the app's wider reputation.
Bet365 iOS App
The iOS version of the Bet365 app only averages a 3.0/5 rating at the time of writing, across 5.6k reviews. It's still the highest-ranking betting app on the whole App Store, just ahead of Sky Bet and Paddy Power, but we'd expect the rating itself to be higher. As with most major betting apps, the vast majority of the negative reviews are about updates 'ruining' an app which used to be good. This is definitely not something we agree with.
Bet365 Android App
The Android version suffers an even worse rating, which currently sits at only 2/5 across 5.1k reviews. The complaints here are a little more varied, mentioning a few different performance issues. These include lagging, and being regularly logged out for no reason.
What is Bet365?
Bet365 had humble beginnings, being founded in a portable cabin back in 2000. Brick-and-mortar betting shops were originally part of thebrand, but Louise Coates – who remains CEO to this day – put an immediate focus on digital features. The first online sportsbook launched in 2001, and the betting shops were sold off only a few years later, in 2005.
The rest, as they say, is history. Bet365 is – by far – the most successful individual brand in British betting, and has enjoyed incredible success abroad too. Only two companies have higher revenues than it – Flutter, and Entain – and both of those are conglomerates featuring at least two big brands each. Its annual revenues nowadays hover just a little below £3 billion, and Denise Coates herself has been the highest-paid chief executive in the UK for several years now.
Unusually, while most betting brands are based in tax-friendly locations like Malta or Gibraltar, Bet365 remains headquartered in Britain. It's actually the single biggest employer in Stoke-on-Trent, and Denise Coates herself is the nation's biggest taxpayer.
Other Indian Betting Apps
We thoroughly test and review the best and most popular betting apps in India. Check out how others rank in our opinion:
Final Thoughts on Bet365 App India Review
It's almost unfair to compare the Bet365 app to those provided by none-premium brands. Betting sites with the capabilities of Bet365 – for money, manpower, and so on – belong in their own separate tier. Even if you do divide things in this way though, this bookie still excels.
This is, without a doubt, one of the best betting apps around right now. The range of betting opportunities is enormous, with both the in-play markets – and the tools themselves – being exceptional. The live streaming selection is also massive, and the quality of the actual streams is also fantastic. Add in a range of appealing ongoing promotions, good customer service, and customisation options for mobile users, and the list of positives here is extensive.
By contrast, there's very little indeed to complain about. Some Android users especially had performance issues, but that's not something we encountered at all. Some tweaks could be made to improve the payment methods, but that's about it.
If you're looking for a feature-packed mobile betting platform, which serves as a brilliant all-rounder, look no further than the Bet365 app.
Bet365 App India FAQs
What is the Bet365 betting app?
Bet365 is one of the biggest and best betting international betting brands. Its betting app is worthy of the name, and is easily one of your top options right now.
What sports can I bet on?
There are plenty of options here, covering football, horse racing, cricket, golf, and over 20 more. The in-play markets are also excellent, and you have lots of outright choices too.
Is the Bet365 bet builder available on mobile?
Yes, and it can be found within the market selections for eligible matchups. Mobile users can also use TouchID to log into their accounts instantly, enable push notifications, and - to an extent - customise the interface.
Is live streaming available?
Yes. Over 200,000 events are live streamed each year, including horse racing, greyhound racing, tennis, football, and more.
What other Bet365 apps are there?
Plenty. Bet365 has created dedicated apps for slots, live casino, poker, bingo, and several other offerings.