This comprehensive guide aims to assist you in learning how to bet on tennis online. It will provide you with practical examples of how to place bets on tennis matches, explore alternatives to 'pick the winner' such as betting on tennis over/under and set winners, and delve into the entertaining realm of live tennis betting. Embark on this 'how to bet on tennis matches' journey to use your tennis knowledge and make informed bets on the sport you love.
How to Bet on Tennis Online – The Basics
Tennis stands as one of the most popular individual sports played not only in the UK but also in most corners of the world. What sets tennis apart is the almost unique balance of interest between men's and women's matches. The sport boasts a vast array of global competitions, as professional tennis players strive to ascend the ranks and make a living as a leading tennis player.
At the pinnacle of the tennis world we find the four prestigious Grand Slam tournaments held annually in the UK, US, Australia, and France. These events captivate worldwide attention every year. Beyond the Grand Slams, tennis tours traverse the globe organised separately for men by the Association of Tennis Professionals (ATP) and for women by the Women's Tennis Association (WTA). Furthermore, tournaments catering for seniors, school-level players and amateurs contribute to an overflowing annual tennis calendar. Consequently, the notion of there not being a tennis match available for betting on any given day seems unfathomable.

The Four Tennis Majors
Australia Open, three weeks in January, Melbourne Park, Melbourne
French Open, last week in May, first week in June, Stade Roland Garros, Paris
Wimbledon, first two weeks in July, All England Lawn Tennis & Crocquet Club, London
US Open, last week in August, first week in September, USTA Billie Jean King National Tennis Center, NYC
Best tennis betting markets
While outright bets on specific tournament winners are common, tennis offers a plethora of other betting options to explore. Here are a few examples:
Match Handicap: Players are assigned artificial handicaps, with the winner determined by the number of games won once the handicap is applied.
Total Games 2-Way: A bet on the total number of games played in a match, over or under a specified amount (typically 32.5).
Set Betting: A bet on the winner and the final score in sets.
Match Result & Both Players to Win a Set: Betting on the winning player while allowing the opponent to win at least one set.
First Set Winner: Wagering on the winner of the first set, which can also apply to subsequent sets.
First Set Total Games: Predicting the number of games played in the first set, over or under a specified total, with the option to apply it to other sets as well.
First Set Score: Betting on the score in the first set, extending to other sets too.
Match Result and Total Games: Selecting the winner and the over/under total of games played.
Player Props: Betting on a player to achieve specific milestones, such as winning a set, coming from behind to win or winning in straight sets.
The aforementioned options merely scratch the surface of the extensive realm when you're learning how to bet on tennis online. As you delve deeper, you'll discover that high-profile matches tend to offer a broader range of betting opportunities throughout the tennis calendar.
How to Place a Tennis Bet Online
So, let's explore how to engage in online tennis betting. To illustrate the process, we will use an example from the popular UK betting site, bet365. Our focus will be on placing a bet on the UK's very own Andy Murray winning his first match at the 2023 Wimbledon tournament. Here's a step-by-step breakdown:
Start by navigating to the tennis betting section on the bet365 website. Look for the match you're interested in which in this case, Andy Murray's match. Within the available tennis options, you'll find the odds displayed. Here Ryan Peniston is priced at 7.00 to win, while Murray's odds are at 1.10. The "69>" signifies the additional betting options for this particular match.

As we aim to bet on Murray's victory, we click on the odds of 1.10. By doing so, the bet will be transferred to our betslip. The resulting betslip is visible below. In this case, we are confident that Murray will win and have decided to stake £5 on this outcome. The potential return for a successful bet is shown as £5.50.

To finalise the placement of our wager, simply click on the "place bet" button provided. If you ever encounter difficulties when calculating potential returns or other aspects of your bets, remember that there are various helpful bet calculators available to assist you.
While tennis offers a multitude of bet types, the fundamental process remains the same for any kind of bet. You click on the odds associated with your desired selection, add it to your betslip, and then specify your stake. If you wish to create multiples such as a double or treble, you can add your selections to the betslip before you set your stake.
Early Cash Out in Tennis Betting
Cash out is a way of extracting further value from your tennis betting. This is where you cash out a bet you have placed, but for reduced odds. Say you've bet on one player to win a match and while they are currently winning, you've noticed signs of fatigue. You therefore cash out your winning bet at the odds offered (which will be less than the starting price) as you feel your bet will become a losing one.
Look for Value in Tennis Betting Odds
The path to success in tennis betting lies in uncovering value. When learning how to bet on tennis online and win, it's essential to identify opportunities where the odds provided by bookmakers don't accurately reflect the true probability of an outcome.
Let's consider an example: Novak Djokovic is priced at 5/6 to win a tennis match. This translates to a fractional probability of 6 out of 11, equivalent to 54.5 percent (with decimal odds, you can simply calculate the probability by dividing one by the odds, so 1 / 1.833 = 54.5 percent).
The crucial factor to consider here is whether you believe Djokovic's chances of winning are lower than 54.5 percent. If you assess that his probability of winning is less than the implied odds, it may be better to bet on his opponent.
Finding value in tennis betting involves conducting thorough analysis and research to assess the true probabilities of various outcomes. As you continue to develop your betting skills, honing your ability to recognise value will be pivotal to finding the best way to bet on tennis.
In-Play Tennis Betting
Tennis lends itself exceptionally well to live betting, also known as in-play betting. When you're actively watching a tennis match, you may find yourself inclined to place bets based on the unfolding situation. The dynamics on the court can influence your perception of players' performances and potential outcomes. For instance, a leading player might display signs of fatigue, while a previously trailing player could unexpectedly emerge as the dominant force.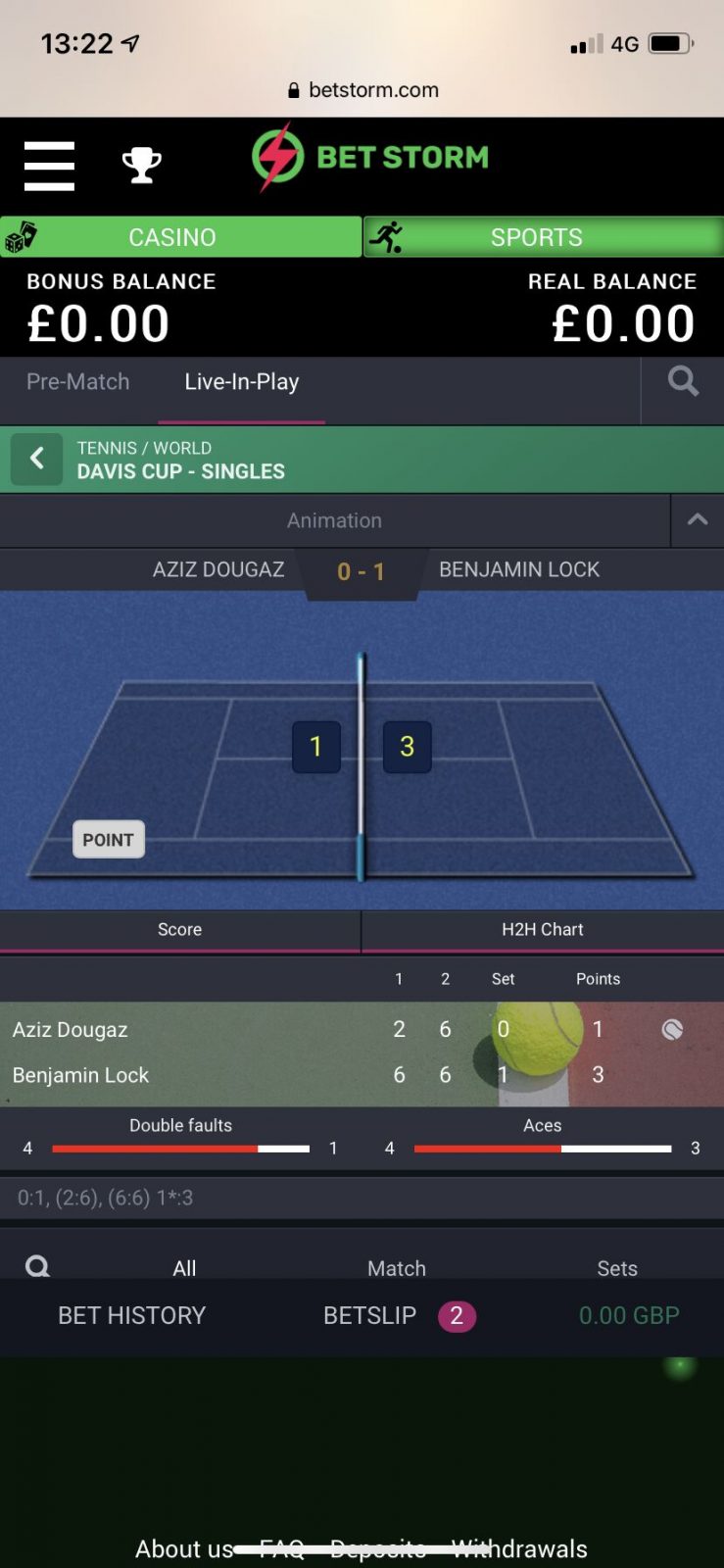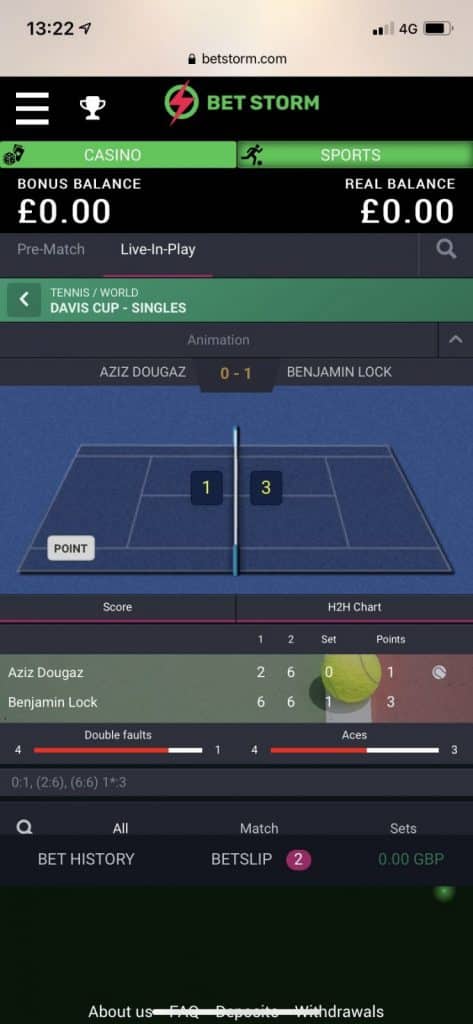 When it comes to live tennis betting you'll discover a wide array of options to choose from. These include betting on the winner of the next set, the next player to break serve, or even the next player to commit a double fault. To truly grasp the excitement and possibilities of live betting, you can explore the betting options offered by UK online bookmakers during a live tennis match. This hands-on experience, coupled with your expert tennis knowledge, can pave the way for potential profits once you've acquired the skills of leaning how to bet on tennis live.
Best Tennis Betting Strategies
Conduct In-Depth Research

Prioritise thorough research on players, their form, playing conditions, head-to-head records, and any relevant factors that may influence match outcomes. Knowledge is power in the realm of tennis betting.

Focus On A Niche

Consider specialising in a specific area of tennis, whether it's a particular tournament, surface type, or player category. Becoming an expert in your chosen niche can provide an edge when analysing match-ups.

Analyse Betting Markets

Carefully examine different betting markets and seek opportunities where odds may be mis-priced or undervalued. Look for value bets that offer potential returns greater than the implied probability.

Bankroll Management

Implement a disciplined approach to managing your betting bankroll. Set a budget, establish staking limits, and avoid chasing losses. Consistency and sensible bankroll management are key to long-term success.

Use Live Betting Markets

Leverage the advantages of live betting during matches, as it allows you to assess player performance and adjust your bets accordingly. Capitalise on opportunities arising from momentum shifts or unexpected developments.

Track And Analyse Your Successes And Failures

Keep a detailed record of your bets, including wins, losses, and any valuable insights gained. Regularly assess your performance, identify patterns, and learn from both successful and unsuccessful bets.

Embrace Expert Insights

Stay updated with expert opinions, analysis, and news from reputable sources. Consider leveraging the knowledge of tennis pundits or tipsters while applying your own judgement to make informed betting decisions.
Remember, learning how to bet on tennis and qin is a journey that requires ongoing learning, adaptability and an element of luck. By integrating these tips into your betting strategy, you may enjoy improved chances of winning and a more enjoyable tennis betting experience.
Common Mistakes to Avoid When Betting Online on Tennis in the UK
When venturing into the realm of tennis betting in the UK, it's crucial to be aware of common mistakes that can hinder your chances of success. By avoiding these pitfalls, you can enhance your betting strategy and maximise your potential returns. Here are some key mistakes to steer clear of:
Neglecting Research
Failing to conduct thorough research on players, form, head-to-head records, and other relevant factors can significantly impact your betting decisions. Without a solid foundation of knowledge, you may make uninformed choices.
Emotion-based Betting
Allowing emotions, personal biases, or fandom to influence your bets can lead to irrational decision-making. It's essential to remain objective and base your wagers on statistical analysis and reliable information.
Chasing Losses
Attempting to recoup losses by increasing your stakes or placing impulsive bets is a dangerous habit. It often leads to further losses and compromises your bankroll management strategy. Stick to your predetermined staking plan and avoid chasing losses.
Overlooking Value Bets
Neglecting to identify value bets is a common mistake. Value lies in finding odds that are higher than the implied probability. By carefully analysing betting markets, you can uncover undervalued opportunities that offer greater potential returns.
Lack of Bankroll Management
Failing to implement a disciplined bankroll management strategy can result in reckless betting and financial instability. Set a budget, establish staking limits, and avoid placing bets that exceed your predetermined risk tolerance.
Ignoring Live Betting Opportunities
Live betting provides dynamic opportunities to capitalise on changing match situations. Failing to take advantage of these in-play options can limit your ability to adapt and make well-informed bets during matches.
Following Blindly
Relying solely on tips, predictions or rumours without conducting your own analysis can be detrimental. While expert insights can be valuable, it's essential to incorporate your own research and judgement into your betting decisions. Is tennis easy to bet on? Only if you do it on a sound footing.
Where to Bet on Tennis Online in the UK
You can placed a tennis wager online in the UK literally anywhere. All UK betting sites will feature extensive coverage of all major and indeed most minor tennis tournaments at all levels. You will not fail to place a tennis bet on any event you choose at most UK sports betting sites.
If you bewildered by such choice, then we can help. Check out our recommended safe, UKGC-licensed betting sites.
Wrapping Up
It really is 'game, set and match' when it comes to tennis betting in the UK. There is plenty to bet on, and if you really know your tennis you could return a steady profit if you bet seriously and responsibly. We hope that this page has helped answer any questions you may have had on tennis betting, and that you'll never double-fault again when it comes to your tennis betting exploits.
FAQs
Is tennis easy to bet on?
Yes, tennis is easy to bet on. You can bet on tournament winners, match winners or individual aspects of the same game, such as most aces, double-faults or games won.
How to bet on tennis spread?
The spread on tennis is some measurable aspect, such as the number of games played. You will be given an estimate and you can bet on their being more, or less than that number. If you are right by several games then you could win a large amount. If you are wrong by several games though you could lose just as much. Tennis spread betting is only recommended for tennis experts.
What is the best way to bet on tennis?
There is no real 'best way' to bet on tennis, but as with any sports betting aspect, you should only bet if you've done your homework, and have looked for the best value betting opportunities.
How to bet on tennis live?
Most UK betting sites will have in-play tennis betting sections where you can bet on a game that has already begun. It's a way of adding an extra layer of excitement to your tennis viewing, but only if done sensibly.
How to bet on tennis and win?
There is no guaranteed way of betting on tennis and winning. Just study the form, take into account the surface played on and look at historical match-ups, then place your bets accordingly.
Was this article helpful?