Wager is the word used to describe when you have a bet on something, typically an outcome in a sports event. Whether it be the final score of a football match or the total number of runs in a cricket game, bookmakers offer a number of ways to bet on events.
What does wager mean in betting? On this page, we will explain exactly what it is and how it works online. This will include popular bet types, odds, and mistakes to avoid.
Most Popular Types of Wagers in Sports Betting in the UK
Bookmakers today accept a variety of bet types. The specific number available will vary depending on the betting sites and sports. However, there are some that are popular across the board, which include the following.
1×2: 

The simplest form of bet. Here, you are wagering on one team/player to beat another.

Place: 

Commonly associated with horse racing, motor racing, golf and selected other sports. With this wager, you will only receive a return if your selection finishes first or in one of the predetermined places. 

Each Way: An each-way wager is one that features a combination of win and place bets. They can be placed on single events, as well as 2+ selections in multiples. 
Single: 

A wager on an individual pick or outcome. 

Multiple: 

A bet that features multiple selections. This can be a double, treble or accumulator. All picks must be successful in order to earn a payout. 
How Wagering Odds Work
Sports betting odds are calculated based on the probability of a particular outcome occurring. Before you decide to place your first bet, it is important to understand how betting odds work.
From odds, you are able to work out how you will win if you successfully predict the outcome of a sporting event. Prices are displayed in a number of formats, which we will discuss in more detail later on.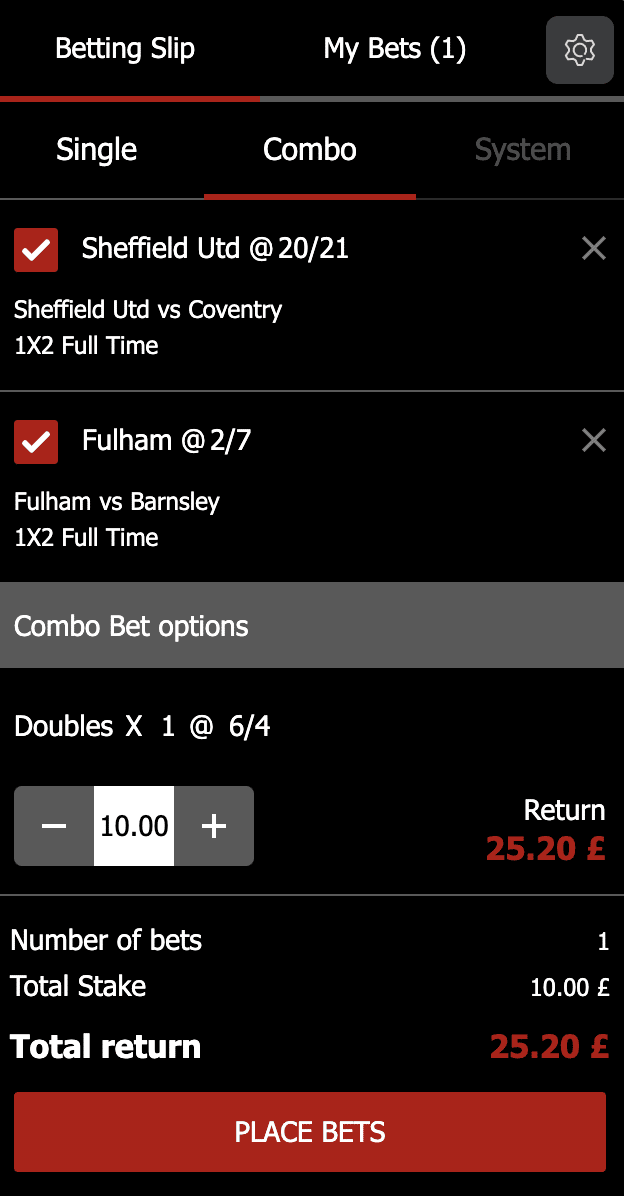 Odds are set by bookmakers themselves and a number of factors are considered. However, ultimately, prices are determined based on how likely they believe a potential outcome is.
In most cases, there will be a favourite and an outsider. The favourite will be handed shorter odds and the outsider a longer price. It is important to note that sports betting odds vary between bookies.
Decimal Odds vs Fractional Odds
As we previously mentioned, online sports betting odds are displayed in different formats. While American prices are commonly used stateside, you will find that fractional and decimal odds are most popular in the UK. Below, we have outlined the key differences between the two, including how to calculate your potential profits with each.
Fractional Odds
Originating in horse racing, fractional odds are still the most common format used by bookies today. Easy to calculate because of the fraction used, the number on the right is the amount bet, while the number on the left is the amount you can potentially win.
For example, let's say that you wager on Arsenal to beat Chelsea in the Premier League at fractional odds of 8/13. A bet of £13 will result in £8 of profit.
Decimal Odds
With most bookies in the UK, you can also select to view odds in a decimal format. Most commonly used in Europe, they make it easy to calculate your potential returns.
In order to do so, simply multiply your stake by the decimal odds. For example, Let's suggest you are considering wagering on England to beat India in a Test match. England are given odds of 1.82. So, a £10 bet would result in total returns of £18.20.
Key Terminology to Understand When Wagering on Sports
If you're new to sports betting and find yourself asking "what does wager mean in betting?" then there will be some words and phrases that you are likely unfamiliar with. To help you out, we've put together a little more information on the most common terms you should know before placing your first bet.
Vigorish (Vig) – The fee in which bookmakers charge you for placing bets. Of course, you are hoping to make money from wagering, but so are bookies themselves.
Bankroll – The amount of money you put aside to bet with. The exact amount will depend on your disposable income and objectives. You should only ever wager what you can afford to lose.
Handle – Handle refers to the amount of money wagered by bettors. This is across all online sports betting sites and high street bookies.
Hedging – A betting strategy in which additional wagers are placed in order to guarantee a profit. In order for this strategy to have a chance of winning, you must bet against your original pick.
Moneyline – Betting on one team or player to defeat another. Also known as 1×2 betting, only the final result will determine whether your moneyline bet wins or loses.
Sports Betting Tips for Placing Successful Wagers
Before you start wagering on sports, you should understand that there is no way to guarantee a win each time. However, there are some steps that you can take in order to maximise your chance of beating the bookies. The following are our top sports betting tips for doing so:
Stick to What You Know

Regardless of your strategy, it is important to only wager on sports that you are familiar with. While you may find attractive odds elsewhere, your lack of knowledge on the teams/players involved will mean that you will likely come unstuck.

Do Your Homework

Before confirming any wager amount, ensure that you have carried out the necessary research. It is easy to find relevant information and statistics online today. Look at recent form, head to head records etc.

Set a Budget

It is important that you set and stick to a budget when betting online. This will help to ensure that you gamble responsibly and do not bet more than you can afford to.

Compare Odds

It may well be worth registering with multiple bookies. This is because odds vary between them. So, before wagering, be sure to check the prices on different sites.

Track Your Bets

Given that the cash out feature is available with most bookies, it is also important to track your bets once they are active. You may wish to settle your bet early, whether it be to cut your losses or lock in a profit.
Understand Live Betting & Streaming
The vast majority of sports betting sites in the UK now feature live markets. Also known as in-play, this means that you can wager on sporting events that have already started. Odds fluctuate as the event progresses, based on in-game situations.
Many turn to live betting markets in an attempt to find better value. However, markets will often be suspended by bookies. This will generally occur when an important event occurs, such as a penalty being awarded in a football match.
Another feature of modern online bookies is live streaming. Available on selected events, you can watch the action as it takes place. Generally available on betting sites and sports betting apps, live streaming is most commonly associated with football, tennis, horse racing, basketball and cricket.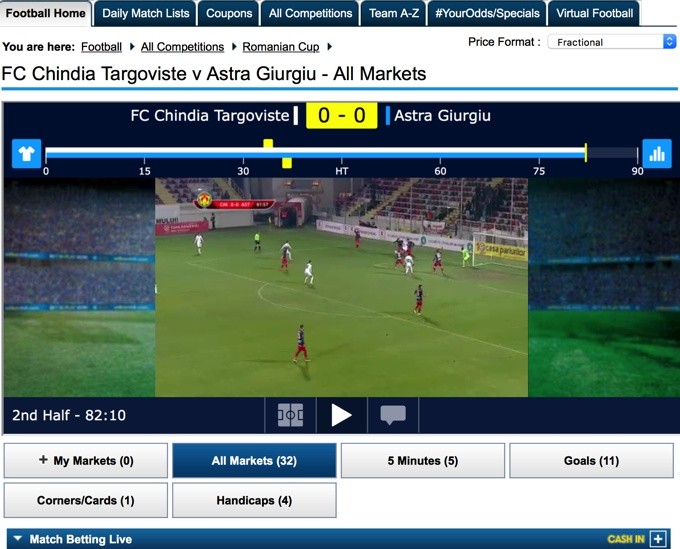 In some cases, commentary will accompany streams. However, you will need to place a qualifying bet or have a funded sportsbook account in order to gain access. Live streaming can be used to track the progress of your selections. It also benefits punters looking to place live game bets.
Wagering Requirements & Other Bonus Terms and Conditions
When wagering online, you will often come across betting promotions. Promos are offered to new and existing members, in an attempt by bookies to attract new players and keep existing punters satisfied. Common bonus offers include free bets, deposit bonuses, price boosts and money back specials. However, all offers come with their own unique terms and conditions. The following are some of the most common T&Cs to look out for.
| | |
| --- | --- |
| Terms and Conditions | Meaning |
| Minimum deposit | You must deposit at least a set amount in order to qualify for a bonus. This generally sits at around £10. |
| Minimum odds | Qualifying bets and wagers placed using bonuses may be subject to minimum odds too. Bets placed below the price set will be ineligible. |
| Eligible Bets/Markets | Some promotions are specific to a particular sport or market. As such, you must check whether a potential bet is eligible. |
| Minimum stake | If a qualifying is required, ensure that you meet the minimum stake amount set by the bookie in question. |
| Maximum stake | Is there a maximum amount that you should wager in order to qualify for the bonus? |
| Rollover requirements | The number of times in which the total bonus amount must be wagered before funds turn into real cash. |
| Expiration period | The length of time in which you have to spend a bonus and meet the wagering requirements. You must also consider the time frame for placing a qualifying bet after signing up. |
| Promo code | Does a promo/bonus code need to be entered at the time of registering or depositing money? |
| Payment restrictions | Some bookies will state in their bonus terms and conditions that certain payment methods are ineligible. E-wallets and prepaid cards are commonly restricted. |
What You Need to Know About Wagering Requirements in Sports Betting
Part of the appeal of wagering online is the number of betting offers available. There are deals for both new and existing members. However, terms and conditions apply, with wagering requirements being one of the most common. This is often the difference between an attractive bonus and another.
Wagering requirements refers to the amount of times that a bonus must be turned over before funds can be withdrawn. For example, with 35x wagering requirements, you must first bet the bonus amount 35 times.
It is important to read the small print surrounding bonuses in full. This is because there may be markets that are ineligible. Meanwhile, you may need to meet the minimum odds set in order to contribute towards the wagering requirements.
Common Mistakes to Avoid When it Comes to Wagering on Sports
We have already delivered our top sports betting tips. However, there are also some mistakes that you must avoid in order to give yourself the best possible chance of success. The following are the most common mistakes made by punters:
Overlooking the Importance of Odds – The odds set will determine how much you make from a winning bet. So, rather than overlooking prices, be sure to consider whether they meet your demands.
Betting on Unfamiliar Sports Events – Some will view markets surrounding sports that they have little or no knowledge of. While you may find larger prices, your chances of winning decrease.
Chasing Losses – Many will aim to recoup losses by placing additional bets immediately after losing. However, this will, more often than not, result in further losses. Instead, take a break and return when you have composed yourself.
Wagering Using Your Heart – It is easy to let emotion get involved when wagering on sport. However, it is important to bet with your head, rather than your heart. Basically, put your allegiances to one side.
Not Tracking Your Progress – Many players do not check their bet history. By doing so, you will be able to see where you have achieved success, as well as which markets to potentially avoid in the future. It couldn't be easier to view past wagers on betting sites today.
FAQ
What is wager in betting?
What is an example of a wager?
How do I place a wager online?
Do you win your wager back?
What does wager 5 times mean?
Was this article helpful?