Nowadays, bettors have an unprecedented number of options available to them. That applies not just to actual bookmakers, but to crucially important areas like payment methods too. In this article, we'll be analysing one payment method which has been an option for a while, but has consistently flown under the radar: Perfect Money. En route, we'll tell you everything you need to know about Perfect Money. We'll explain what it is, exactly how you can use it for yourself, and outline the very best Perfect Money betting sites out there right now. Let's get started. 

Why Use Perfect Money?
The sheer number of payment methods has certainly been a major advancement in sports betting, as noted in our introduction. Within that though, there's also been a change in the actual types of payment methods which are available. 
Modern bettors are no longer restricted to using their traditional bank account, whether through debit cards (like Visa) or bank transfers. Instead, they can gain a degree of separation by using a completely separate financial account. eWallets are a popular way to do this, with PayPal, Neteller, and Skrill being the most famous examples. There are plenty of other options though, and Perfect Money is one of them. 
Compared to the eWallets mentioned above, Perfect Money is relatively unknown. It's actually been around for a while, however, having been founded back in 2007. A possible explanation for this lack of fame is that it's a Hong Kong-based financial service, while those other brands were all launched in either the US or UK. 
The fact that it lags so far behind in brand awareness is still surprising though, because – at a basic level – Perfect Money essentially provides the same service as PayPal. You create an online account, and can subsequently make deposits and withdrawals from that account. You can also use it as a payment method for various services, including Perfect Money betting sites.
Like most other eWallets, Perfect Money is extremely easy to use. By allowing you to store some funds separately from your regular account, it also offers you additional security. There are a couple of other specific areas in which Perfect Money excels, though. 
For starters, the customer service here is very good indeed. If you have a problem, support is available 24/7/365. More intriguingly, it also allows you to not only make deposits using common currencies like USD or EUR, but also bitcoin. This is pretty rare for a major eWallet, and – where it's supported, of course – makes Perfect Money a good option for bitcoin betting sites.
How to Use Perfect Money for Betting
Convenience is one of the biggest draws for using eWallets in general. It's no different with Perfect Money. This is a modern, streamlined payment method, which you'll be able to grow accustomed to very quickly indeed. That's true regardless of your experience level with similar sites like PayPal. 
To give you a little extra help though, here's a step-by-step guide on how to start using Perfect Money betting sites. We'll use 22Bet – our top rated such site – as our example bookmaker. We'll also be assuming you're using the desktop site, but there are both iOS and Android apps available if you prefer. 
Step 1 – Open a Perfect Money account
To begin the registration process, simply go to perfectmoney.com and hit the 'Signup' button in the top-right. You'll now be presented with the following screen.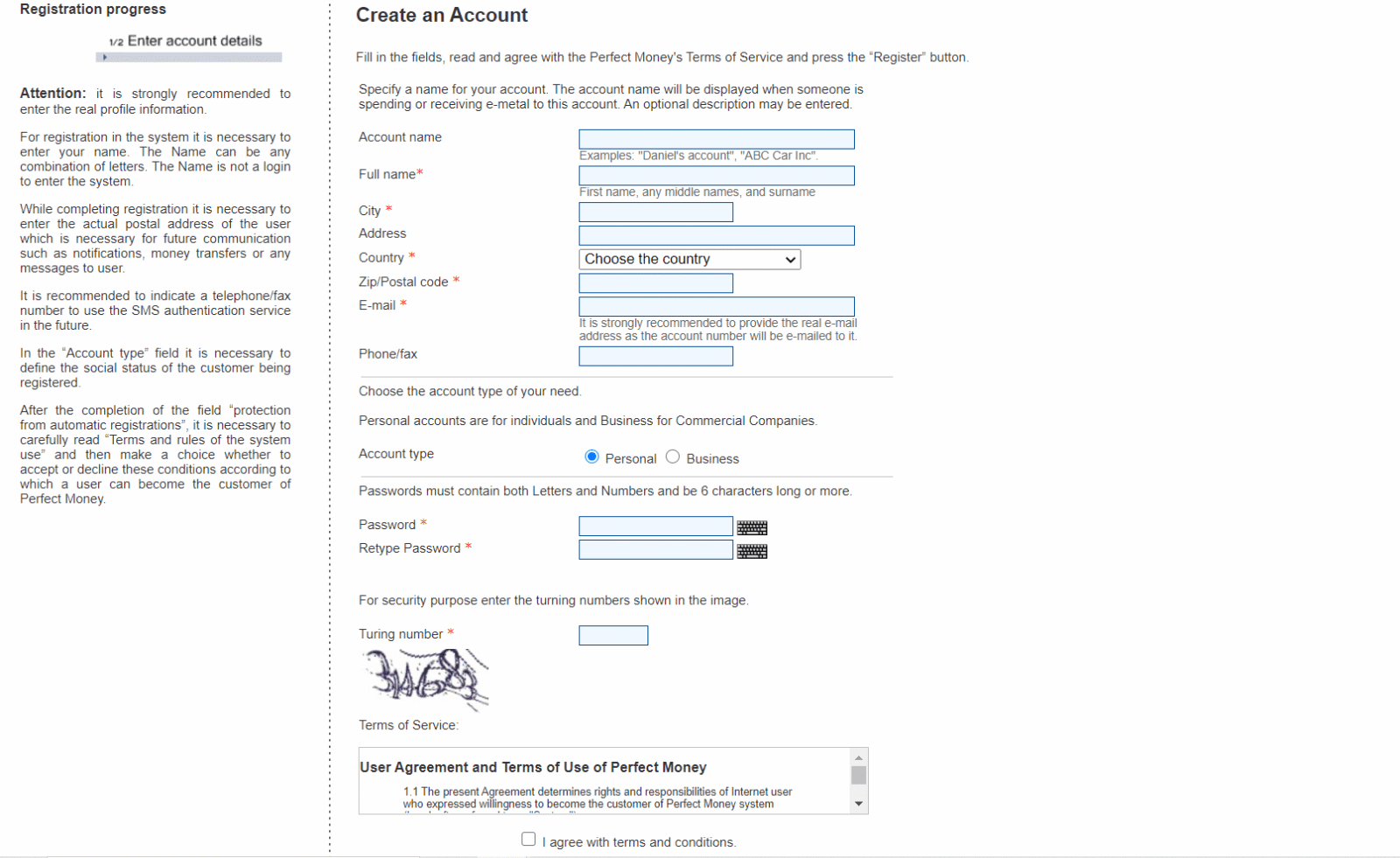 This busy page may look a little intimidating, but it really isn't. You simply need to enter the necessary personal details, then create a password for your account. Also, ensure that you tick the box for a 'Personal' account, rather than a 'Business' one. Once that's done, simply agree to the T's & C's and click 'Register'. 
After doing so, you'll be sent a confirmation email. This will contain your personal ID number, which you can use to log in going forward. 
Step 2 – Make a deposit
Before you can begin using Perfect Money betting sites, you naturally need to fund your Perfect Money account. Start off by logging in, using your ID number and password, then select 'Deposit' in your user area. 
You'll now see the following options.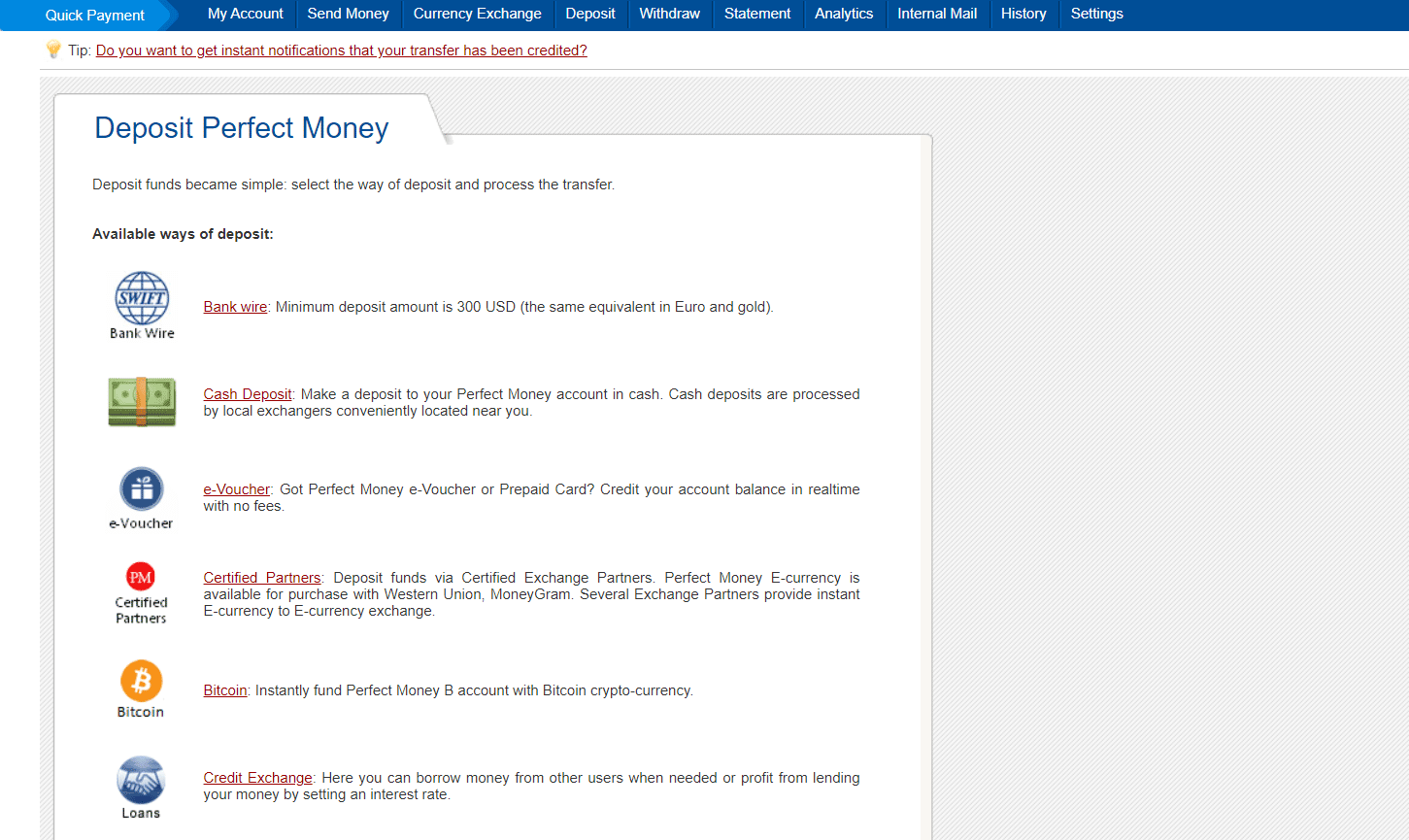 Pick the most convenient method for you, then follow the instructions on making a deposit, providing the details necessary to do so. Please note that – while bitcoin is an option here – some Perfect Money betting sites won't actually accept cryptocurrencies for deposits. 
Step 3 – Select your Perfect Money online betting site
This is the fun part. With your eWallet funded, it's now time to pick between Perfect Money betting sites. There are a few good options to choose from here, and we've listed five of the very best at the top of this page. 
For our money though, the best all-round eligible bookmaker is 22Bet. It's user-friendly, has a huge range of markets, and provides solid ongoing promotions too.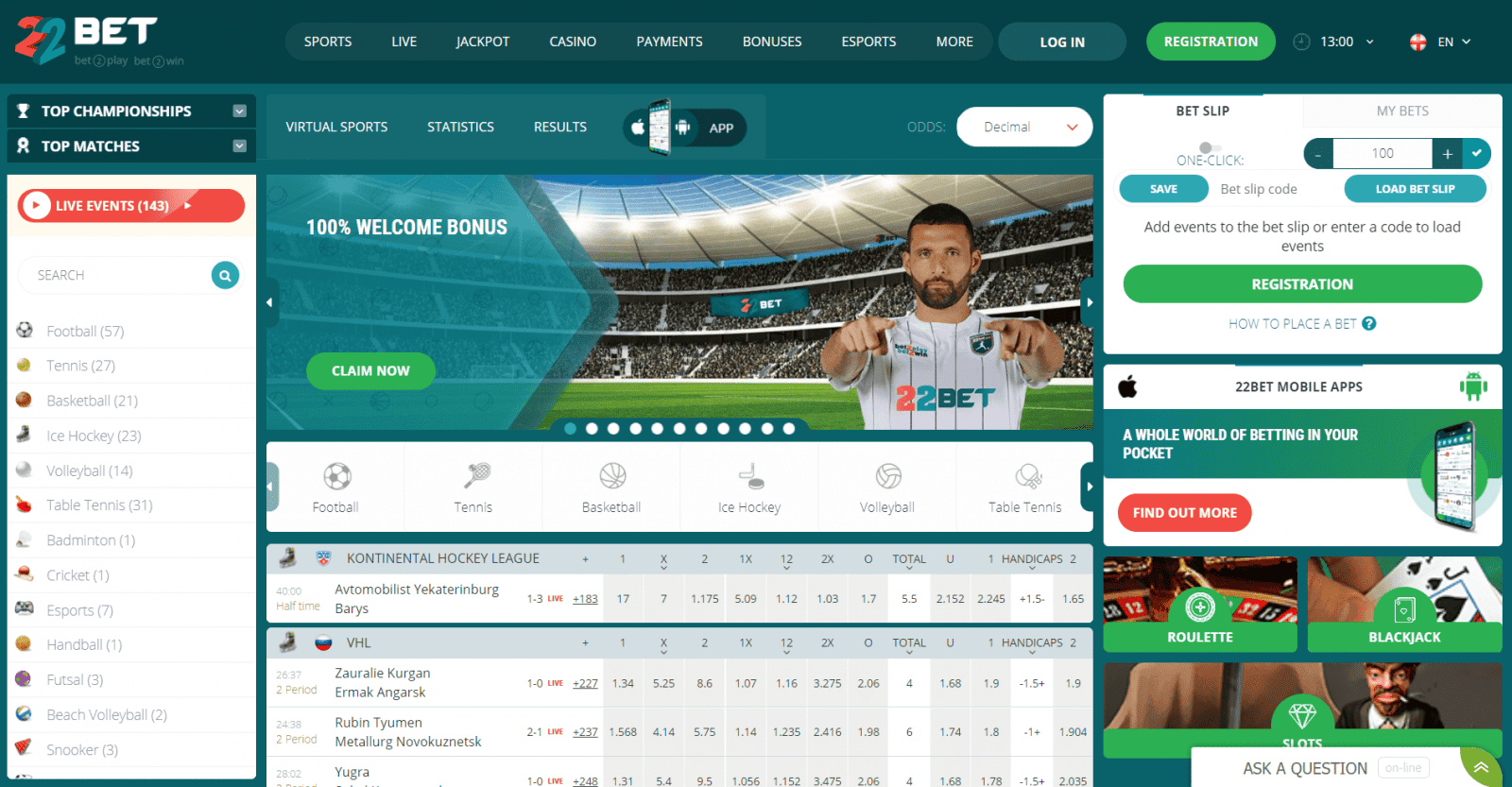 Head over to 22Bet yourself, click 'Registration' in the top-right, and follow the instructions there to create your betting account. 
Step 4 – Fund your online betting account
After creating your 22Bet account, it's now time to stick some money in it so that you can start wagering. Doing so could hardly be easier. 
After logging into 22Bet, click the green 'Deposit' button towards the top-right of your screen. Now, scroll down until you see the 'Perfect Money' option. Select it, enter the amount you'd like to deposit, and hit 'Confirm'. You will now automatically be taken to the Perfect Money website.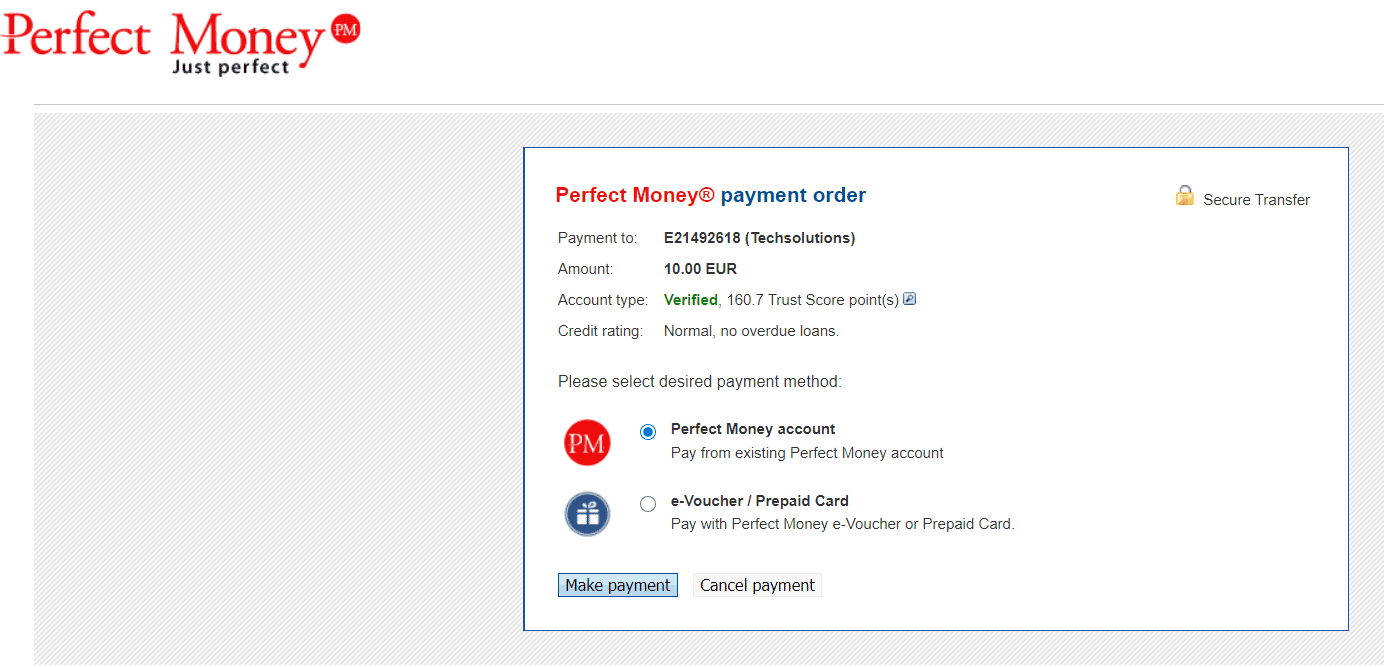 Select 'Perfect Money account' from the two options, and click 'Make Payment'. Now enter your login details, and confirm the payment. This should be processed instantly, meaning you're immediately free to start your online betting with 22Bet. 
Step 5 – Can I withdraw funds to Perfect Money from a betting site?
There are a few advantages to using an eWallet instead of a prepaid card, like Paysafecard. Perhaps the biggest is that you can also use it to make withdrawals, and this is the case with Perfect Money betting sites too. 
Getting a payout on 22Bet is just as easy as depositing. When logged into your account, just click 'Payments' in the top menu, then 'Withdraw Funds' on the left-hand side.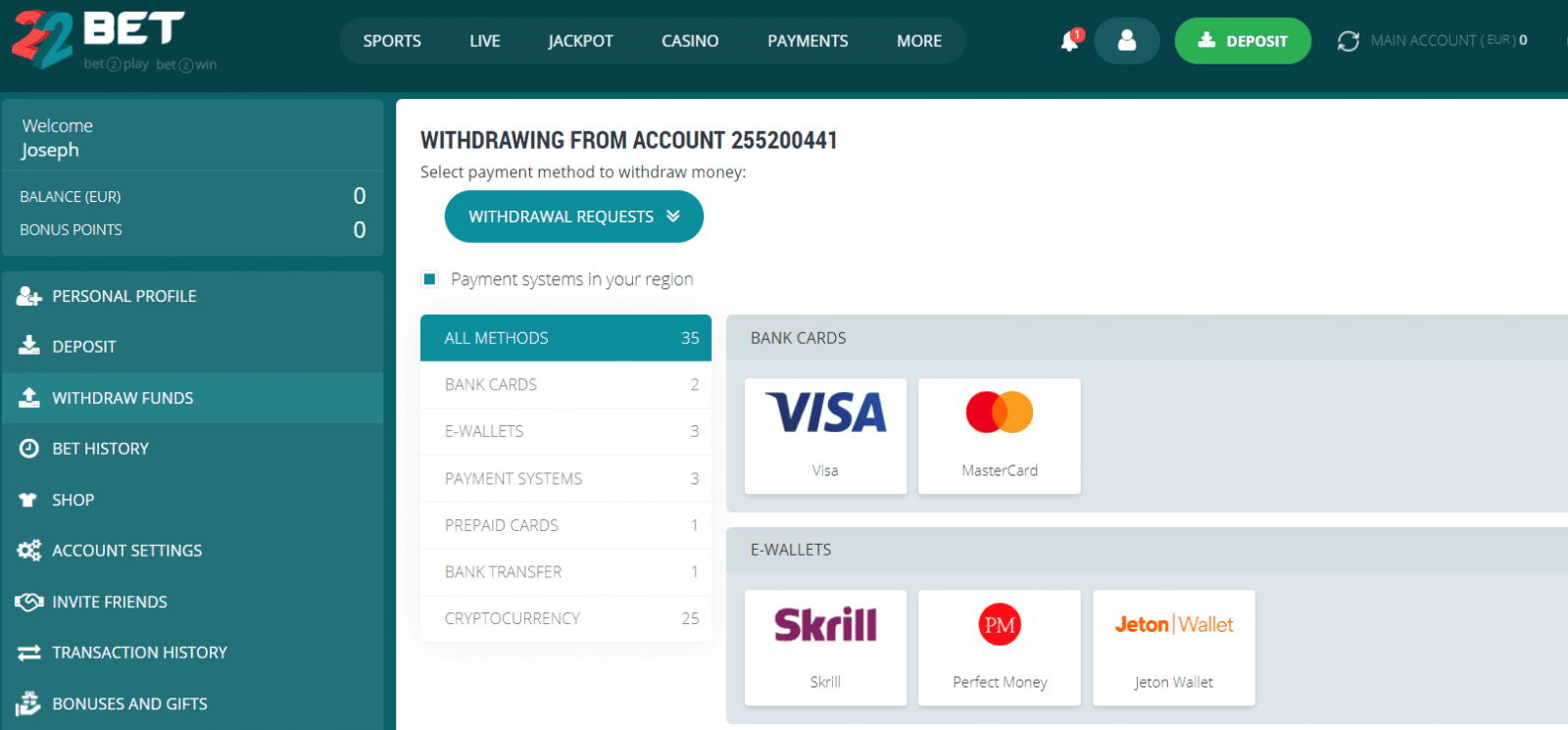 Once again you'll be presented with a whole lot of options, with Perfect Money being one of the top ones. Simply select it, enter the withdrawal amount and your Perfect Money ID number, then click 'Confirm'. 
Step 6 – How to withdraw from Perfect Money to your bank
Making withdrawals from Perfect Money is equally straightforward compared to depositing in the first place. Just log in to your account, and select 'Withdraw' from the top menu. You'll now see the same options available to you.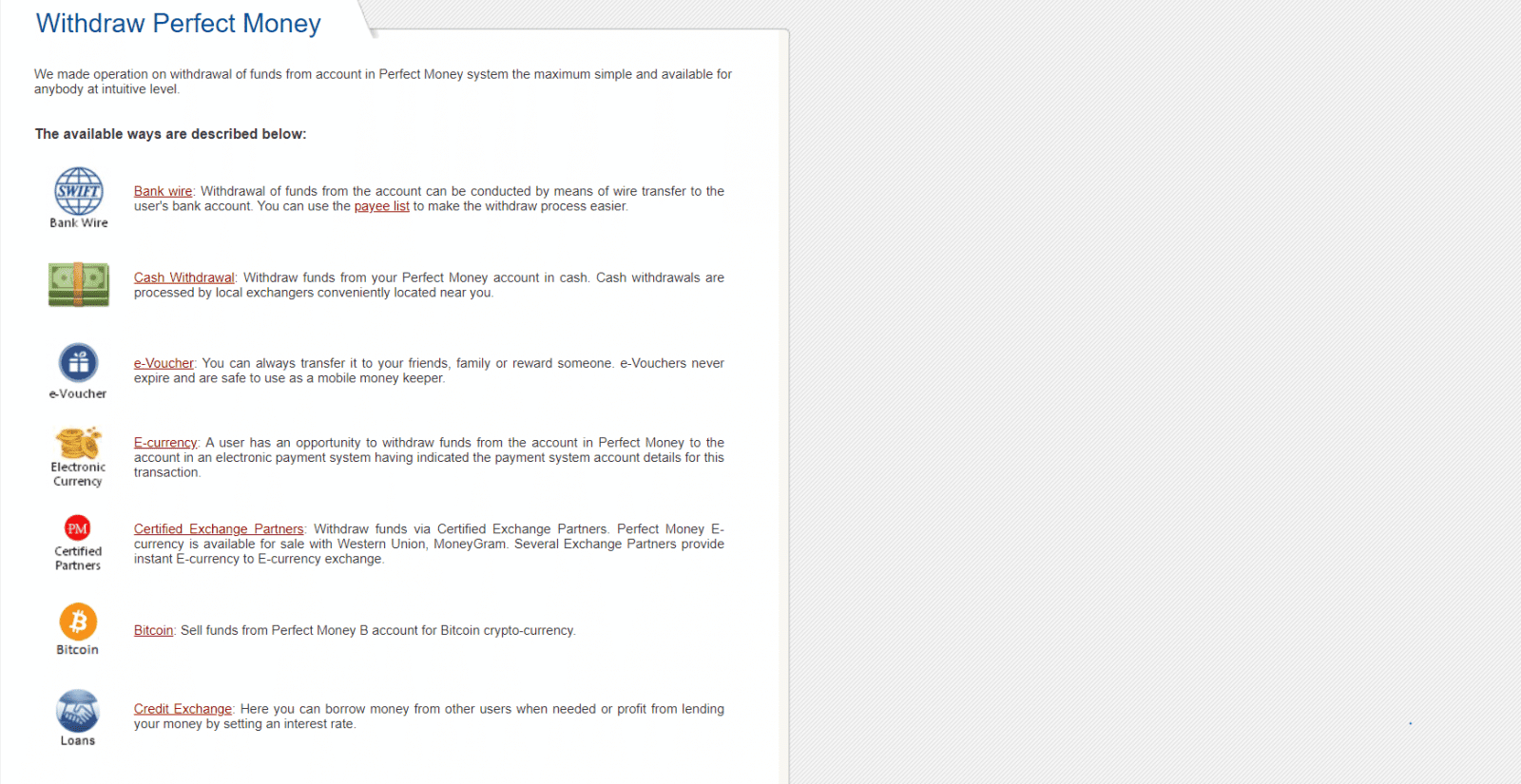 Pick the method you want to use, enter your details when prompted, and complete the withdrawal.
Perfect Money Fees, Limits, and Processing Times
Payment platforms need to make their money somehow, and most choose to do so by charging their users fees. This is also the case with Perfect Money, but – to their credit – they make these fees extremely clear. 
The only deposit method to incur fees is wire transfer, for which the charge starts at 0.5%. Withdrawals are pricier, with the fee rising to 2% for a wire transfer (plus any additional charges from your bank, of course). If you need to convert currencies within your account – from USD to EUR, for example – this is done at the current market rate. 
Regarding fees from Perfect Money betting sites, these are thankfully rare nowadays, as is the case with regular bookmakers. At 22Bet, for example, no fees are charged for making either deposits or withdrawals using Perfect Money. 
Deposit and withdrawal limits also vary between different Perfect Money betting sites. The industry standard amount is £/€10 for each, but 22Bet allows you to deposit as little as €1. Unfortunately these minimum limits are significantly higher on Perfect Money itself, with the minimum deposit amount being a hefty $300 (or euro equivalent). 
As with most eWallets, payments on Perfect Money betting sites are processed extremely quickly. Deposits are normally completed instantly. Withdrawals might take an hour or so at most, but will be processed within a mere 15 minutes at 22Bet. Online transactions on the actual Perfect Money platform go through immediately, although – if you're making a wire transfer – this may be slowed by your bank.
Perfect Money Sign Up Bonuses and Free Bets
Special offers – coming as betting promo codes, an e-voucher, or any other form – are one of the best things about online bookmakers. Whether helping to boost your profits or minimise your losses, they can be extremely useful, both in the long and short-term. 
We're pleased to say that Perfect Money betting sites tend to be very strong indeed in this area. All of our top five recommended online gambling sites have a welcome bonus in place, although admittedly there's not a lot of variety between them. All five promotions are 100% matches on your first deposit. These still deliver a huge amount of value though, effectively doubling your spending power with the bookie immediately (subject to some T's & C's, of course). With these bonuses usually coming as free bets, they can also tie in perfectly with a matched online betting strategy. 
Elsewhere, Perfect Money betting sites also normally have quite a few ongoing promotions in place. There's a lot more variety in these compared to their welcome offers. These include a good mix of unusual deals, like 22Bet's 'Birthday Bonus', and more common promotion types like accumulator bonuses and VIP programs. There are also a whole lot of ways to get free bets, with 22Bet alone having three such deals. 
One final piece of advice: be sure to read the terms and conditions before trying to use any promotion, especially the eligible payment methods. Perfect Money betting sites tend to be more forgiving here than traditional bookmakers, but it's still worth checking in advance.
Perfect Money Pros and Cons
Here at Safe Betting Sites, we pride ourselves on taking a clear, unbiased approach to all our articles. Naturally this applies to our Perfect Money review too. After all, like every payment method, this one has both its good and bad points. Let's take a closer look at the pros and cons of signing up with Perfect Money betting sites. 
Advantages of Perfect Money
Perfect Money doesn't have the most attractive platform, but it's still highly intuitive. Even the most tech-averse among you will have no trouble either creating or managing an account. The speed of deposits and withdrawals – both on the platform itself and Perfect Money betting sites – is also a major bonus. 
As noted, keeping your Perfect Money funds separate from your main bank account already has its advantages. On top of that, Perfect Money has its own security features. They include identity checks, an anti-fraud screening system, and various other measures.
Perfect Money apps are available directly from the App Store and Google Play, for iOS and Android mobile devices respectively. The interfaces for both are highly streamlined, allowing you to manage your account while you're on-the-go with ease.
Disadvantages of Perfect Money
Despite its various advantages, Perfect Money is not a widely-accepted payment method, especially compared to PayPal. We're unsure why exactly that is, but none of the most famous brands – like Betfair, Ladbrokes, or William Hill – support it. 
Even bearing our last point in mind, there are still some seriously good Perfect Money betting sites out there. Unfortunately though, quite a few of these do not allow British bettors to sign up. If you're based in the UK therefore, you'll need to find a site which bucks this trend, or potentially resort to using a VPN. 
Other Popular Betting Banking Methods
Summary
eWallets are easily one of the most popular payment methods for online bookmakers, along with Visa and Mastercard, and prepaid cards like Paysafecard. If this is also your preferred avenue, but you're looking to try a new option for any reason, Perfect Money is definitely worth looking into. 
It has all the usual advantages of an eWallet, being highly secure, incredibly easy to use, and offering extremely quick deposits and withdrawals. On top of that, you also get the option on Perfect Money to use bitcoin, and it has a highly competitive fee structure too. 
Perfect Money betting sites themselves also offer a fresh alternative to the same old brands. Admittedly they tend to have slightly fewer features than the most established bookmakers. They make up for this in other ways though, such as low minimums for deposits and withdrawals, and enticing promotions for new players and existing customers. There's typically little-to-no decline in the number of available odds too, whether they're pre-game or in-play odds.
Overall, Perfect Money is a highly underrated payment method. It has plenty going for it, with few major drawbacks, and is well worth looking into for yourself.
FAQ
What is Perfect Money?
An online payment platform. Specifically it's an eWallet, providing a similar service to PayPal, Neteller, and Skrill.
What are the best Perfect Money betting sites?
There are a few good options, but our pick of the bunch is 22Bet. It's got a strong track record and provides plenty of features, including excellent mobile apps.
Does Perfect Money charge fees?
Yes - like most eWallets, fees are charged for using Perfect Money. These are reasonable though, starting at 0.5% for deposits and 2% for withdrawals.
Are there Perfect Money apps available?
Yes - apps are available for both iOS and Android users. These replicate the functionality of the desktop site, allowing you to make deposits and withdrawals, convert currencies, and so on.
Can you compare PayPal to Perfect Money?
Both provide similar services. PayPal is much more widely-accepted, but Perfect Money is equally easy to use, and allows you to deposit and withdraw using bitcoin.
Was this article helpful?