For football fans, UK bookmaker's Betway 4 to Score is a promotion well worth checking out. Those successfully predicting the 4 first goalscorers in selected matches can win up to £50,000! This free to play game continues to attract customers on a regular basis. So, just how does 4 to Score Betway work? On this page, we will outline how to play, as well as the key Betway 4 to Score terms and conditions to look out for.
What Is Betway 4 To Score? 
4 to Score is a free to play game available to punters at Betway. Surrounding 4 specific professional football matches, players must
 predict which player will score the first goal in each. 4 to Score is available in each round of the season, with a significant jackpot being available each time. There is a guaranteed jackpot of at least £25,000, however this can be significantly higher. In the event of two or more players successfully predicting all four first goalscorers, the prize fund will be divided equally. 4 to Score is available to both new and existing Betway customers.
How Does Betway 4 To Score Work? 
4 to Score players can choose to make their own predictions, based on recent form and availability, or select the "Random Pick" option. Eligible games tend to come from the English Premier League, with international encounters taking over during such breaks. Some weeks there are no winners, while at other times, a handful of players will earn cash rewards. Punters have until the opening kick off time in order to make their picks, with a valid Betway account being required to play. 
Just one entry per customer can be made, with no amendments being allowed. In the event of football fans being unsure over which player has been awarded a goal, whatever the BBC states will be final. The Betway 4 to Score schedule can be viewed at all times, with there being no strict terms and conditions to worry about. 
How Much Can I Win With Betway 4 To Score 
Only those successfully predicting all four first goalscorers will win a prize. So, even if you are accurate with 3 of your 4 predictions, no prize will be awarded. The total prize fund for each round is set at £50,000. There are no rollovers. This means that even if there are no winners the previous week, the pot for the current round will remain at £50,000. As we have already mentioned, there is no entry fee, making Betway 4 to Score all the more appealing. 
How To Get Started With Betway 4 To Score 
Before getting involved with this game at Betway, it is important to understand the process. The following is step by step guide for playing Betway 4 to Score:
Step 1: Register or Login at Betway
Players must have a valid Betway account in order to play 4 to Score. So, sign up using the registration form. Alternatively, those already registered can simply login to their account.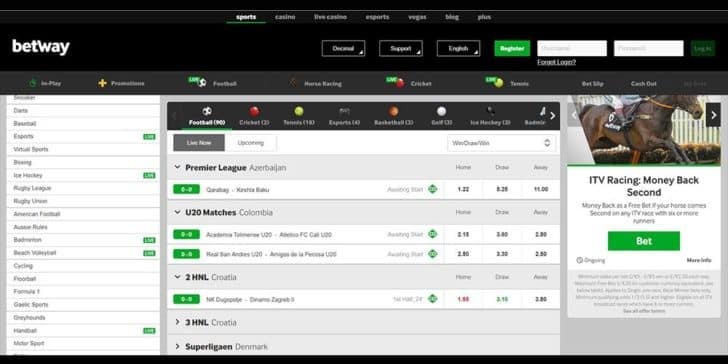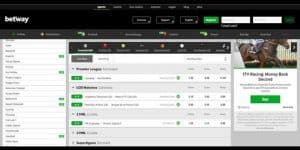 Step 2: Enter the 4 to Score Page
Click or tap on the "Promotions" page, before selecting the "4 to Score" option. Here, players will be able to view upcoming eligible matches.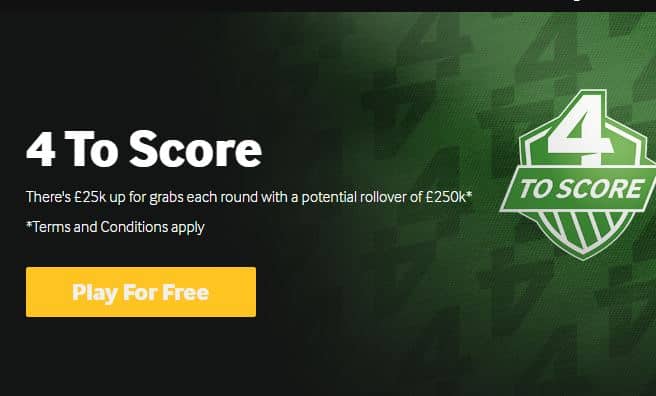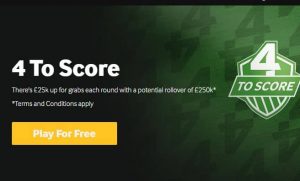 Step 3: Make Your Predictions
Before kick-off on the first selected match, make your predictions on which player will score the first goal in each encounter. This can be done by selecting your chosen player from the dropdown menu. Alternatively, click or tap on the "Random Pick" button. Here, the bookie will choose four players at random. Click on the "Confirm" button to finalise your choices.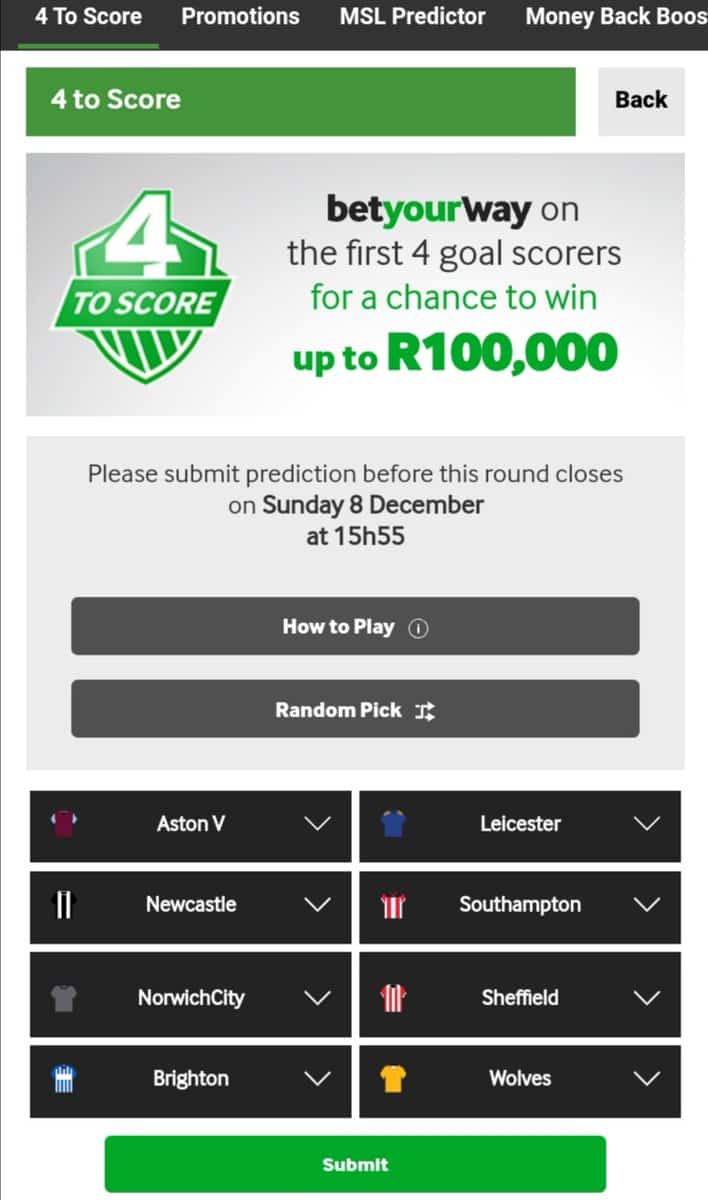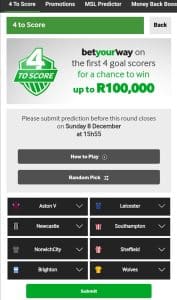 Step 4: Follow the Action
Once you have made your predictions, it is time to watch or track the matches themselves. Unfortunately, if someone else other than your pick finds the back of the net first in the opening match, your chances of winning will be over. However, there is nothing more exciting than watching your pick open the scoring. 
Step 5: Claim Winnings
The results of each round of 4 to Score are published on the Betway sportsbook site. Winners should receive their prize within 48 hours of the final match finishing. In the event of one match out of the four being postponed, the prize will be just 25% of the total jackpot. Should further matches be postponed, the entire round will be declared void. 
5 Expert Tips To Improve Chances Of WInning Betway 4 To Score
Betway 4 to Score is similar to fantasy football. Those who have played such games before will understand more than most that there are no guarantees of success. Betting on the first goalscorer market is also difficult to successfully predict. So, in order to give yourself the best possible chance of winning at Betway, be sure to take advantage of the following tips:
Consider Statistics – It will not come as a surprise that players scoring first in football matches are normally forwards. So, be sure to check out who are the leading scorers from the teams involved. 
Check the Odds – Betway and other sports betting sites offer odds on first goalscorer markets from a large number of football leagues and competitions. Looking at prices will give players an understanding of who the most likely goalscorers are.
Go With Your Instinct – You can consider all of the expert advice you want. However, it ultimately comes down to your gut instinct. If you have the feeling that a centre back will score first, go with that player! 
Continue to Play – Chances of winning through Betway 4 to Score are relatively slim. However, with the game being free to play, there is no need to get disheartened and stop taking part. 
Play 4 to Win – Whether you are a horse racing fan or not, Betway 4 to Win is another free to play game worth taking advantage of. It does not come with as appealing jackpots, however the chances of winning are better.  
What Other Promotions Do Betway Offer?
Along with Betway 4 to Score, the bookie has also introduced a host of additional ongoing promotions. Helping to keep existing customers satisfied, the following promos were found at the time of writing this page:
4 to Win –

Similar to 4 to Score, 4 to Win is designed with horse racing fans in mind. With this promo, punters must successfully predict the winners from four selected races. There is a daily jackpot of £1,000, as well as £10,000 on ITV meetings. 

Betway Boosts –

Punters can also take advantage of enhanced odds on selected markets. Betway offers daily price boosts. For example, odds on Cristiano Ronaldo scoring 2+ goals could move from 3/1 to 4/1. 

ITV Racing Money Back –

Punters can claim money back as a free bet if their pick finished 2nd, 3rd or 4th on selected ITV horse racing meetings. 

Yankee Special –

Place a Yankee bet on horse racing worth at least £11 in order to earn a £5 free bet.

Free Bet Club –

Betway customers can claim a £10 free bet when placing £25+ on sports multiples. Qualifying bets must have at least 3 legs, while being placed between Saturday-Friday.
Bottom Line on Betway 4 to Score
For football fans, Betway has created a rewarding, entertaining and risk-free game. 4 to Score is unlike any promotion available online today. With significant prizes being available each round of the football season, be sure to get involved now. Even those who have little interest in the beautiful game may just strike it lucky, you never know. So, login to your Betway account, before making your predictions ahead of the next round of matches. 
4 to Score Betway FAQ's
What is Betway 4 to Score?
How much do Betway 4 to Score winners earn?
What are the most important Betway 4 to Score terms and conditions?
Does Betway offer a new customer sign up offer?
Does Betway 4 to Score only cater for football fans?
Was this article helpful?