Numerous prominent sports betting sites in the UK have embraced UFC betting, dedicating sections that cater specifically to this exciting sport. In this comprehensive guide, we'll provide you with everything you need to know about how to bet on the UFC, including valuable UFC betting tips and information on where you can access live streams of UFC events at various online bookmakers. Whether you're a seasoned UFC enthusiast or a curious newcomer, this page will equip you with the necessary knowledge so that you can get the most out of your UFC betting exploits.
How to Bet on UFC Fights – the Basics
No reputable sports betting site in the UK should be without UFC betting options. Once you've backed your UFC betting predictions, you can actively respond to every aspect of the bout you're watching or following online, allowing you to incorporate additional UFC betting tips as the fight unfolds. If you have in-depth knowledge of the UFC fighters then betting presents a fantastic opportunity to maximise your UFC betting expertise. Moreover, most sports betting sites offer live UFC betting including the cash-out feature. This allows you to cash out a winning bet before the actual event concludes. It's a valuable option if you lack confidence in your bet holding up until the end.
Understanding the Basics of UFC Online Betting
UFC matchups are highly competitive, thrilling, and often unpredictable. Unlike many other sports where one competitor is usually the clear favourite, UFC fights are often much more evenly matched. Given the diverse range of disciplines involved in UFC matchups, anything can happen during a fight. However, despite the unpredictability, understanding the sport is relatively straightforward, as there can only be one winner in each bout.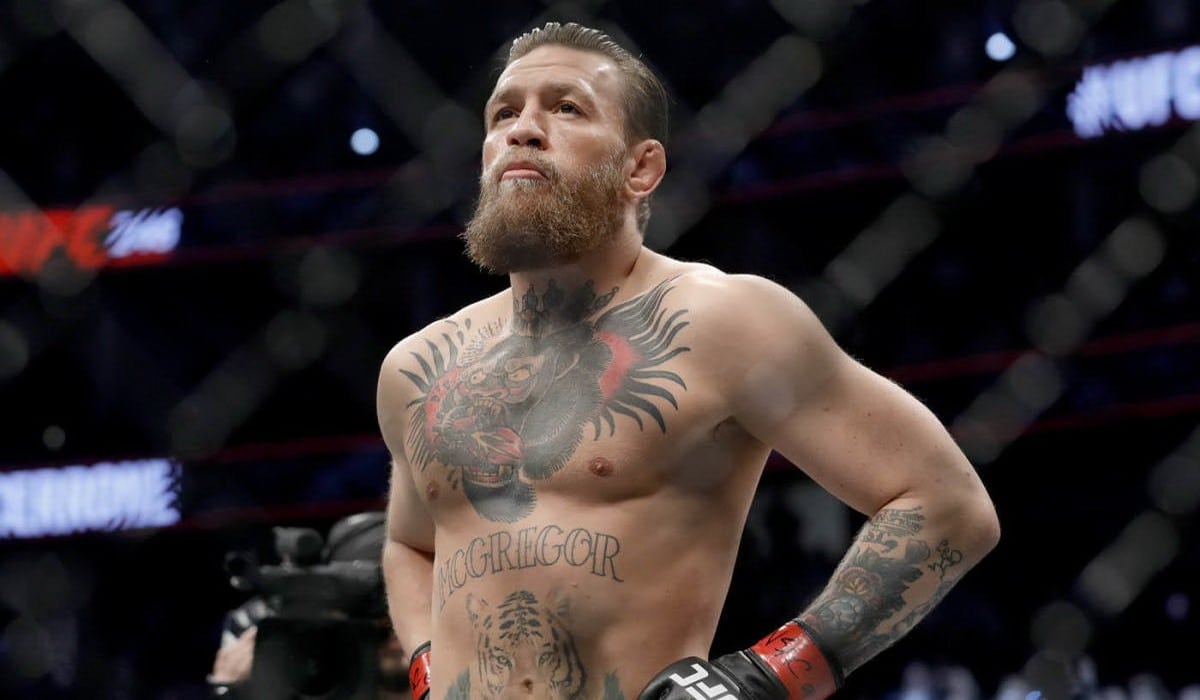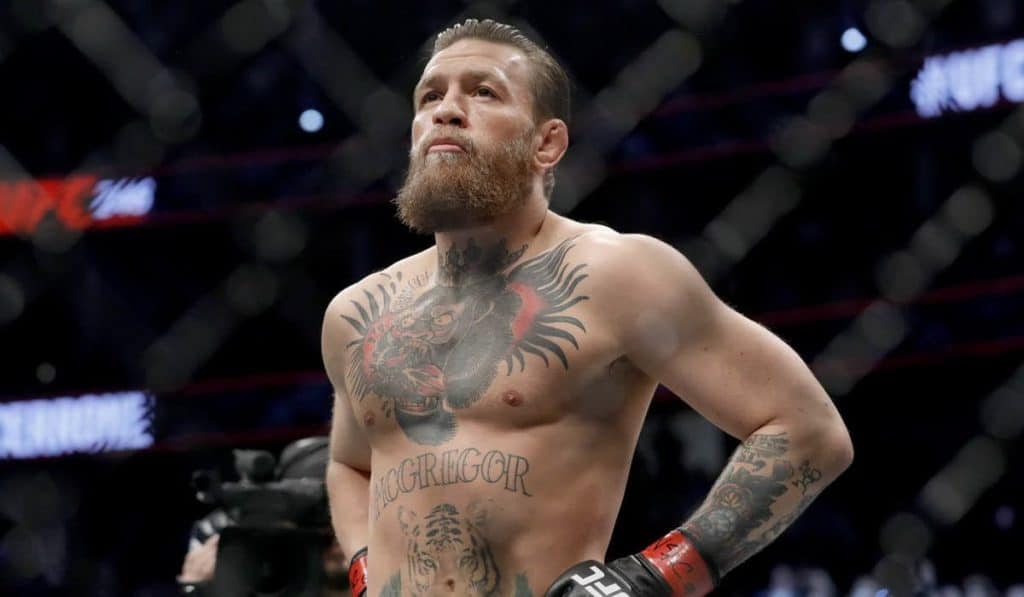 The primary UFC bet revolves around predicting the winner of the fight. However, there are plenty of other betting options available that can enhance the excitement of UFC betting. You can bet on the total number of rounds in the contest (usually over/under 1.5 rounds), the winning method (decision, knockout, technical knockout, disqualification or submission), or even the specific round in which the winner will be declared. Combining these betting options can offer you more favourable odds and betting possibilities.
Various Ways to Bet on the UFC
UFC bouts take place in eleven different divisions, covering different weight classes for both male and female fighters. The simplest bet involves predicting the winner of the matchup. Other popular betting options include the following:
UFC Bout Winner by Finish: Choose the winner and whether the fight will end in a finish. If the bout goes to a decision, your bet is returned.
Total Rounds Over/Under 1.5: Bet on the number of rounds you believe the fight will last.
Fight To Go The Distance Yes/No: Predict whether the fight will go to a judge's decision or end before that.
Fighter & Winning Method: Place a double bet on the winning fighter and the method of victory, such as decision, KO/TKO/DQ, or submission.
Winning Method: Bet on the method of victory, irrespective of the winning fighter.
Double Chance: Combine the winning fighter with two of the three grouped winning methods (decision, KO/TKO/DQ, submission).
Fighter and Winning Round: Back a fighter to win and predict the round in which they will secure victory.
Winning Round: Bet on the specific round in which the winner will be declared.
Winning Combination: Place a 'triple chance bet' on the winning fighter, the winning method, and the winning round.
Alternative Winning Combination: Bet on the winning method and round, regardless of the winning fighter.
How to Place a Bet on UFC Fight Online
Now that we have told you most of the available bets when it comes to the UFC, it's time to walk you through the process of actually placing a UFC bet. Here is an example bet, placed at one of our favourite online betting sites in the United Kingdom, BetUK.
The first step is of course to log into your sports betting account (or create a sports betting account if you do not already have one). Once logged in head to the menus and look for 'UFC', or 'UFC/MMA' as the two disciplines are often combined. Look through the bouts on offer, and selection the one that intrigues you enough to place a wager upon it.

Here we have chosen the upcoming bout between Chris Duncan and Yanal Ashmoz. Duncan is the favourite at 1.67 (2/3) while Ashmoz is priced at 2.20 (6/5). We favour a bet on the underdog, so we click on 2.20 to transfer the wager to our betslip.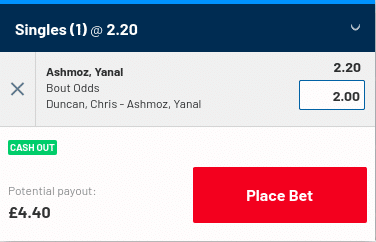 We have set our stake to £2, which at odds of 2.20 will return us £4.40. To confirm our bet, we just need click on the 'place bet' button and then that means our bet is placed.
Look for Value in UFC Betting Odds
It is always advisable that UFC bettors look for value in the betting odds. Value refers to identifying bets where the probability of an outcome is higher than what the odds suggest. Instead of merely backing the favourite conduct thorough research on the fighters' form, fighting styles, and recent performances. Seek underdog opportunities with potential for an upset. Additionally, consider factors like fighter injuries, motivation and stylistic match-ups. By identifying value bets, you can enhance your chances of long-term profitability in UFC betting and make more informed decisions, mitigating the impact of luck (good and bad!) and therefore maximising your returns.
Live UFC Betting
Live UFC betting at the leading sports betting sites in the UK has revolutionised the way that betting enthusiasts engage with the sport. Gone are the days of only being able to place pre-event bets and waiting for the outcome. With live UFC betting, punters can immerse themselves in the action as it unfolds in real-time. These top-tier UFC betting sites in the UK offer a plethora of in-play betting options, allowing users to react to every moment of the fight. Whether it's predicting the next round winner, method of victory, or even specific fight events, the possibilities are numerous. The dynamic nature of UFC bouts, with their fast-paced and unpredictable nature, makes live betting even more exhilarating.
The best UK sports betting sites may even provide live streaming services, enabling users to watch the fights live as they place their bets. This combination of live betting and streaming enhances the overall experience, providing fans with instant gratification and an opportunity to use their UFC and MMA expertise to capitalise on evolving fight scenarios. If you are a true UFC expert, then live UFC betting clearly leads the way if you hope to remain in the black when it comes to placing your UFC bets.
The Best UFC Betting Strategies
Learning how to bet on UFC fights online and win depends upon defining a workable UFC betting strategy. Due to the relatively unpredictable nature of UFC bouts, when you place a bet on UFC online on a regular basis, coming up with a workable UFC betting strategy is tough, but our experts have entered the cage and come up with a couple of UFC betting strategy ideas.
The Weigh-In Check Strategy

Fighters have to be in prime shape when they compete in the UFC. Fighters who are in poor condition, such as heavier than usual often struggle to produce their best form. The weigh-in, which takes place a day before the bout, indicates the physical condition of the fighter. Sometimes fighters have to dehydrate in order to make their weight, and 24 hours is not sufficient time for a fighter to properly and fully re-hydrate in time. Watching the weigh-ins (and ignoring the eye-to-eye 'bantz') can serve as a decent indication of how a fighter is likely to perform the following day.

The Ignore The Heavy Favourites Strategy

With most sports, experienced punters will always tell you to back the favourite, as the favourite is always more likely to win then the less-fancied selections. This idea does not translate well to UFC fighting, because the favourite in UFC does not win with the same kind of regularity as the favourite in other sports. Instead of betting on the favourite, it could be worth your while backing the underdog instead, especially if their price is between 3.50 and 6.00 decimal, or 5/2 and 5/1 fractional. If you adopt this strategy, then you will only need to be correct around one-in-three times in order for your bets to return a consistent profit.
The key aspect of learning how to bet on UFC fights online and return a consistent profit is to do your homework. A solid understanding of the sport and all its intricacies is the only way to be in the best place to make your UFC betting online a success.
Common Mistakes to Avoid When Betting on the UFC Online in the UK
As we have said a few times in this article already, returning a profit consistently even if you bet on the UFC online at the best place to bet on UFC fights in the UK is difficult, as UFC match-ups can be extremely unpredictable. You can, however, prevent yourself from experiencing a bout of failures by taking a look at the list of common mistakes to avoid when betting on the UFC online in the UK.
The list has been drawn up by asking our range of betting experts for their advice, and some tips can even be applied to sports and markets beyond UFC and MMA.
Overlooking fighter form and recent performances.
Ignoring stylistic match-ups between fighters.
Betting solely on favorites without assessing value.
Failing to research fighter injuries or last-minute replacements.
Chasing losses and placing impulsive bets.
Neglecting to set a budget and sticking to it.
Disregarding the importance of bankroll management.
Not considering the impact of fight location and crowd support.
Placing too many bets on a single card, spreading thin.
Neglecting to compare odds and lines across multiple betting sites.
UFC Betting Terminology
Our betting experts have now come up with a quick lexicon of UFC betting terms. Some apply to UFC betting, and some apply to UFC and MMA overall. They should help if you want to get the most of your betting on UFC bouts.
| | |
| --- | --- |
| Term | Definition |
| Chalk | Another term for the favourite |
| Disqualification (DQ) | When a fighter is judged by the referee to have violated the rules too frequently |
| Draw | When no winner can be decided |
| Edge | The advantage a punter has over a bookie, or vice versa |
| Favourite | The fighter thought most likely to win |
| KO | Knockout – when a fighter is unable to return to their feet by a count of ten |
| Line (or Moneyline) | The odds. Both are American sports betting terms |
| Majority Decision | When two out of three judges declare one fighter the winner and the other judge a tie |
| Parlay | The American terms for an accumulator, or acca |
| Prop Bet | Short for proposition bet – a bet on some outcome other than the fight winner |
| Split Decision | Where two judges declare one fighter the winner, but the other judge the other fighter |
| TKO | Technical knockout – on three knockdowns or if the referee stops the fight |
| Technical Decision | When the winner is decided by overall scorecard points |
| Technical Draw | If the fight is stopped before round five for any other reason than a KO, TKO or DQ |
| Unanimous Decision | When all three judges choose the same fight winner |
Where to Place a UFC Wager Online in the UK
Learning how to bet on UFC fights is one thing, but learning where to bet on UFC bouts is another. Where is the best place to bet on UFC? Can you bet on UFC fights at any sports betting site in the UK? Now you know how to bet on UFC fights online we can safely tell you that you can bet on UFC UK markets at most online bookmakers in the UK, if not all. We've not come across many sites where you cannot bet on UFC online, or most kinds of MMA bouts.
But which is the best place to bet on UFC bouts? The answer to that question is really that it is up to you. However, when you are researching where to bet on UFC fights in the UK, we can give up a boost by suggesting a range of leading UK online bookmakers.
Wrapping Up
You should now be an expert on how to bet on UFC fights at UK bookmakers. We've even gone as far as suggesting some UFC betting strategies so when you bet on UFC online, you have a much better chance of returning a profit than if you use stabs in the dark.
Can you bet on UFC fights and deliver a KO or TKO to UK bookmakers? Why don't you find the best place to bet on UFC match-ups and find out!
FAQs
Can you bet on UFC fights legally in the UK?
Yes, you can bet on UFC fights legally in the UK as long as you wager at an online bookmakers with a valid UKGC licence.
Where is the best place to bet on UFC match-ups?
There are plenty of sites available to UK punters where you can bet on UFC and MMA bouts. You can consult our home page for what we think to be the best UK online bookmakers.
What's the difference between UFC and MMA?
None. UFC is a mixed marshal arts (MMA) competition.
What does UFC stand for?
Unicorns fighting chickens. No, we're kidding - Ultimate Fighting Championship.
Can you bet on UFC fights live?
Yes, you can bet on UFC fights live at most UK online bookmakers, but not all. You have to be quick though as UFC bouts tend not to last long!
Was this article helpful?