Wondering how American betting odds work? They either tell you how much you'd win by betting £100, or how much you'd need to bet to win £100. The former odds will have a plus symbol (e.g. +250), while the latter will have a minus (e.g. -100). These odds are especially common for American sports, but can be used easily on British bookies. 
In this article, we'll tell you everything you need to know for understanding American betting odds. We'll tell you exactly what they are, why they change, and give you the advantages and disadvantages of using them rather than other odds formats.
What Are American Betting Odds?
American odds are one of the three most popular formats in sports betting, along with fractional odds (the standard in the UK) and decimal odds. Technically, all three tell you the same thing – your return on a winning bet. The way they present this, however, is very different. 
American odds can have either a plus or a minus sign, followed by at least three numbers. If it's a plus sign, the following figure is what you'll win if you bet £100. If it's a minus sign, the figure tells you how much you must bet to win £100. 
To be clear, this does not mean you need to bet at least £100. That's just the benchmark which is used for this format, for ease of use. 
One great thing about American odds is that you can instantly see which side (or side of the market) is the underdog, and which side is favoured. The former will often have a plus symbol, and the latter a minus. Alternatively, one number will obviously be bigger or lower than the others. 
This stands in contrast to fractional odds, for example, where – if the fractions are quite complicated – it can be difficult to tell which side is favoured. 
Example Of How American Betting Odds Work
It's certainly not hard to learn how American odds work, but they still take some getting used to. Here's how you might actually use them in context, for betting both underdogs and favourites. 
Betting an Underdog
Let's say NFL Sunday is fast approaching, and you want to get in on the action. In our example, the Bears have been on a cold streak, but you fancy them to right the ship against the Lions. 
If you feel particularly confident, you'll take the money line. The Bears are +250, meaning they're the underdogs. 
If you feel less confident, you'll take the spread. The Bears are +3.5 in our example. That means they can lose by 3pts or fewer, and your bet will still win. Since this is an easier wager, however, your odds are lower, at only +150. 
You stick down £10 on the Bears moneyline, and Chicago ends up winning. In this case, you get a £25 profit (£100 would have got you the £250 suggested in the +250 American format).
Betting a Favourite
One of the main things to learn about sports betting with American odds is that backing favourites can be pretty different to taking underdogs. If there's a minus symbol, remember that the odds are telling you how much you'd need to bet in order to make £100. Also, the lower the number after a minus symbol, the better (it's vice versa for a plus symbol). 
That same Sunday, you fancy the Vikings to win over the Packers. The Vikings moneyline is -200, so they're comfortable favourites. Their spread is set at -5.5, but the odds for that are worse at -250, so you decide to take the money line. 
You bet £10, and the Vikings win. Your profits here are £5. If you'd taken the -250 instead, you'd only have won £4. 
Most Common Markets For Betting American Odds
American odds betting is extremely flexible. You really can use this format for any bet type you please. There are three bet types which are the most common of all, however:
Money Line

This is the most straightforward market. All you need to do is pick which player or team you think will win a particular matchup. One side will be favoured, while the other will be the underdog. 
The numbers can be as high or low as the bookie pleases. A significant underdog, for example, might be +350, while if the odds are only +100 it suggests a closer matchup.  
Spread 

This is another popular bet type. Rather than actually betting on one side to win, you're instead predicting a range in which the final score will fall. It's basically another term for handicap betting. 
Let's say you're studying American football odds, and see the Chiefs are playing the Raiders. The money line for the Chiefs might be so low that it's not worth taking. Instead, you might back the Chiefs to win by at least 7pts. In this case, you'd take Chiefs -7. 
Alternatively, if you think the Raiders will keep things close, you might take them at +5.5. Even if they lose, as long as they lose by five points or fewer, then your bet still wins. 
How do American betting odds work here? They simply tell you which ranges are more or less likely. 
In the above example, taking the Chiefs at -1 will still have very low odds. Take them at a hefty -10, however, and your odds will be much better. 
Over/Under

The over/under can apply to plenty of sports, but is particularly popular with American football and basketball markets. 
In either case, you're simply betting on how many points the teams will score between them. The bookie will set a basic line – like 42.5pts in an NFL game – and you predict whether the actual total will be higher or lower. 
UK online bookies will try and set their starting total at the most likely outcome, based on their calculations. The over/under odds will therefore be close to even money. You can often get an alternative over/under, though, which will give you higher or lower odds depending on its probability. 
How To Work Out American Betting Odds & Convert to Fractional Odds

Ideally, you won't be converting back and forth between fractional odds and American odds, since this will slow down the betting process. 
If you're used to using fractional odds, however, like most British punters, then doing so can help tremendously as you're getting started. You'll get a good idea of how certain American odds compare to fractional odds, and thus the value you're being offered on your wagers. 
To that end, here's a quick table of how some common fractional odds convert to American odds:
| | |
| --- | --- |
| Fractional Odds | American Odds |
| 1/4 | -400 |
| 1/3 | -300 |
| 1/2 | -200 |
| 4/6 | -150 |
| Evens | +100 |
| 6/4 | +150 |
| 2/1 | +200 |
| 3/1 | +300 |
| 4/1 | +400 |
| 9/1 | +900 |
Converting American odds to fractional odds yourself isn't exactly straightforward. It also works differently, depending on whether the odds are positive or negative. 
For positive American odds, you divide the number in question by 100, then change the resulting decimal odds number into a fraction, and reduce that fraction to its simplest form. If the odds are +120, for example, you do 120/100 for 1.20, then convert that to 12/10, which can be simplified to 6/5. 
For negative American odds, you divide 100 by the number in question, then turn that into a fraction, and simplify it. If your odds are -125, you'd do 100 divided by 125 for 0.8, convert that to 8/10, and simplify that to 4/5.
Again, you'll be able to convert some of these without thinking about it quickly enough. To calculate more complicated lines, however, we'd recommend simply using a calculator instead.

Line Movements In American Betting Odds Explained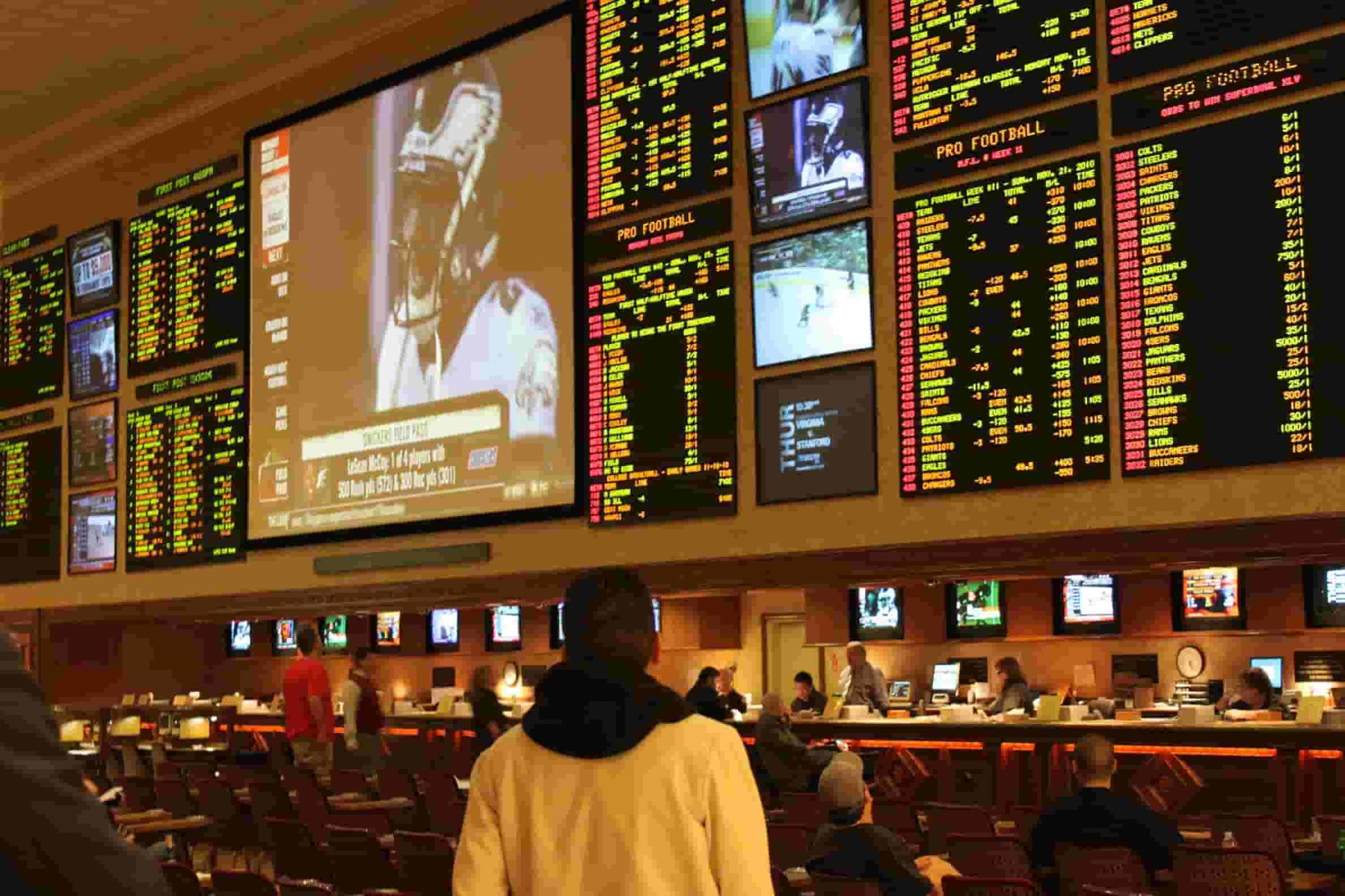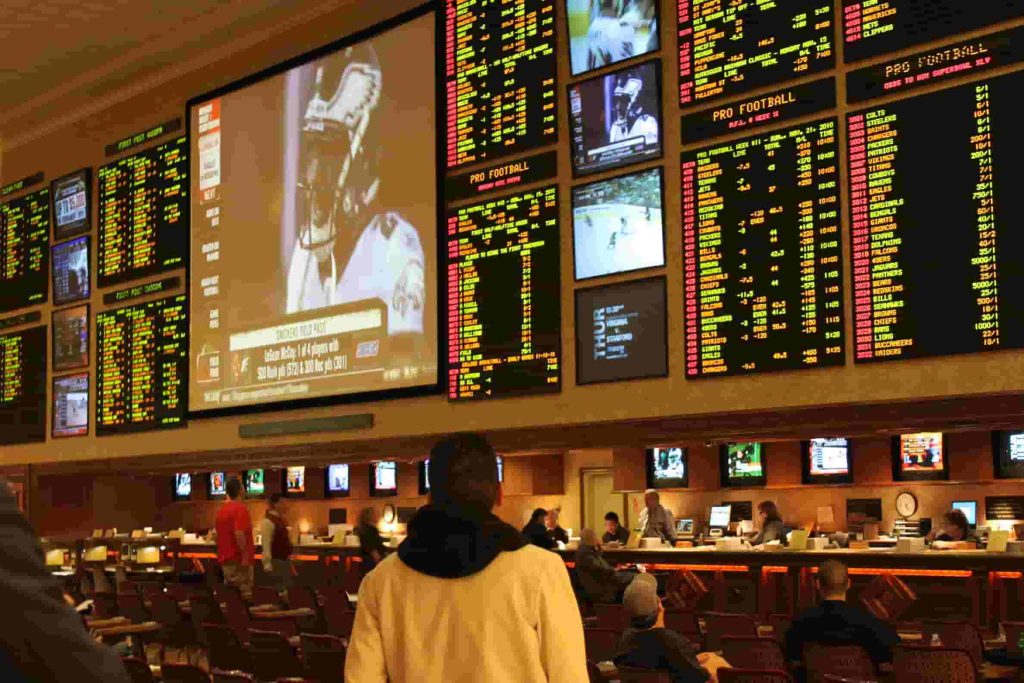 Just because American betting odds start at one figure, does not mean they're going to stay there. In fact, prices change all the time, both before kick-off and while the action is ongoing. Understanding this – and learning how to potentially exploit it – is a key part of understanding how betting odds work. 
Why Do Odds Change?
American betting odds are not solely based on the probability of something happening. This is the biggest factor, especially when they're first set. But there are also other factors, and these are what drive line movement. 
The main reason lines move, is real-time betting action. Namely, the betting public heavily favouring one side of a market over the others. Since bookies want to protect themselves from taking a big loss, they'll often lower the odds for that side, raise them for the other side, and wait for the action to balance out. 
Another reason is competitor prices. This is mostly a factor soon after the odds are published. If a bookie finds its prices are significantly higher than those on other sites, it will correct them quickly to stop everyone piling in, taking that bet, and potentially opening them up to a big loss. 
Using Line Movement To Your Advantage
Exploiting changes in American betting odds can really take your gambling to the next level. 
Firstly, if there's a pre-match market you like the look of, but the odds are prohibitively low, then just wait-and-see. If the bookie isn't getting enough action on that outcome, they may well raise the price, and then you can jump in and take it. 
The biggest line movements by far, however, take place in-play. 
These are made as the bookie reacts to the latest goings-on. If you're watching an NFL game, for example, and one team scores a touchdown, the line will move immediately. The scoring team's odds will lower, and vice versa. 
This frequently opens up excellent betting opportunities. Most notably, it's a great way to bet on heavy favourites. 
Let's say you were interested in a favourite, but their odds were too low before the game. In this case you can hold off, hope they concede early, then pounce at a much better price. 
Time it right, and your odds might swing all the way from negative money to positive (e.g. -100 to +100). That team still has plenty of time to come back, and your early analysis – and the bookie's, since they were favoured – still suggests they're the better team. 
Naturally, you can pull similar moves with both spread bets and over/unders.
Pros & Cons of Using American Betting Odds
Our goal here is simply to explain how American betting odds work, not persuade you to use them. Like the other two major formats, this one has its strong and weak points, as we've highlighted for you below. 
Pros:
It's very easy to immediately see which side of the bet is favoured over the other
Using round numbers is generally more straightforward than dealing with complicated fractions or decimal odds
Inextricably linked with American sports. If you want to bet on the NFL, for example, a huge percentage of the discussion around matchups – including betting tips – will use American odds
Cons:
The odds work significantly differently for favourites and underdogs
Working out your returns can be a pain, particularly compared to decimal odds. This is particularly true of favourites (i.e. when using negative-money odds)
Straightforward when using £100 (or even £1 or £10) as your stake. Not so easy when you're not using 100 (or a fraction of it)
Final Thoughts
It's true that all sports betting odds basically tell you the same thing. The ways in which they present this information, however, are radically different. Now that you know how American betting odds work, you can decide for yourself whether this format seems suited for your needs. 
If you're a fan of betting on the likes of the NFL and NBA, that should play a factor here. Since most betting tips and discussion will use American odds, it simply makes things easier if you do, too. There are other advantages though, with it being quicker to gauge favourites versus underdogs, and – overall – more straightforward to use whole numbers instead of decimal odds or fractions. 
All major sportsbooks will let you switch between odds formats within a couple of seconds. Ultimately therefore, there's nothing to stop you trying American odds for a few days, seeing how you like them, then deciding whether to stick with them or not. 
FAQ
How do you convert American odds to fractional odds?
How do you read American odds?
Was this article helpful?