How have you heard about the Tote and asked yourself what is Tote betting? How does Tote betting work? Can I use a Tote betting calculator? Just what is the Tote, and is it any different to fixed odds betting?
Well, the Tote is a lot different to fixed odds betting, as it is the one of the very few remaining options for pool betting in the UK. This article will get Tote betting explained, with the Tote betting meaning thoroughly deciphered. By the end of reading this, you'll be able to work out if betting on the Tote is right for you.
What is Tote Betting? How is it Different to Fixed Odds Betting?
While fixed odds betting is the dominant way of betting in the UK, there are other options such as exchange betting (at Betfair), spread betting (at Spreadex) and pool betting. Before we explain how does Tote betting work, let us explain what the Tote actually is.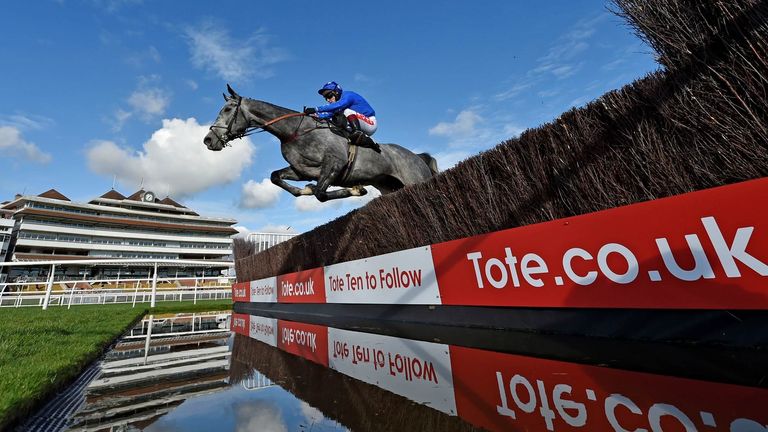 The Tote has been around since 1928. It was set up by the UK government as a way of allowing people to bet on horse racing, but at racecourses only. The idea of the Tote as an example of pool betting is simple. All money from multiple bettors on a Tote bet is pooled. After the Tote have taken a commission (currently 27 percent), the pool is shared out among all winning bets on a stake/share basis – this means that someone who bet £2 will receive twice the share as someone who bet £1, and so on.
Eventually the Tote spread to licensed betting shops and then online. In 2011 the UK government decided to privatise the Tote, selling it to Betfred for £265 million. Betfred's ownership of the Tote only lasted eight years though. They sold it to a new private company led by billionaire Michael Spencer, set up by a group of horse racing breeders and owners as the UK Tote Group in 2019 and rebranded from Alizeti Capital Limited.
Betting on the Tote – How does Tote Betting Work?
Unlike fixed odds betting, you cannot make up your own bets with the Tote. Instead, you select from one of the many options available. The main Tote bets are all explained below:
Placepot
Pick a minimum of six horses from the first six races from specific racecard from a specified range. All six horses must place for you to receive a share of the winning Placepot.
Quadpot
Like the Placepot, but it involves a minimum of four horses from specific race-card from a specified range. Applies to races threes to six. All four horses must win for you to win a share of the winning pot.
Jackpot (UK/Ire)
One meeting is selected for the daily jackpot (one in the UK, and one in Ireland) and you must select a minimum of six horses from that race meeting. All six horses must be winners for you to win a share of the Jackpot pool.
Double
Identical to the Placepot and Quadpot except that it involves only two races (five and six) from a chosen UK or Irish meeting. Choose a minimum of two horses. Both horses must place in order for you to win a share of the pool.
Survivor
Available on Saturdays only. The Tote will select six races, and punters must chose at least one horse from each race. As soon as a selected horse doesn't win, the punter's associated bet is out of the running. The pool is won by the last man standing. If more than one punter 'survives' for the same winning length, then the pot is shared.
Placepot7
The same as a Placepot except there are seven selected races from multiple courses as opposed to the fixed first six from multiple meetings. Works as a standard placepot and mirrors the popular 'ITV7' bet as operated via SkyBet.
Win/Place
Easy! Bet on a horse to win (win bet) or place (place bet). Pool bets, so not paid out on a fixed odds basis.
Exacta
Bet on two horses, one to finish first, and one to finish second. A reverse Exacta means your two selections can finish in the top two in any order for your bet to win. Same a a forecast bet in fixed odds betting.
Trifecta
Back three horses to finish is the first three places in a race. You can bet on the horses to finish in a specific order (straight), any order (combination) or the winner then two other horses in any order (banker)
Swinger
Bet on two horses to finish in the top three places of a race. The horses can finish in any order.
How to Place a Tote Bet
The easiest way to place any kind of Tote bet is online at the Tote website. You can also place Tote bets at nearly all UK betting shops via Tote Direct, or at a UK racecourse. We are now going to run through the placement of a Tote bet, placing a Placepot bet at the Tote online site.
We already had a Tote account, so if you don't you will need to set one up which is fairly painless. Once you have an account set up, head to the 'Placepot' option.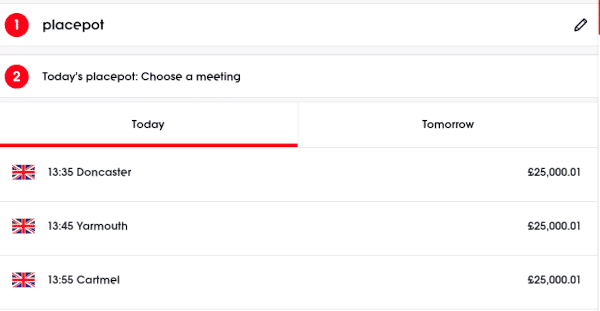 There will be plenty of options for the placement of your Placepot bet. Each Placepot covers the first six meetings at UK and Irish meetings. Choose the meeting where you want to place your Placepot bet, and the six available legs of the Placepot will be shown to you:

Go through each leg and select a horse you think will at least place. The number of places (usually between two and four) will be indicated via the information for each race.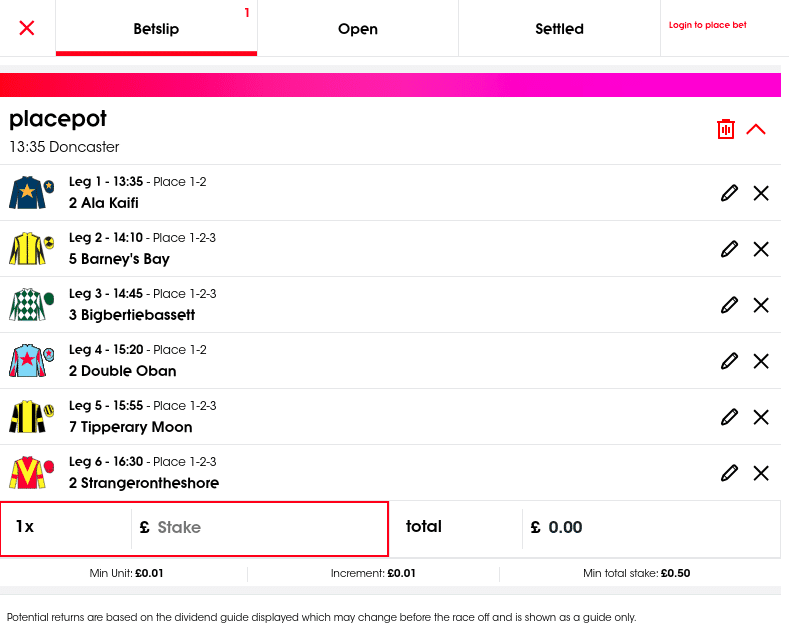 You need to select at least one horse from each leg. If you select more than one horse, then this qualifies as a multiple Placepot bet. The amount of Placepots legs you place depends upon how many horses in each race you select. For example, if you choose one horse in three races, two horses in two and three horses in one, then that is 1 x 1 x 1 x 2 x 2 x 3 = 12 Placepot legs. It is possible for more than one of your legs to win of course, as multiple horses can place.
The minimum stake per leg or line is £0.01. However, the minimum overall stake for your Placebot bet must be in excess of £0.50 or £1, depending upon the meeting. Therefore, if you have a dozen legs, your minimum unit stake must be £0.05. If it was £0.04 your overall stake would be £0.48 – not enough for the £0.50 threshold.
Once set up, hit the 'place bet' to place your bet.
Tote Betting Calculations
Unlike fixed odds betting, you cannot work out potential winnings for the Tote as you will not know the size of the pool until all bets are in. Most Tote bets have a minimum pool (for the Placepot it is £25,000). however, the final pool may be much greater than that. Remember that 27 percent is deducted from all pools by the Tote, and the rest is shared out as the prize pool.
Any winnings are worked out on a £1 entry share basis. For example, say the prize pool is £40,000 and £400 was wagered by winning entrants – on a £1 entry share basis, that's £100 per £1 share.
But what if your winning line cost you £0.25, and not £1? In that case, your winning share is £25. You'd win on the same basis if you had multiple winning lines, so if you had five winning lines and your unit stake was £0.25, you'd win £125.
You really don't need to worry about calculating your Tote bet returns as the Tote will calculate everything immediately after the final race in any Tote bet is run. Remember though, if you struggle with betting calculations for fixed odds bets, our excellent bet calculators are available for you to use.
Tote Betting Strategies
So, what are the best betting strategies for the Tote, and how do they differ from fixed odds betting strategies? Our betting experts have picked out a trio of strategies you might like to consider when betting on the Tote.
Placepot Betting Strategy

The Placepot is by-far-and-aware the most popular bet offered by the Tote, with the biggest prize pools. If you want the best chances of winning sizeable chunks of money from the Tote, then the Placepot is the Tote bet for you. Do your analysis and remember one important aspect – horses only have to place not win. Study all racecards and choose the meeting that looks to work best for you.

Price Comparison Strategy

You may ask yourself what is the point of using the Tote when fixed odds betting is available? The answer is your returns could be better … it really depends upon how you bet. Why not, if you switch to betting on the Tote, monitor on paper how your bets would have done if you'd stuck to fixed odds betting. If after say, a month, your returns from the Tote have not outclassed your fixed odds returns, switch back. If they have, then stick with the Tote.

Back The Outsider Strategy

One other strategy you may consider is to look at the starting prices of the horses at other sites and choose an outsider or low priced mount that you think has a good chance of placing. If you then put on a place bet at the Tote, you may find you are one of the few backing that horse. As a result, if the horse does place then you'll win a decent share of the pot, and a bigger cash amount than you'd have done backing it at fixed odds.
Top UK Bookmakers that Offer the Tote
The majority of your Tote bets will be placed at the Tote sports betting site. This site offers the full range of Tote betting options on horse racing. You can also bet, pool-style, on football at the Tote betting site. The site also has fantasy horse racing, virtual horse racing, the 'Ten to Follow' season-long flat race competition and a small range of slots and table games.
You can bet on the Tote at a few other sites thanks to 'Tote Direct', a network that allows access to the Tote via non-Tote sites. William Hill, Betfred and SkyBet are all partnered with the Tote via Tote Direct.
Wrap Up
If you are not satisfied with the returns your winning bets are generating via fixed odds betting sites, then why not give the Tote a try-out instead? The Tote offers pool betting – a different way of betting where all stakes are pooled and then shared out among the winners, which is how does Tote betting works. This means that on some occasions you'll win more betting on the Tote than on fixed odds, but on some occasions you won't.
Now you have had the Tote meaning explained, why not take a look at the Tote betting site? Review the types of Tote betting options that are available, and see if Tote betting online is right for you. Always remember though to 'totes' gamble responsibly.
FAQs
How is the Tote betting site different to fixed odds betting sites?
Is Tote betting UK owned?
Does greyhound Tote betting exist?
Are there different types of Tote betting options?
Is only Tote betting online available?
Was this article helpful?