Punters have long been looking for an advantage over the bookmakers when it comes to betting on cricket. One of the latest platforms in which cricket betting tips are found is Telegram. Cricket tips on Telegram is big business today. But just who are the Telegram tipsters to follow? 
On this page, we will explain how Telegram cricket tips work, including where to find the best cricket tips today. So, whether you are betting on England to beat Australia in The Ashes or Surrey to get the better of Essex in the County Championship, free cricket betting tips are worth considering. 
Top 10 Telegram Groups for Cricket Tips
Cricket Tips Telegram Channel Mini-Reviews
We will now take a closer look at just why we have recommended the channels above. Our mini reviews will include the type of tips available, as well as whether any fees are involved:
1. SafeBettingTips 
With over 7,000 subscribers, our own channel, SafeBettingTips offers free cricket tips on an almost daily basis. While also delivering predictions on other sports, including horse racing and football, tips are written by industry experts.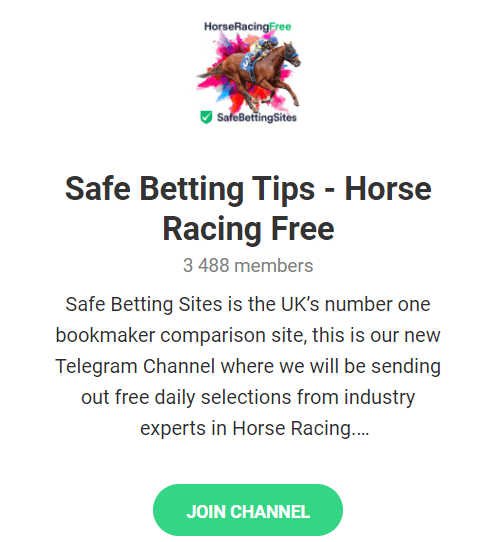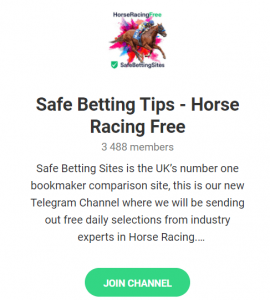 All tips are available for free, with the focus being on value, rather than unrealistic multiples. A subscription service is available, with VIP members gaining access to even more tips. The channel is set to go from strength to strength, with cricket playing a major part in such growth. 
2. Fixed Tips Arena
Fixed Tips Arena is undoubtedly one of the best Telegram channels for cricket tips in 2022. Based in the UK, Fixed Tips Arena offers free tips, with additional predictions being available to those subscribing.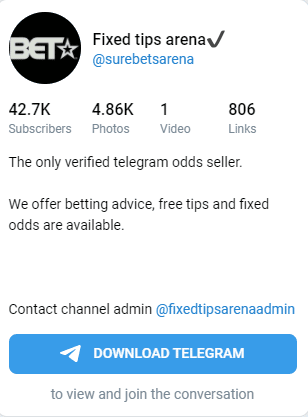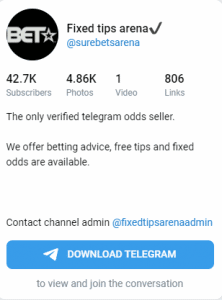 Cricket tips are available weekly, with football, horse racing and other sports also featuring. An overview of the channel is available, perfect for those still deciding on whether to join or not. 
3. Betway Accurate Sports Reports
For many years now, Betway Accurate Sports Reports has delivered some of the best cricket betting tips on Telegram. Catering for punters in the UK, as well as other countries where online betting is legal, the channel currently has over 16,000 members.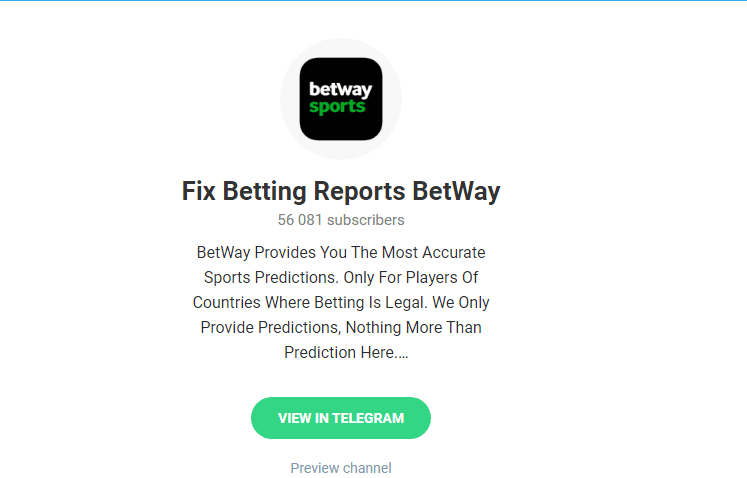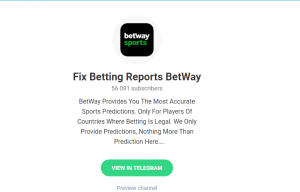 International matches feature regularly, with tennis and football encounters also being found. Tips are available for free, however those paying a fee will gain access to additional predictions.
4. 22Bet Telegram 
Cricket is one of many sports found at the 22Bet Telegram channel. Promising "100% sure betting tips", both free and subscription memberships are available. For regular wins, there are few better channels, with tipsters often focusing on low odds markets. Cricket matches from around the world are covered, with the majority involving international Test and One Day teams.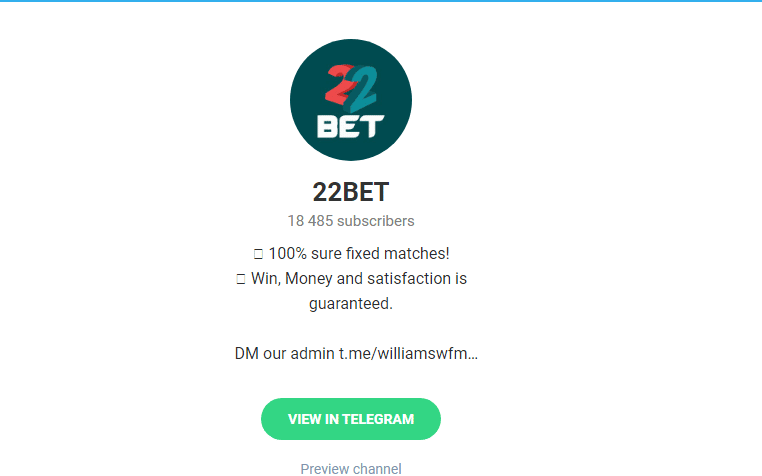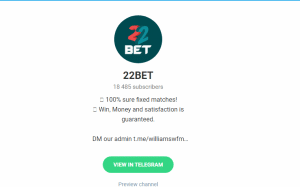 2. Bet365 Accurate Betting Reports
Bet365 is one of the leading online sports betting sites in the UK and this Telegram channel is one of the most active Telegram groups you'll find. While it does not have a direct affiliation with the bookmaker, people using this channel will usually be Bet365 customers thanks to the consistently good odds and wide range of markets.
More than 100,000 people are subscribed to this channel, receiving regular tips on a variety of sports, including pre-race and live horse racing. There is a particular emphasis on live betting tips, something which you don't see too often with other channels. There really is something for everyone when it comes to the Bet365 Accurate Betting Reports Telegram channel.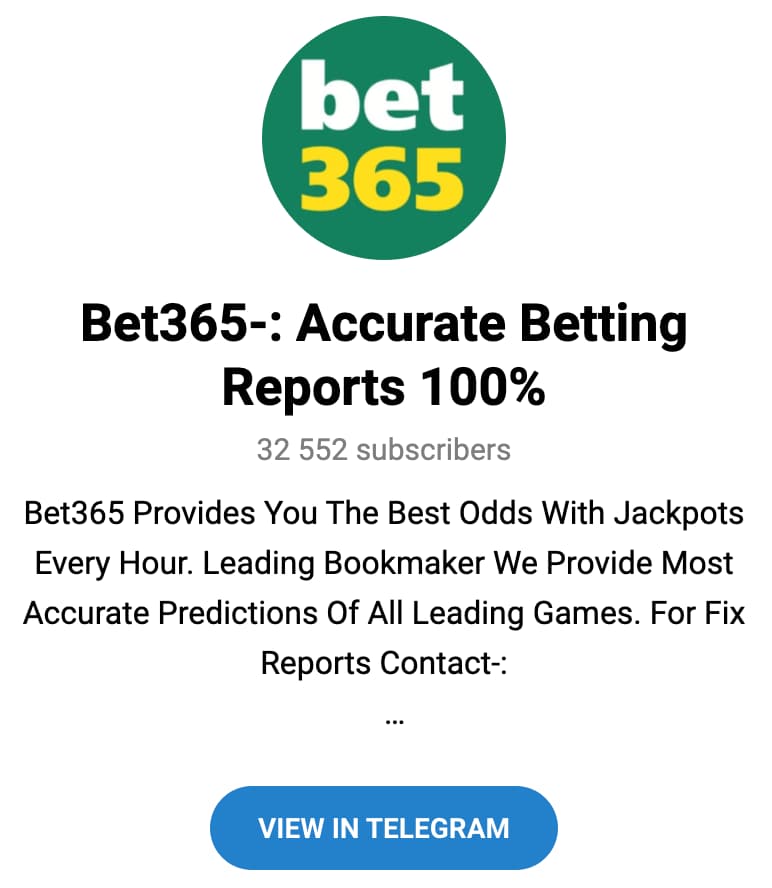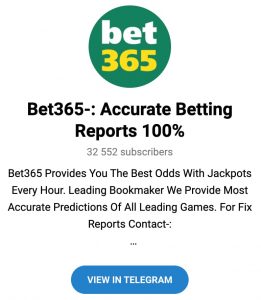 6. Worldwide Fixed Matches 
With over 6,000 subscribers, Worldwide Fixed Matches has long been one of the most popular sports tips channels on Telegram. Cricket features heavily, with both international and domestic matches being covered. Photos and videos are used throughout the channel in order to increase the user-experience, with nothing but the very best odds being displayed.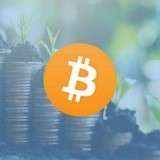 7. Expert Cricket Tips 
Despite having only 1,000+ members, Expert Cricket Tips is one of the best up-and-coming Telegram channels in this area. With the main focus being on matches from further afield, such as the IPL and Big Bash, this channel will suit those looking for something a little different.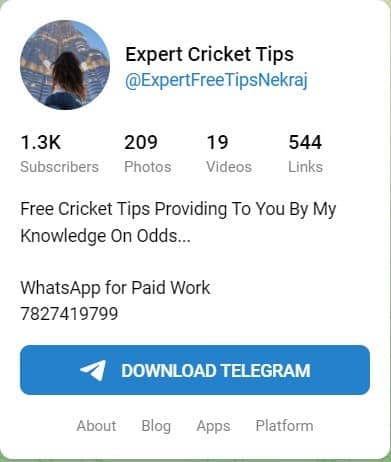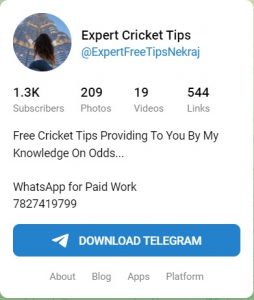 On top of this, WhatsApp support is accessible at all times, with the majority of tips being simple "Match Winner" markets.
8. Cricket Market Load 
With over 11,000 members, Cricket Market Load is an excellent channel for those looking to place back and lay bets. The channel also has a YouTube page. Tips on the Indian Premier League are the most common. However, matches from around the world are covered. Cricket Market Load is a sister channel of Expert Free Tips.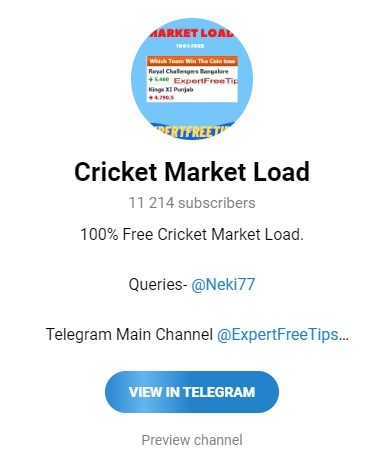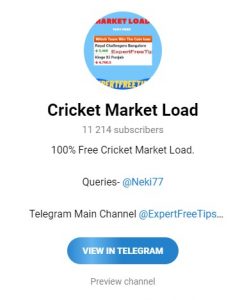 9. Jain Reports 
Jain Reports covers all major cricket competitions, with the channel having attracted over 20,000 subscribers to date. Predictions will suit beginners and punters with smaller budgets in particular, with regular winners being found. For fans of the English County Championship, this channel is likely to be a favourite.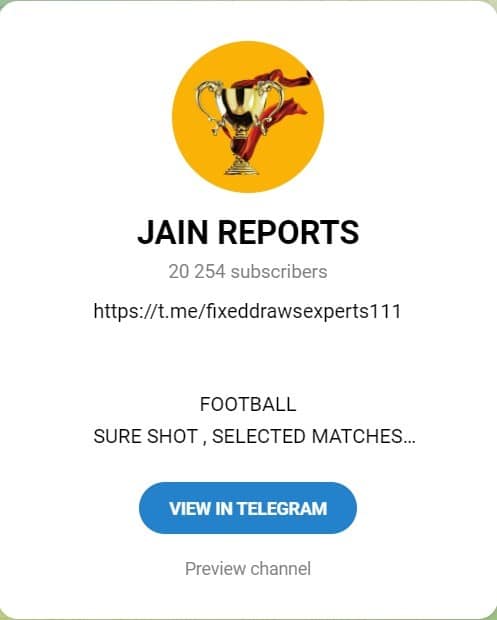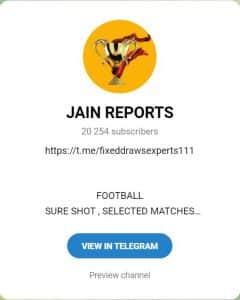 10. Aslam Cricket Betting
Despite having only recently been established, Aslam Cricket Betting, based in India, has already gained 4,000+ members. While tips focus on cricket matches outside of the UK for the most part, fans of the IPL and white ball matches will be pleased with what is found. 24/7 support is available via email and WhatsApp too!
Who are the Best Cricket Tipsters on Telegram? 
Cricket tips are common today. However, there are some tipsters that stand out because of their accuracy and regularity. Tipsters operating on the following channels are worth following in particular. Predictions are written using relevant and up to date news and statistics. This will include head to head results, recent form, injuries and even weather conditions. Below is a list of the top cricket tipsters on Telegram, including what they are best known for:
Choosing the Best Telegram Channel for Cricket Tips 
Given the increasing number of cricket tips on Telegram, it can be difficult for punters to decide which channels to join. However, there are some important factors to consider, which will help separate the best from the rest. So, before joining a channel or group, ensure that you have thought about the following points:
Type of Tips
The best Telegram channels are those that cater for the type of betting you are looking to do. In cricketing terms, this will include the competition in question, as well as the type of bets. For example, some channels will specialise in Test matches, while others will focus on the Indian Premier League and Caribbean Premier League. So, ensure that you are interested in the tips before joining.
Free/Subscription
It is important to weigh up whether you are willing to pay for tips or not. There is often very little difference between free and paid tips. However, those paying for a subscription will likely receive more/exclusive tips.
Reputation
Be sure to look at the track record of tipsters, as well as feedback from existing and former members. Joining a channel that rarely predicts winners is obviously not worth the effort. However, a channel that has a good reputation for cricket tips could well be beneficial.
Customer Support
You may not expect it, but some Telegram channels offer customer support. This is generally available via email and WhatsApp, with some tipsters promising 24/7 care. While it will not be needed regularly, it is nice to know that support is on hand when required.
Best Channel for Features Guide 
The best thing about cricket tips on Telegram is that everyone is catered for. Tipsters will cover a range of cricket competitions, on both a domestic and international level. Meanwhile, some predictions will focus upon low odds, others high. The table below shows which areas our recommended Telegram channels specialise: 
| | | | |
| --- | --- | --- | --- |
| Best Channel for Test Match Cricket Tips | Bet365 | Leading Channel for IPL Betting Tips:  | Fixed Tips Arena |
| Best Channel for Low Stakes Cricket Predictions | SafeBettingTips | Top Channel for Cricket Betting Promotions | Teams4Win |
| Best Cricket Tips Telegram Channel for High Stakes | Cricket Market Load | Best Channel for Free Cricket Betting Tips on Telegram | Fixed Betting Reports BetWay |
Why Join a Telegram Channel for Cricket Betting Tips? 
Cricket tips Telegram channels and groups are increasingly popular among punters. The best platforms on Telegram come with a host of benefits, offering punters an edge when operating on the best cricket betting sites in the UK. Free cricket betting tips on Telegram are readily available, with punters certain to find something that suits their interests. 
Both channels and groups are available to join. With a channel, the number of subscribers is unlimited, compared to a maximum of 200,000 with a group. Let's take a closer look at the main pros and cons of cricket tips on Telegram:
What We Like:
Cricket Betting Tips –

Cricket tips on Telegram are available daily. Whether it be tips surrounding the

Indian Premier League, The Ashes, County Championship of Caribbean Premier League, there is something for everyone. While predictions can never claim to guarantee success, the best tips will give punters a good chance of placing winning bets. 
Mobile App –

Telegram has developed an efficient mobile app, which is available to both iOS and Android users. While tips are accessible on desktop, the Telegram app ensures that predictions can be read on the go. Whether on smartphone or tablet, cricket tips Telegram channels and groups are available 24/7.

Social Aspect –

For those joining groups, there is the option of communicating with tipsters and other members. Punters can discuss potential tips, as well as their favourite cricket teams and players. This is one of the main selling points of cricket tips Telegram pages. 

Notifications – After joining a Telegram channel or group, members can set up notifications to ensure that they never miss out on cricket betting tips. Enter the "Settings" page to decide when and where you receive notifications.
What We Don't Like:
No Guaranteed Wins –

Even the best cricket betting tips Telegram channels cannot claim to guarantee winnings. Whether it be free cricket betting tips or a subscription-based service, tipsters are simply predicting what they believe will happen. However, Telegram tipsters will also make inaccurate predictions.

Scammers –

Unfortunately, some will use cricket tips Telegram channels and groups to try and scam members. As such, punters must be aware of the potential pitfalls at all times. Never share your personal or financial details with anyone on Telegram.
How to Join a Telegram Group
Joining a cricket betting tips Telegram channel or group is relatively simple. In fact, the entire process takes a matter of minutes. Below is a step by step guide for punters to follow in order to gain access to cricket tips on Telegram:
Step 1: Select Your Cricket Tips Telegram Group
View available cricket tips Telegram pages in which we have recommended. Make a decision regarding which best meets your needs. Consider which cricket leagues and competitions are covered, as well as the type of betting tips provided. 
Step 2: Join the Group
Once you are happy, simply enter Telegram via desktop or mobile. Search for the group in question, before clicking or tapping on the "Join Group" button. Private groups mean that your request must be accepted by an administrator. Of course, there is nothing stopping you from joining as many Telegram groups as you like.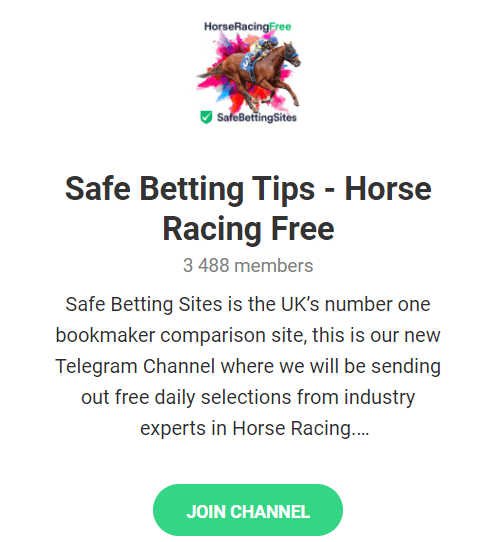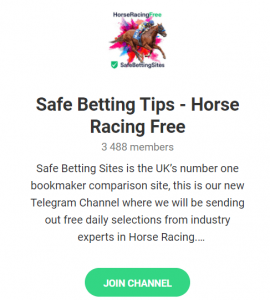 Step 3: Fix Settings
Not that you are a member, it is time to decide whether you wish to receive notifications. We recommend doing so, ensuring that you never miss out on a potentially lucrative tip. Additional settings can also be established on the relevant page.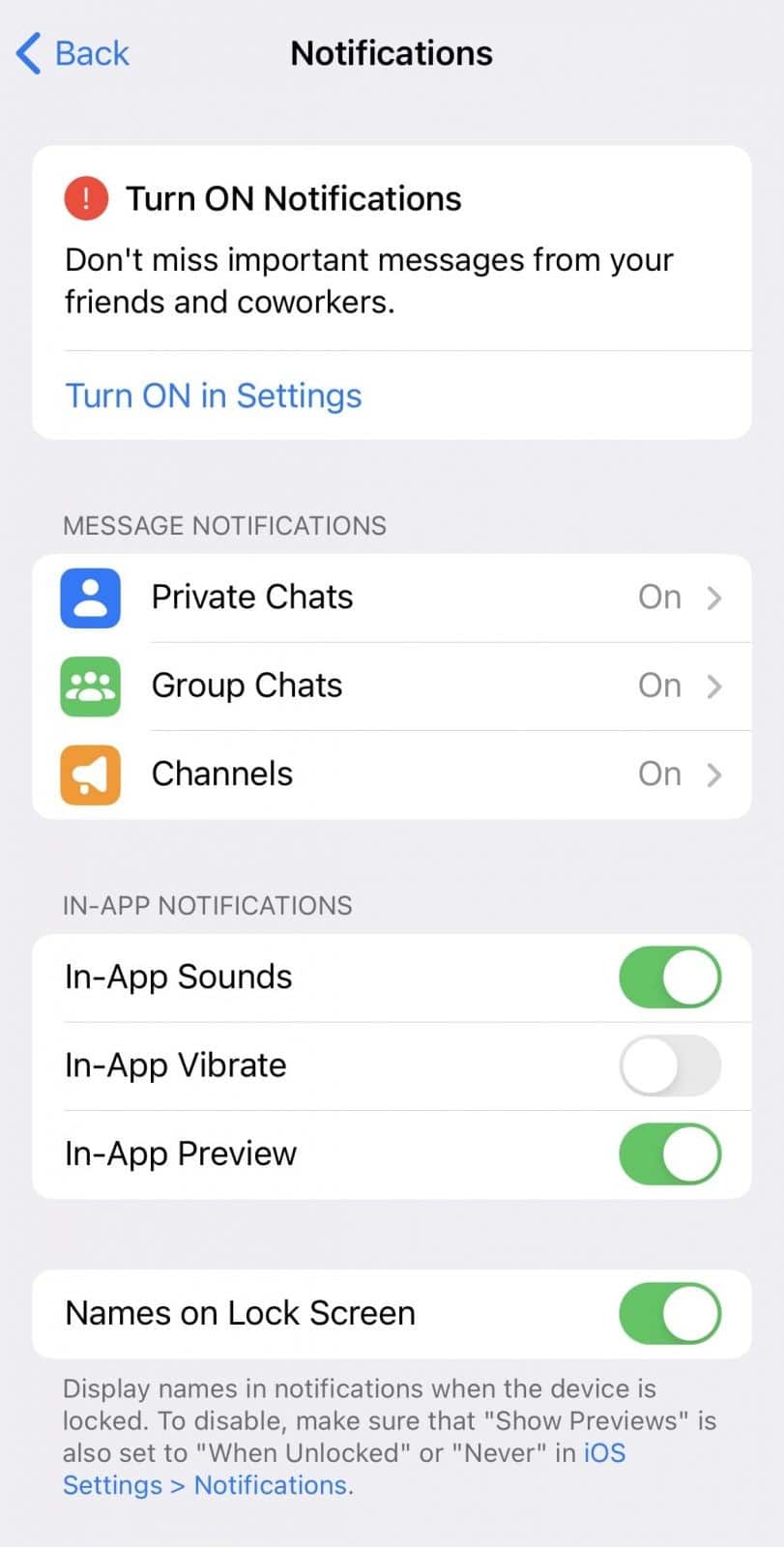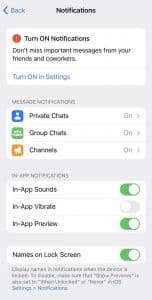 Telegram Channel Rules and Etiquette for Cricket
Before joining a cricket betting tips Telegram channel, there are some important rules to be aware of. In order to ensure that you do not get yourself into hot water with moderators, ensure that you do not carry out any of the following actions:
Do not use profanity.

Only post in English

Do not threaten other members.

Never advertise other channels and websites.

Respect other members at all times.

Do not promote violence at any time.

Never write posts in capital letters.
Bottom Line
The best cricket tips Telegram channels can undoubtedly be helpful to punters. With cricket being so competitive at all levels, backing a winner is no easy task. The best Telegram tipsters cover a variety of cricket leagues and tournaments. Be sure to check out our cricket betting tips Telegram channels, with each being slightly different. An accurate Telegram tipster can be the difference between winning and losing. So, join your preferred channel or group today to get started!re
FAQs
Who are the best cricket tipsters on Telegram?
Telegram cricket tips are easy to find online today. However, some cricket betting tips Telegram channels are better than others. Our top ranked channels all offer accurate and free cricket betting tips on Telegram. So, start by deciding which is the best fit for you.
Are cricket betting tips on Telegram free?
Free cricket betting tips on Telegram are not uncommon. However, some channels also offer a subscription, meaning that a fee must be paid by punters to access tips.
Where can I find cricket tips on Telegram today?
Telegram tipsters are increasingly focusing upon cricket matches, due to the popularity of the sport. As such, finding cricket tips today is easy. Look at our recommended channels and groups to find daily cricket betting tips.
What is the best cricket betting tips channel on Telegram?
While there are a number of cricket betting tips Telegram channels, there are some that stand out. For cricket tips on Telegram, SafeBettingTips and Fixed Tips Arena are among the most impressive.