Sky is a massive name in not only sports broadcasting, but also sports betting. Its Sky Bet brand has gone from strength to strength, not just regarding its desktop platform, but the Sky Bet app for mobile users too. 
In our review, you'll learn everything you need to know about this big brand's flagship betting app. We'll cover its welcome bonus, usability, payment methods, and plenty more. Ultimately, we'll evaluate the sheer quality of the app, and let you know if it's worth your time to download it.
Sky Bet App Welcome Offer
Bet £5, Get £20 in Free Bets
Bet £5, Get £20 in Free Bets
Minimum odds of EVS to qualify
No free bet expiry
Single & each-way bets eligible
9.6
Claim Bonus
Must be first account ever on Sky betting platform. Deposit and bet £5, min odds evens (1/1). Receive 2 x £10 free bet tokens. Free bet tokens can be used on any single or each way market. No expiry date for free bets. Full T&Cs apply.
Like just about every top betting app, Sky Bet's has a welcome offer in place. On the surface, this is very attractive indeed. New customers can get £20 in free bets, in return for a mere £5 spend. Before we get carried away though, let's check out the main terms and conditions.
Must be your first account on any Sky Betting/Gaming brand (Casino, Vegas, etc.)
Deposit and bet £5, at minimum qualifying odds of evens (1/1)
Skrill and Neteller deposits ineligible 
Must stake £5 in one go – smaller stakes won't count
Receive 2 x £10 free bets
Free bets can be used on any singles or each way market
No expiry date for free bet tokens
Quite simply, we love this welcome offer for Sky Bet's mobile users. Getting a 4:1 return on your £5 qualifying bet is brilliant value. The stakes being split into two separate tokens also lets you spread your exposure nicely, rather than risking all your rewards on one wager. The fact that there is no expiry date whatsoever for these tokens is the icing on a particularly tasty cake.
As an app user, you can also benefit from a few intriguing ongoing promotions. The Sky Bet Club gives you a £5 free bet if you spend £25 in a week, and there's a free-to-play Super 6 game which dishes out cash rewards. Sky also provides regular price boosts, for singles, doubles, and even whole accas.
Sky Bet App Download
Download SkyBet App For Android
Download SkyBet App For iOS
Sky Bet App User Experience
The Sky Bet app doesn't create the best first impression. The colour scheme is bland, mostly consisting of black, white, and grey, and the whole platform simply looks a little boring.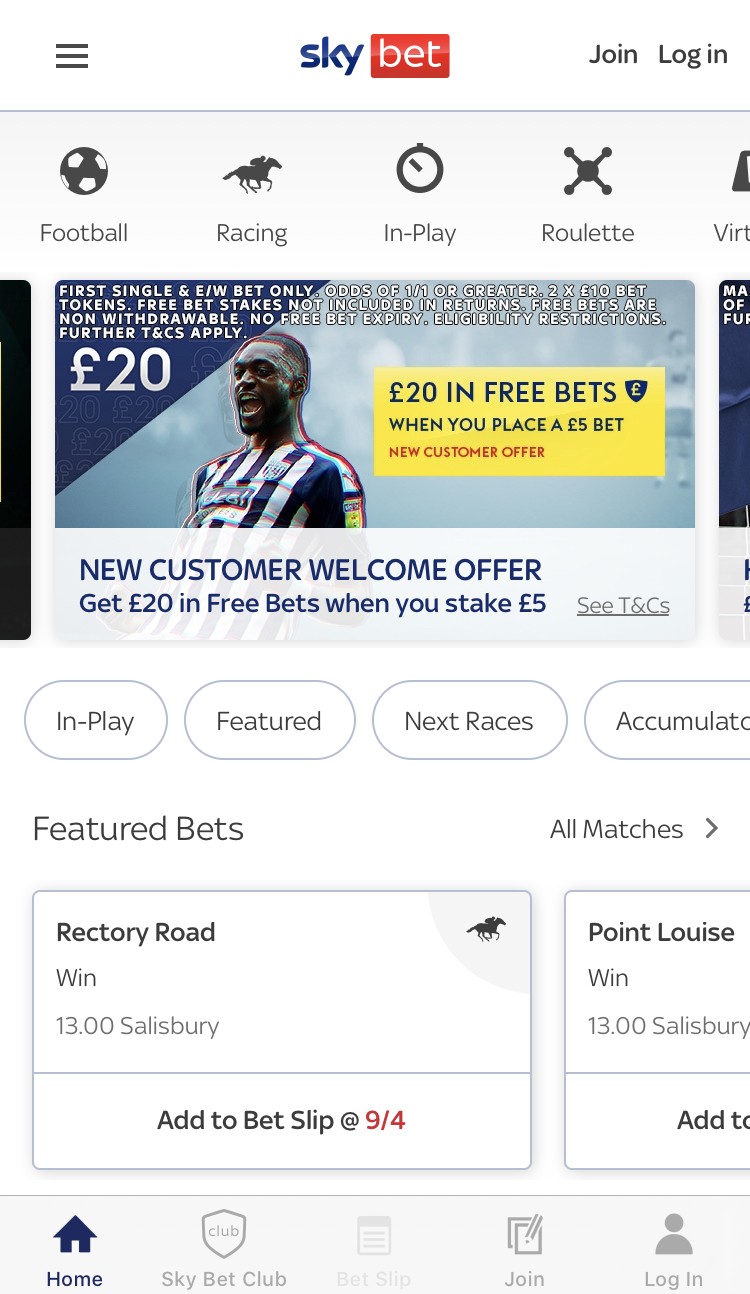 Get past this dull beginning though, and you'll find an extremely user-friendly app waiting for you. The interface is a little busy, but it works, allowing you to navigate wherever you please incredibly quickly. A handful of important sections are available via the ever-present bottom menu, and basically every other area is housed in a collapsible menu in the top-left.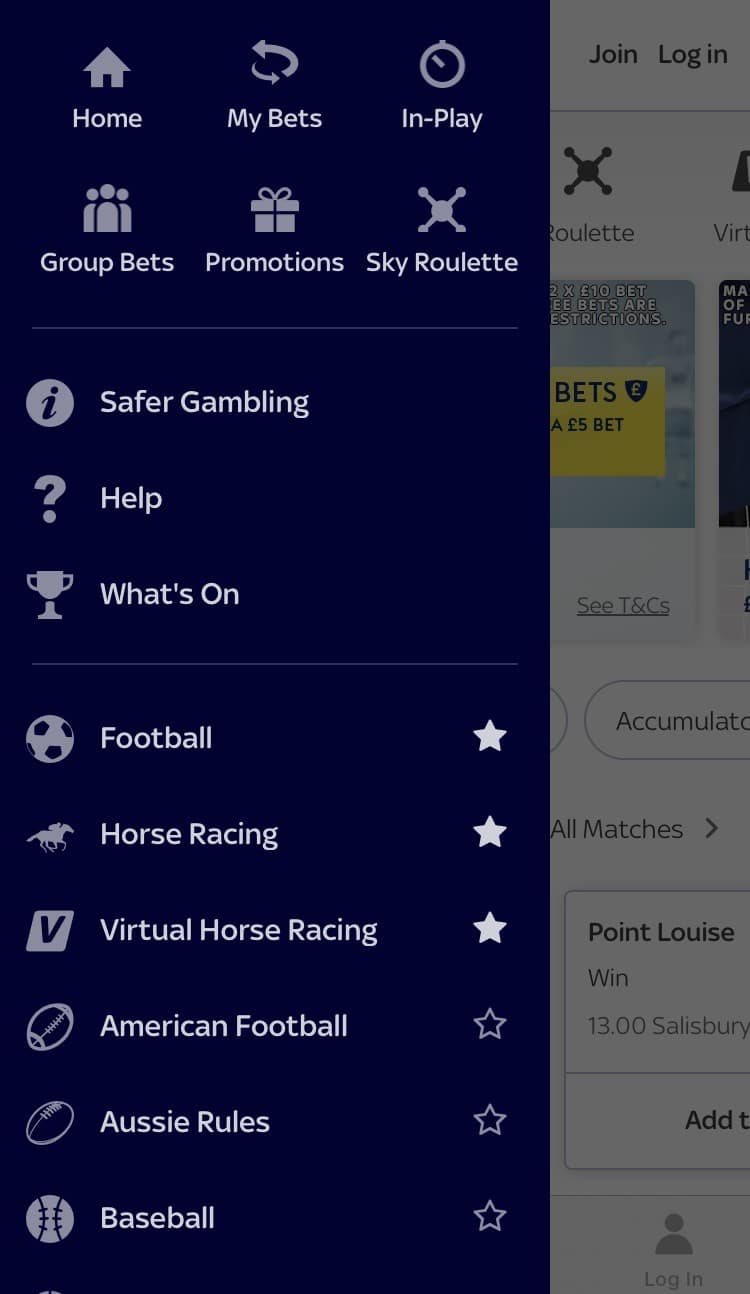 Navigating the betting markets is equally easy. This can be done via the aforementioned collapsable menu, or another side-scrolling one on the home page. Individual betting markets are also well-presented within the page for each matchup, which also features any available stats, odds boosts, and so on.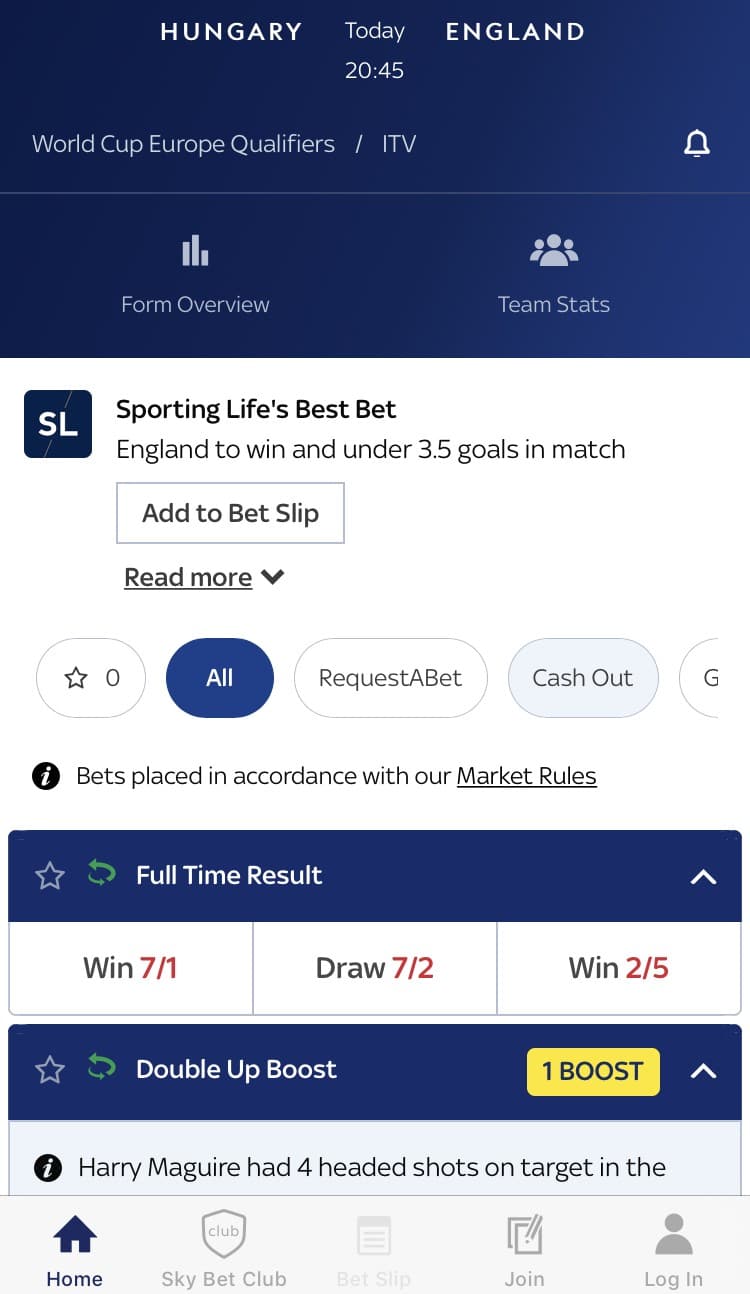 Overall, we were very impressed with the usability of this app. It skilfully manages a tricky balancing act, presenting a whole lot of options and information to you while never feeling overwhelming. 
What Makes the Sky Bet Mobile App Stand Out?
Sky Bet have not built your standard, run-of-the-mill betting app here. Instead they have provided users with something that stands out in plenty of ways. Below, you'll find some of the most impressive examples. 
1. GroupBets
Sports betting is normally a solitary activity, but this doesn't need to be the case with the Sky Bet app. Opt-in to GroupBets, create a private group, and invite your friends to join you. You can then either track the progress of each other's wagers in a Premier League-style 'form table', or even collaborate to build a group acca.
2. Range of Ongoing Promotions
We've touched on this above, but it bears repeating. Even ignoring the aforementioned welcome offer, the range of ongoing promotions on this app is excellent. The Sky Bet Club is definitely the headliner, but you'll also find extra places here for your each ways, free bet offers, and more.
3. Request a Bet
The range of markets on the this app is impressive enough by default. If you want a completely customised wager though, you can use the 'Request a Bet' feature. Get as creative as you like in developing a bet idea, then pop over to the Twitter app and tweet @RequestABet with your request. The support team should get back to you with a direct link promptly. Click this, and the custom selection will automatically be added to your betslip on the Sky Bet app. 
4. Live Streaming
This is definitely a premium betting app, so it's no surprise to see live streaming in place. In this case, it's presented as a 'Bet & Watch'. As you can guess, this does mean you must wager on an event before watching it. Only a £1 stake is needed though, and this will let you watch any British or Irish horse race you please, plus football, tennis, cricket, golf, basketball, and more.
5. Odds Boosts
The prices on Sky Bet are solid enough by default. The vast array of bet boots, however, elevate the value you can find here significantly. Boosts are available all across the app, on most of the major sports markets, and tend to inflate the prices to an impressive extent. Better still, they're available on everything from straightforward singles all the way up to complex accas.
How to Bet on the Sky Bet App
Getting started with this app could hardly be easier, regardless of your experience level. Here are the few steps you need to take in order to both acquire and use the app. 
Step 1: Download the App
Exactly how you do this depends on whether you're getting the iOS or Android version. You'll follow the same main pattern, though. 
Simply boot up either App Store or Google Play from your home screen, and search for 'Sky Bet'. Find the sports betting version, tap it, and hit the download button. A new icon will appear in your navigation, and the app should be ready to open within a few moments.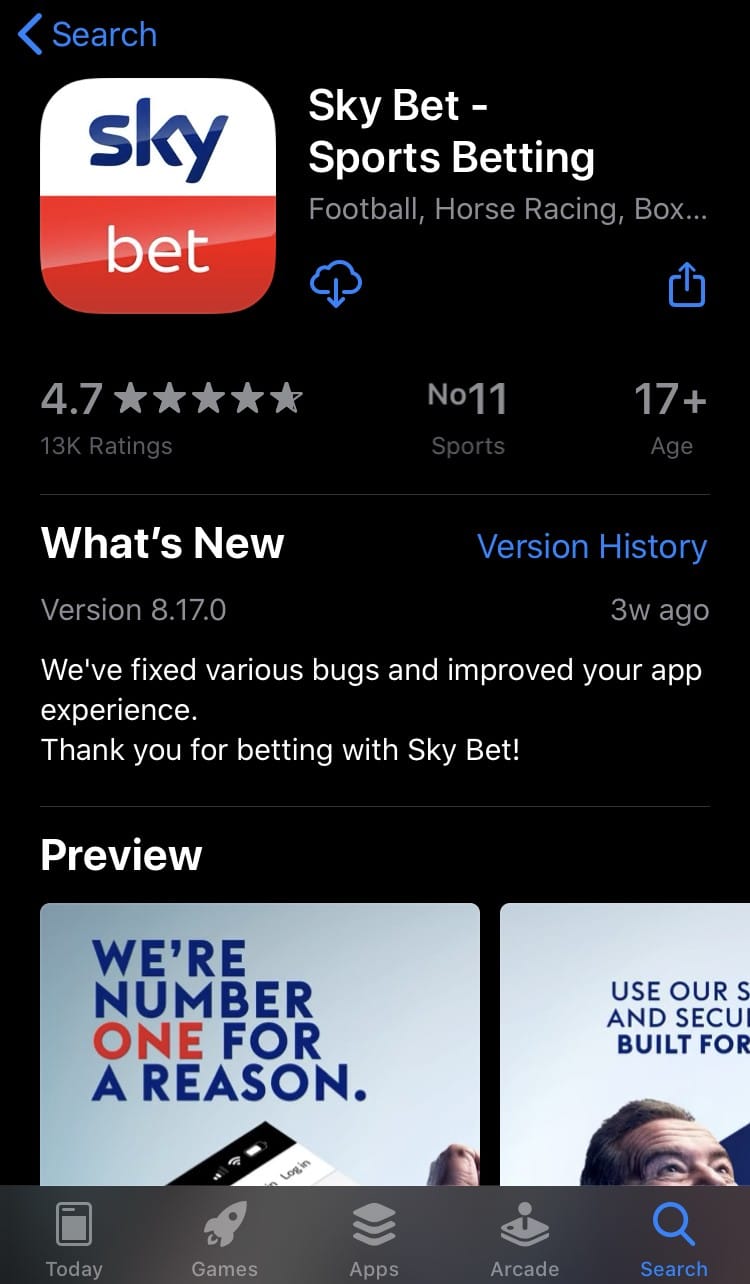 Step 2: Create an Account
Once the app is downloaded, tap its icon to open it up, then select the 'Join' option in the top-right. You'll now progress through a series of sections. These will either require you to enter your personal information (name, date of birth, and so on), or set your account details (like a username and password). Keep filling these fields and clicking the green 'Next' button until you're done.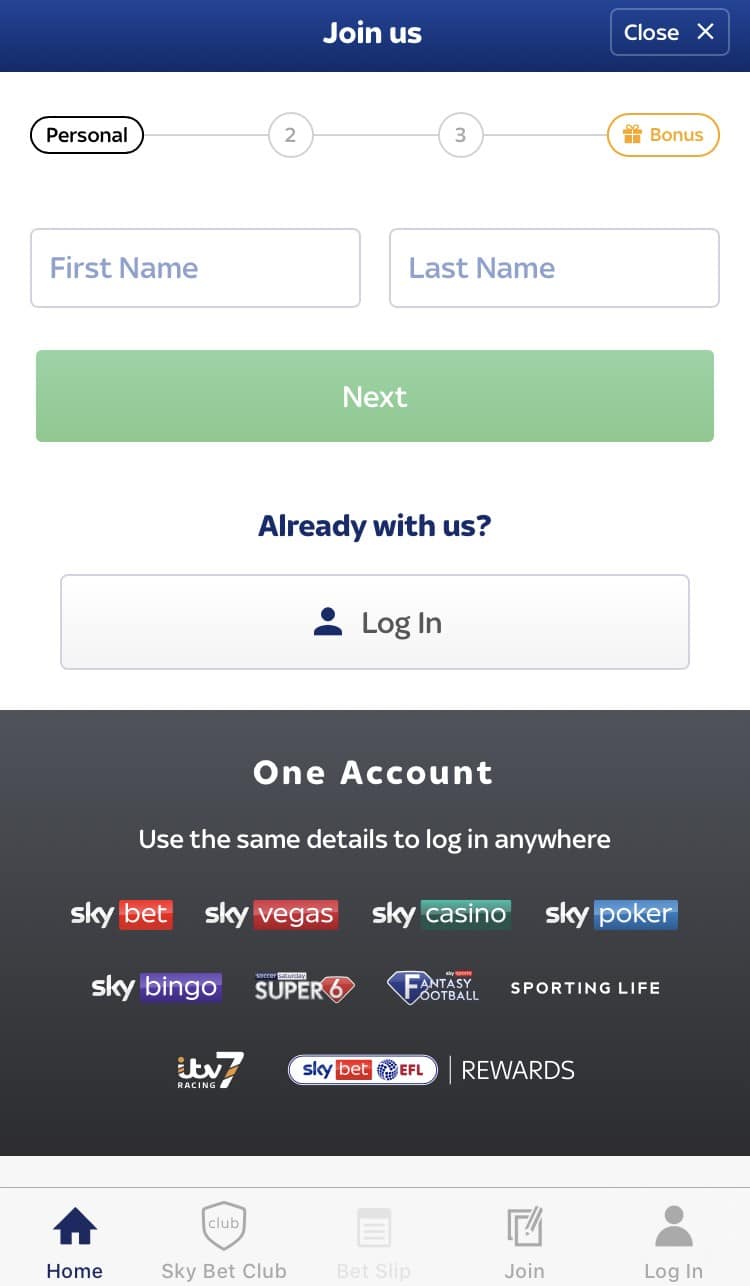 Step 3: Make a Deposit
After completing your registration, you'll be prompted to make your first deposit. As noted later  in this review though, you don't actually have that many options for doing so – you can pick between debit card, and either Apple Pay or Google Pay depending on your OS. After making your choice, simply provide the requested details, enter an amount of at least £5, and complete the payment.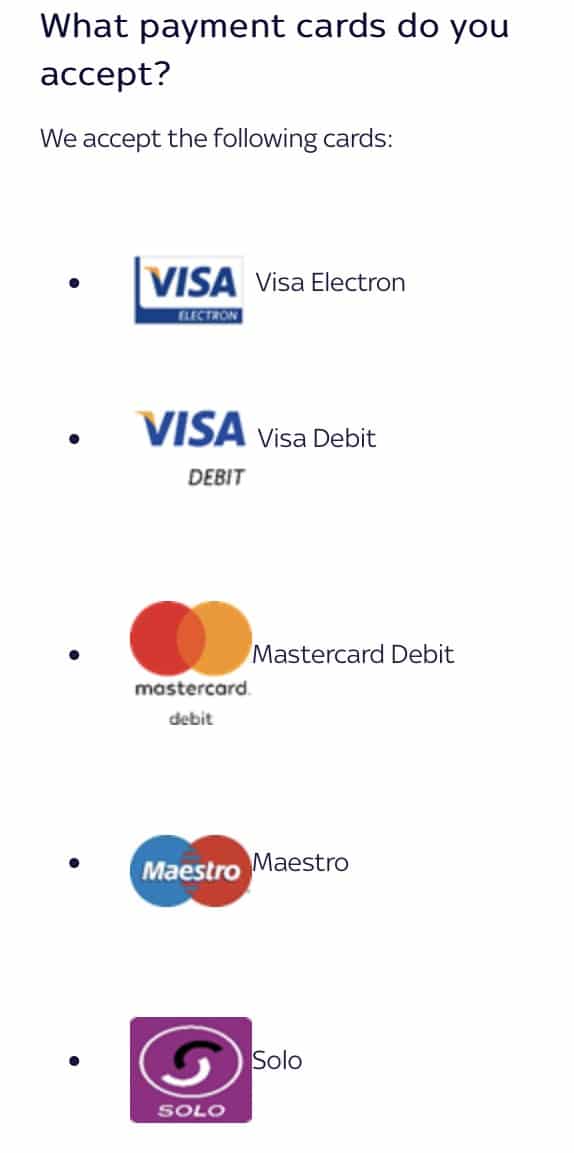 Step 4: Place a Bet
Now that your account is funded, you can finally place a bet. Open the dropdown menu in the top-left, and select the sport you want to bet on. Scroll down to find the matchup you're interested in, open up its individual markets, and select the specific bet type you're interested in. Tap the odds next to it to add that selection to your betslip, which you can open via the bottom menu. Set a stake, check everything is correct, then confirm the wager.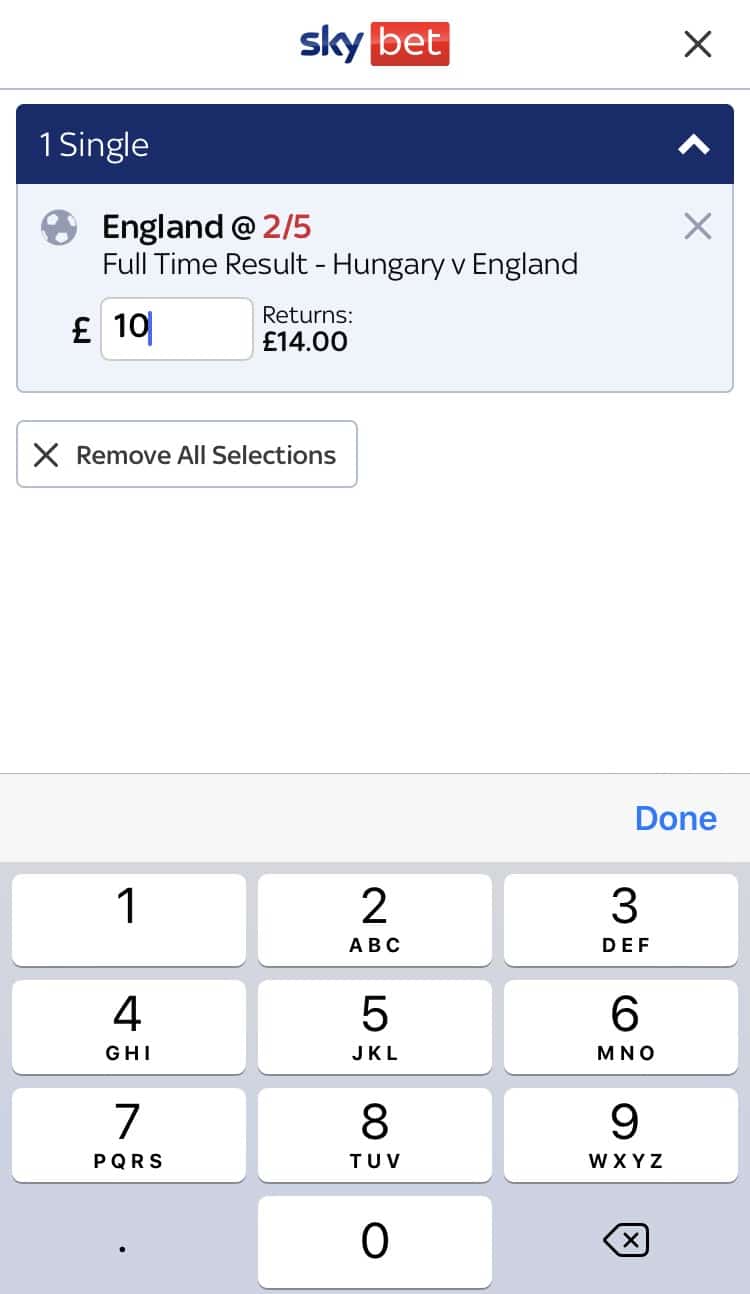 Sky Bet App
Download Requirements
Sky Bet's app is available on both iOS and Android, and can be downloaded directly from the App Store or Google Play respectively. Doing so is extremely easy in both cases, and both versions have all the same important features, betting markets, and so on in place.
With that said, there are still some minor technical differences between the two. Be sure to check out this table before attempting to download the app yourself, to ensure your device is up to the task.
| | | |
| --- | --- | --- |
| Platform | Software Requirement | App Size |
| Android | Android 5.0 or Later | 8.2 MB |
| iOS | iOS 13.0 or Later | 39.4 MB |
As you can see, the iOS version actually takes up quite a bit more space than the Android app, although it's still hardly 'big' by modern standards. If your iOS device is completely full though, you can still use the Sky Bet mobile site instead. 
Sky Bet App Performance
A betting app can have all the shiny features in the world. If it's slow or unreliable though, these count for nothing, as punters won't use it for long anyway. 
Fortunately, this doesn't need to be a concern with the Sky Bet's app. The initial loading times aren't the fastest – even on a recent iPhone model – but we were impressed with every other aspect of the app's performance. Pages load quickly on both WiFi and mobile data connections, and – crucially – the live betting tools are highly responsive. We even tested out the app using a VPN to reroute our connection, and still noticed no perceptible slowdown. 
As noted below, a few users online have complained that the app crashes regularly. We didn't encounter any crashes at all, during pretty extensive testing, but this is still something to bear in mind. 
Sky Bet App Payment Methods
Our impressions of this app so far have been sky-high. When it comes to the range of payment methods, however, things definitely take a downward turn. 
Right now, there is only one traditional payment method available – debit card. Admittedly there are a lot of individual options within that category – Visa, Mastercard, Maestro, and Solo – but that's still pretty poor. From a premium betting app, you'd expect bank transfer and some big eWallets to be included at the very least. 
App users, however, can also use either Apple Pay or Google Play instead. Both are extremely quick and easy to use, although only deposits are available on the latter.
Elsewhere, the minimum deposit amount is relatively low, making this an accessible app for more casual bettors. Withdrawal times are also speedy, and – although the standard minimum withdrawal is £10 – lower payouts can be directly requested from the support team. 
| | | | | |
| --- | --- | --- | --- | --- |
| Banking Method | Fees | Minimum Deposit | Minimum Withdrawal | Withdrawal Times |
| Debit Card | Free | £5 | £10 | Usually 2 hours (2-5 days for Mastercard) |
| Google Pay | Free | £5 | N/A | N/A |
| Apple Pay | Free | £5 | £10 | Usually 2 hours |
Sky Bet App Customer Reviews
The vast majority of our opinion of the Sky Bet app has been based on our own experiences. We have still, however, been sure to gauge the opinion of the wider betting public. Doing so not only gives us a sense of the brand's reputation, but can also help us catch issues we didn't encounter ourselves. 
The iOS version enjoys incredible feedback on the App Store. Its average rating at the time of writing is 4.7/5, across a whopping 13.1k reviews. Like us, a few users believe the visual appearance of the app should be modernised, but most punters have only positive things to say. 
The Android app's average rating is 'only' 4.3/5, across approximately 22k reviews. This is still highly impressive, of course, with the only complaint being occasional crashes suffered by some users.
What is Sky Bet?
As noted in our introduction, Sky is a dominant force in British sports. In recent years, it has made a clear and concerted push to improve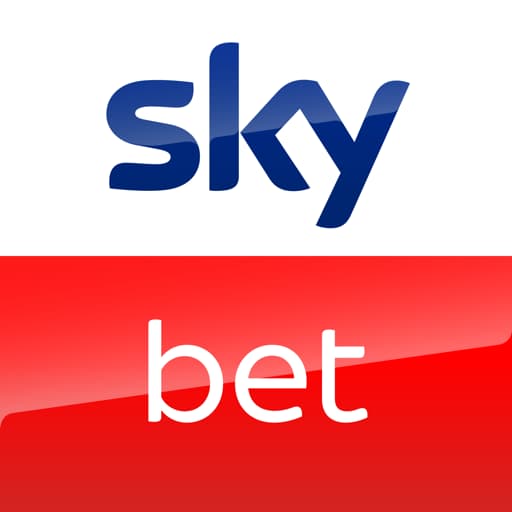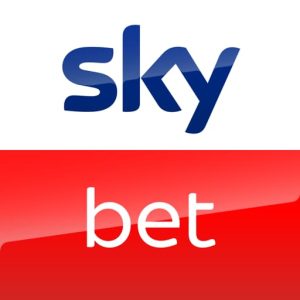 and publicise its branded betting products too. 
Sky Bet itself was launched back in 2001, making it a similar age to brands like Bet365 and Betfair. This came on the heels of acquiring a relatively little-known company – Sports Internet Group – for an eyebrow-raising £300 million. The group's online betting site – Surrey Sports – was soon rebranded as Sky Bet, and the likes of Sky Vegas and Sky Vegas Live were added over the next few years. Sky Bet's mobile platform was first launched in 2012, and – unusually – was actually created in-house. 
After acquiring a series of smaller betting brands, Sky Bet itself was sold off in 2018 for a cool £3.4 billion. Nowadays therefore, Sky Bet is actually owned not by Sky, but by industry titan Flutter Entertainment, who also possess the likes of Betfair, Paddy Power, and PokerStars. 
Final Thoughts
When discussing the best betting apps around, you tend to hear the same old names – Bet365, Paddy Power, William Hill, and so on. These brands definitely earned that status, but – in our opinion – there's no reason why the Sky Bet app shouldn't be mentioned alongside them. 
There's a huge amount to like here. The welcome bonus creates a great first impression, which even the relatively dull layout can't offset. High quality ongoing promotions keep the momentum going, and special features like live streaming, a bet builder, and regular odds boosts are also included. The fundamentals are also executed well, including a wide range of betting markets, and solid customer service. 
Our only real gripe regarded the lack of payment options. If this is sorted out, and the design is refreshed a little, it'll be hard to find any fault at all with the Sky Bet app. 
Best Betting Apps UK
FAQ 
What is the Sky Bet app?
The Sky Bet app is one of the best around for on-the-go punters. It's feature-packed, intuitive, reliable, and performs extremely well.
Is there a Sky Bet Android app available?
Both Android and iOS versions are avilable, and these can be downloaded directly from Google Play and the App Store. Both versions are very highly-rated by users.
What special features are in place for the Sky Bet iOS app?
A lot. Live streaming is available for horse racing, football, and more. There's also the free-to-play Super 6 game, constant odds boost, the Sky Bet Club, and more.
Can I get a welcome bonus?
The Sky Bet welcome offer is excellent. You only need to bet £5, and - in return - are given £20 in free bets. These are split into 2 x £10 tokens, and - better still - have no expiry date.
How can I make deposits?
This is a rare weak spot for Sky Bet. Right now, the only payment options are debit card, and either Google Pay or Apple Pay for Android and iOS users respectively.
Was this article helpful?