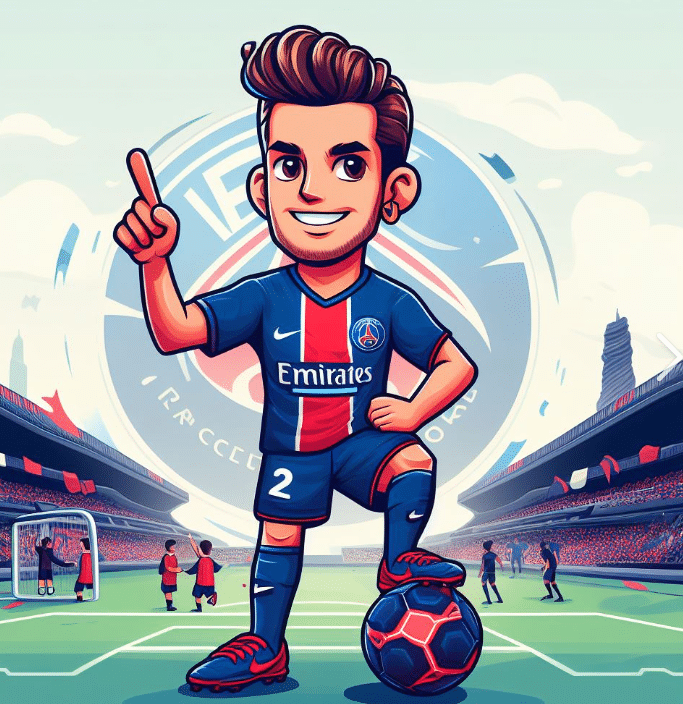 Modern football is a game of numbers. Besides the usual match outcomes, teams capture other on-pitch details for further analysis. The aim is to get insights into individual and team performances to appropriately tailor their training and planning needs. One of these crucial statistics is ball possession, a measure of how much of the ball a team has during playtime. 
According to a recent SafeBettingSites.com data presentation, French side Paris Saint Germain (PSG) is the most dominant team across Europe's Elite Leagues. The site reports PSG's average possession of 72% per game is the highest of all teams in the continent's top 5 leagues.
SafeBettingSites' football expert Edith Reads has shared her thoughts on the finding. She holds that possession statistics are a useful measure. That's because they shed light on a team's playing style and strategy, as well as their performance and effectiveness. 
She explained, "PSG's possession statistics are a window to the club's football philosophy. The Parisians have a culture of playing attractive football and they've had the personnel to carry that on. Its current manager Luis Enrique's teams are well known for dominating the opposition through creativity and flair that depend on them having most of the ball."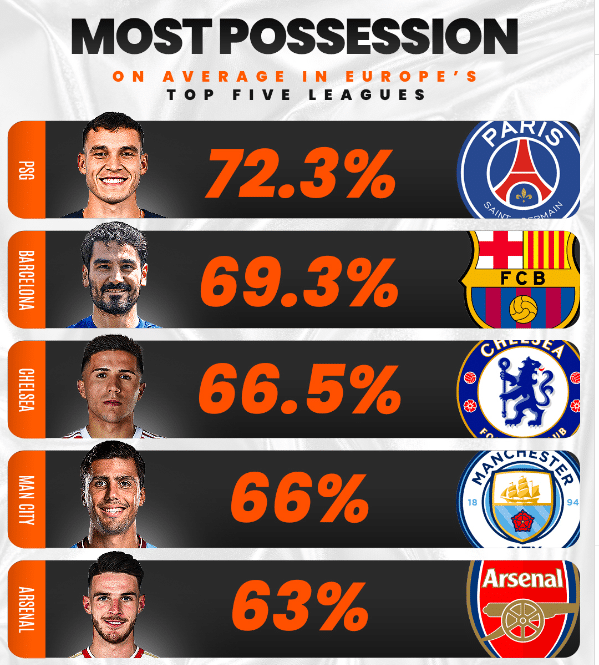 A Spanish and Barca Dominance
Following PSG in second position are Spanish giants Barcelona. The Catalans, famous for their tiki-taka possession football, are experiencing a new lease of life under club icon Xavi Hernandez. Under his tutelage, the Basque side averages 69% possession a game.
Interestingly, scrutinizing the top 5 sides possession-wise reveals a dominance by Spanish managers, four of whom have links to Barcelona. Besides Enrique and Xavi, other Spaniards managing the most dominant teams across Europe are Pep Guardiola and Mikel Arteta. 
Bar Arteta, the trio have played for Barca's senior sides before going on to manage them. On his part, Arteta turned out for the Blaugrana's youth side before moving abroad for regular first-team football.
Chelsea, who have undergone a significant revamp since Todd Boehly's takeover, are third on the log. The Mauricio Pochettino-managed side averages 66.5% of the ball per match. Guardiola's Man City follows closely, averaging 66% of the ball. Meanwhile, Arteta's Gunners control nearly 63% of the ball in their matches.
A Deceitful Statistic
Edith suggests that despite their importance, football possession stats don't always tell the whole story. She pointed out that dominant teams don't always win games. Instead, other factors may influence a game's result. These include the quality of the opposition, the level of competition, and the stage of the season.
She gives the example of PSG's and Chelsea's current outings. At press time, the Parisian side have only amassed 12 points out of 7 games they've played of the 2023/24 Ligue 1 season and occupy an unfamiliar fifth spot on the log. Chelsea, too, is having a forgettable EPL season so far, sitting 11th with 8 points out of a possible 21. While the season is still young, it is clear that these teams' dominance hasn't paid off.
Edith concludes that teams decide on setups that suit them. While some prefer more possession over their opponents, others are fine having less of it, opting instead for counter-attacks. To her,  there is no definitive answer to which style is better, as different teams have different strengths and weaknesses.
.
Was this article helpful?