The FIFA Women's World Cup is the next big international football tournament on the horizon. Following the recent developments in women's football, the upcoming women's World Cup is going to attract much more attention than before. According to the numbers presented by SafeBettingSites.com, the prize money at the women's event is going to increase by 267%.
From $5.8m in 2007 to $110m in 2023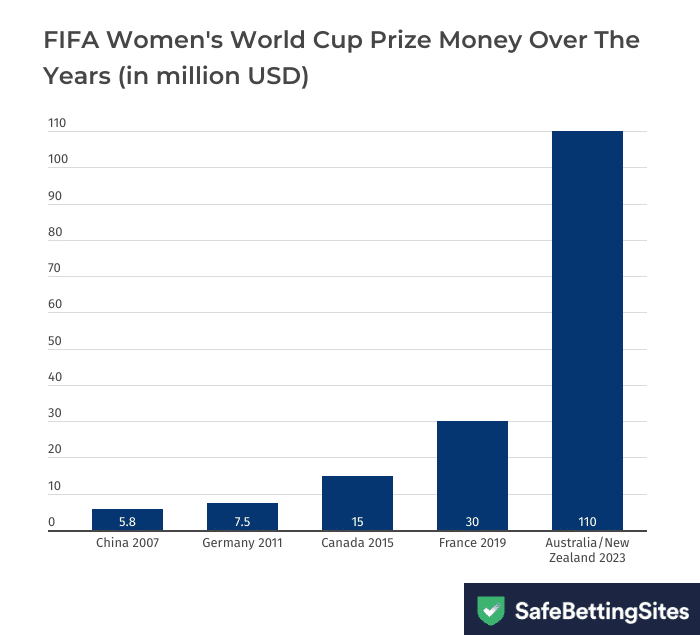 The FIFA Women's World Cup starts on July 20 in Australia and New Zealand. It's the ninth edition of the event, and it's the first time that it's being co-hosted by more than one nation.
The 32 teams participating in the 2023 event will share a prize pool of 110m USD. This figure represents a 267% addition to the 30m prize money in the last event.
Women's football has witnessed rapid development in the last few years, and it is very much evident in the prize money on offer in the upcoming World Cup. FIFA held the first women's World Cup in 1991, but there was no prize money awarded up until 2007. For the first in the event's history, FIFA awarded 5.8m USD prize money at the 2007 World Cup. Since then, the amount of prize money has only increased. The amount of prize money increased to 7.5m USD in 2011 and doubled in 2015 and 2019. However, the recent increase in prize money is rather impressive, as FIFA has almost quadrupled the amount in one go.
You can also bet on FIFA expects their revenues from the women's event to hit an all-time high. It is the first Women's World Cup to feature 32 teams, like the men's event. Only 24 teams participated in the 2019 World Cup. Furthermore, the amount of games played is also going to increase from 52 to 64.
FIFA awarded $440m at the latest Men's World Cup
Women's football still has a long way to go compared to men's sport's popularity. FIFA awarded 440m USD in prize money at their latest Men's World Cup in Qatar.
Thus, the prize money on offer at the latest Men's World Cup was four times the amount that is on offer at the latest Women's event.
Was this article helpful?