Sony's subscription service PS Plus has become an essential part of their Play Station universe. It is also an important source of income for the Japanese company. According to the numbers presented by SafeBettingSites.com, PlayStation Plus subscriber base has reached 47.4m during the first quarter of 2023.
Sony adds 1m new PS Plus subscribers in Q1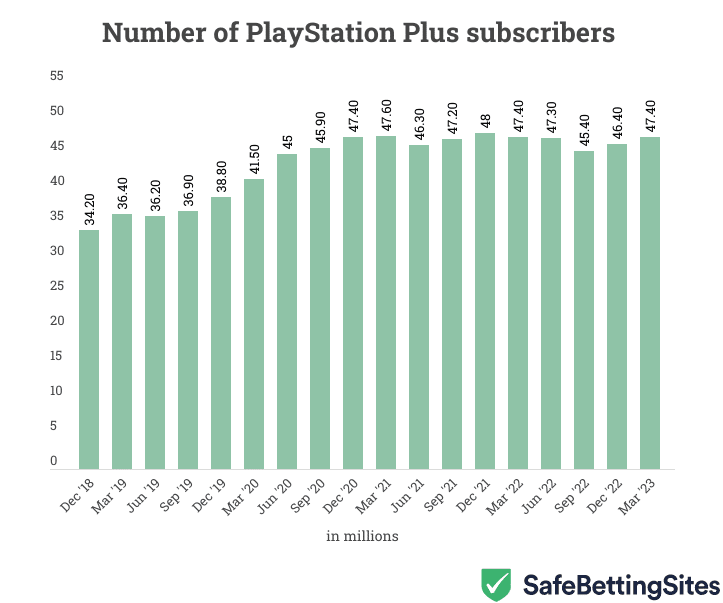 Sony's gaming subscription service PS Plus has bounced back after facing some bumps last year that were visible in among other things the esport betting and streaming last year. According to the latest financials released by Sony, PS Plus numbers grew positively for the second consecutive quarter, much like the betting and streaming of esports.
In the first quarter of 2023, PS Plus added 1m new subscribers to take its total count to 47.4m. 2023 Q1 was the second consecutive quarter of positive growth for PS Plus as 1m new subscribers joined the service in the last quarter of 2022 too. These back-to-back quarters of positive growth have come after three consecutive quarters of negative growth. The third quarter of 2022 was especially difficult for PS Plus as it lost a massive 1.9m subscribers. 2022 Q3 coincided with the launch of the new PS Plus. 
Despite the recent growth, the PS Plus base is still behind its highest-ever number of 48m, achieved in Q3 2021. Furthermore, when we compare Y-O-Y numbers, the PS Plus subscriber base has remained unchanged at 47.4m from Q1 2022.
In June of 2022, Sony decided to relaunch its gaming subscription services. Prior to the revamp, Sony had two subscription services: PS Plus and PS Now. PS Plus was primarily used for online gaming, while PS Now acted as a library of games. However, last year, Sony decided to merge the two services and relaunched the brand new PS Plus with three different tiers: Essential, Extra, and Premium. PS Plus 
Vyom Chaudhary, an editor at SafeBettingSites.com, commented: "After the initial setback, it seems the new PS Plus is able to attract new users. The availability of the service in three tiers has allowed gamers more freedom in choosing their plans whereas the ever-expanding library of games is good value for money. With PS5 selling like hotcakes one can imagine that PS Plus will continue to attract more and more new users."
Was this article helpful?