EA Sports' FIFA franchise has been immensely popular in the European video game market. The latest sales numbers from the United Kingdom confirm the same. According to the figures presented by SafeBettingSites.com, FIFA 23 was the best-selling video game in the UK last year, with 2.53 million units sold.
Modern Warfare II next bestseller with 1.67 million units sold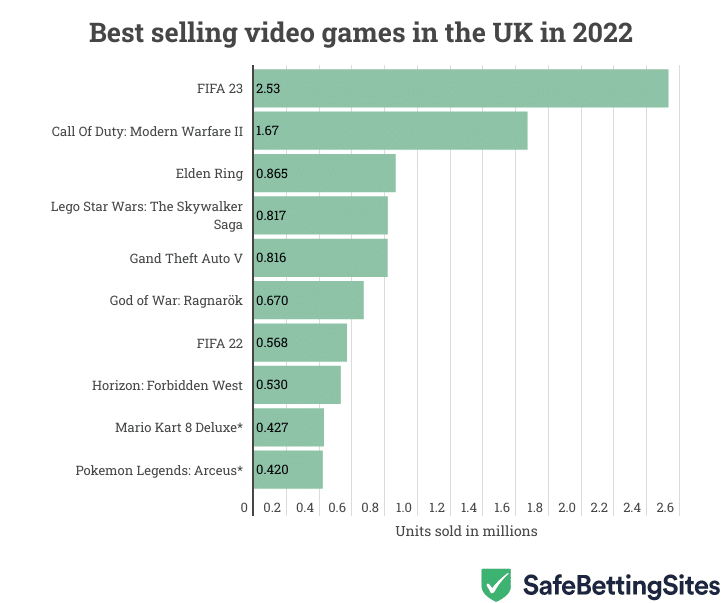 The UK market is significant in the video gaming industry as it represents Europe's most prominent national market. According to the data available on Statista.com, UK gamers spent $5.82 billion on video game software in 2022.
FIFA 23 was the biggest hit in the United Kingdom, with 2.53 million units sold in 2022. Interestingly, as EA Sports' partnership with FIFA has concluded, FIFA 23 was the last franchise edition under this name. From next year, the popular game will be known as EA Sports FC.
Call of Duty: Modern Warfare II is the second most popular game in the UK in 2022. The latest edition in yet another popular gaming franchise sold 1.67 million units. The latest COD game was only released on 10th November, thus making those sales numbers even more impressive. These two games were the only ones selling more than a million units in the UK last year.
Elden Ring managed to sell 0.865 million units last year in the UK. The action RPG from FromSoftware is the only game among the top ten UK games which doesn't belong to an existing IP.
Lego Star Wars: The Skywalker Saga is fourth with 0.817 million units sold, closely followed by Grand Theft Auto V with 0.816 million units.
God of War: Ragnarok was last year's best-selling platform-exclusive game in the UK. Only released on PlayStation consoles, the game sold 0.67 million units in the UK alone. FIFA 22 has also found its way into the UK top ten with 0.568 million units sold. 
The rest of the list includes one PlayStation exclusive and two Nintendo exclusives. Sony's Horizon: Forbidden West sold 0.53 million units in the UK in 2022. Nintendo's Mario Kart 8 Deluxe and Pokemon Legends: Arceus occupy the last two spots with 0.427 and 0.42 million units sold, respectively. It must be noted that the sales numbers of two Nintendo games don't include digital sales, unlike other video games featured. 
Was this article helpful?