The Super Bowl is arguably the biggest annual sporting event in the U.S. Understandably, the event's halftime show has become the biggest head-turner in U.S. marketing. According to the latest figures presented by SafeBettingSites.com, Pepsi is the brand currently most associated with the Super Bowl, with 22% of U.S. adults associating the beverage brand with the event.
Budweiser second with 19% of votes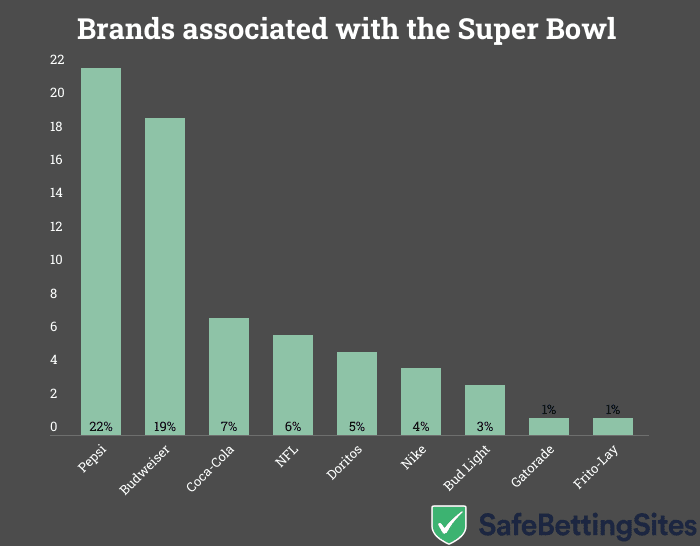 According to a recent survey, Pepsi has made the most significant impact on Super Bowl viewers. Morning Consult surveyed 2,202 US adults on their brand recollection with the Super Bowl. It asked the respondents which brand they most associate with the Super Bowl. Beverage brand Pepsi grabbed the top spot with 22% of positive responses. The second spot was held by another beverage brand Budweiser with 19%.
Coca Cola, Pepsi's most significant business rival, grabbed the third spot at 7%. It's interesting to note that beverage brands occupy all top three places, and Pepsi is currently leading the competition.
The National Football League, the NFL, is fourth on the list with 6% votes. This definitely comes as a surprise that viewers associate external brands more with the Super Bowl than the league itself.
NFL is followed by Doritos (5%), Nike (4%), Bud Light (3%), Gatorade (1%), and Frito-Lay (1%). A brief look at the list of brands would confirm that most belong to the packaged food and beverage industry. Nike is the only sporting brand that figures among the prominent brands during the Super Bowl.
The Super Bowl halftime show has become the pinnacle of marketing in the U.S. Major brands vie for advertising slots during the event as it's one of the most-watched sporting events in the country. The recent Super Bowl was held on February 13th, and it attracted 99.19 million viewers on average. The event was broadcasted on NBC, and reportedly the network charged up to $7million for a 30-second ad slot. This year, the ad rate was the most expensive in the history of the NFL. In addition to the match itself, viewers also tune into the Super Bowl to watch its famous halftime show. This year, renowned artists such as Dr Dre, Snoop Dogg, Eminem, Mary J. Blige, and Kendrick Lamar performed at the event.
Was this article helpful?