India continued to dominate the Play Store in the third quarter of 2021. And by some distance. According to the latest figures presented by SafeBettingSites.com, the Indian market accounted for a massive 6.86 Billion downloads on the Play Store during the third quarter of 2021. Brazil occupied the second spot in the Play Store market.
India dominates the global Google Play market, US market shrink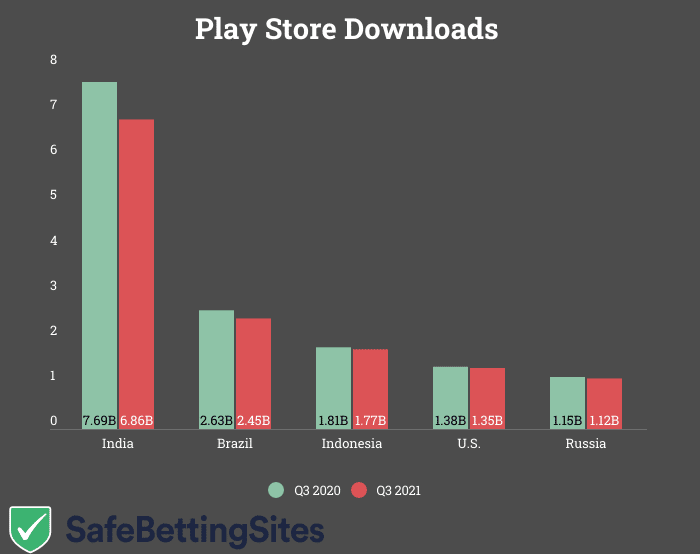 As per the recent report by Sensor Tower, the Indian Google Play market saw a total of 6.86 Billion downloads during the third quarter of 2021. In comparison, a total of 7.69 Billion downloads took place in the same quarter in 2020. There was a 10.8% decrease in the Indian numbers. This decrease is visible in the numbers of all top countries in Google Play downloads. However, Indian numbers have taken the most significant setback among the top five countries.
The study notes that these declines in numbers were down to the massive surge in downloads in 2020 due to Covid-19. 
Brazil had the second-most Google Play downloads in Q3 at 2.45 Billion. This figure was 6.9%, down from 2.63 Billion downloads in the same quarter of 2020. 
Indonesia registered 1.77 Billion Google Play downloads – third-highest among all national markets. The East Asian country saw a 2% dip from 1.81 Billion downloads in 2020.
With 1.35 Billion downloads, the United States was fourth on the list. In comparison, the US had 1.86 Billion downloads on the App Store during the same quarter in 2021. Interestingly, the US is the only developed to feature among the top five Google Play markets. Furthermore, the US is also the only country on this list to see a decline in numbers for two consecutive years. The US market had also seen a decline in its 2020 numbers. This trend indicates a shrinking Play Store market in the country.
Russia sits last among five nations with most Google Play downloads during Q3, 2021. The Russian market reduced from 1.15 Billion downloads to 1.12 downloads – a 2.9% decline.
When we compare this report to the respective App Store report, the United States and Russia are the only two countries to feature among the top five for both App Markets. China leads the App Store market with 1.93 Billion downloads in Quarter 3, but it doesn't feature in the Google Play Store.
Was this article helpful?