In the last couple of decades, the Premier League has established itself as the most powerful football league in the world. The top tier of English football is also the richest football league in the world. Hence, it shouldn't come as a surprise that it employs the top talent in the sport. 
The data presented by SafeBettingSites here confirms the same. According to the latest study, six of the ten most valuable players in football currently play in the Premier League. 
Six out Ten most valuable footballers represent Premier League clubs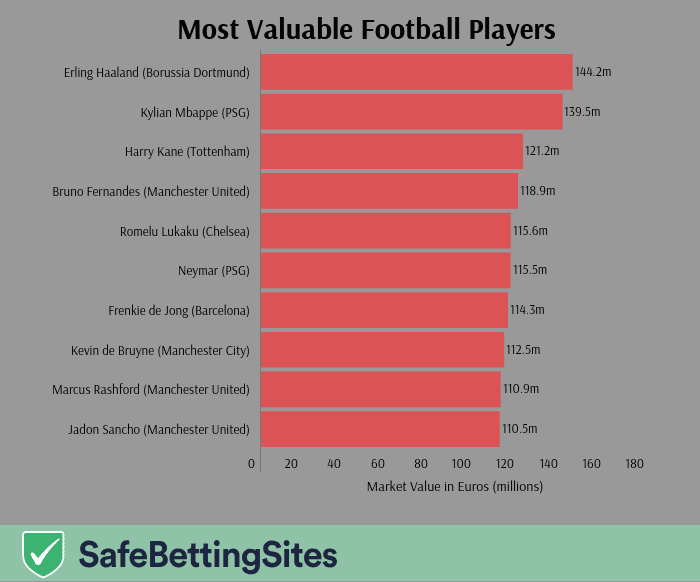 In its latest report, KPMG Football Benchmark has identified the ten most valuable players in the current football scene. The list of ten players is dominated by the Premier League, with six players from the league featuring in the list. The list also features two players from Ligue 1 and one player each from Bundesliga and La Liga. No player from Serie A has made the list.
Premier League side Manchester United has the most significant representation in the list with three players – Bruno Fernandes, Marcus Rashford, and Jadon Sancho. Ligue 1 giants Paris Saint-Germain are second in the list with Neymar and Kylian Mbappe.
According to the report, Erling Haaland of Borussia Dortmund is currently the most valuable footballer, valued at 144.2 million Euros. He is followed by Kylian Mbappe, at 139.5 million, who is out of contract in the summer of 2022. 
Surprisingly, no player from European superpowers Real Madrid and Bayern Munich feature in the list. However, that might change soon as both Haaland are expected to switch clubs soon.
Four out of five most expensive squads play in Premier League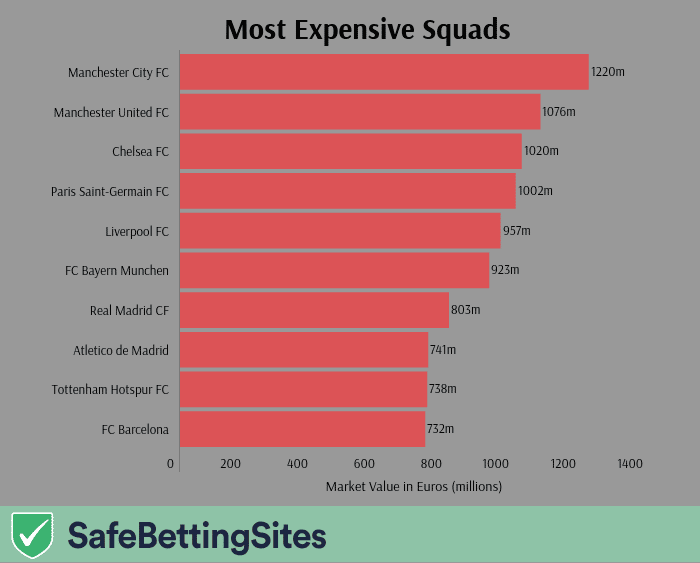 Premier League clubs continue their domination in terms of the most expensive squads in football. Four out of the top five and five out of the top ten expensive teams play in the Premier League.
The most-expensive non-Premier League squad belongs to Paris Saint-Germain. There are three clubs from La Liga on the list and one from Bundesliga.
Vyom Chaudhary, sports editor at Safe Betting Sites, commented: "These lists just goes on to show the financial might of Premier League clubs. There are only a handful of European clubs that can challenge the financial might of Premier League sides."
Was this article helpful?