Competitive video gaming has exploded over recent years. Esports matches are now played individually and as teams across the globe. Whether it be CS:GO, Fortnite, FIFA or League of Legends, millions follow the progress of organizations and professionals. Esports betting has now also hit the mainstream. Esports bets can be placed with some of the leading bookmakers available to customers in Singapore. On this page, we will list our favourite Esports betting sites. On top of this, we will explain how betting on Esports works.
Top Rated Singapore Betting Sites in 2023
The Best Esports Betting Sites in Singapore Reviewed
Below our experts have put together a review for each of the best Esports betting sites in Singapore. We will take a closer look at all their pros and cons and how they stack up against each other.
1. Lucky Block – The Best Esports Betting Site in Singapore Overall
Lucky Block is one of the newest online sportsbooks and casinos around but has already been making waves in the gambling industry, and has quickly built up a reputation as one of the best betting sites. It is licensed in Curacao and regulated by the Curacao Gaming Control Board. It boasts a sportsbook with over 30 sports and more than 15 eSports.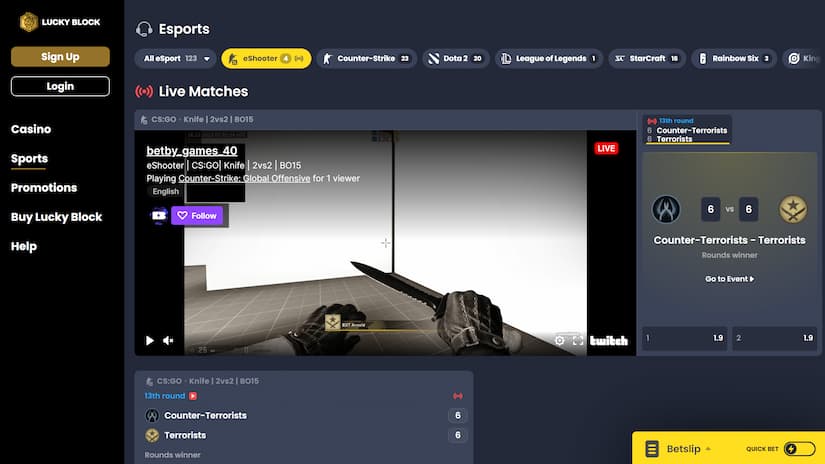 We rate Lucky Block as the best eSports betting site in Singapore for a variety of reasons. The first is the impressive number of games they have markets on. Most sites nowadays have a handful of esports offerings to bet on but at Lucky Block there are over 15 games including some of the most popular titles such as Dota 2, StarCraft, CS:GO, Valorant, and FIFA. There are plenty of different betting options on games as well, for instance, if you are betting on CS:GO you can bet on the outright winner, number of rounds, and winners of specific rounds.
Another reason it tops our list is you can stream selected matches directly from the website. In addition, they offer live betting with highly competitive odds on all eSports matches so you can watch the action unfold and bet on it at the same time.
It also has one of the best welcome bonuses around with new players automatically qualifying for a 200% welcome bonus and 50 free spins on Wanted Dead or a Wild.
The bonus is paid in 10 installments with a maximum of 10,000 EUR available to those who deposit 5,000 EUR (or crypto/fiat equivalent). The offer is valid only on the first deposit made in the casino, with the minimum deposit required 20 EUR.
So for example, a player who deposits 100 EUR will immediately receive free spins and 200 EUR in the bonus bank. And for every €600 you play for (win or loose), you get €20 paid out to your account from the bonus bank, until you have cleared the entire €200.
What we like:
Live streaming of Esports
Competitive odds
Speedy withdrawals
Impressive eSports selection
User-friendly interface
What we don't:
No streaming for traditional sports
How We Rank the Best Esports Betting Sites in Singapore
The number of Singapore betting sites available to punters offering Esports markets is increasing quickly. As a result, deciding which site to sign up on can be difficult. Luckily, our experts have done the hard work for you. Players can rest assured that our top ranked sites have undergone strict testing. During testing, we consider the following factors:
Is Betting on Esports Legal in Singapore?
Betting rules in Singapore are relatively strict. Up until 2014, there were no gambling laws in the country. However, the establishment of the Remote Gambling Act means that sports betting is illegal. It is only Singapore pools that have been deemed legal. However, with bookmakers based outside of Singapore still accepting residents, a loophole has been found.
As such, offshore Esports betting sites are a viable option for those looking to wager on their favourite teams and players. Such bookies hold gambling licenses from respected authorities, including in Malta, Gibraltar and Curacao. All of the sites listed on this page are regulated.
How Do Esports Betting Sites Compare in Terms of Games Covered
The number of Esports titles available to bet on differs between bookmakers. As a result, it is important to ensure that signing up on a particular site will enable you to bet on the titles you follow. The table below shows which Esports games covered by our top 5 Esports betting sites:
Best Esports Betting Odds
We have already outlined just how important odds are when betting on Esports. Players wish to know that they are taking advantage of the best prices online. It is worth noting that some bookies will perform better than others in this area. Of course, it is possible to sign up at a host of betting sites in Singapore. Based on a host of Esports markets, the following sites deliver the best odds on a consistent basis:
Best Esports to Bet On in Singapore
While there are hundreds of popular video games that are played professionally, not all are available to bet on. There are a handful of titles that grab the attention of both bookmakers and punters. Let's take a closer look at the most popular Esports titles to bet on:
Counter-Strike: Global Offensive
CS:GO is a multiplayer first-person shooter title from Valve. As the fourth title from the hugely popular Counter-Strike series, CS:GO was released in August 2012. Involving two teams, terrorists and counter-terrorists, the game involves rescuing hostages and defusing bombs. CS:GO is arguably the biggest Esports title, with teams competing around the world. The likes of Astralis, Fnatic and FaZe Clan regularly battle it out for the top prizes.
League of Legends
Another popular game is League of Legends. Released in 2009, the game comes from developer Riot Games. LoL Esports betting involves wagering on matches involving 10 players, in a 5v5 format. Each player controls a "champion" coming with unique skills. The League of Legends World CHampionships attracts over 100 million viewers, with Damwon Gaming having won in 2020.
Dota 2
As the sequel to Defence of the Ancients, Dota 2 was released in 2013. Dota 2 has a large Esports scene, headed by the Dota Pro Circuit. The International is another Dota 2 event, delivering the biggest prize pool in Esports history, at over $40 million. OG won in both 2018 and 2019. Dota 2 involves destroying the opposing teams "Ancient".
Call of Duty
Developer Activision launched Call of Duty in 2003, with a host of sequels having followed since. The first-person shooter title has sold over 400 million copies worldwide, demonstrating its popularity. Call of Duty Esports began in 2006, with the Call of Duty League featuring the biggest organizations from North America.
FIFA
FIFA is the biggest sports video game in the world. EA Sports launch a new title annually. The first edition came out in 1993, with the game being available on PlayStation, Xbox and PC. The FIFAe World Cup is part of the FIFA Global Series.
VALORANT
VALORANT may have only been released in June 2020, however it has made a significant impression on the Esports community already. In fact, many CS:GO pros have switched to VALORANT. The game comes from Riot Games, with the VALORANT Champions Tour attracting the biggest organizations.
Major Esports Tournaments and Leagues
Now that you know about the leading Esports games around, it is time to take a look at the tournaments and leagues which attract the most interest from punters. While new events are being established year after year, the following are the most popular:
The International
As we have already mentioned, The International comes with the biggest prize pool in Esports. The annual tournament is the biggest event in the Dota 2 scene. Teams battle it out to qualify for the main event, with only 18 places being up for grabs. The last three winners have been from Europe, with Team Liquid and OG having come out on top. The International was cancelled in 2020, with the 2021 event to take place in Bucharest, Romania. The event is hosted by Valve, the developer of Dota 2.
League of Legends Worlds
This annual tournament is the biggest in the League of Legends calendar. Hosted by Riot Games, the Worlds comes at the end of each season, with the winner lifting the famous Summoner's Cup. The venue changes annually, with T1 holding the record for the most wins. However, it was Damwon Gaming who came out on top last time around.
Overwatch League
The Overwatch League was launched in 2016 and continues to grow. Involving 20 teams, the Overwatch League is organised by Blizzard Entertainment. 11 of the 20 teams come from the US, while others come from China, Canada, South Korea, France and the UK. The San Francisco Shock has two wins, while the total prize pool for the event stands at $3.5 million.
Fortnite World Cup
Despite only being launched in 2017, Fortnite is one of the most popular video games around. The battle royale title from Epic Games now also has a thriving Esports scene. The Fortnite World Cup is the biggest event, with players competing in teams and solo. Some 2 million fans tuned in to watch the event last time out.
How to Bet on Esports
While real money betting is the most popular method of Esports betting, a handful of alternatives are available. The following are the most common methods of wagering available with Esports bookmakers:
Real Money Betting
This is the most traditional form of betting. Available with all online bookmakers, players use cash to place bets at the odds offered. Operating in the same way as soccer, tennis or horse racing, Esports real money betting involves betting on the winner of matches, maps and events.
Skin Betting
Skin betting involves wagering using in-game items. Available on an increasing number of specialist Esports sites, users can buy, sell and exchange items. However, it is worth noting that skins betting is not always regulated, potentially putting players at risk. Items up for grabs here include weapons and clothing.
Fantasy Betting
While not being regarded as betting by some, it is possible to build your own roster, made up by Esports professionals. Similar to fantasy football betting, those winning the highest number of points will win prizes. Points are awarded to those performing the best during Esports matches.
Challenge Betting
Here, players compete against each other using either real money or skins. Such bets are normally placed informally. However, some sites make placing such bets easier. Bets are settled after matches have taken place.
Esports Betting Bonuses
Many bookmakers now offer a specific welcome bonus for new Esports customers. Whether it be an Esports offer or a more generic sports betting offer, such bonuses are well worth taking advantage of in most cases. Of course, only claim a bonus if the qualifying conditions and terms and conditions are realistic. Having looked at the Esports betting bonuses awaiting punters in Singapore, the following are our favourites:
| | | |
| --- | --- | --- |
| Bookmaker | Esports bonus offer | Visit site |
| B8K | 150% Match Bonus Up To SGD 800 | Visit B8K Today |
| BetOnline | 50% Up To $1,000 | Visit BetOnline Today |
| Betwinner | 100% Up To €100 | Visit Betwinner Today |
5 Ultimate Esports Betting Tips
When betting on Esports, there are a number of steps that can be taken to maximise your chances of winning. The following Esports betting tips have been written by experts, so be sure to consider them before staking your hard earned cash:
Tip 1: Learn the Games
Before placing your first Esports bet, ensure that you understand the rules of the game. Different game modes, characters and formats are involved, which can all have an impact upon the result. We have provided the basics on this page. However, spend time becoming an Esports expert.
Tip 2: Keep Up to Date
The Esports industry is constantly evolving. Organizations make roster changes on a regular basis, while injuries also occur from time to time. So, be sure to keep up to date with the latest Esports news. Doing so will put you in the best possible position to back a winner.
Tip 3: Try Live Markets
As is the case with other sports, punters will often find success from in-play Esports markets. Here, odds are constantly changing, based on what is happening on the screen. Those who place bets at the right time will reap the rewards.
Tip 4: Live Streaming
Watching Esports matches live is exciting. However, it also has benefits when it comes to betting. Live streaming provides a greater insight into how matches are going. This includes which players are in form and which team may eventually come out on top.
Tip 5: Search for Value
Those with a good knowledge of Esports will be in a good position to find value. It could well be that you understand the teams and players involved better than the bookmakers themselves. So, take time to browse available markets and find attractive odds.
Bottom line on Singapore Esports Betting
The vast majority of leading betting sites in Singapore have recognized how popular Esports now is. Whether you are looking to bet on CS:GO, League of Legends, VALORANT, FIFA or other titles, our recommended sites will cater for your needs. With Esports growing quickly, with more money being invested daily, there has never been a better time to get involved. So, be sure to check out our top ranked Esports betting sites. Each comes with a generous welcome bonus, along with a number of additional features.
Best Sportsbook Online in Singapore
Unlimited Daily Cash Rebate On All Games


Unlimited Daily Cash Rebate On All Games


Free SGD12 for New Member
Safety In Mind, Play Win Volvo S90
Features On Bloomberg - Yahoo Finance
9.9
Claim Offer
To enjoy this special promotion, members have to select the "100% Welcome Bonus" option on the deposit form. Each member is only allowed to claim the bonus once.
Esports Betting Sites in Singapore FAQs
Which are the best Esports betting sites in Singapore?
Is Esports betting Singapore legal?
Can I watch Esports matches live online?
Are Esports promotions found at betting sites?
Can I do Esports money betting using cryptocurrency?