Welsh club Wrexham AFC is riding high on the wave of popularity following their recent takeover by Hollywood celebrities Ryan Reynolds and Rob Mcelhenney. Despite currently playing in League Two, Wrexham has accumulated a bigger following on social media than some of the current Premier League clubs. According to the numbers presented by SafeBettingSites.com, Wrexham's 1.1m follower base on Instagram is greater than seven current Premier League clubs.
1.1m followers on Instagram, greater than 35% of Premier League clubs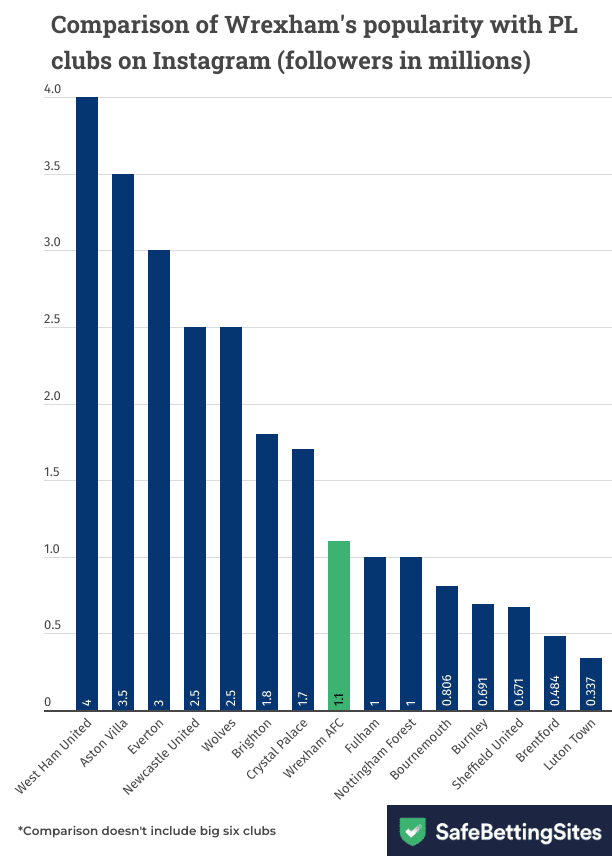 Wrexham AFC is arguably the most popular football club in the lower football leagues globally. The Welsh club shot in popularity following its much-popularized takeover in November 2020. Since then, Wrexham has secured promotion to League Two, fourth tier of English football, and has also birthed two seasons of popular TV series Welcome to Wrexham.
Wrexham's recent rise in popularity is evident from its impressive social media following. Wrexham's Instagram account has amassed 1.1m followers, which is greater than seven current Premier League clubs and comparable with all clubs in the league besides the big six.
Wrexham is currently more popular on Instagram than top-tier Premier League sides such as Fulham, Bournemouth, Nottingham Forest, Burnley, Sheffield United, Brentford, and Luton Town. Most of these clubs aren't established Premier League sides and have earned promotion to the top tier in the last couple of years.
However, somewhat established clubs such as Crystal Palace and Brighton & Hove Albion also have very comparable followings on their respective Instagram accounts.
A comparison of Wrexham's Instagram following with Championship clubs (second tier) further confirms the club's popularity. Only two clubs in the Championship, Leicester City and Southampton, have more followers than Wrexham on Instagram. Both of these sides were established Premier League sides until last season. Furthermore, Wrexham has also become Wales' most popular football club on social media, surpassing other famous clubs such as Cardiff City and Swansea City.
Vyom Chaudhary, editor at SafeBettingSites.com, said: "Currently, Wrexham are placed second in the League two table. Since the top three teams in the league earn automatic qualification to League One, the ongoing season could very well bring back-to-back promotions for the club. If things on and off the pitch continue to go according to the plan, Wrexham could soon become one of the most popular, if not successful clubs, in lower rungs of the English football."
Was this article helpful?