Al Nassr has become one of the most popular football brands on Instagram after signing Cristiano Ronaldo. According to the numbers presented by SafeBettingSites.com, the Saudi club was among the ten football clubs with the most fan engagement on Instagram during the past year. In terms of engagement per post, the club did even better and featured among the top five clubs.
Al Nassr got 272m engagements on Instagram in one year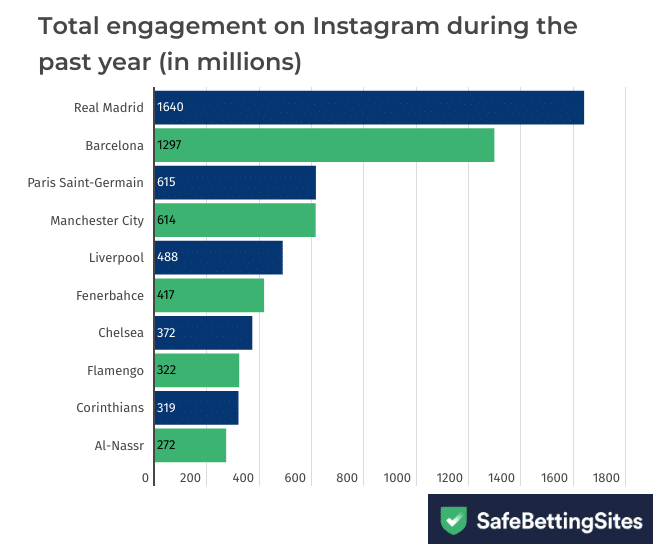 Al Nassr drove 272m engagements on Instagram during the past year (year ending on 23rd September). This claim comes from the latest football social media report from Football Benchmark. According to the report, the arrival of Cristiano Ronaldo at the club has made it one of the most popular football brands, at least on social media.
With 272m engagements, Al Nassr drove the tenth most engagements on Instagram among all the clubs. The Saudi club featured ahead of some globally popular clubs such as Manchester United, Bayern Munich, Arsenal, and Juventus.
Expectedly, Real Madrid and Barcelona occupied the top two spots with 1640m and 1297m engagements, respectively. These numbers put the two Spanish giants way ahead of the rest of the pack. Paris Saint-Germain featured in the third spot with 615m engagements, followed by two Premier League clubs, Manchester City and Liverpool, with 614m and 488m engagements on Instagram.
Turkish club Besiktas also boast a loyal fanbase on Instagram, as it generated 417m engagements. English giants Chelsea, in the seventh spot, drew 372m engagements. The next two spots were occupied by Brazilian clubs Flamengo and Corinthians, with 322m and 319m followers, respectively.
Al Nassr completed the top ten with 272m engagements on Instagram.
Al Nassr got 316k engagements per post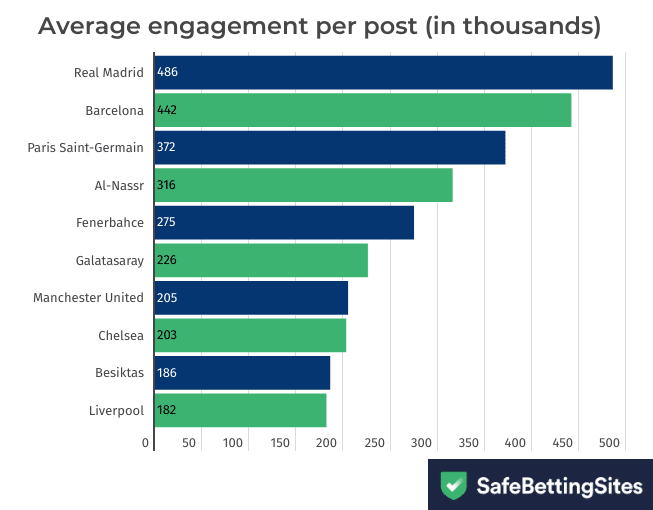 The Saudi club did even better when it comes to engagement per post. As per the report, Al Nassr got 316k engagements per post on Instagram during the past year. This level of engagement put them behind only Real Madrid (486k), Barcelona (442k), and Paris Saint-Germain(372k).
The big three Turkish clubs, Fenerbahce, Galatasaray, and Besiktas, all featured among the top ten clubs with the most engagement per post on Instagram.
Premier League clubs Manchester United, Chelsea, and Liverpool also featured in the top ten.
Was this article helpful?