ACL (Anterior Cruciate Ligament) injuries have created havoc in professional football and the Premier League. Ivan Persic of Tottenham has become the latest long-term ACL knee injury victim. As per the data gathered by SafeBettingSites.com, the Premier League has already seen five cruciate ligament ruptures since the start of the 2023-24 season.
ACL injury tally already exceeds last season's count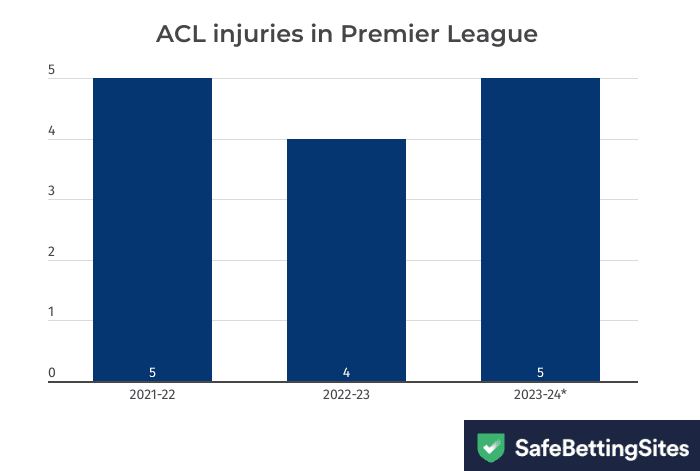 If early weeks are any indication, this could be a lengthy season for Premier League clubs and European football in general.
The new Premier League season is only five weeks old, and five players have already succumbed to long-term ACL (knee) injuries. In comparison, only four ACL injuries occurred throughout the 2022-23 Premier League. The year prior to that, the total count of ACL injuries was five.
Hence, it's evident to see that the frequency of ACL injuries has increased manifold in the opening weeks of the new season. In the Premier League, Emiliano Buendia of Aston Villa and Wesley Fofana of Chelsea succumbed to serious knee injuries during the pre-season. And since the start of the season, Tyrone Mings (Aston Villa), Jurrien Timber (Arsenal), and now Ivan Perisic (Tottenham) have also joined them on the treatment table due to similar injuries.
The ongoing ACL injury curse has not been limited to the Premier League and has afflicted other major leagues as well. The likes of Breel Embolo (Monaco), David Silva (Real Sociedad) and, Thibaut Courtois and Eder Militao (both Real Madrid) have also fallen victim to the same injury. For Silva, 37, it was a career ending injury as he was forced to call it quits on his professional football career.
Vyom Chaudhary, an editor at SafeBettingSites.com, said: "Anterior Cruciate Ligament injuries are arguably the most dreaded injuries in professional football. Players usually take up to a year to fully recover, and even after a full recovery, some players are never what they were before. Especially players in later stages of their careers. Hence, this sudden onslaught of ACL injuries is definitely a worrying new trend for clubs and national teams, and it could get worse once midweek European competitions kick in."
Was this article helpful?