The recent transfer outlay from Saudi Pro League clubs has attracted attention from all corners of the football world. Unsurprisingly, the Saudi league now boasts of the most expensive assembly of footballing stars outside the big five leagues. According to the numbers presented by SafeBettingSites.com, Al-Hilal's squad, which cost €382m in the market, is the most expensive football squad outside the big five leagues.
Four Saudi clubs feature among ten most expensive squads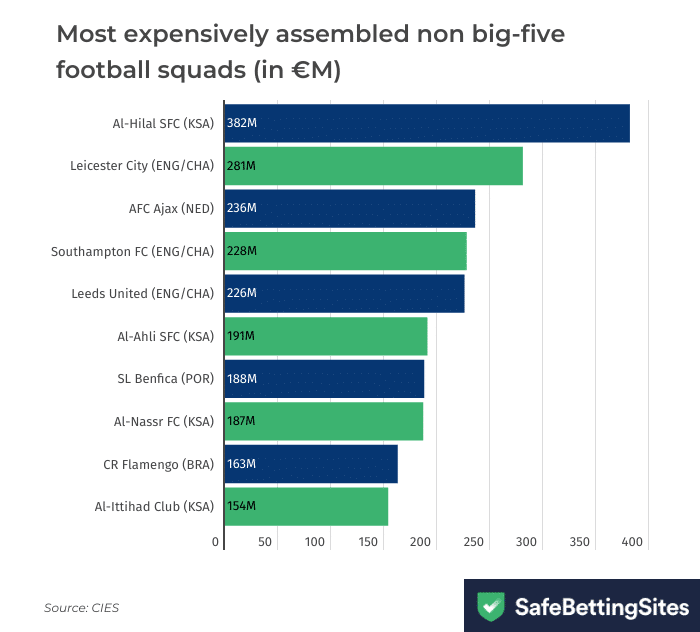 Championship, English football's second division, also boasts of three squads in our list. Unsurprisingly, all three Championship clubs were recently relegated from the Premier League, and their squad value is understandably higher than an average Championship club.
Despite their second-division status, Leicester City boasts of a €281m squad, which puts them in the second spot on our list.
Dutch giants Ajax are next with a squad that cost €236m in the transfer market. Thus, Ajax currently boasts of the most expensive European squad outside the big five leagues.
Ajax are followed by yet another two recently relegated clubs from the Premier League – Southampton and Leeds United. Despite selling most of their Premier League players for hefty profits, Southampton boasts of a €228m squad. Leeds United are next, and not far behind, with a €226m squad.
Al-Ahli is the next Saudi club on the list with a €191m squad. The Al-Ahli star-force boasts of names like Riyad Mahrez, Roberto Firmino, Edouard Mendy, Franck Kessie, and more.
Portuguese giants Benfica boast of the most expensive squad in Primeira Liga, valued at €188m. Ajax and Benfica are the only European clubs to feature on this list.
Saudi club Al-Nassr is eighth on the list with a €187m squad, which consists of names like Cristiano Ronaldo and Sadio Mane. Despite his mega contract, Ronaldo arrived on a free transfer, and thus his impact on squad valuation is negligible. 
Brazilian club Flamengo is next on the list with a €163m squad. Its notice-worthy that Flamengo has the most expensive assembly of players in both American continents.
Al-Ittihad finishes the list with a squad accumulated at the cost of €154m. Karim Benzema, N'Golo Kante, and Fabinho are the major recent recruits at the club. 
Was this article helpful?