Cristiano Ronaldo might not be playing in a popular football league anymore, but his popularity doesn't seem to subside. The Portuguese star continues to be the most popular footballer on social media and has also gained the most new fans during the past year. According to the numbers presented by SafeBettingSites.com, Ronaldo gained a whopping 144 million new followers during the past year.
Lionel Messi gained 6m less followers during the same time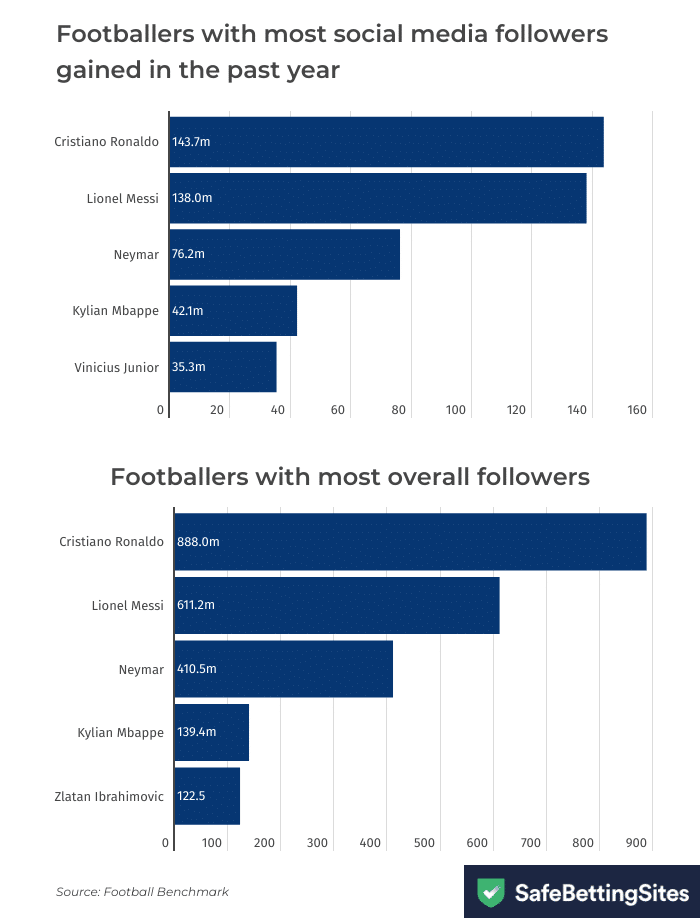 According to the social media data on Football Benchmark, Cristiano Ronaldo gained the most social media followers last year among all footballers. The Portuguese star added 144m new followers to take his total count to 888 million followers. The analysis covered popular social media platforms such as Facebook, Instagram, Twitter, YouTube, TikTok, and Weibo (during a year period ending on 3rd September).
Lionel Messi was the second on the list, with 138 million new followers during the same time period. The Argentinean, who is currently bamboozling football fans in MLS, has a total following of 611.2m. It must be noted that Messi doesn't have a presence on Twitter (X), which accounts for 109.5m followers of Ronaldo.
Neymar is third on the list, as 76.2 million new followers joined his social media accounts during the past year. Overall, his social media following has increased to 410.5m.
Ronaldo, Messi and Neymar have arguably been the three most popular footballers for more than a decade now. It's interesting to note that they are still attracting far greater numbers on social media than the younger stars. Furthermore, it's also interesting that none of the three most popular footballers play in Europe anymore.
Kylian Mbappe is the most popular footballer among the new age of footballers. He attracted 42.1m new followers to his tally during the past year, taking his overall tally to 139.4m followers.
Vinicius Junior of Real Madrid finishes the top five with 35.3m new followers. However, his overall number of followers is not enough to make the overall list of the top five most popular footballers on social media. Zlatan Ibrahimovic, with a total following of 122.5m, is the overall fifth most popular footballer on social media. In comparison, Vinicius Jr. has an overall following of just 80m.
Was this article helpful?