This time last year horse racing fans witnessed the US wonder horse FLIGHTLINE winning the Pacific Classic by a staggering 19 1/2 lengths (watch below) and he then went onto land the Breeders' Cup Classic in November.
That Keeneland race was also the last time we saw Flightline on the track and he ended his career unbeaten from 6 races with many horse racing lovers now comparing him to the classy 1973 US Triple Crown winner Secretariat.
Since then, we've had Frankel came along between 2010 and 2012 to win all 14 of his races and he now stands at the Banstead Manor Stud for £275,000, but the last 10 years have been void if a real superstar – until the John W. Sadler-trained Flightline in 2021-22.
His owners, Hronis Racing LLC, West Point Thoroughbreds et al (Flightline) have since shipped their superstar off to the Lane's End Farm Stud in Kentucky – standing for $200,0oo (£158,000) – still less than Frankel, but this could rise if the Flightline crop in the coming years perform well.
That fee is payable every time Flightline covers a mare and over the last year his owners have banked a cool £24m in the process – meaning the Breeders' Cup winner has been in action 120 times with the mares.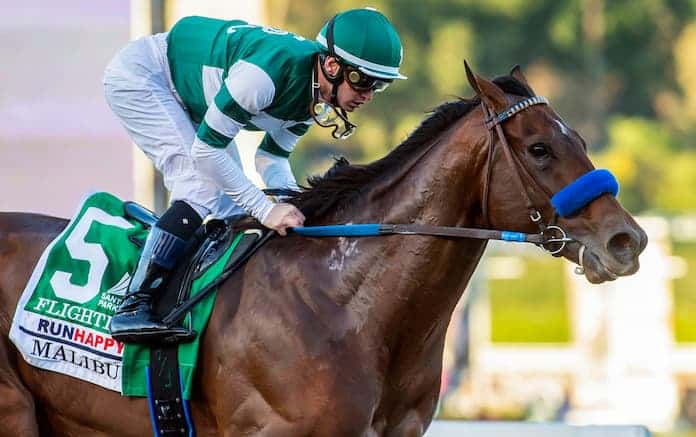 Flightline Has Banked 7 Times More Money At Stud Than When Racing
This figure dwarfs the £3,341,487 Flightline won in prize money during his 6-race winning spree so it's easy to see why owners of these equine wonder horses don't keep them in training longer than they have to.
With horses not able to run until they are 2 years-old, it will be another year of so until we see just how good the Flightline prodigy are and he'll be hoping to following the same direction as Frankel.
Frankel has produced 9 Group One winners since going to stud with one of his foals being bought for £3.1m.
Other big breeding names are Dubawi, who has seen his stock at stud rise over the years after many successes with his offspring. The Godolphin horse won 5 of his 8 career races, including the Irish 2000 Guineas and National Stakes – he stands at the Dalham Hall Stud for a cool £350,000 a time.
WATCH: Flightline Winning The 2022 Pacific Classic
Related Content:
The Best Horse Racing Betting Sites in the UK for September 2023~
What is the Placepot Bet – a Comprehensive Placepot Betting Guide
UK's Best Virtual Horse Racing Betting Sites in 2023
Best Betting Apps UK – Compare the Best Mobile Betting Apps 2023
UK's Best Football Live Betting Sites 2023
Betting Academy – Key Betting Terms Explained
Was this article helpful?