New guidelines regarding time wasting and protests from players in the Premier League have led to a flurry of red cards in the opening weeks of the new season. According to the numbers presented by SafeBettingSites.com, Premier League referees have, so far this season, issued red cards at a rate almost four times that of last season.
PL Referees are issuing a red every three games in 2023-24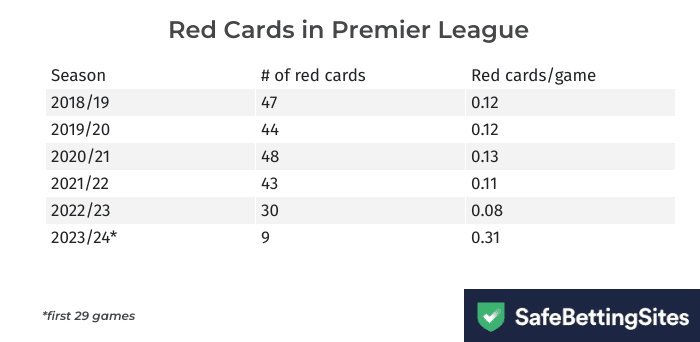 In the opening three weeks of the new season, the new style of Premier League refereeing has led to much discussion regarding time wasting and its subsequent consequences.
PL referees haven't been shy about penalising players for time wasting, and this has led to nine red cards in the opening 29 games of the season. In comparison, PL referees dished out a total of just 30 red cards during the entirety of the last season.
Last season witnessed a sharp drop in red cards shown in the Premier League. From 2018/19 to 2020/21, the number of red cards every season ranged between 43 and 48. On average, referees issued 0.11 to 0.13 red cards per game during the period. However, the number sharply declined to 30 red cards last season. Thirty red cards per season amounted to 0.08 per game, which was a massive drop from the previous years.
However, the league has taken a U-turn when it comes to red cards this season. As stated before, there have been nine red cards in just the first 29 games this season. Nine cards in 29 games make for an average of 0.31 red cards per game. Thus, the frequency of red cards this season has almost increased by four times, from 0.08/game to 0.31/game, when compared to the previous season. Even when we consider the period from 2018 to 2022, the rate of red cards this season has been more than double the rate during that time.
Vyom Chaudhary, a sports editor at SafeBettingSites.com, said: "Out of nine red cards this season, five have come via double yellow cards (time wasting being the main culprit). Some of these decisions have been rather soft and have come under heavy criticism. Thus, it would be interesting to see whether the Premier League refs would continue to take the similar hardline approach in the coming games."
Was this article helpful?