Fantasy Football players are busy giving the finishing touches to their teams as the new season of the Premier League is set to kick off. According to the numbers presented by SafeBettingSites.com, Erling Halaand is the overwhelmingly favourite PL footballer amongst fantasy football enthusiasts, with a whopping 86.5% selection rate.
Saka is second favourite with presence in 56.8% teams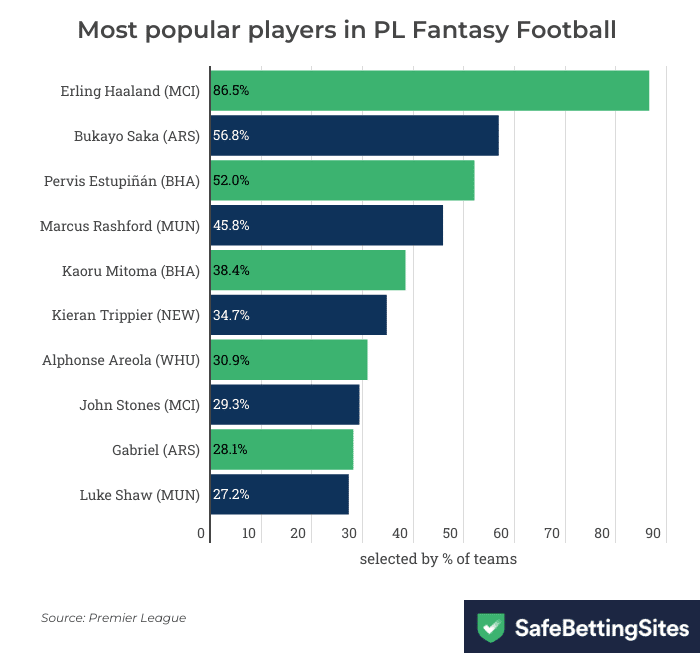 Erling Haaland is coming on the back of a massive season with City. He scored 36 goals and nine assists as he collected 272 points in fantasy football – the highest points total last season. Understandably, Haaland is an easy pick for the majority of fantasy football players despite his record price tag of £14m.
Saka also enjoyed an incredible season with Arsenal. The English youngster collected 202 points on the back of 14 goals and 12 assists. His availability as a midfielder makes him an attractive proposition at a moderate value of £8.5m, and he is present in 56.8% of teams.
Brighton fullback Pervis Estupiñan is the most famous defender amongst fantasy football players. He scored a goal and provided seven assists last season to collect 128 points. For £5m, he is currently present in 52% of fantasy football teams.
Marcus Rashford is next most popular, as he is present in 45.8% of teams. The Man Utd star is termed as a midfielder and is available for £9m. Last season, he accumulated 205 points. Karou Mitoma of Brighton is next, with his presence in 38.4% of teams. The Japanese star is available for £6.5m and is coming on the back of a 138-point season.
Kieran Trippier was a popular fantasy football pick, making 198 points last season. This season, he is priced at £6.5 and owned by 34.7% of players.
Surprisingly, Alphonse Areola of West Ham is the most popular keeper among fantasy football players this season. Areola only made one league appearance for the Hammers last season. However, he is expected to replace Lukasz Fabianksi as the number-one keeper. Furthermore, he is available for just £4m and has made his way into 30.9% of teams.
City defender John Stones and Arsenal defender Gabriel are next names on the list, with their respective presence in 29.3% and 28.1% of teams. Stones is available at £5.5m, and he made 93 fantasy points. In comparison, Gabriel is available at £5m and collected 146 points last season.
Luke Shaw of United completes the top ten with his presence in 27.2% of teams. He accumulated 124 points last season.
Was this article helpful?