There has been a massive push towards electric vehicles globally in recent years. However, when it comes to setting up the infrastructure for a shift towards the electric-powered automobile industry, China is doing far better than other nations. According to the numbers presented by SafeBettingSites.com, China has already installed 1.76 million functioning publicly available electric vehicle chargers. 
The United States has only 0.128 million charging points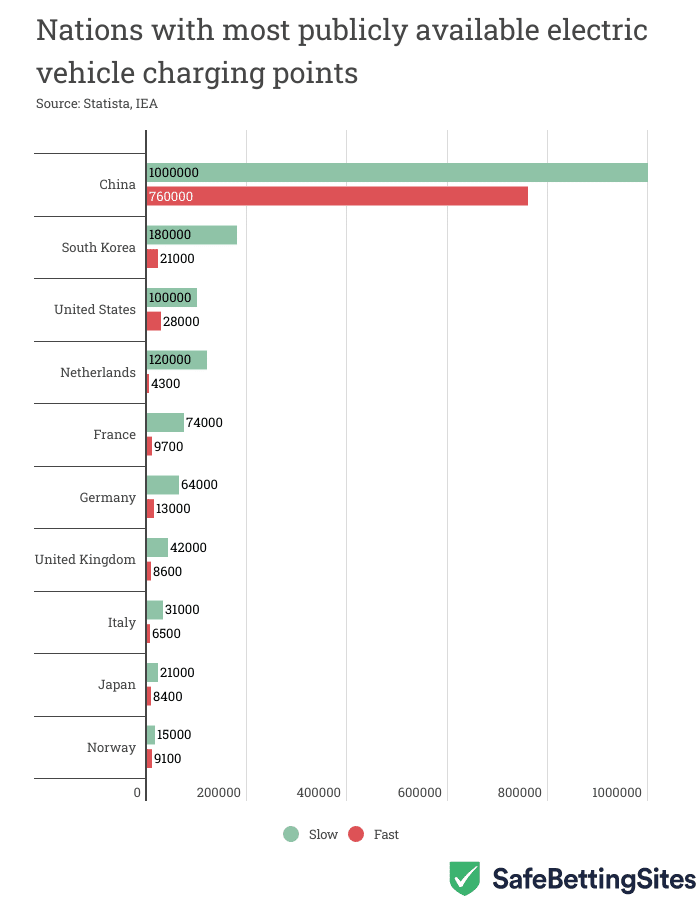 The latest data on the availability of publicly available charging stations suggests that China is doing far better than any other developed economy. As per the latest data from IEA via Statista, China has already installed 1.76 million charging stations for EVs. China also boasts of a healthy proportion of fast-charging stations too, as 760,000 charging stations out of the total have fast-charging capability. South Korea is far behind in the second spot with a total of 0.21 million (210,000) charging stations, but only 21,000 are capable of fast charging.
The United States is in the third spot worldwide, with a total of 128,000 publicly available charging stations. Thus, the number of electric charging stations in China is more than 14 times the number in the USA. If we look at the density of charging stations population-wise, China still outperforms the US, as the Chinese population is only slightly more than four times that of the US population. Furthermore, out of 128,000 charging stations in the US, only 28,000 are fast-charging ones.
The rest of the top ten list consists of Western European nations and Japan. The Netherlands and France are next, with 124,300 and 83,700 public charging stations, respectively. However, when it comes to fast charging stations, France has 9700 while the Netherlands has only 4300.
Germany and the United Kingdom are the next with 77,000 and 50,600 charging stations, respectively, followed by Italy with 37,500 stations. Japan and Norway complete the top ten with 29,400 and 24,100 charging stations. However, it is worth noting that Norway has more fast charging stations than several countries on the list.
It has been evident for some time that Electric Vehicles are the future of the automobile industry. In recent years, many countries have also announced incentives like subsidies to encourage customers to switch to EVs. However, no other country seems to be as equipped as China to usher in the electric era.
Was this article helpful?