Despite its less-than-impressive screen adaptations, Capcom's Resident Evil has been a popular gaming franchise since its debut in 1996. According to the numbers presented by SafeBettingSites.com, Resident Evil games have sold a total of 135m units. This makes the Resident Evil franchise the most popular among Capcom games.
Monster Hunter is second, with 90 million units sold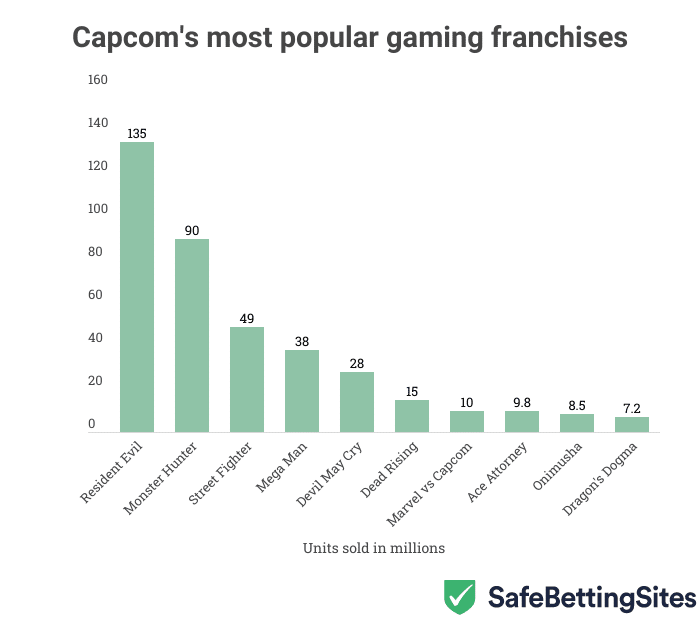 Capcom is one of the oldest and most popular companies in video game development and home to some extremely popular gaming series.
According to the company's official data, Resident Evil is currently the most popular Capcom franchise, with a combined 135 million units sold so far. The Resident Evil series has witnessed the release of some popular titles in the last few years. Resident Evil 7 Biohazard, released in 2017, is currently the best-selling title in the franchise, with 11.70 million units sold. Resident Evil 2, the remake released in 2019, is not far behind with 11.20 million units and is likely to become the best-selling Resident Evil soon. Meanwhile, Resident Evil Village, released in 2021, has already sold 7.41 million units in less than two years.
Monster Hunter is yet another popular franchise in the Capcom universe. In fact, Capcom's top two best-selling games are Monster Hunter games. However, Monster Hunter is in the second spot as a Capcom franchise with 90 million units sold, mainly due to fewer games than the Resident Evil series. Monster Hunter: World is currently the best-selling Capcom title, with 18.60 million units sold, followed by Monster Hunter Rise with 11.70 million units.
Capcom's fighting series Street Fighter is one of the oldest franchises in the company's catalogue. Street Fighter was originally released in 1987, and so far, the series has sold 49 million units. 
Mega Man is another legendary gaming series from Capcom which is particularly popular in Japan. The Mega Man series originally debuted in 1987, and it has sold 38 million units so far.
Capcom's popular hack-and-slash series Devil May Cry is next on the list, with 28 million units sold. Devil May Cry is a relatively new franchise which debuted in 2001. The series had seen moderate success until Devil May Cry 5, which proved to be a big hit for Capcom. Devil May Cry 5, released in 2019, has sold 6.5 million units yet.
Action-adventure game series Dead Rising has sold 15 million units. The series hasn't seen a new release since 2017. Capcom vs Marvel, another fighting series from Capcom, is next with 10 million units sold. This series also hasn't witnessed a new release since 2017.
The next three spots are occupied by Ace Attorney (9.8 million), Onimusha (8.5 million), and Dragon's Dogma (7.2 million).
Was this article helpful?