Cristiano Ronaldo might not have had the best year on the football pitch. However, Ronaldo's dwindling football career hasn't impacted his social media popularity. According to the numbers presented by SafeBettingSites.com, Ronaldo gained 169.8m new followers on his social media accounts during the past year. 
Lionel Messi gained 146.9m followers during the same time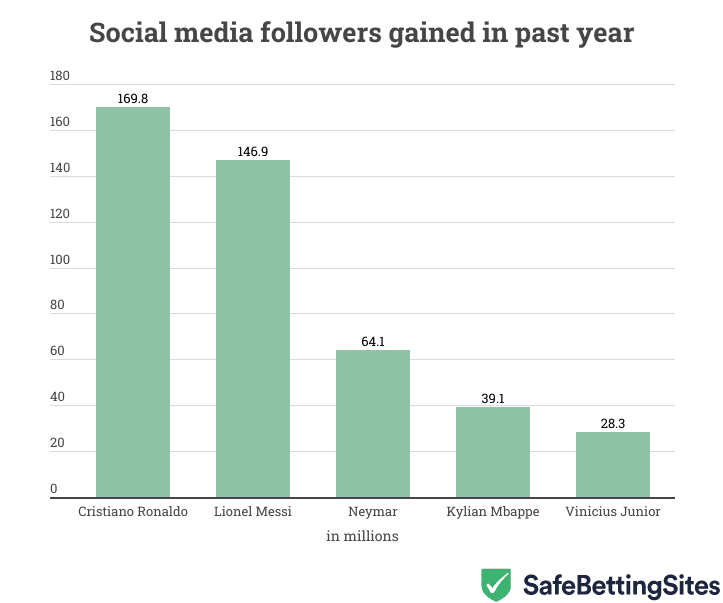 Despite his struggles at club and national levels, Cristiano Ronaldo was the most famous footballer this past year. According to Football Benchmark data, the Portuguese superstar gained a combined 169.8m followers on his various social media accounts. The data was gathered from 11/04/2022 to 11/04/2023 on Facebook, Instagram, TikTok, YouTube, and Weibo. Ronaldo, who is currently playing his football in Saudi Arabia, is also the overall most famous footballer on social media, with a total of 855 million followers.
Lionel Messi arguably enjoyed one of the best seasons of his career as he led Argentina to the World Cup title. The Paris Saint-Germain star might not have enjoyed equivalent success at the club level, but he did manage to stay in the limelight because of his World Cup heroics. He was equally prolific on social media, gaining 146.9m new followers. His total follower count stands at 579 million.
Brazilian superstar Neymar was a distant third with 64.1m new followers. The 31-year-old had a disappointing season overall as Brazil and PSG crashed out prematurely of the World Cup and Champions League, respectively. However, his popularity hasn't taken a hit, and he continues to be a superstar. Overall, Neymar has 403m followers on all his accounts, making him the third most popular footballer on social media.
His PSG teammate Kylian Mbappe follows Neymar. Mbappe is arguably the next football superstar in the making, but he hasn't reached the popularity levels of Ronaldo and Messi yet. The Frenchman added 39.1m new followers to his accounts last year. He has a total of 132.5m followers so far.
Real Madrid star Vinicius Junior has burst onto the scene in the past few years. The Brazilian is not yet among the most popular footballers on social media, but he did gain an impressive amount last year. Vinicius has a total of 62.6m followers, of which 28.3m have come in the previous year alone.
Was this article helpful?