In recent years, video streaming platforms have substantially shifted towards advertising-based revenue models. According to the numbers presented by SafeBettingSites.com, OTT video platforms generated $177.5 billion in revenue from advertisements in 2022. Ad revenue accounted for 65% of the total revenue generated by OTT video platforms last year.
Subscription revenue share fell to 30% in 2022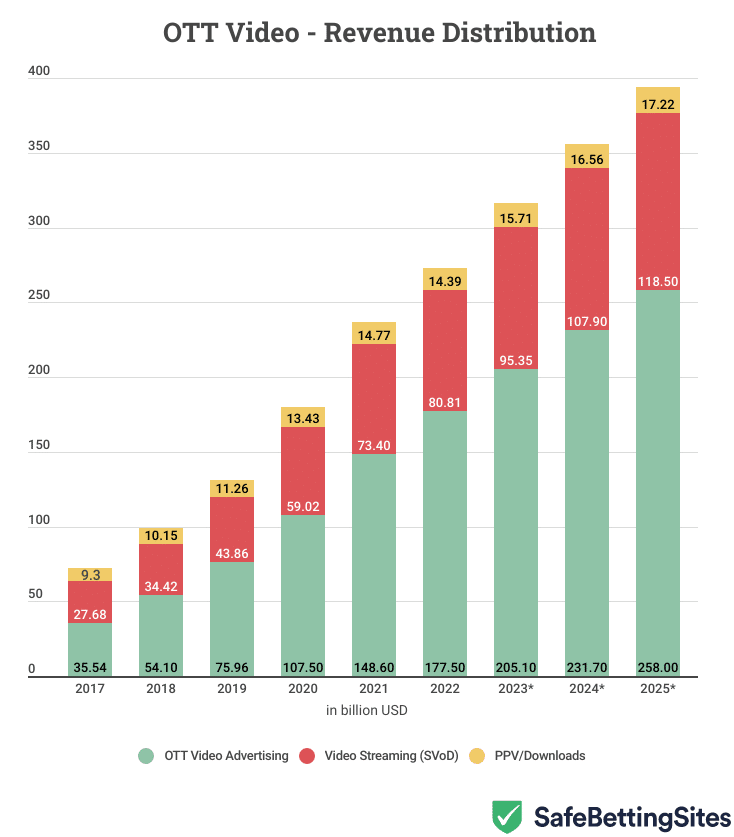 Dwindling profits and increasing competition have forced OTT video platforms to search for alternative sources of revenue. Some popular OTT platforms, such as Hulu, have always supported ads, while some, like Netflix, have recently introduced ad subscription plans. Nevertheless, it's evident that the OTT ecosystem is headed towards a direction where ads for slots and the like are likely to become a norm in video streaming.
As per the latest Statista report on OTT viewing, OTT platforms have started making more money through ads in recent years. In 2017, ads brought in $35.54 billion in revenue, whereas subscription-based VoD services brought in $27.68 billion. Thus, in 2017, ad income contributed to 49% of the total revenue, and subscription fees accounted for 38%.
In 2022, ads brought in $177.50 billion, making up 65% of the total revenue, whereas platforms made only $80.81 billion from subscriptions which accounted for 30% of revenue. 
When we look at the growth of individual segments, revenue ads increased from $35.54 billion in 2017 to $177.5 billion in 2022. This increase indicates a gain of almost 400% in ad revenues over a period of five years. Meanwhile, SVoD revenue grew from $27.68 billion to $80.81 billion during the same period, signifying very little room for growth in future. 
According to future estimates, the growth in ad revenue is expected to slow down in the next few years. However, ad revenue will continue to grow at a better rate than subscription revenue.
Share of ad revenue grew from 49% to 65% in five years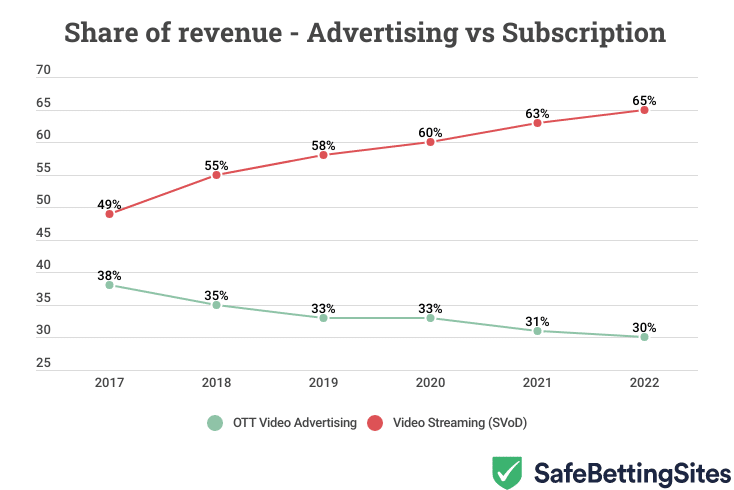 The above graph clearly explains the shift the OTT industry has undergone in recent years. OTT platforms have become increasingly dependent on ads for their revenue. The share of overall revenue from ads has increased from 49% in 2017 to 65% in 2022. Hence, two-thirds of the money produced by OTT platforms came from ads last year. Meanwhile, the share from subscription fees has decreased from 38% to 30%. 
Was this article helpful?