Influencer marketing on social media has become essential for multiple brands in recent years. According to the numbers presented by SafeBettingSites.com, the Spanish fashion brand Zara (besides Instagram itself) was the most popular among Instagram influencers in 2022. Overall, Zara was mentioned by 664,000 Instagram influencers past year.
Shein second most popular with mentions from 57.2k influencers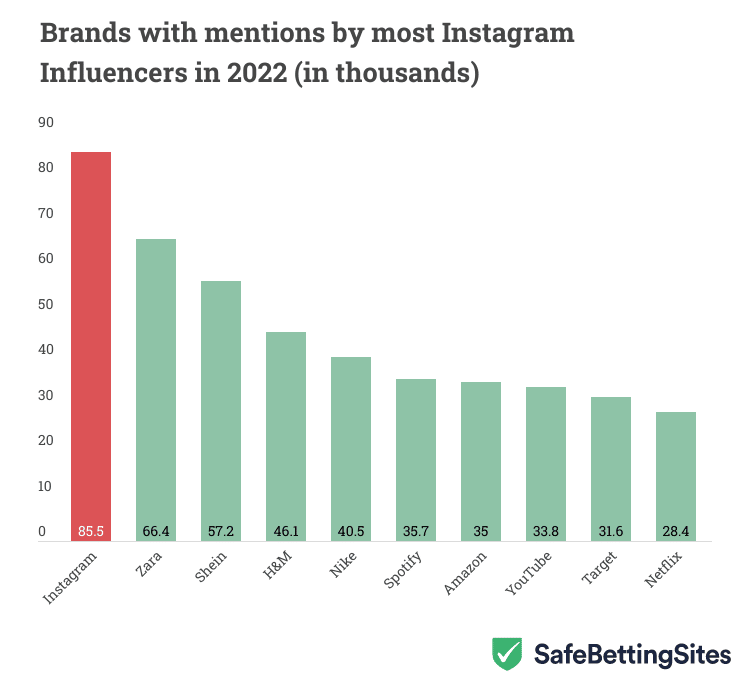 Influencer marketing is still in its early stage, but it has become highly crucial to some industries. However, it wouldn't be wrong to say that social media influencer marketing is more critical to some brands than others. Generally, fashion and tech brands benefit most from influencer marketing, which is evident from the list of ten brands that received the most exposure on Instagram in 2022.
Understandably, Instagram itself received the most mentions from influencers on the social media platform. According to the data available on Statista.com, Instagram received mentions from 85,500 different influencers in 2022. Among external brands, Zara was the most popular, with mentions from 66,400 influencers.
After Instagram and Zara, fashion brand Shein was most popular on the popular social media platform. 57,200 Instagram influencers mentioned the Chinese fast fashion retailer in 2022.  
Famous Swedish clothing company H&M also enjoys strong popularity on social media. According to the data, 46,100 Instagram influencers mentioned H&M in their posts in 2022. American sportswear giant Nike was just a little behind with mentions from 40,500 influencers on Instagram.
Swedish audio streaming Spotify was the next famous brand on Instagram in 2022. If one doesn't consider Instagram itself, that makes Spotify the most popular non-fashion/clothing brand among Instagram influencers. 35,700 Instagram influencers mentioned Spotify. E-Commerce giant Amazon was just behind Spotify with mentions from 35,000 influencers in 2022.
Besides Spotify and Amazon, the video streaming platform YouTube is another famous tech brand on Instagram. YouTube found mentions from 33,800 influencers in 2022.
US-based popular retailer Target was the next popular brand, with mentions from 31,600 influencers. Target was also the only brand that was not a traditional fashion/clothing brand or a tech brand to make the list of the ten most popular brands on Instagram.
Popular streaming brand Netflix was the tenth most popular brand among Instagram influencers in 2022. Netflix received mentions from 28,400 influencers.
Was this article helpful?