The public cloud market is witnessing a healthy growth. According to the numbers presented by SafeBettingSites.com, the public cloud market is expected to earn $398 billion in revenue in 2022. Compared to the previous calendar year, the cloud industry will witness a 20% growth in revenue in 2022.
Annual revenue to reach $835 billion by 2026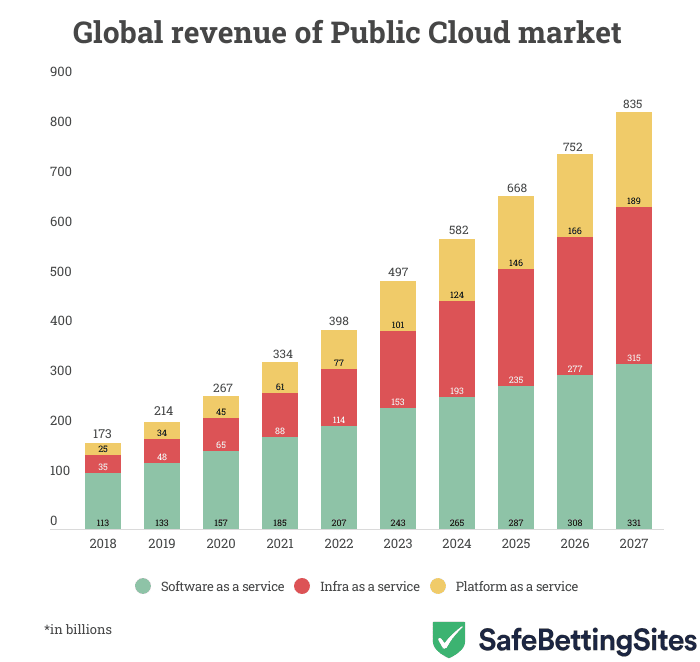 According to the data provided by Statista, the public cloud market is expected to grow at a Compound-Annual Growth Rate (CAGR) of 22% from 2016 to 2027. In 2018, the public cloud industry brought in just $173 billion in revenue. By 2021, this figure had almost doubled to $334 billion. The annual revenue is expected to increase further to $398 billion this year, indicating a Y-o-Y growth of 20%. Furthermore, if the industry continues to grow at the estimated rate, it will fetch annual revenue of $835 billion in 2026.
In addition to healthy growth, the public industry is also undergoing an evolution. Previously, software-as-a-service (SaaS) cloud services generated most of the revenue. However, the popularity of Saas services has consistently declined since then, while Infra-as-a-service (IAAS) and Platform-as-a-service (Paas) have become increasingly popular. The same trend is expected to continue in the coming years. In 2018, SaaS services generated $113 billion out of the total figure of $173 billion. By 2028, Saas services are expected to contribute just $331 billion out of the total estimated figure of $835 billion.
In comparison, IaaS services made up just $35 billion of $173 billion. However, by 2028, IaaS services would generate almost as much revenue as SaaS services. We look further into this changing landscape of the public cloud industry in the next section.
Share of SaaS services to decrease from 65% to 39%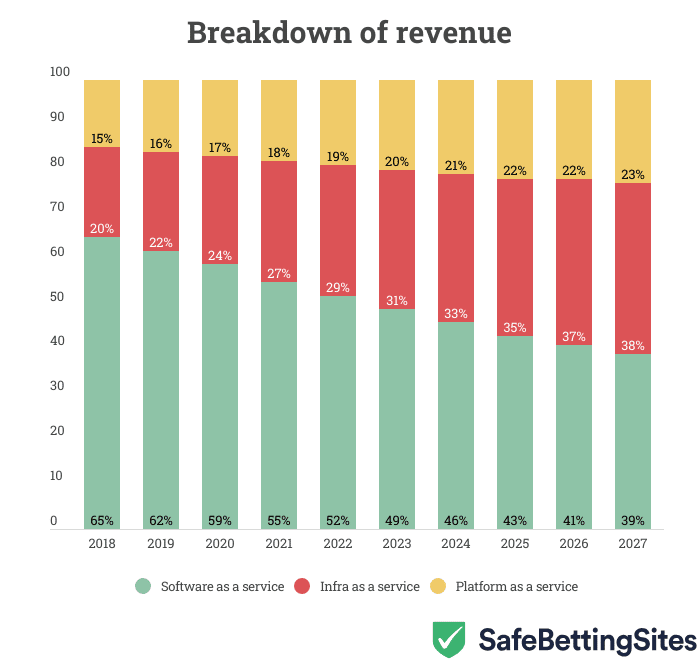 As the graph suggests, the popularity of SaaS services is declining while IaaS services are witnessing massive growth. The share of PaaS services is also increasing, albeit at a slower rate.
SaaS services' share of revenue is expected to go down from 65% in 2018 to 39% in 2028. Meanwhile, the percentage of income from IaaS services is expected to grow from 20% to 38% during the same period. For PaaS services, the share is expected to increase from 15% to 23%.
Regarding individual services, Amazon Web Services currently holds the most significant share, followed by Microsoft 365 and Google.
Was this article helpful?