Alien Worlds continues to be the most popular NFT game. According to the figures presented by SafeBettingSites.com, the game had 1.1M users during the last month. The game is a decentralised Metaverse which is built on WAX and Binance Smart Chain (BSC).
Axie Infinity in the second spot with 0.66M monthly users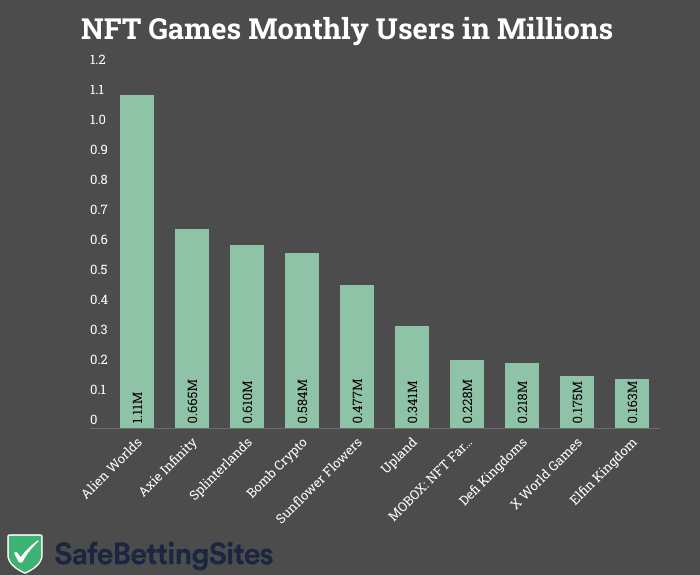 According to figures from dappradar.com, Alien Worlds maintained its firm grip on the top spot despite witnessing a 29% decline in its monthly numbers. As we mentioned before, 1.11M users played the game in the last 30 days.
Axie Infinity, built on RONIN and Ethereum networks, is the second-most popular NFT game with 664,700 monthly users. The game, in existence since 2018, is developed by Vietnamese studio Sky Mavis and it saw a 19.78% decline in its numbers.
Trading card game Hinterlands sit in the third spot with 610,500 users. Like the first two games, Hinterlands saw a decline in its numbers. Its numbers reduced by 8.11%
Bomb Crypto continues its march up the charts. The game, built on BSC, saw 583,650 users last month, an increase of 60.17%. The game was launched on 30th September. 
The recently-released Sunflower Farmers has already accumulated 477,090 monthly users. The game, built on Polygon, was released during the last part of December. The game has already caused congestion on Polygon's network, and it has caused a steep hike in gas fees.
EOS-based Upland sits in the sixth spot with 341,280 monthly users. Upland is a virtual property trading game which allows users to buy real-world properties digitally. The game, launched in January-2020, witnessed a 53.31% increase in its numbers.
MOBOX: NFT Farmer, on Binance Smart Chain,  is seventh with 228,430 monthly users. This game has seen a 32.12% increase in its numbers. Defi Kingdoms take the eighth spot with 217,580 monthly users. It's the only game built on Harmony blockchain in the top ten.
In ninth place, X World Games had 174,650 users last month. It saw a significant increase of 61.83% in its user-base since the month before. The top-ten was completed by Elfin Kingdom with 162,840 users. The recently released game has quickly made its way into the top-ten. Both of these games are on Binance Smart Chain.
The huge numbers of players games like Alien Worlds attract highlight just how popular crypto and NFT games are these days, with new GameFi projects launching through crypto presales every week.
Was this article helpful?