In 2020, Tencent Holdings went on an acquisition spree, securing more deals than any other studio. According to the research data analyzed and published by Safe Betting Sites India, the Chinese tech giant invested in 31 companies in the gaming industry during the year.
That was four times the number of merger and acquisition (M&A) deals closed in 2017. Compared to 2019, it marked a remarkable 300% increase.
The deals included a vibrant mix of mergers, acquisitions, funding rounds, minor and major stakes. Twenty three of the 31 deals involved are companies in China while the rest are based overseas.
Leyou Technology's acquisition at $1.5 billion was the highest valued transaction. Tencent also took part in Roblox' $150 million Series G funding round and a $100 million series B round in VSPN. Additionally, it made an $810 million investment in the merger between Huya and DouYu.
There was a shift in the company's M&A strategy, which in the past seemed conservative as it prioritized established companies. In 2020, it was more proactive, focusing more on smaller or early-stage companies.
All in all, Tencent took part in over 170 funding rounds in 2020 according to Chinese database IT Juzi. These investments were valued at a cumulative 249.5 million yuan ($38 million). For Tencent's investment team, that was the most active year in history.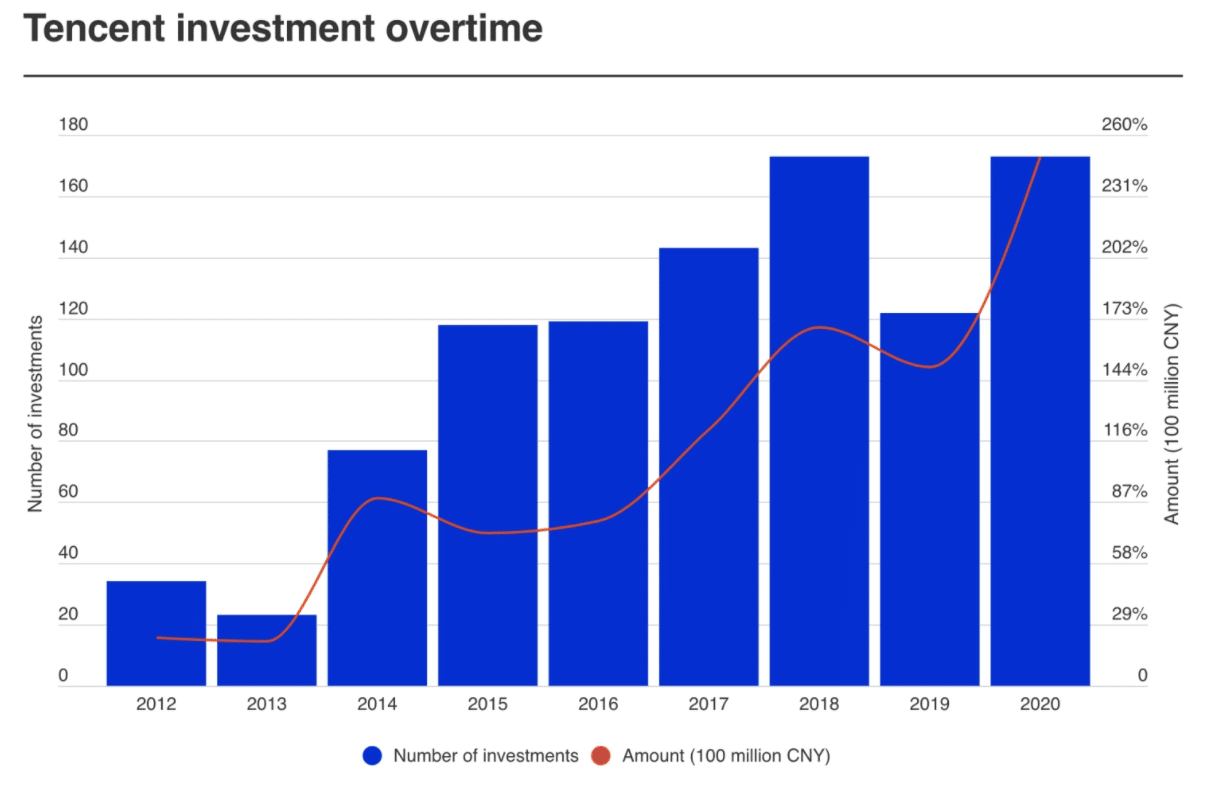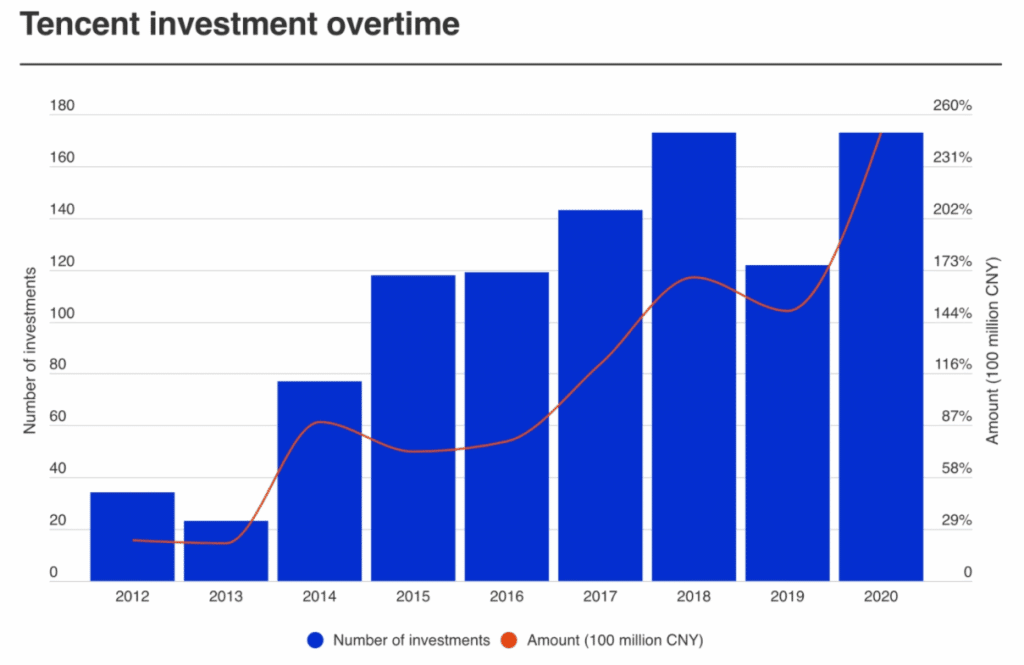 Tencent set up an investment unit in 2008 and since 2015, it has been funding over 100 companies every year. Over the previous decade, the team has delivered remarkably. More than 70 companies from the 800-strong portfolio had gone public by January 2020. Over 160 of them had valuations of more than $100 million.
The Shenzhen-based company draws about a third of its revenue from the gaming industry. Although its investment focuses primarily on the gaming sector, it has diversified the portfolio into other arenas as well. These include fintech and cloud computing among other sectors.
Bytedance's Revenue More than Doubled to $37 Billion in 2020
According to the Niko Partners' report, Tencent's change in M&A strategy was attributed to the increasing competition in the Chinese gaming scene. Though the Niko report highlights that Tencent is not in danger of losing the top spot, pressure is mounting.
Rivals ByteDance and Alibaba have in the recent past made significant strides to gain a hold on the gaming industry.
According to The Information, ByteDance more than doubled its revenue in 2020 to around $37 billion. Operating profit rose by about 1.3 times from under $4 billion in 2019 to $7 billion.
Remarkable growth in ad sales from its Chinese apps offset the effects of India's TikTok ban and the threat of a US ban.
On Douyin, the Chinese version of TikTok, approximately 50% of its revenue came from gaming-related advertising. At the end of 2020, ByteDance had 29 gaming-related companies and a dozen game studios.
Alibaba's Lingxi Platform Revenue Hit about $1 Billion in 2020
Alibaba is also making inroads into the gaming industry via Lingxi Interactive, its gaming subsidiary. At the beginning of December 2020, Romance of the Three Kingdoms: Strategy Edition was the fourth highest grossing iOS game in China.
For perspective, Tencent had four entries in the top ten highest grossing iOS games in China at the time. Though Lingxi has launched a number of games, it gained mainstream attention after the launch of Romance of the Three Kingdoms.
The gaming platform was moved from the Innovations Initiative segment to Digital Media and Entertainment in FY21 Q1 (April to June 2020). Though Alibaba does not disclose the platform's revenue separately, comparing the two segments' performance provides useful insights.
Prior to the transfer, Innovations and Initiatives posted 1.86 billion yuan as revenue in Q3 FY20. The figure rose to 2.29 billion yuan in Q4 FY20. Following the move, revenue dropped to 1.09 billion yuan in Q1 FY21 before rising to 1.17 billion yuan in Q2 FY21.
Under Digital Media and Entertainment, Q3 FY20 revenue was 7.4 billion yuan. It dropped to 5.94 billion yuan in Q4 FY20. After Lingxi was moved, it rose to 6.99 billion yuan in Q1 FY21, and then to 8.07 billion yuan in Q2 FY21.
Based on the foregoing, it appears that the mobile gaming segment generates about 1 billion yuan ($152 million) on average every quarter. According to Alibaba, Romance of the Kingdom generated 3.7 billion yuan ($563 million) in the first six months of 2020.
Therefore, Lingxi could have generated approximately $1 billion in revenue during the year. Though that is a good figure, it is a tiny fraction of the 41.4 billion yuan ($6.3 billion) revenue that Tencent got from its online gaming segment in Q3 2020 alone.
Was this article helpful?