The gaming industry had a great October with overall consumer spending up by 14% year-over-year (YoY) to $10.6 billion according to Super Data research.
According to the research data analyzed and published by Safe Betting Sites, console spending saw the fastest growth, outperforming the whole industry with an increase of 18% YoY in earnings. Comparatively, mobile spending increased by 15% while PC spending rose by 10%.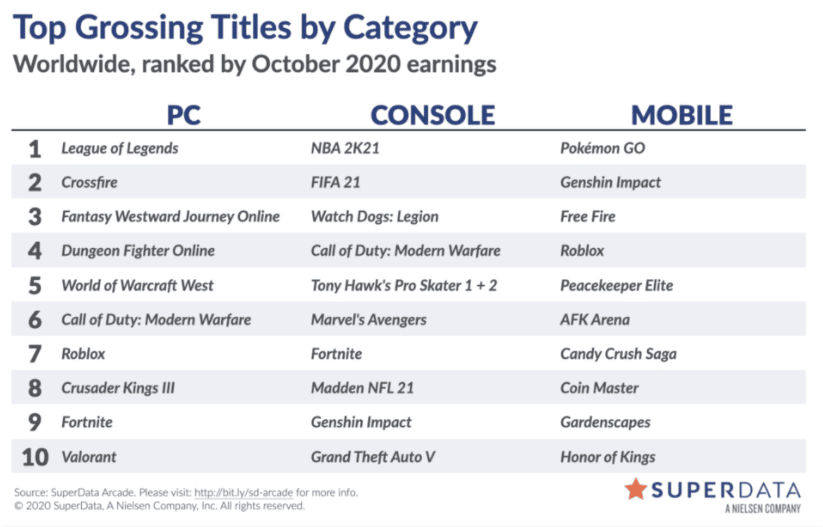 The surge in console spending came as a surprise considering that all major gaming titles for the holiday season were set to be released in November 2020. Call of Duty: Modern Warfare was the only exception, as it was released in October.
The remarkable increase in console spending has to do with the rising popularity of subscription gaming services. Platform holders and publishers are continually shifting to this model so as to ensure a recurring revenue stream.
As a result of this, the combined revenue of PlayStation Now, Xbox Game Pass and EA Play shot up a remarkable 142% YoY in October 2020. Moreover, subscriber numbers increased by 113%. The majority of growth experienced in both revenue and subscriber numbers came from the Xbox Game Pass.
New Generation Xbox Series to Sell 3.8 Million Units in 2020 against PS5's 5 Million
Both Microsoft and Sony released new video game consoles in mid-November 2020. Microsoft's new models were the Xbox Series X at $500 and Series S which costs $300. Similarly, Sony had two PlayStation models, with $400 as the starting price.
The two giants released their previous console generations in 2013. Xbox One shipped 3.8 million units at the time while PS4 shipped 4.2 million units according to IDC.
In a bid to stand out from the competition, Microsoft is offering its online subscription service, Xbox Game Pass at $10 monthly. Users get access to a catalog of over 100 games available for download, spanning all previous console generations. Just like Netflix, the service will get new titles over time. Comparatively, Sony's service PlayStation Plus Collection offers access to 20 PS 4 games for a $5 monthly subscription fee.
Furthermore, Microsoft went on an acquisition spree and now has 23 game development studios on board. The number of studios has increased from 11 in 2018 and is bigger than Sony's 14 studios.
According to IDC, however, Sony is expected to have the upper hand in 2020. It estimates the total PS 5 console sales to reach 5 million. Comparatively, it estimates Microsoft Series X and S sales will total 3.8 million.
The different strategies of the two manufacturers emerge clearly when looking at their monthly active users (MAU) data. According to a Newzoo report, console exclusives took four top spots in the top 10 most played games on PS5 as of November 15, 2020. For Xbox players, 50% of the top 10 most played titles for the same period were part of Game Pass.
These trends highlighted Sony's emphasis on exclusive titles and Microsoft's leaning towards a strong Game Pass content offering.
Console Games to Generate $51.2 Billion, Up from Previous Forecast's $45.2 Billion
Based on the latest Newzoo forecast for the gaming industry, console games are anticipated to generate $51.2 billion. This is a significant increase from the previous forecast of $45.2 billion.
It is noteworthy that this new figure will translate to a 21.0% YoY growth rate, more than double the previous forecast. Due to the pandemic, there was no slowdown in console growth prior to the release of the new generation models, as is typically the case.
The Newzoo report also highlights that during H1 2020, console revenues from publicly listed companies grew by more than 30% in H1 2020. In all major regions, it grew by more than 20% YoY, in tandem with publicly listed companies.
Engagement in the overall gaming industry has increased considerably and it is expected to grow by 19.6% to reach $174.9 billion in 2020. The figure is $15.6 billion higher than Newzoo's previous forecast.
Moreover, the market is expected to continue growing, reaching $217.9 billion by 2023. That would be a compound annual growth rate (CAGR) of 9.4% between 2018 and 2023 and much higher than the previous estimate of $200.8 billion.
Mobile gaming is also anticipated to grow at a much higher rate than previously forecast. Instead of the $77.2 billion it was previously expected to generate, Newzoo projects that it will generate $86.3 billion.
For PC games, the change is not as striking. It is now estimated to generate $37.4 billion, up from the previously stated $36.9 billion.
Mobile gaming will remain the largest segment both in terms of revenue and growth. This is courtesy of its low entry barrier and the widespread availability of mobile phones.
Was this article helpful?