Mobile game spending in Q3 2020 has maintained the momentum seen in Q2 2020. According to the research data analyzed and published by Safe Betting Sites, global consumer spending on mobile games surged by 26.7% during the period to reach $20.9 billion.
Over half of this amount came from the Apple App Store which reported $12.4 billion in in-game spending. Compared to the previous year's quarter, that marked an increase of 24%.  On the other hand, Google's Play Store contributed $8.5 billion to the total. However, its year-over-year (YoY) increase was higher, which was at 30.8%.
It is interesting to note that during Q2 2020, the increase in overall mobile game spending was 27%. The total revenue reported across both stores at the time was $19.3 billion. During the previous quarter, Q1 2020, total revenue was $17.5 billion, marking a 16% increase YoY.
During Q3 2020, it is noteworthy that the global app revenue increased at a higher rate than gaming revenue. Worldwide spending on mobile apps was $29.3 billion across both stores, marking a 32% rise YoY.
On the Apple app store, overall consumer spending surged by 31% to reach $19 billion. Once again, Play Store recorded a higher growth rate of 33.8% YoY, reaching a total of $10.3 billion.
According to App Annie, there was an increase of 25% in the amount of time spent on mobile apps each month during Q3 2020. Each of the three months saw consumers spending upwards of 180 billion hours.
App Annie projects that by the end of 2020, consumer spending on mobile games will be more than 2.8x that of desktop. In comparison to console spending, it will be at least 3.1x higher.
First-Time Mobile Game Installs Soar by 28% in Q3 2020 as Among Us Downloads Grow by 13x YoY
Driving this growth was a massive surge in downloads, as first-time installs shot up by 28% YoY to hit 14.2 billion across the two stores. Google Play took the lion's share of installs, which totaled 11.9 billion. Comparatively, in Q3 2019, it had 8.7 billion installs. As such, the growth rate was 36.8% YoY.
On the other hand, the App Store reported a slight decline in installs, going from 2.4 billion in Q3 2019 to 2.3 billion in Q3 2020. The 4.2% YoY decline was attributed to a drop in installs on the App Store in China. Notably, first-time installs increased slightly outside of China.
According to App Annie, the average number of weekly game downloads surged by 15% YoY in Q3 2020. For the second month in a row, there were around 1 billion installs taking place every week throughout the three-month period.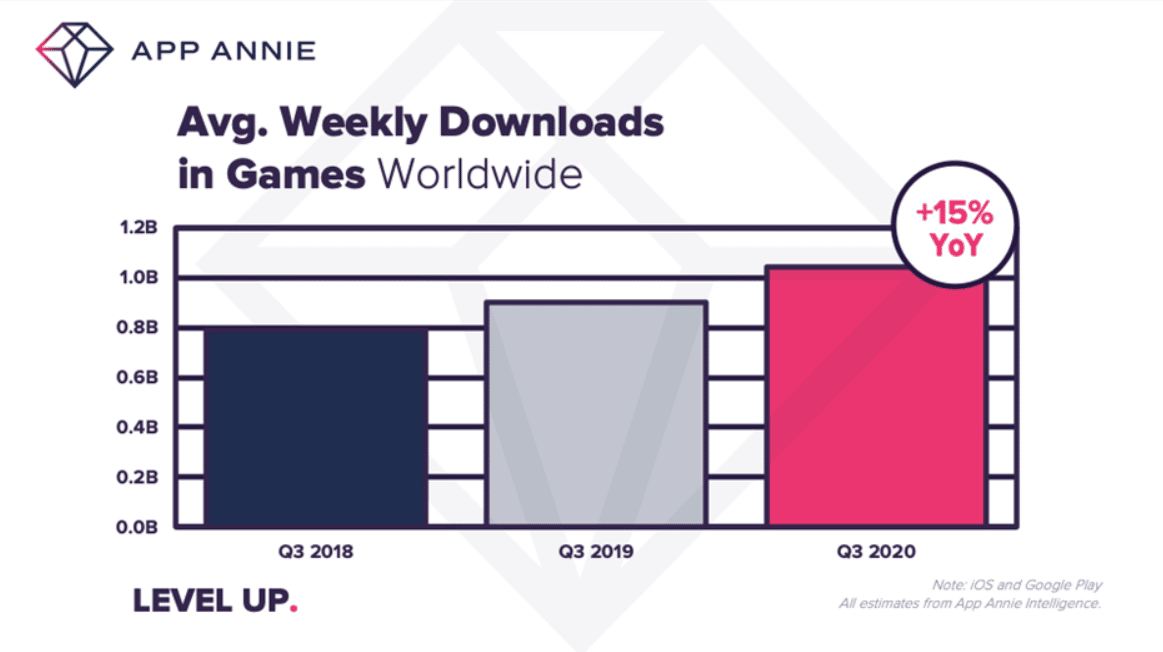 The most downloaded game worldwide during the quarter was Among Us by InnerSloth. Its installs were a whopping 13x higher than during the previous year's quarter. Scribble Rider came in second while My Talking Tom Friends was third. In the fourth spot was Subway Surfer, whose installs grew by 29% YoY and Garena Free Fire was fifth despite a 5% decline in installs.
Player Spending on Honor of Kings Skyrockets by 65% YoY
The top grossing game globally across both stores was Honor of Kings, toppling the previous reigning champion PUBG Mobile. Honor of Kings as well as its international version Arena of Valor grew an impressive 65% in terms of consumer spending on the two app stores.
On the other hand, PUBG Mobile and Game for Peace (its localized Chinese version) grew by 28% to sit in the second spot. Pokemon Go was the third highest grossing game, reporting 33% growth in the quarter.
Moon Active was fourth with 50% growth in consumer spending while Roblox was in the fifth spot, growing 119% YoY.
In total, the top five highest grossing titles globally accounted for $2.4 billion, a 12% share of total mobile gaming revenue during the period. During the previous year's quarter, the same category yielded $1.9 billion in revenue, accounting for a similar 12% share.
It is interesting to note that both PUBG Mobile and Honor of Kings are owned by Chinese conglomerate Tencent Holdings. In Q2 2020, PUBG Mobile was the highest grossing game, raking in almost $621 million.
However, there was an 8% decline from Q1 2020 when it grossed $674.5 million. During the first week of Q4 2020, PUBG Mobile was pushed further down to the third spot by a newly released mobile RPG, Genshin Impact.
Following its launch on September 28, Genshin Impact raked in about $60 million in one week according to Sensor Tower. In the same period, Honor of Kings generated $64 million to take first place, while PUBG Mobile came in third with $56 million.
Genshin Impact was the top grossing RPG mobile game that week, generating $20 million more than Moster Strike, a genre heavyweight.
Was this article helpful?