India is both a cricket-mad nation, and one which is also extremely active on mobile devices, with roughly 84% of the population owning a smartphone. Add those two facts together, and you get one enormous market for cricket betting apps.
In this article, we'll list the best cricket betting apps available in India right now. We'll also tell you how to download them, explain the legal situation for mobile betting, and a whole lot more besides.
How We Ranked the Top Cricket Betting Apps
There are a whole lot of betting apps out there for Indian punters. Sorting through them all is a time-consuming process, which is why we've done the hard work for you.
You can see our 10 recommended apps for cricket gamling at the top of this page, and – below – you'll find the criteria which led to these rankings.
Online Cricket Betting Apps Reviewed
You can get a general overview of our top 10 cricket betting apps in India at the top of this page. Now though, it's time to get stuck into the details. Here are quick-hitting reviews for each of our recommended brands.
1. 22Bet – Best All-Round Cricket Betting App
22Bet was only launched in 2017, but this brand has rapidly made a name for itself. In part, this is because of the sheer amount of options it gives bettors. The range of payment methods here is strong, and includes debit cards, various eWallets, and even cryptocurrencies. You can also make both payments and wagers on cricket directly in Indian rupees. There's a very good selection of ongoing promotions – almost all of which apply to cricket – and hundreds of cricket markets tend to be available at one time. The 22Bet app is available on both iOS and Android devices, and – crucially – includes a live streaming feature.
2. 10Cric – Top Cricket Specialist App
As the name suggests, cricket is the major priority on 10Cric. It's the first sport you see when you boot up the app, T20 legend Chris Gayle is the brand's main ambassador, and the coverage for both upcoming and ongoing games is exceptional. You're given plenty of flexibility in your betting here too, with the app regularly providing 100 or more different markets on a single match. Virtual sports fans can even bet on the 'Simulated Reality League'. Both the welcome offer and ongoing promotions are strong too, with the best deal of all being a 'Free Bet Club' which dishes out up to ₹2,000 in free bets each week.
3. 888sport – Outstanding Track Record
888sport is the definition of a big-time international brand. It has developed a very good reputation since launching in 2008, and operates in countries all around the world. Its cricket betting app for Indian bettors is available on both iOS and Android devices, and the quality is typically high. The odds for both domestic and international competitions are highly competitive, and the live betting tools are very speedy indeed. You can also place outright wagers on major competitions far in advance, with markets for the 2023 World Cup (two years away, at the time of writing), already open.
4. MansionBet – Great Option for Live Betting
MansionBet was only launched in 2018, but has already become a force in the betting industry. In part, this has been due to the clear focus the brand has put on its mobile features. Both versions of the app perfectly replicate the experience of using the feature-rich main website. You can easily place wagers on a sizable selection of both men's and women's cricket matches, and we never experienced any crashes or major delays during our testing. Where MansionBet shines, however, is in its live betting. Every major matchup is available for both placing and cashing out ongoing wagers, and – in each case – the tools are incredibly responsive.
5. MELBet – Best Live Streaming Features
MELBet has shown a commendable commitment to serving its Indian customers. Hindi versions of both the Android and iOS apps are available for cricket bettors, you can make payments directly in INR, and rupee-specific versions of all the main promotions are also provided. The selection of cricket betting markets you're given is also enormous here, covering over 200 different options at the time of writing. The live streaming coverage for cricket is also exceptional, with everything from major matchups to the Premier League B available to watch live. The actual quality of those streams is also just as smooth on your mobile device as it is on a regular computer.
6. Funbet – Exciting Up-and-Coming Betting App
Funbet is an extremely young brand, having only been launched in 2020. While you might not have heard of it yet though, it's set to make a big splash on the betting scene in India. The subcontinent is clearly a major priority here, with an Indian-specific version of the platform available, and both payments and special offers customised for the use of rupees. Cricket is the most prominent sport on the app, being given pride of place on the list of betting markets, and you can get a free bet of up to ₹800 by betting specifically on cricket.
7. Dafabet – Biggest Cricket Special Offers Around
Dafabet describes itself as 'Asia's #1 Online Betting Site', and it's hard to disagree. It might be headquartered in Manila, but Dafabet still does an excellent job of serving customers across the continent, including those in India. Both Hindi and Telugu versions of its app are available, Indian rupees are accepted, and you can even make bank transfers using Indian services like 10Pay and TW. Elsewhere, cricket bettors can use the app to access the biggest promotions on the market right now. In addition to the massive 'First Deposit Bonus', you can also get 10% cashback on your losing cricket wagers each week via the app, up to a hefty 20,000 INR.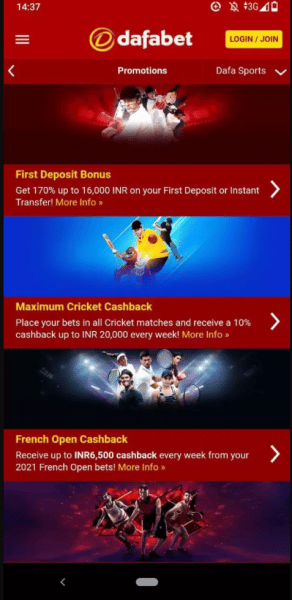 8. Unibet – Feature-Packed International Brand
Unibet has arguably the most impressive track record of any brand on our list. It was launched all the way back in 1997, and – in the intervening 25 years or so – has become one of the best-known international sportsbooks. While it's a genuinely impressive all-rounder, cricket is a particular strength here. The market selection on this app is absolutely enormous, with over 300 wagers available at the time of writing. Naturally these include in-play options, and your live betting is supported not only by live streaming, but useful statistics too. You can also enable push notifications to keep you updated on the latest goings-on, and this feature – like everything else on this highly-modernised app – works flawlessly.
9. Spin Sports – A Young Bookie With a Bright Future
The Spin Sports app is a relative newcomer, having only been launched in 2017. It has already proved itself a fantastic option though, not only for cricket bettors in general, but specifically for those in India. There is an entire version of the app specifically tailored towards an Indian audience. Rupees are the default currency for both payments and promotions, and cricket is the clear main focus. Both the international and domestic coverage is excellent too, from the biggest Twenty20 International events, down to matches in the Tamil Nadu Premier League.
10. BetWinner – Indian Cricket Betting Specialists
When you load up a betting platform, and one of the first things you see is Rohit Sharma smiling back at you, you know that brand takes its cricket seriously. BetWinner's commitment to the sport is commendable, with a huge range of ongoing and upcoming matches being the main feature of the home screen. An impressive number of these matchups are available to watch live too, and a 'Multi-Live' feature even lets you stream multiple games at once. Elsewhere, BetWinner provides a Hindi version of its app, allows you to deposit and wager in rupees, and even has a local Indian phone number for 24/7 customer support.
Key Features of the Best Cricket Betting Apps in India
As noted above, it's naturally always good for a betting app to have as many features as possible. With that being said, these tools can be split into two main types. The first is those which are simply nice to have. The second is those which fundamentally change and improve your betting experience.
In-play betting, live streaming, and enhanced odds are three key examples of the second type of feature. In-play betting provides a completely new range of betting possibilities, streaming helps massively with your live wagers, and enhanced odds make your money go a whole lot further.
Below, you can see how all of our recommended betting apps stack up in these three areas. We've also included the minimum deposit amount in each case, to help you further gauge the suitability of each brand for your own needs.
Cricket Betting Apps vs Cricket Betting In-Browser
As an on-the-go cricket bettor, you have two main choices regarding how you actually place your wagers. You can either use a dedicated mobile app, or you can simply use your device's browser to access the mobile version of the main website.
Quite simply, we would always recommend going with an app here, if you have the choice. This carries a whole range of benefits, including added convenience and superior performance, and there are no major drawbacks.
With that said, let's still take a quick look into both the pros and cons of using cricket betting apps rather than mobile websites.
Best Cricket Betting Apps for iPhone
While it may be increasingly dominant in Europe and North America, iOS is – by far – only the second-most popular mobile operating system in India. Given that you're relying almost entirely on international sportsbooks, however, it's no surprise to see that almost every brand will have an iOS app in place.
These can typically be downloaded straight from the official App Store. Be aware, though, that you may need to use a VPN to access a version of the App Store which contains that particular app.
If you're an iPhone user in India, these are the three apps we'd definitely recommend checking out.
Best Cricket Betting Apps for Android in India
With a market share of over 95%, Android is the most popular mobile operating system in India by an absolute mile. We're pleased to say, therefore, that – while iOS is the priority for many international brands – they invariably also provide for their Android users. The quality of these is usually just as high as with their iOS counterparts, and the sets of features should be almost identical.
Unlike with iOS, a bookie's Android app is often acquired directly from its website, due to Google Play's frequent restrictions on betting apps. This is very easy to do, though. You simply download it from there as an APK file, and your phone will then handle the installation for you.
If you're one of the many millions of Android users in India, these are three of the best apps you can download right now.
Are There Any Legal Cricket Betting Apps?
The legal situation for sports betting in India is a little murky. Primarily, this is because the decision for whether or not gambling is allowed is made on a state-by-state basis. States like Goa have more relaxed rules, for example, while in other states it is banned outright.
With that said, sports betting online has not been forbidden anywhere in India. No state has given out its own licenses to sportsbooks, which explains the complete lack of domestic Indian betting brands. There are no rules, however, which stop international sportsbooks from both targeting and accepting users from India. Some – like 10Cric – are even explicitly targeted at Indian bettors over those of any other country.
We're pleased to say that cricket betting apps fall into this same grey area. While there are technically no brands with a legal license to operate in India, there are also no rules stopping them from doing this. You're completely free to use these apps, therefore, with no fear of repercussions.
How to Download a Cricket Betting App
Regardless of your experience level, downloading a new cricket betting app is extremely quick and easy. To do so, simply follow the few simple steps below.
iOS Cricket Betting App
Android Cricket Betting App
Because of Google's restrictions, you may find that the betting app you're seeking does not appear in the Play Store. In this case, follow these instructions instead:
Betting Apps for Cricket – Final Thoughts
Due to the Indian government frowning on sports betting, you might have feared that it would be difficult to wager on cricket at all. In fact, it could hardly be easier to do so, and this is equally true when using cricket betting apps as it is for using a computer.
As a cricket bettor in India, you have a whole lot of options as to which brand you go with. The vast majority of these will also provide high quality betting apps, for both Android and iOS devices. Downloading and starting to use these could hardly be easier, and – in general – they give you all the same functionality and flexibility as a regular online betting site. Added to this, you also get the unmatched convenience of being able to carry the app with you wherever you go, and place wagers on cricket whenever you like.
In this article, you'll find our recommendations for the 10 best cricket betting apps available in India right now. Even if you decide to find your own app though, we wish you a fun, safe, and profitable cricket betting experience.
India Cricket Betting Apps FAQs
What special offers can I use?
Each of our chosen brands has a welcome offer in place, which can be used by cricket bettors. Most of these are 'Deposit Matches', in which your first deposit is matched by the brand. Some provide 'Bet and Get' deals instead, in which you place a qualifying wager, and are rewarded with free bet.
Are cricket betting apps legal?
Yes. While in-person betting is heavily restricted in India, there are no laws forbidding online gambling, including via apps.
What cricket matches can I bet on?
Every major international matchup will be available to bet on, from regular tour matches through to the World Cup. This is true for all three main forms of the game - T20, ODI, and Test - plus new formats like The Hundred. Major domestic competitions like the IPL and Big Bash are also covered.
How do I download cricket betting apps?
If you have an iPhone, simply search for the brand in which you're interested in the App Store, find the correct result, and download the app. You can try the same method with an Android phone, but - if the app isn't available via Google Play - you can download it directly from the main betting site instead.
What are the best cricket betting apps in India?
We've listed 10 of your very best options at the top of this page, then provided short reviews for each brand. Our top recommendation overall is 22Bet, but - as you can read above - each app has its own particular strengths.