1xBet is one of the leading sports betting sites that cater to bettors in India today. There are many great aspects to this offering, including its top-tier promotions, range of betting markets, and competitive odds.
Another area where it shines is when it comes to mobile betting. The 1xBet app has been developed with bettors in mind, making sure that it is extremely easy to use. This guide will showcase all of the core aspects of the 1xBet app and the reason why you need to start using it for your own betting needs.
1xBet app mobile bonus India
One of the best aspects associated with creating a new sports betting account is going to be getting your hands on the welcome offer. Operators will offer these types of signup deals as a way to incentivize people to sign up for a new account. There are even certain times when there will be offers that are exclusively offered to people who are using a mobile app for the first time.
1xBet app mobile bonus India
100% First Deposit Bonus Up To ₹10,000
100% First Deposit Bonus Up To ₹10,000
Neteller available for deposits & withdrawals
Variety of other payment methods
All payments processed safely
9.3
Download App
100% bonus up to ₹10,000. Min deposit ₹75. Opt in required. Rollover requirements: 5x as accumulators, 3+ selections, min odds 1.40.
For the most part, the regular new customer offer will be available to new signups no matter what type of device they are using. As you will usually be getting some sort of free bet or sports-related bonus, it usually makes plenty of sense for you to make the most out of this type of offer.
For people who are creating a 1xBet account for the first time, you will be able to get your first deposit matched 100% up to a max bonus of ₹10,000. Therefore, you have the chance to get your hands on plenty of bonus funds. You do need to make a deposit of at least ₹75 to get this deal.
When it comes to any type of sports betting
free bet
or bonus offer, there are going to be terms and conditions associated with the promotion. It is vital that you take the time out of your day to make yourself aware of these terms before you commit to claiming a given offer. This allows you to figure out how exactly you can get the deal, as well as what has to be done in order to turn the bonus into real money. Here is a look at the main terms and conditions associated with the 1xBet welcome offer:
New customers only
Need to opt-in to this offer
₹75 minimum deposit
100% first deposit bonus up to ₹10,000
Need to wager the bonus funds five times before withdrawing
Wagering on accumulators with at least 5 selections
Minimum odds of 1.40 and need to meet the targets within 30 days
Cryptocurrency deposits excluded from this offer
To activate this offer, you need to opt-in before you make your initial deposit to your new account. There are wagering requirements in place that you need to be aware of. This sees you having to turn over the bonus funds 5x on accumulator bets that have at least three selections and odds of at least 1.40. You have 30 days to meet the wagering requirements and any deposits made using cryptocurrencies will be excluded from availing of this deal.
1xBet app download
If you are interested in getting started with the 1xBet betting app, then you are able to download it either for your iOS or Android device. Here are the links to download the respective apps today:
Download 1xBet App Android
1xBet app user experience
One of the most important aspects to look at when it comes to reviewing the quality of a given mobile betting app is checking to see just how user-friendly it actually is. The last thing you want as a mobile bettor is having to use a clunky and slow app that means you will often struggle to get your bet placed in an efficient manner. This concern is not something you have to worry about when it comes to the app 1xBet. Everything is clearly laid out, with the menu being collapsible and only containing important items. Therefore, you can quickly find what you need with just a click of one or two buttons.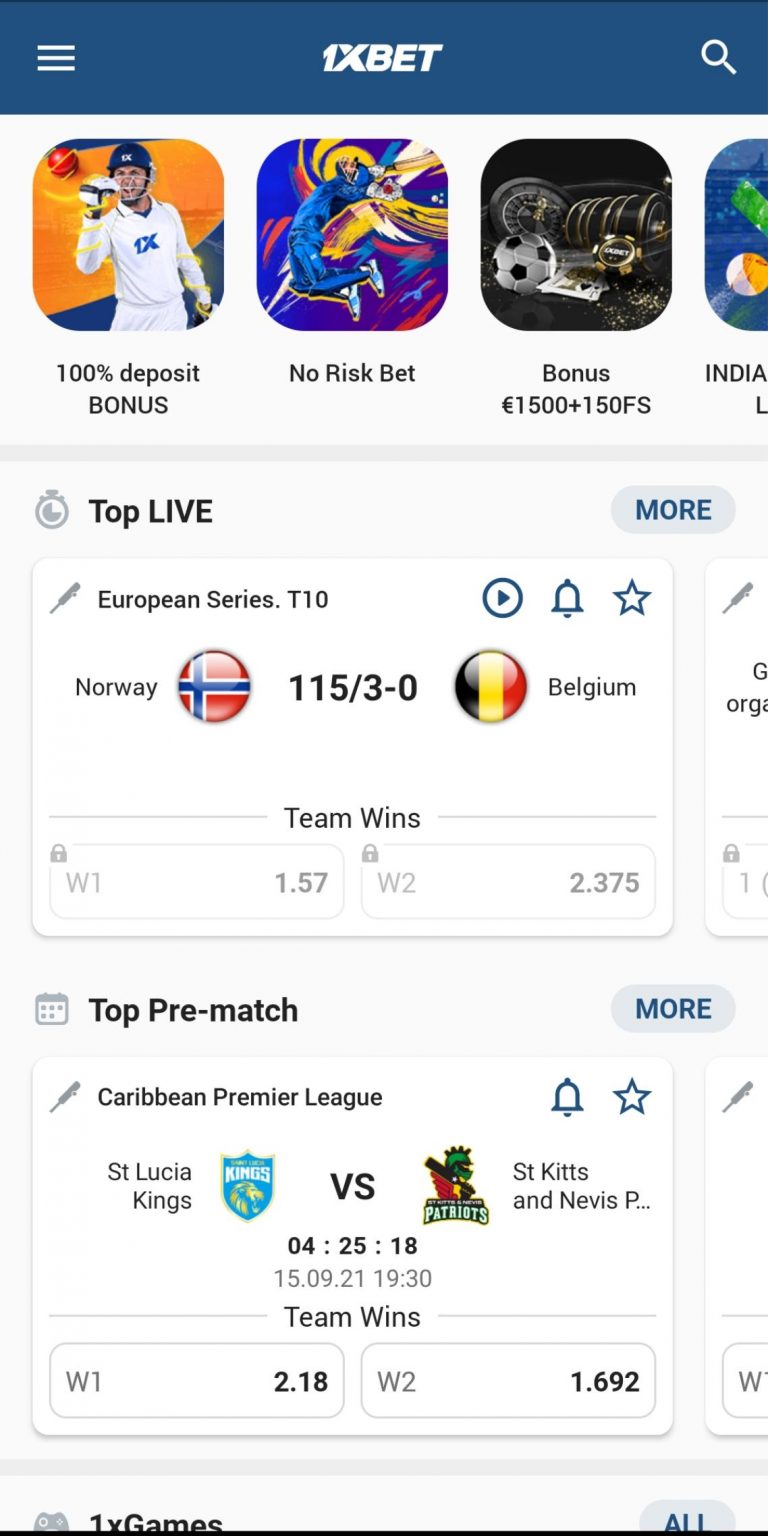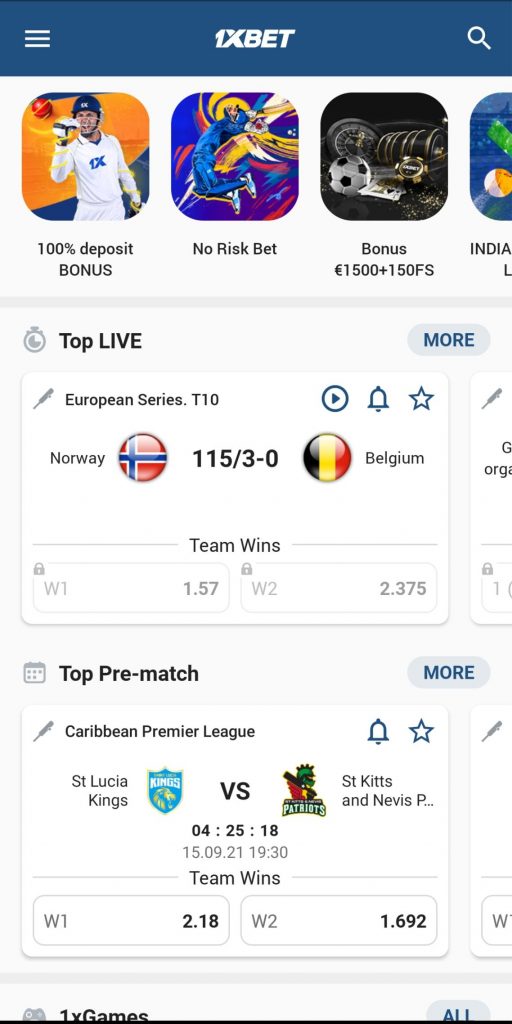 When you choose a given sport, you will be faced with each of the available games that you can bet on. You can also look to see what live games are taking place which allows you to place in play live bets as you please. The process of creating a new 1xBet account through the app is very easy to do. All you need to do is fill out the standard type of information and you will be good to go in just a couple of minutes. If you already have a 1xBet account, you can quickly go in and get started with your betting.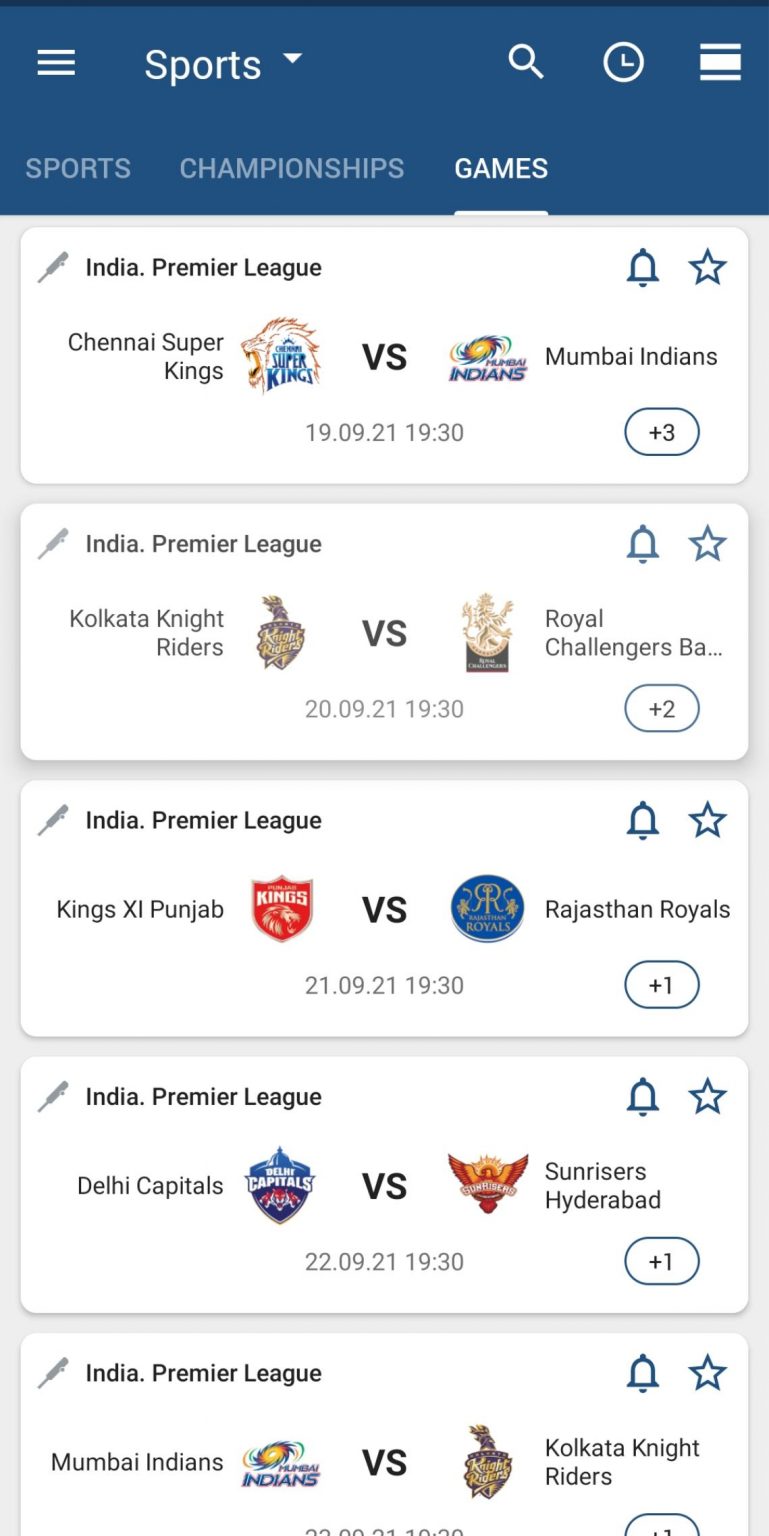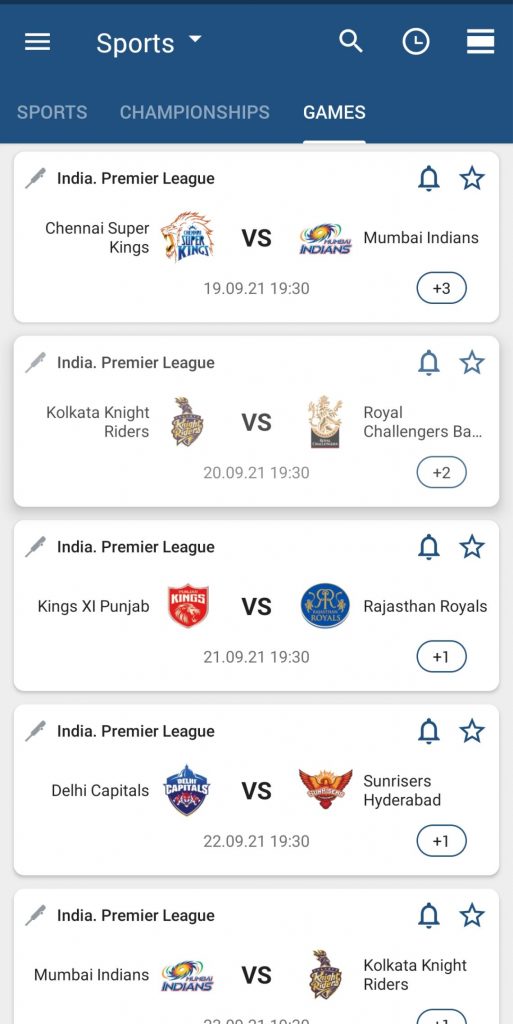 Adding or withdrawing funds via the mobile app is a seamless process. You can choose from one of the numerous payment options and have your funds credited into your account instantly. The betslip system also works seamlessly, meaning that you can get a bet placed within seconds, with no lag or downtime being experienced. This means that people come back again and again to use the 1xBet betting app for their needs.
What makes the 1xBet app a good app
There are a few different reasons why people tend to turn to the 1xBet mobile app than other options. It stands out in a few different ways to a lot of the competition on the market today. Here is a look at some of the main reasons why the 1xBet app is preferable to a lot of the other mobile betting options that are out there today:
1. Great Reliability
1xBet has developed into a trusted gambling operator that has operations all across the world. This includes catering to an audience in India. It has constantly made sure that it looks after the player first, having plenty of security measures in place to make sure that the security of these players is at the forefront of everything that they do. The offering is also running around the clock, meaning that you will not have to deal with hours of downtime or lag issues that create a level of uncertainty when you want to place a wager.
2. Great Range of Betting Markets
There are thousands of betting markets available for you to bet on through the 1xBet mobile app. More than 30 sports are covered, with a focus in particular on the likes of football betting and cricket. You will be hard-pressed to not find a given sporting event that is not going to be available as part of the 1xBet offering for you to bet on. Therefore, you will have an impressive array of betting options no matter if you are betting in-play or pre-game.
3. Focuses on Performance
There are certain mobile betting apps out there that look very dramatic and flashy. While these might be easy on the eye, it is very often that the underlying performance of these apps is not up to scratch. A lot of the time, operators have spent too much time on the aesthetics of the platform rather than making sure that it is easy and efficient to use. 1xBet is an offering that is easy on the eye, but the main focus throughout the app is on making it as easy as possible for the bettors to find exactly the markets they want to use. This is something not to be ignored as it saves you a lot of time and headaches.
4. All-in-One Offering
One of the best aspects of the 1xBet app is that it covers all bases. It allows you to sign up for a new account, as well as make deposits and withdrawals or get in touch with the customer support team. While the sportsbook is the main focus of this offering, you are also able to access the casino site directly through this app. This means that you will not have to download a separate app in order to play leading casino games on your mobile through 1xBet.
5. Great Features
Another sign of a great mobile sports betting app is that it allows bettors to access a range of fun features. Sometimes, an operator might not have these features or they might only be available on the desktop offering. With the 1xBet app, you will be able to do everything from using bet builders to cashing out bets early and even live streaming certain sporting events. Therefore, you have a feature-rich offering that is always going to be a dream to use.
1xBet Android app 
You are able to download the 1xBet India app directly from the operator's website. After you download the file for the website, you will then need to install it. This is done by clicking on this file. If an error occurs that says that you do not have permission to install this app, you will need to go to your phone's settings and go to the 'Security' or 'Privacy' section
Then you need to go to the 'Device Administration' section and then choose 'Unknown Sources'. This will allow you to install applications that are from unknown or external sources. After this step has been completed, you will then have this 1xBet file installed on your Android device and it can be used as normal.
1xBet iOS app 
If you are looking to download the 1xBet app for iOS, you are able to do so directly through the App Store or from the 1xBet website. This process is very straightforward and does not require numerous steps to complete.
Step by step guide on how to place bets on 1xBet mobile app in India
If you have created your new 1xBet account, you will likely be looking to start placing bets as soon as possible. This is a pretty easy process to get a hang of, once you know what you should be doing. Here is a walkthrough as to the process you need to go through in order to make a bet on the 1xBet app:
Choose the Sport: There is a pull-out menu that will show you the range of sports that are available for you to bet on through the 1xBet app. In this example, we chose cricket betting.
View the Different Events: You will now be faced with all of the upcoming cricket matches that are taking place across the world. We decide to take a look at the different Indian Premier League fixtures that are upcoming.
Choose the Game: We decided to choose the match between the Chennai Super Kings and the Mumbai Indians.
Select a Bet: We know were faced with all of the different betting markets that are available for this fixture. These are all clearly outlined. We choose the bet that we wish to place and it gets added to the betslip.
Place the Wager: You can now open the betslip and select the stake that you wish to place on this wager. You will see the expected winnings from this wager. You simply then need to confirm this wager and you are good to go.
Here is a visual view of the step by step process of placing a bet through the 1xBet app:
Download requirements and compatibility
You are able to download the 1xBet app for both iOS and Android device users. Therefore, you will also be able to utilize this app through the respective types of tablets that use these operating systems. In order to optimally run this app, you will need to meet a minimum set of standards. Here is a quick look at the optimal running requirements for the respective apps:
| | | |
| --- | --- | --- |
| Platform | Software | Size |
| Android | 5.0 and above | 108MB |
| iOS | 11.0 or later | 249.2MB |
If you are downloading the 1xBet app for iPhone, you just need to go to the App Store and you will be good to go. For the 1xBet app download for Android version, it is not going to be available as part of the Google Play Store. Therefore, you will have to download this straight from the operator's website. The 1xBet login process is very simple.
1xBet mobile app performance
There is no questioning the performance capabilities of the 1xBet betting app. People keep using this app again and again thanks to the superior performance and user experience. As well as being easy on the eye, there is no time wasted when it comes to finding the types of markets you are looking for. You won't be missing out on potentially profitable bets because you have not been able to find a betting market and being able to place a bet in time.
The 1xBet offering is extremely good at performing at a high level, once you have a good internet connection. The connectivity can't be faulted and the speed tests also lead to top-tier results. This means that even live bettors are going to have no problems at all when they are looking to place their wagers. Everything has been optimized to make it as smooth of an experience as possible.
1xBet app payment methods in India
| | | | | |
| --- | --- | --- | --- | --- |
| Payment Method | Min. Deposit | Min. Withdrawal | Withdrawal Time | Fees |
| Visa | ₹75 | ₹150 | 0-7 days | None |
| MasterCard | ₹75 | ₹150 | 0-7 days | None |
| Neteller | ₹75 | ₹150 | 15 minutes | None |
| Skrill | ₹75 | ₹150 | 15 minutes | None |
| ecoPayz | ₹75 | ₹150 | 15 minutes | None |
| Cryptocurrency | ₹75 | ₹150 | 15 minutes | None |
| Cash Payment India | ₹75 | ₹150 | 15 minutes | None |
1xBet betting app customer reviews and ratings on Google Play and App Store 
A good way to gauge the actual quality of a given sports betting app is by checking out reviews from real people who have been using the app for some time. While the 1xBet app cannot be downloaded from the Google Play Store, there are reviews available for you to see on the iOS App Store.
Generally, these are positive reviews that talk about the ease of use of this offering. People talk about how 1xBet has not overcomplicated matters with this offering. They also talk about the great features that are available, as well as the ideal range of betting markets.
What is 1xBet India?
1xBet is one of the leading global sports betting operators and has been in business since 2007. It was started in Russia and it has its headquarters in Cyprus. It holds a license with the government of Curaçao and also has relationships with numerous testing bodies. 1xBet has more than 400,000 people using the platform all across the world.
The sportsbook covers more than 1,000 sporting events on a daily basis, with both pre-game and in-play betting being available. It has sponsorship arrangements with numerous notable sports teams, including the Barcelona football team. It also has deals in place with both Serie A and La Liga.
One of the areas in which 1xBet has been focusing on in recent times is esports betting. The world of video gaming has been exploding over the years and esports is set to rival the audience of traditional sports in the coming years. 1xBet has partnerships with numerous esports organizations, including the ESL and the Dreamhack Open. 1xBet is an operator that is focused on constant expansion, always looking to improve its offering and to bring more to the table than ever before.
Other top betting apps in India 
The 1xBet betting app is not the only leading mobile sports betting offering available to bettors in India. There are many other operators that also have strong mobile operations. We have reviewed many of the other leading sports betting apps, including:
Our verdict on 1xBet App India
If you are looking for a mobile sports betting offering, then 1xBet is going to be a good option. It ticks all of the boxes when it comes to the range of sports it supports, as well as the depth of markets that are on offer. With a great welcome offer and an easy-to-use mobile offering, you cannot go wrong with signing up for an account with 1xBet. You will enjoy seamless betting no matter if you are using an iOS or Android device.
1xBet App India FAQs
Is it necessary to use a bonus code to get the 1xBet welcome offer?
Is the 1xBet app safe to use?
How long does the 1xBet app download process take?
Can you download the 1xBet on tablet devices?
Can you contact the 1xBet customer support team when using the 1xBet app?